The latest boundary plans for Prince William's 13th high school remain under fire for further exacerbating demographic disparities among the county's western high schools.
The 13th high school, which has not yet been named, is scheduled to open in 2021. It's being built behind Jiffy Lube Live in Bristow, primarily to relieve overcrowding at Battlefield High School, in Gainesville, which is at 146.4 percent capacity this year, or about 950 students overcapacity, and Patriot High School, in Nokesville, which is at 130.5 percent capacity, or more than 600 students overcapacity this year.
Stonewall Jackson High School, located further east in the Prince William area of Manassas, is also overcrowded but less so. Stonewall is at 102.7 percent capacity this year, or about 70 students overcapacity, according to school division documents.
The new high school will rearrange attendance areas for all three schools. The two proposals school division officials have released in recent weeks, shift some of the area's more affluent neighborhoods from Stonewall Jackson to Patriot or the 13th high school, leaving Stonewall Jackson with higher percentages of minority, low-income and English-language learning students. 
At the same time, the plans generally reduce the already lower numbers of such vulnerable populations at Battlefield and Patriot high schools.  
During a town hall meeting held at Patriot High on Thursday, May 16, Lubna Azmi, president of Stonewall Jackson's student council, called the newest boundary proposal "a step backward" that would "lead to the segregation of high schools in Prince William County."
Other students called the boundary plans "modern-day segregation."
"We want to tell you that separate but equal was back in the 1950s," said Stonewall Jackson senior Zahra Wakilzada, who immigrated to the U.S. from Afghanistan three years ago. "We want to tell you that we stand with Stonewall and we are not going to accept segregation."
Like other Stonewall Jackson students, Azmi praised her school's diversity – students of color now comprise 80 percent of the student body -- and said she "would not have become the person I am today" without it. Azmi's remarks drew loud cheers and applause from more than 50 Stonewall Jackson students in attendance.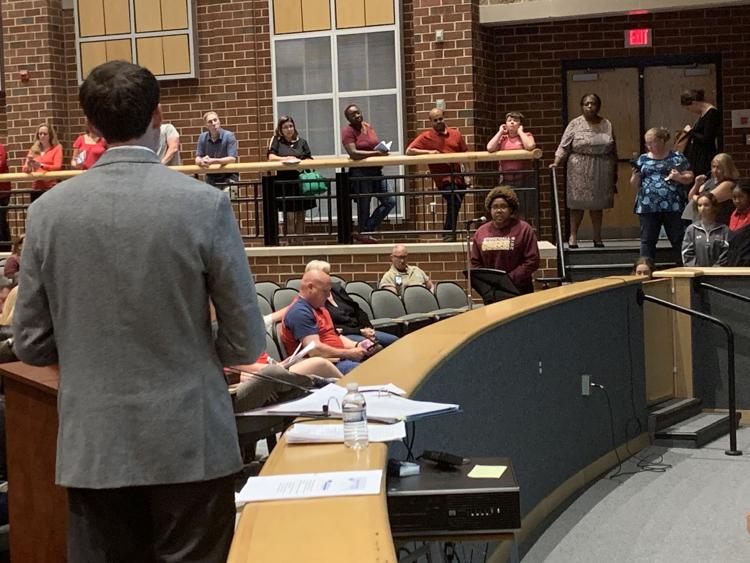 In an interview, Azmi said Stonewall Jackson students and alumni want school division planners to place more value on diversity, not just at Stonewall Jackson but at all three high schools affected by the new school's boundaries.
"We're not asking for everything to be equal," she said of student demographics. "But diversity needs to be up there."
The May 16 meeting was the second and last community town hall before the new boundary plans are presented to the Prince William County School Board for their consideration on Wednesday, June 5. The school board is scheduled to take a final vote on the proposals on Wednesday, June 19.
The numbers
Among the three high schools, Stonewall Jackson already has the highest percentage of students in three demographic categories tracked by the school division: minority; "economically disadvantaged," or those who qualify for free and reduced-price meals; and "limited English proficiency," or English-language learners.
Among Stonewall Jackson's 2,475-member student body, 80.8 percent are minority, 18.7 percent are English language learners and 50.7 percent are economically disadvantaged, according to school division documents.
Those numbers are already much lower at Patriot and Battlefield high schools. Battlefield's 3,006-member student body is 41 percent minority, while 1.7 percent are English language learners and 9.9 percent are economically disadvantaged.
Patriot High School's 2,678-member student body is 47.4 percent minority, while 2.6 percent are English language learners and 12.1 percent are economically disadvantaged.
According to school division projections, Stonewall Jackson would see its percentages in all three categories grow under both proposals, while Battlefield and Patriot would be left with fewer minority, poor and English-learning students. 
The one exception is that Patriot High School -- under the latest plan, dubbed "1a" -- would see its economically disadvantaged population tick up from 12.1 percent to 13.4 percent. In contrast, Battlefield would see its economically disadvantaged number drop from 9.9 percent to 5.3 percent. 
Because the 13th high school is drawing mostly from Patriot and Battlefield high school attendance areas, as well as from some more affluent subdivisions zoned for Stonewall Jackson, its student body is projected to be 53.8 percent minority, 17 percent economically disadvantaged and 3 to 4 percent English language learners. 
Meanwhile, Stonewall Jackson would see its percentage of minority students climb from 80.8 to 89.2 percent; its number of poor students jump from 50.7 percent to 60.9 percent; and its number of English language learners jump from 18.7 to 24 percent.
Concerns about equity
Tracy Conroy, a Stonewall Jackson parent who ran for unsuccessfully for the school board in 2015, said the issue is not racial diversity but rather economic diversity. Creating a high school where three out of five kids are living in poverty puts too much stress on a school, she said.
"I want you to imagine… that three out of five of you in this room were living in poverty right now. I want you to imagine that [a teacher] had to make sure you ate today, had somewhere to sleep last night and could also take an SOL. That's what you're asking Stonewall Jackson to do when you want a boundary that creates [a school] where three out of five kids live in poverty."
Some who attended the town hall, however, spoke in favor of the boundary plans. Residents of Victory Lakes, a subdivision of about 1,300 homes currently zoned for Stonewall Jackson High School, said they approve of plan 1a because reassigns their neighborhood to Patriot High School when the new high school opens in 2021.
Many noted Victory Lakes is also a diverse community and said their desire to be reassigned to Patriot High is about distance – Patriot is closer– and their children going to the same high school as their middle school peers. Victory Lakes is zoned for Marsteller Middle School, which sends most of its eighth-graders to Patriot.
School Board Chairman Babur Lateef listened to the back-and-forth at the town hall and said the Stonewall Jackson students' impassioned comments about the importance of diversity were impressive. 
Still, Lateef (at large) said the real question is whether the school division is doing enough to address equity if schools receive the same per-pupil funding regardless of student demographics.
"That's really the question here," Lateef said. "It's 'Can we address inequity better?'"
Reach Jill Palermo at jpalermo@fauquier.com