The Virginia Board of Juvenile Justice narrowly approved a program design and planning study for a new Prince William County juvenile detention center after an hour of debate about whether the county needs a new detention center.
The eight-member board, which is appointed by the governor, voted 3-2, with three members absent, on Wednesday to move the project forward. The board's approval allows the county to seek state funding to cover up to 50% of the cost of the project, which is estimated between $39 and $46 million.
But it's not a done deal. The Prince William Board of County Supervisors will have the final say on whether the new facility will move forward.
The board voted in July to allow county staff to present the new facility to the state board. It's not yet known when the matter will come up for another vote.
The proposed new juvenile detention center is intended to replace the existing detention center, built in 1972, but will reduce the number of youth jail beds in the county from 72 to 48. 
The new facility will be built using a "trauma-informed" design that includes "connections to nature, natural light and views to the outdoors," as well as a "selection of colors and patterns that are visually appealing and calming," according to a presentation to the board from Prince William County Social Services Director Courtney Tierney.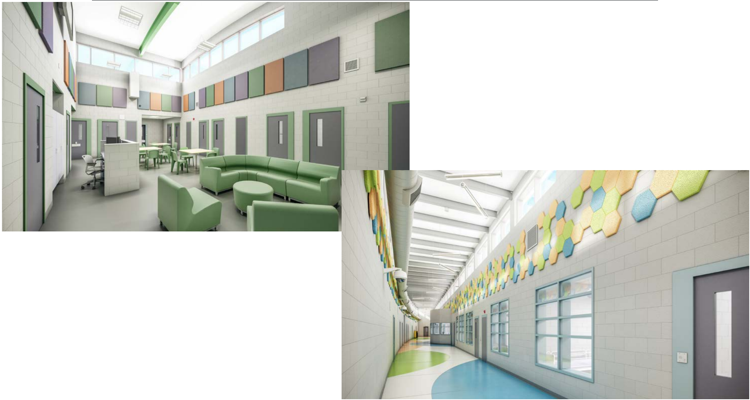 Several state board members expressed concerns about the need for the new facility in Prince William County. Board member Greg Underwood, the commonwealth's attorney for Norfolk City, voted against it. Underwood said that one of his main concerns is the "proportionality" of the youth held at the jail.
About 80% of the youth held at the Prince William juvenile detention center are either Black or Hispanic, according to a county report. 
"Couldn't the money being spent on the facility be better spent addressing reform issues like systemic racism?" Underwood said. 
Underwood also raised concerns about the new "trauma-informed" design. He said it is clear that the new facility would be "pretty" and "pleasant to work at," but added: "You're still going to have kids incarcerated."
"To be blunt, this is like putting lipstick on a pig. You want to make a nicer facility, aesthetically pleasing to the eye … but you're still going to have the same population," Underwood said. "In my opinion, the money can be better spent addressing societal issues instead of building another jail."
DJJ board member Scott Kizner, superintendent of Stafford County Public Schools, also raised concerns about whether the project is necessary. Kizner voted against approving the design. 
"I'm having a pretty hard time connecting a facility that we're calling … trauma-informed, but we're putting kids in a facility that, just by being there, is traumatic," Kizner said. "... I'm really uncomfortable that I feel like it's a marketing strategy that we're calling it a trauma-informed-care facility."
Kizner said that he had "real reservations" about whether a new detention center is "really going to benefit the children of Prince William County, or any community, where the money could be spent on preventative care."
"There's a lot of millions of dollars that I can see going somewhere else," Kizner said. 
Ian Sansoni, deputy director of the Prince William County Juvenile Detention Center, said the county does not want to "build a new facility just for the sake of building beds." Sansoni added that the county is flexible regarding how many beds they will ultimately choose for the design. 
"We want to build a new facility that aligns with the services we are endeavoring to provide," Sansoni said. "If that means a 20-bed facility and reducing the size and increasing detention alternatives, then that will be our responsibility as a local department … [to make] that recommendation to our local elected officials."
Sansoni added that while the current facility is licensed for 72 beds, the new facility is expected to have only 48. Currently, only about 20 beds at the existing facility are utilized at any given time, he said.
"Our average daily population has been declining and is in the low 20s," Sansoni said. "The proposed facility is for 48, but I do not foresee that we would fill the facility at that capacity." 
Sansoni added that county staff are seeking input from the community and local criminal justice stakeholders. He said the county staff's role is "to listen and learn and also to provide a recommendation of how we, as a professional facility, can provide the best care."
Board member Tyren Frazier, executive director of the Chesterfield Education Foundation, voted in favor of the project. But Frazier questioned the number of beds needed for the facility. 
"To me it doesn't make sense to have a 48-bed facility if you're going to have less than half that population. That's like a waste of funding for me," Frazier said.
 Tierney said that the demand for youth detention "is going down." But she added that the county doesn't expect that the courts "will completely stop detaining youth."
"So, if they're going to detain youth, we would prefer that those youth be detained in a facility that is trauma-informed. So that they can get the best care that they deserve," Tierney said. 
Tierney said that the county is "very concerned" about the racial disparities in the population of youth detainees but added that juvenile detention center doesn't determine which youth are sent to the juvenile detention center. 
"We will make sure that our court is involved in discussing racial disparities... That's something we're very concerned about," Tierney said. 
Board member Dana Schrad, executive director of the Virginia Association of Chiefs of Police, voted in favor of the design of the new facility. But Schrad said the board needs to be "acutely aware … of where we are in the area of criminal justice reform."
"We're looking at a facility that may go online by 2024. It's a little overwhelming to think about what we might be doing in terms of changes of laws, imposition of new standards for our facilities, and just exactly how much we beef up diversion programs," Schrad said. "... We're looking forward to a very different world in terms of our public policy around detaining youth."
Opponents cite racial disparities, call for investing in rehabilitation
Four Prince William County residents spoke against the new juvenile detention center during public comment time. 
Emily Crego, of Woodbridge, said she is concerned about the incarceration rates for Black and Hispanic youth in the county. 
"We learned that 80% of the youth incarcerated in the JDC are Black or Latinx. And we have to pause," Crego said. "This is a massive investment for our county and a new carceral facility. It is a jail. It is a jail for our youth. And most of the youth that will live there will be of color."
Crego said she believes the county had not done enough to "address these inequities before requesting the funds and approval for a new facility." 
"The fact that this facility will have selected color palettes that are calming doesn't really get at the issue. In fact, it's an insult to our communities and our youth in trouble to think that a fancy new facility will result in systemic and social change," Crego said. 
Lubna Azmi, a 2019 graduate of what is now Unity Reed High School, said she had many friends who'd been caught up in the school-to-prison pipeline while growing up in Prince William County. Azmi, who now attends Johns Hopkins University, said they might have had different outcomes if more resources were available to them. 
"We need to create plans divest from youth detention centers and invest in rehabilitation for our community that would prevent the harm in the first place," Azmi said. "... I've seen so many amazing people fall victim to this system. Instead of investing in the prison-industrial complex, and instead of investing in this new facility, we need to invest the proposed funds for this center into preventative support."
Aida Campos, also a graduate of Prince William County schools, said members of the Prince William community are "watching closely" to see whether the board would "support a cause that will only lead to more harm, or if you will decide to nurture our youth." 
"This community is asking this board to invest in children's lives, in youth lives," Campos said.
Reach Daniel Berti at dberti@fauquier.com