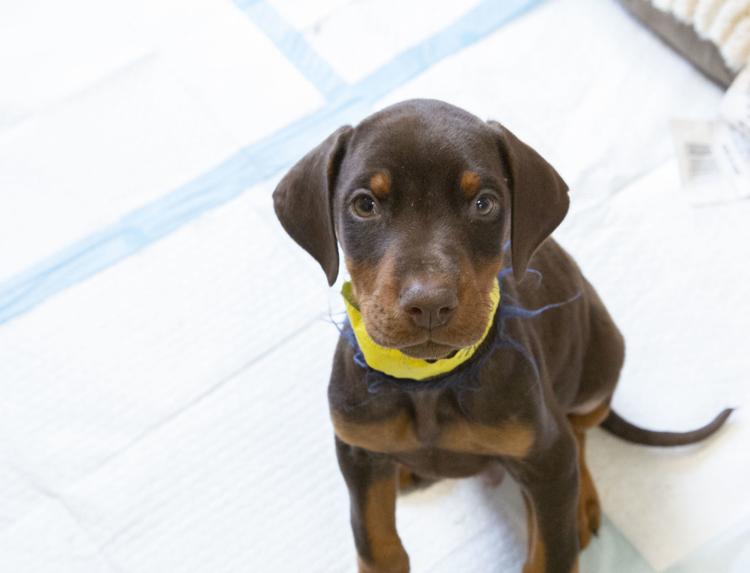 The thunderous barking of 10 or so adult Doberman pinschers greeted anyone who walked past the outdoor kennels around the back side of the Fauquier SPCA Friday morning.
Some of the dogs have the flagpole-straight cropped ears one is used to seeing in the breed. Others have ears that are at half-mast, making them look cute rather than intimidating.
Dr. Elaine Lutz of Piedmont Pets Veterinary Care moved from one kennel to another, checking on the dogs.
Inside the Casanova shelter, row after row of kennels are filled with Dobermans of every age, French bulldogs -- both mature dogs and puppies -- a dachshund and a Cavalier King Charles spaniel.
The SPCA is closed to the public until Monday, Feb. 3, as it focuses on caring for the urgent needs of 78 dogs that were seized from the Canis Maximus kennel in Broad Run by Fauquier County sheriff's deputies. Also taken from Canis Maximus were 57 chickens, three turtles, two guinea pigs and a parakeet. Four veterinarians and the staff of 28 at the SPCA have been working non-stop to evaluate and treat the animals.
Irina Barrett, 41, owner of the Canis Maximus kennel on Beverleys Mill Road, was arrested Tuesday, Jan. 28, on one felony charge of cruelty to animals resulting in death and one charge of misdemeanor neglect of companion animals, said Sgt. James Hartman of the Fauquier County Sheriff's Office.
"The dogs were found to be in inadequate conditions and suffering from neglect, without access to food and water," Hartman said. "The dogs were seized and taken to the Fauquier SPCA for care and shelter. In addition, several deceased animals, both dogs and poultry, were located on the property." 
Barrett was held on a $2,500 secured bond at the time of her arrest. Future charges are anticipated as the investigation continues, according to Hartman.
Healing hands
Devon Settle, executive director of the SPCA, sat with "Little Red Bella" on her lap. Bella is a Doberman puppy, about 6 weeks old. The puppy appears lethargic and disinterested in anything but snuggling head-first into Settle's lap. Settle stroked the tiny head. "I would have sworn this one wasn't going to make it," she said. "But she ate breakfast this morning. I cried."
Settle is keeping the recovering puppy in her office, where she can get the rest and individual attention she needs right now.
"She's doing much better today," Settle said with obvious relief.
Little Red Bella has a way to go to catch up to her two littermates, who are in an open pen in one of the rooms at the shelter. They are active and eager for attention.
The litter represents the various stages of health the dogs are in.
"Some need medical care, but some just need a clean place to sleep, food and water. And love," Settle said.
Dr. Elizabeth Krause is the vet in charge at the SPCA. She and three other vets have examined every dog.
"We've seen a range of serious illnesses and injuries – upper respiratory infections, lots of parasites. Some have minor old injuries; other injuries are newer and more severe," Krause said.
Krause said the injuries and illnesses are consistent with animals who have not had adequate space and shelter.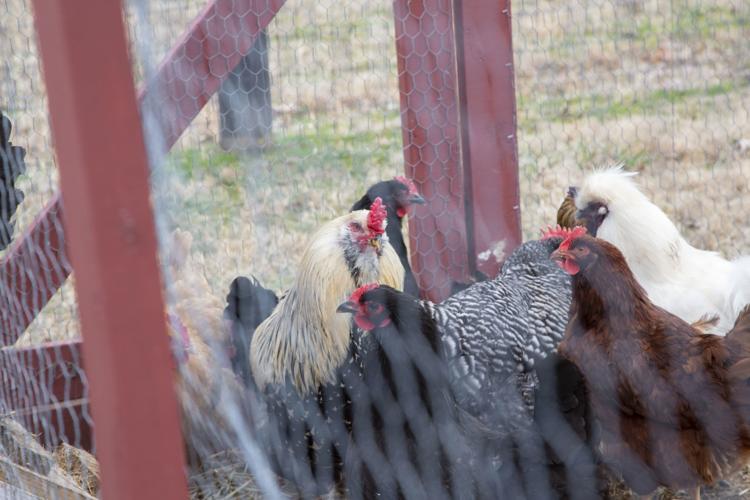 Krause said she looked at the chickens when they arrived, but admitted she's not an expert. The SPCA called in a vet who is more familiar with poultry. Some of the chickens –- the healthiest -- were settling into a coop on the SPCA property; others were being housed in another room at the facility.
Settle said she was working to make the space as chicken-friendly as possible.
"Unfortunately," Settle said, "we don't have a 50-chicken coop."
All in all, Settle said, the staff is managing.
"We are all sleep-deprived, overwhelmed, but I have heard no complaints. Lots of tears, but no complaints. I can't get the staff to go home. When they do go home, they want to take the dogs with them, but they can't. The staff is so glad to have these animals, to be working to help them heal. That's what we are here for."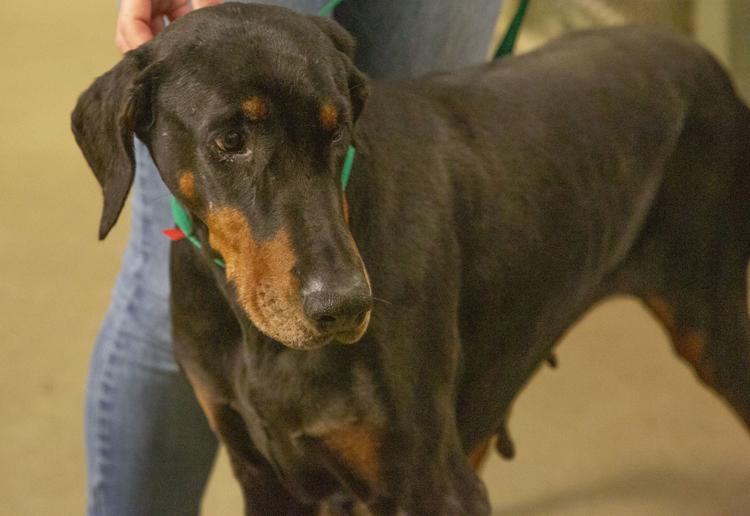 Settle is pleased that many of the Dobermans are already looking healthier.
"When they first came in, the puppies weren't playing. Most of the dogs look better now, more relaxed."
She added that the French bulldogs were, in general, less ill than the Dobermans. "They were not as malnourished," she said.
How to help
Settle said she has received an outpouring of concern from the community, including dozens of calls a day offering assistance. Some residents have been dropping off lunches for the overworked staff.
Settle said the shelter still has some dog food left over from residents' generous contributions during another recent influx of dogs.
Cleaning supplies are needed, though. She posted on the SPCA website: "So many have asked what we need to help care for all these animals. The shelter needs: newspaper, bath towels, liquid detergent, powdered detergent and bleach. Both Walmart and Visa-type gift cards. All donations are greatly appreciated and of course tax-deductible. Monetary donations can also be made below or on our website: www.fauquierspca.com/how-to-help/donate-2/."
"It's not all about money, but monetary donations could be used to pay for the veterinary services," Settle said.
The community wants so much to help, Settle said. She admitted she is almost afraid to ask for what she needs.
"If I say I need chicken feed, I'm afraid I'll get 900 pounds of chicken feed that I won't be able to use. If I say I need someone to take loads of laundry to the laundromat, I'll get 100 people the next day who want to do our laundry."
She is also getting calls from residents who want to adopt the dogs, but adoptions are not possible now. The animals are owned by Canis Maximus. The SPCA is only their caretaker at this point.
Even if a court hearing eventually results in ownership of the animals being transferred to the county, most are not healthy enough to leave the care of the shelter. For now, they will remain where they are.
In a pen in one room of the shelter was a mother French bulldog and her four tiny puppies; three are brown and one brindle colored.
The mother dog was jumping up, eager for attention, but the puppies were sleeping, oblivious to any activity, piled contentedly on top of one another.
"Don't take a picture of the babies," pleaded Settle. "Everyone will want one."