Some traveled to Jamestown to take part in the festivities, some stayed home and some used their presence to express their own personal protest against President Donald Trump.
Attendance at Tuesday's events in Jamestown commemorating 400 years of representative democracy in the U.S. was a mixed bag among Prince William County's 13-member delegation of state lawmakers.
At least two – Dels. Hala Ayala, D-51st, and Jennifer Carroll Foy, D-2nd – joined the Virginia Legislative Black Caucus's boycott of the event, which it announced Monday. 
In a statement, the group said the event would "be tarnished unduly by the presence of the president, who continues to make degrading comments toward minority leaders, promulgate policies that harm marginalized communities and use racist and xenophobic rhetoric."
The statement went on to say that "those who have chosen to attend and remain silent are complicit in the atrocities that he incites." 
Foy, an African-American attorney, issued a separate statement Monday to denounce the president. 
"I will not pay respect to racist remarks, sympathies with white supremacists and neglect of our communities of color," Foy said. "Instead of insulting and denigrating communities of color, the president should spend some time dealing with his own infestation of racism and corruption."
Trump's appearance in Jamestown follows his weekend tweets disparaging Rep. Elijah Cummings, D-Maryland. Among other things, Trump called Cumming's 7th District, which includes part of Baltimore, a "rodent infested mess."
The leaders of Virginia's Democratic House and Senate caucuses had already said earlier this month they would sit out any appearance by the president, who was invited to the event last year by Gov. Ralph Northam (D) and others along with several other dignitaries. The Democrats were initially boycotting over Trump's earlier tweets telling four congresswomen of color—all of whom are U.S. citizens and three of whom were born in the U.S. – to "go back" to where they came from. 
Del. Luke Torian, D-52nd, who is also a member of the Virginia Legislative Black Caucus, attended a wreath-laying ceremony in Richmond the group planned as an alternative to the Jamestown event, according to an aide.
Sen. Scott Surovell, D-36th, was out of the state on vacation.
Del. Lee Carter, D-50th, also stayed away, saying he wasn't sure what he'd do until the announcement was made Monday that Trump would attend.
"I was already on the fence about attending because it also marks 400 years since the first Africans were brought to the mainland in chains, and I wasn't convinced that aspect of it was being handled in a way that was appropriate to the severity of that atrocity," Carter said Tuesday, adding: "President Trump as the headliner solidified my decision not to attend."
In a statement, Del. Tim Hugo, R-40th, said he was "honored" to participate in "a historic event that symbolize[d] the birth of democracy."
"I am also proud of the work the General Assembly has done to ensure that we continue to improve upon our tragic, unjust past," Hugo's statement said. "Virginia was, and continues to be, an example and leader for governance across the world."
But at least two other local Democratic delegates —Elizabeth Guzman (31st) and Danica Roem (13th) -- said they were going in part to stand up to Trump's divisive rhetoric. Guzman said she brought her 10-year-old daughter, Hannah, to the event.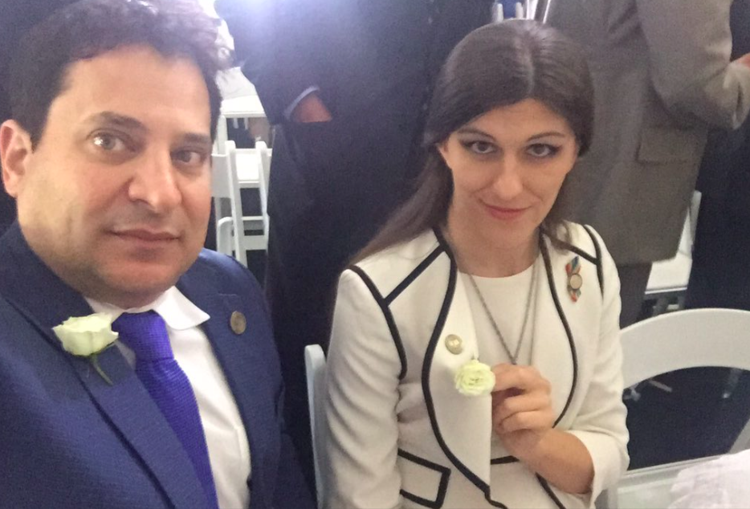 "When she saw on TV children in cages due to Mr. Trump's executive orders, Hannah told me, 'We are not animals.' When he puts kids who look like her into these cages, he is attacking my daughter and all children in my community," Guzman said of Trump in a statement. "When I ran in 2017, I did it for my children because I don't want them to think that they are less of an American, whether they are brown or black, or their last name is Guzman."
Guzman added that she believes her job as a Virginia delegate "is to give voice and power" to her constituents.
"While Trump seeks to divide our communities with his divisive rhetoric, I will continue to bring our communities together," she added. "I am proud to be part of the most diverse group of delegates in the history of Virginia, and that I will stand up to his racist, sexist, and xenophobic message. It does not represent Virginia values, and certainly not American ones."
Roem chose to attend the event with Richmond-based trans healthcare advocate Austyn Higgs, who is a trans woman of color, as her guest. The freshman delegate said it was important to have a presence to promote a narrative of inclusion and to counter the "'vitriol and division" going on at the national level, even if the president's  speech was relatively tame. 
"At a time, at the national level, where you have seen African Americans being singled out, when you see trans people and especially trans women of color being stigmatized and singled out, Austyn is here to counter that weight," Roem said. 
Roem said she wants to promote issues that unite people rather than divide them and pointed to her advocacy for improved transportation infrastructure and expanded healthcare access in the state as topics that could bring people together. 
"You should be able to trust your elected officials to do the right thing, and if you don't agree with them, have a civil discussion about why," Roem said. "You cannot serve your constituents by attacking them."
This article has been updated to include comments from Del. Tim Hugo, R-40th.
Correction: This story was updated to note that Del. Luke Torian attended a wreath-laying ceremony in Richmond as part of the day's events, information that was not initially known to his staff.