Just a few months ago, Jahneya Miller-Watson was working at a Bojangles restaurant and living with her boyfriend in a rented room. But the landlord recently decided he needed the space, leaving the two with no place to stay.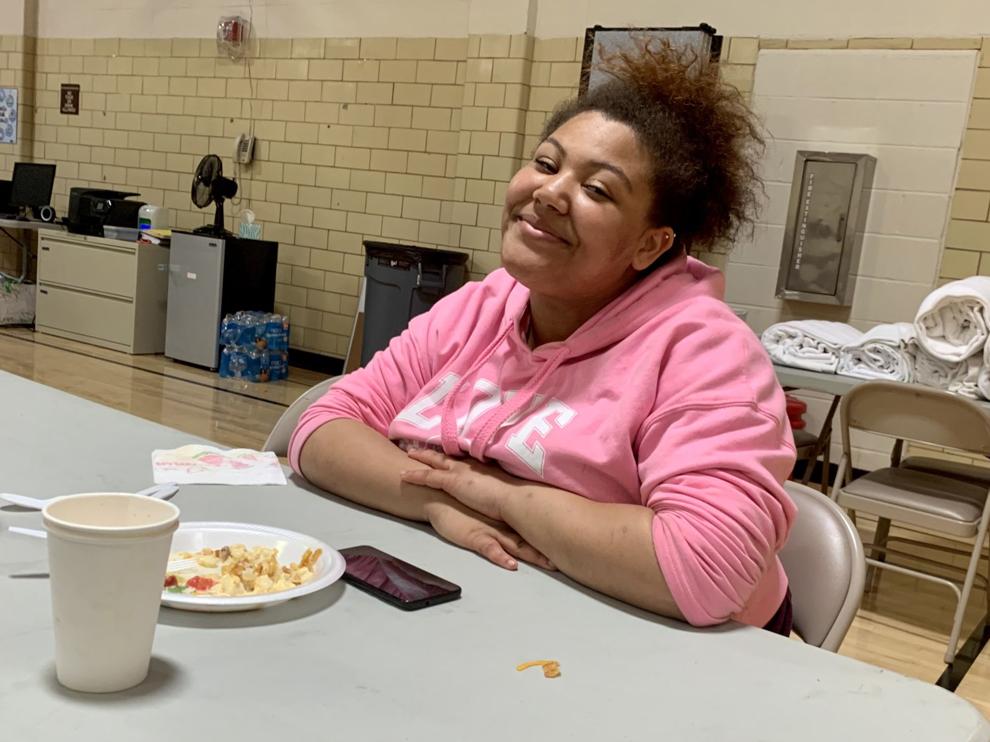 Since then, Miller-Watson has spent her days in a tent near Prince William County's overnight shelter between venturing out to fill out job applications and looking for places to charge her cell phone.
But life became even more difficult last week when the coronavirus pandemic closed Potomac Mills mall and forced its many neighboring fast food restaurants to shift to drive-thru only.
"They're not looking for workers, so it's hard to get back on your feet," Miller-Watson said Saturday. "Now that this coronavirus is happening, it's making it 10 times harder on people."
One bright spot, Miller-Watson said, is the county's recent decision to relocate its overnight shelter from a modest, house-sized building off Telegraph Road in Woodbridge to a gymnasium at the A.J. Ferlazzo Building.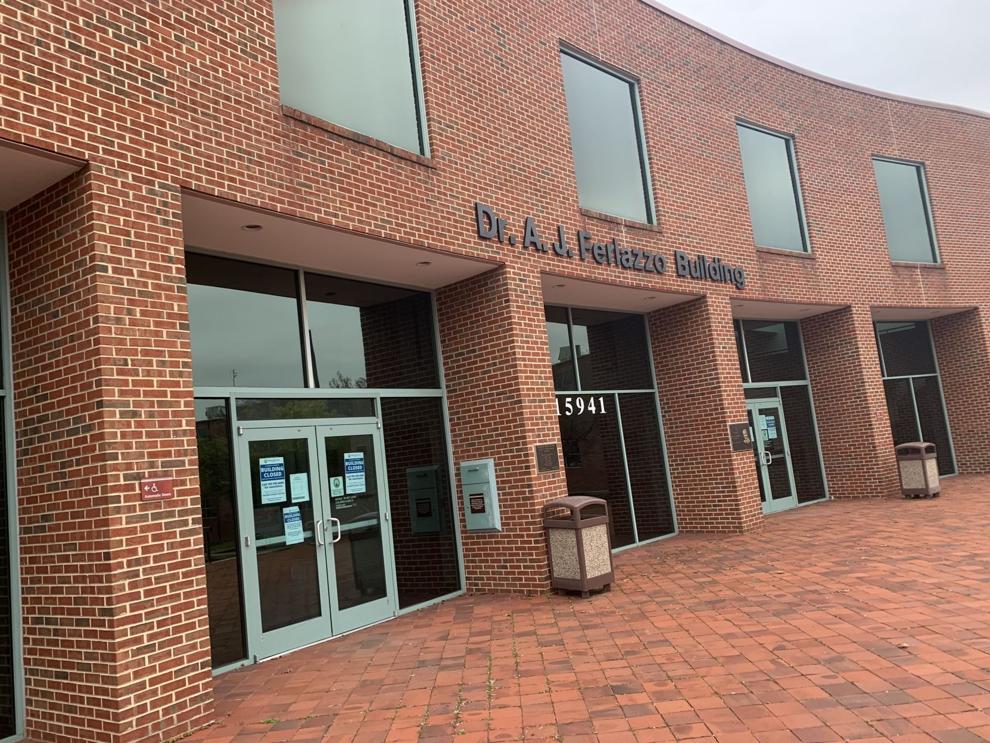 The building, at U.S. 1 and Cardinal Drive, was the original Gar-Field High School and later became Saunders Middle School before both schools relocated to larger buildings. It now houses county offices but still has a gymnasium with men's and women's bathrooms as well as several showers. 
County officials began moving the shelter last week, after Gov. Ralph Northam signed an emergency order limiting restaurants, theaters and fitness centers to no more than 10 patrons. The shelter opened in its new space on Thursday, March 19.
By Saturday night, clients were settling in to the new routine, said Rose Powers and Gabrielle Tibbs, both of StreetLight Ministries, a nonprofit that runs the overnight shelter for the county.
Since last Thursday, clients have gathered outside the old overnight shelter starting at about 5:45 p.m. each night.
A security guard offers squirts of hand sanitizer, searches bags and uses a handheld metal detector to check for weapons. Clients then board a Potomac Rappahannock Transportation Commission bus that ferries them to the Ferlazzo building. Once inside, they check in and are assigned cots and shower times.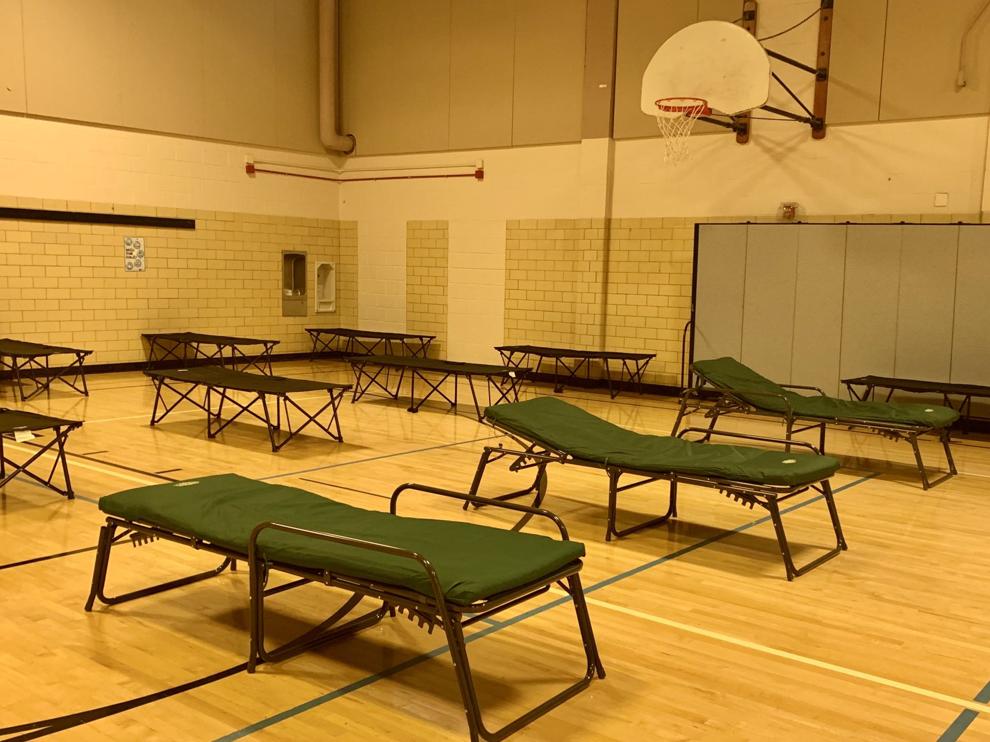 About 30 people filed in Saturday night. Some went immediately to their cots to rest after a long day at work or on the streets. Some stopped at a table with extension cords and chargers and plugged in their cell phones.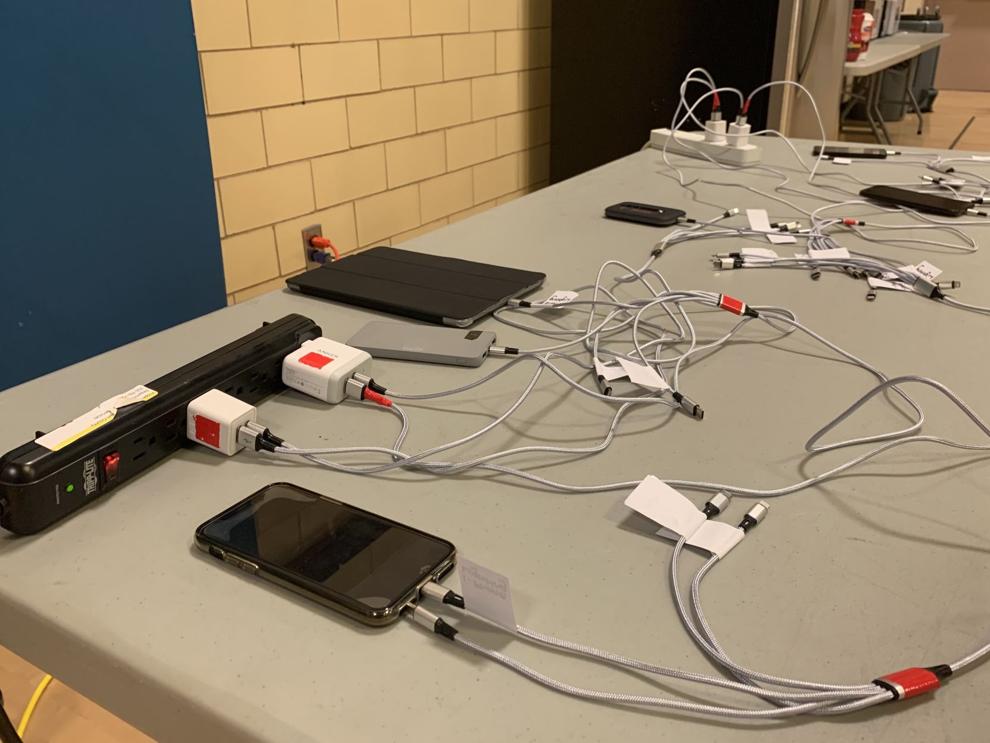 A few began dismantling piles of clean, white linens to make bed rolls, each with two sheets and a bath towel.
Some made cups of instant coffee (a new coffee urn is on order) and settled into padded folding chairs spaced 6 feet apart in front of a large-screen TV. There's no cable TV yet, but someone put in a DVD.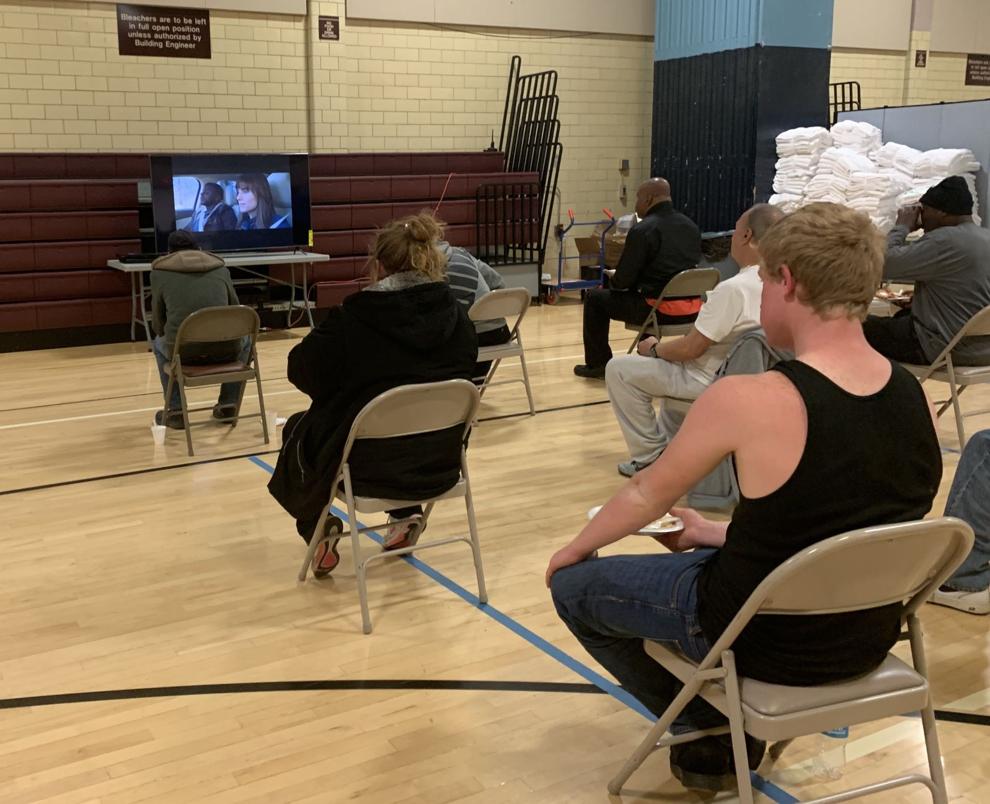 "Now they wait for their dinner," said Powers, executive director of StreetLight Ministries. Because of the mandated social distancing, "They're going to have to eat in shifts," she said. 
Within a few minutes, shelter staff had set up a buffet table of take-out pizza, tossed salad and large pans of marinated chicken, potato casserole and vegetables and rice. Orange juice, cold tea and fruit punch were served in paper cups. Everything was donated by members of St. Francis of Assisi Catholic Church, which supplies dinner at the overnight shelter every Saturday night.
StreetLight staff member Cecily Salvador worked the buffet. Salvador is completing a degree in social work at George Mason University and has worked in the overnight shelter for two years. 
Between servings, Salvador said the new location is a welcome change. The old shelter, which was often filled to capacity with 48 clients, was too crowded, she said.
"We were like sardines in a little can," she said. 
The gymnasium offers not only offers more room to spread out but better air quality and the reassurance of the county's eastern police station right across the street, which is important because most of the shelter's staff members are women. Even the homeless clients themselves seem more comfortable, Salvador said. 
"They have been more receptive to being positive. They're very calm. I think it's the clean environment and the openness of the building. It's a lot of changes, but they're doing really well."
More bathrooms, more space
Miller-Watson said she especially appreciates having more showers and bathrooms. And although inside a gymnasium, the space seems more quiet because clients aren't sleeping on tightly packed bunkbeds, as they were in the shelter, she said.
"In the old building, there was snoring and hearing everybody's conversations. Here, you still hear people but there's more space. You're not under somebody or over somebody. I feel safe."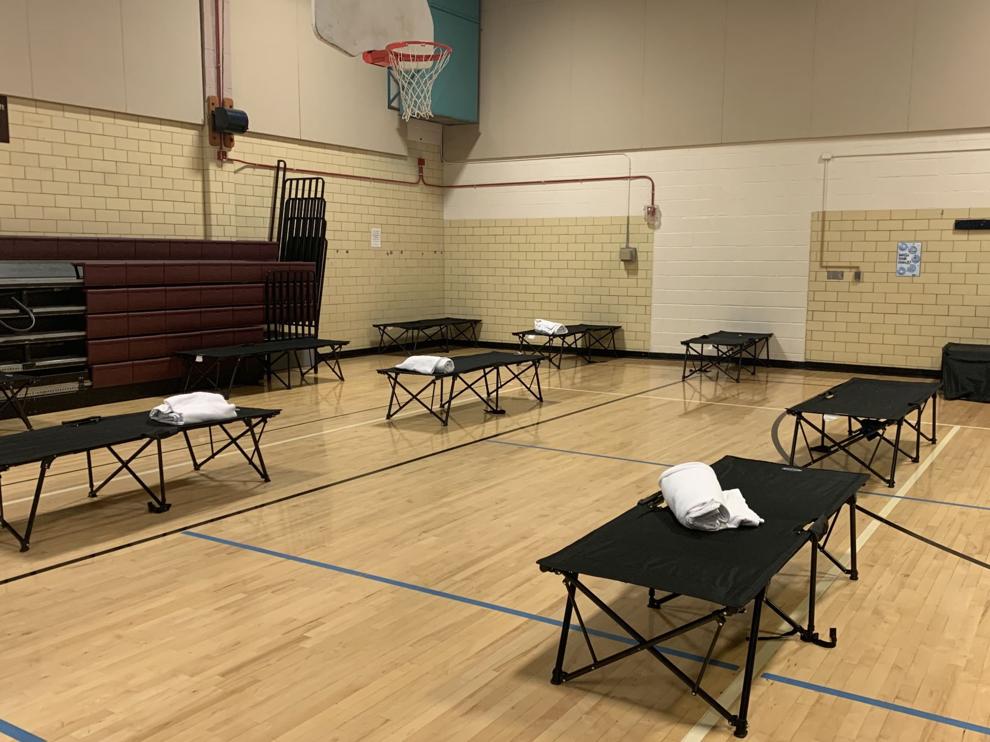 Moving the shelter was no small task. It required pulling cots out of county storage; setting up partitions; transferring linens, blankets, tables, chairs, food and supplies; and outfitting the gymnasium with extra power, computers and cable TV. 
 "It was really the county that rose to the occasion to get it all done," Powers said.
Prince William County's Department of Social Services Director Courtney Tierney said the need to relocate the shelter became clear when state officials mandated social distancing in public places. 
"If we did social distancing at the overnight shelter, we would not be able to serve the same number of people," Tierney said. "In order to do that, we had to change the location."
The move did not require an infusion of funding, Tierney said, because the county used existing staff and resources. 
"It hasn't been a 'you can't' type of situation. It's been a 'let's go ahead and get it done' situation," Tierney said. "There was no pause to think about not doing this. This was the right thing to do for this population."
Donations sought to place elderly, 'medically fragile' homeless in hotels 
Still, not all of StreetLight Ministries' clients should remain in the shelter amid the ongoing coronavirus outbreak.
That's why Powers began raising extra money last week to pay for hotel rooms for seven of their most vulnerable clients, all of whom are older or suffer chronic health conditions. One man had just been released from the hospital on Saturday, Powers said.
StreetLight put out an appeal on its Facebook page Thursday for $10,000 in donations. By Saturday, about $5,000 in pledges and donations had already been made -- enough to keep the older clients in hotel rooms for the next few days.
"One woman was so panicked" about staying in the shelter amid the coronavirus pandemic, Powers said. "She was in tears when she found out she was going into a hotel. … They couldn't stop thanking me. They were very, very grateful."
Social distancing forced the move, but both Powers and Tibbs, StreetLight Ministries director of supportive programs, said they now realize how much better things are in a larger space.
"It's like you can literally breathe. That's how physically you can feel the difference," Tibbs said.
What the new shelter didn't have as of Saturday were thermometers to screen for ill clients or face masks, both of which they were trying to get as soon as possible. But even without those things, Powers said she believes it is a healthier space. 
Retaining the gym in perpetuity would be ideal, Powers added, but she said she has no idea yet whether that might be possible.
"We really need a larger space to operate the overnight shelter," she said. "But at this point, it's not affordable for StreetLight [alone] and I guess not for the county, either."