The Virginia Farm Bureau and the Sierra Club Virginia chapter have endorsed a slew of Virginia politicians ahead of this year's elections, including a large number of Democrats and several Republicans representing Prince William County.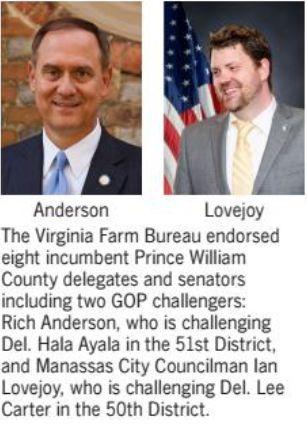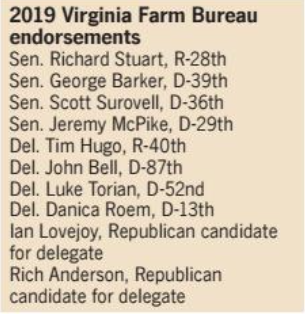 The Virginia Farm Bureau Federation's political action committee, AgPAC, endorsed 10 lawmakers and candidates from Prince William: Sen. George Barker, D-39th, Sen. Scott Surovell, D-36th, Sen. Jeremy McPike, D-29th, Del. Luke Torian, D-52nd, Del. Danica Roem, D-13th, Del. John Bell, D-87th, Sen. Richard Stuart, R-28th, and Del. Tim Hugo, R-40th.
The group also endorsed Republican challengers Ian Lovejoy, who is running against Del. Lee Carter, D-50th, and Rich Anderson, who is running to unseat Del. Hala Ayala, D-51st.
The endorsements were based on recommendations of local committees of farmers and evaluated through a grassroots process on their understanding of the needs and challenges of Virginia farmers, according to the farm bureau.
"Those who have received the AgPAC endorsement have a history of supporting issues important to agriculture," said Wayne F. Pryor, president and chairman of the AgPAC board of trustees. "We believe these candidates will help protect the agriculture and forestry industry and ensure that it remains the No. 1 industry in the commonwealth."
Lovejoy, who currently serves on the Manassas City Council, said small, local businesses rely on Virginia agriculture. Lovejoy has prioritized "reasonable taxation" as a part of his campaign platform, saying the tax burden facing North Virginia residents has made it difficult for small businesses to thrive.
"Agribusiness adds approximately $3.8 billion annually to the Virginia economy and creates nearly 70,000 jobs. I'm honored to be endorsed by the Virginia Farm Bureau and I look forward to working with them to protect and empower our agriculture industry," Lovejoy said.
Hugo, who is being challenged by progressive Democrat Dan Helmer, said in an email that farming and agriculture are vitally important to the economy of Virginia. Hugo has held his 40th district seat since 2003.
Virginia farmers have been hit hard by the United States' trade war with China, which has led to cutbacks on purchases of American agricultural products. In a statement to the Joint Money Committees of the General Assembly in August, Gov. Ralph Northam (D) said China used to be the No. 1 destination for Virginia's agricultural and forestry exports, such as soybeans.
"In 2016, we exported nearly $700 million in those products to China," Northam said. "But because of the trade war, our agricultural exports to China have lost nearly two-thirds of their value, resulting in hundreds of millions of dollars of lost revenue for Virginia farmers. Sales of soybeans are now just $235 million, and China has dropped to our number two agricultural trading partner."
Virginia farmers stand to gain from a second round of federal aid designed to offset income losses from foreign trade disputes but would prefer to see a resolution to trade conflicts rather than a government check, according to a statement from the farm bureau.
Last year, the U.S. Department of Agriculture distributed $8.5 billion in payments to American farmers who applied for aid.
"We continue to be grateful for help in these desperate times, but we must have a congressionally approved trade deal with our major trading partners: Canada, China and Mexico," said Wilmer Stoneman, Virginia Farm Bureau Federation vice president of agriculture, development and innovation. "A trade deal now is what's needed to improve the economic outlook for Virginia farmers."
Virginia Sierra Club endorses 9 local Democrats
The Sierra Club Virginia Chapter, a non-partisan environmental organization, has endorsed nine Democratic lawmakers from Prince William -- Surovell, McPike, Bell, Roem, Ayala, Carter, Helmer, Del. Jennifer Carroll Foy, D-2nd, and Del. Elizabeth Guzman, D-31st.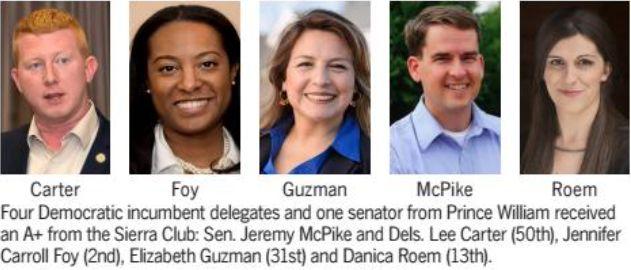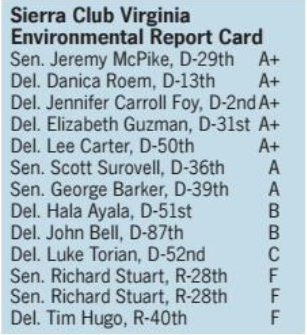 Endorsements were based on candidate's overall environmental record and platform, on their performance on environmental issues as an incumbent, and on their prospect of winning the election or mounting a credible campaign.
In addition to endorsements, the Sierra Club Virginia Chapter also publishes an annual environmental report card based on lawmakers votes on energy policy and climate change bills in the General Assembly.
Prince William Democrats scored mostly high marks on the Virginia Sierra Club's 2019 report card, released earlier this month, while the county's three remaining Republicans received the lowest grade possible.
Each legislator was graded by their votes on 16 climate change and energy policy bills introduced in the 2019 Virginia General Assembly session. The scorecard reflects key votes that showed a distinction between elected officials who took a pro-environmental position and those who did not, the organization said.
"In a year when every seat of the General Assembly is up for election, it is vital for voters to distinguish rhetoric from reality on their legislators' voting history," said Bob Shippee, Legislative Chair of the Virginia Chapter of the Sierra Club.
 "I am proud to fight for environmental justice, and advocate to protect our clean air and water, our beautiful Chesapeake Bay, and pristine wilderness across the commonwealth," Guzman said.
McPike said Democrats will be quick to pass environmental legislation to address climate change and renewable energy should they take control of the House and Senate next year. All seats in the House and Senate are up for grabs in November.
"Virginia has been painfully slow to change in terms of adopting renewable energy sources," McPike said. "We've been behind year after year and that has to change."
Surovell sponsored the recently-passed Coal Ash Clean-up bill, which requires coal ash at four sites – Chesapeake, Chesterfield, Bremo and Possum Point – be recycled into building material or excavated to lined landfills within 15 years. The bill was approved by both the House and Senate and signed into law by Northam this summer.
The report also highlights state lawmakers who refuse campaign contributions from Virginia's monopoly utilities. Ayala, Bell, Carroll Foy, Carter, Guzman and Roem rejected campaign cash from Dominion Energy and Appalachian Power. Dominion Energy is among the state's largest political donors.
"Unfortunately, Virginia's monopoly utilities and other polluters are still pursuing short-sighted ways to profit off of coal, gas and oil and limit access to clean energy solutions," the report said. "Dominion Energy, especially, continues to use its deep pockets to lobby in favor of policies that harm our planet and put the burden on taxpayers and their customers."
Those Delegates have also been endorsed by Clean Virginia, a nonprofit environmental advocacy group based in Charlottesville, for rejecting donations from electric utilities. The organization says it will invest $1 million in Virginia's elections in 2019.
"With the rollback of bedrock environmental protections at the federal level, the need for environmental champions in Virginia has never been more crucial," said Sierra Club Virginia Director Kate Addleson.
Republican state Sens. Dick Black, Stuart and Del. Tim Hugo voted in favor the coal ash clean-up bill as well as a bill to decommission solar equipment but voted against other environmental and climate policy bills taken into account by the report.
All three voted against the solar freedom bill, SB1456 and HB2329, which would have removed barriers to solar energy generation in the state. Black and Stuart voted against SB 1573, which would have prohibited offshore oil and gas drilling in Virginia's coastal waters.
In recent years, the Sierra Club Virginia Chapter has endorsed many more Democrats than candidates from other parties, but the organization says their record does not distort their "assessment of individual candidates who are committed to environmental protection."
According the organization's website, the Sierra Club Virginia Chapter encourages "pro-environment candidates from all parties to run for office, and all candidates, regardless of party affiliation are given equal consideration."
Reach Daniel Berti at dberti@fauquier.com