Sentara Healthcare received its first shipment of 11,700 doses of the Pfizer COVID-19 vaccine Monday morning, which will be available to the healthcare system's frontline workers in the coming days. 
The shipment arrived at Sentara Norfolk General Hospital early Monday morning and will be distributed to the healthcare system's 10 other Virginia hospitals, including Sentara Northern Virginia Medical Center in Woodbridge.
Select hospital employees will begin receiving the shots as soon as Wednesday, Sentara Vice President of Clinical Effectiveness Mary Morin said.
The healthcare system is limiting its initial vaccine distribution to 12,500 "high-risk" employees, including staff in the emergency departments, intensive care units, COVID patient units, respiratory units and those who provide services in those areas. 
In the initial shipment, there is enough for "around 94% of that first group," Morin said. 
But Morin added that Sentara will receive an additional 20,800 doses of the Moderna vaccine on Dec. 21 that will cover the remaining frontline workers and an additional 12,000 employees that make up a broader group of healthcare workers who work outside of the hospitals, such as those in direct patient care. 
"There's ample vaccine or all of those healthcare workers," Morin said. 
Both the Pfizer and Moderna vaccines are "two-dose" vaccines. Pfizer requires a second vaccination shot 21 days after the first. Moderna requires a second vaccination shot after 28 days. 
The COVID-19 vaccine is voluntary for Sentara employees. They are not required to receive the vaccine. All staff will continue to wear proper personal protection equipment, including masks, and will follow Sentara's COVID-19 protocols regardless of vaccination status.
Morin said that around 80% of Sentara Healthcare's frontline workers said they planned to receive the vaccine when it is made available and anticipates "a high percentage of staff to take advantage of that vaccine." 
"We are very, very excited, and it means that we get to start hopefully working toward that herd immunity, which will take time," Morin said. "... This is a significant opportunity."
Morin said that emergency medical services workers, first responders and correctional facility staff are next in line for the vaccine, according to state and federal guidelines. The COVID-19 vaccine is not yet available to the general public. Morin said she expects that to occur in late spring or early summer of 2021. 
Sentara Chief Pharmacy Officer Tim Jennings said that it was "remarkable" that a vaccine has come out so quickly "without cutting corners." 
"I can say that it's completely unprecedented to get a drug that quickly," Jennings said. 
The initial 11,700 doses received by Sentara are among a total of 72,150 doses arriving at health systems across Virginia on Monday and Tuesday to be administered to frontline workers. Virginia health systems expect to receive an estimated 480,000 doses of vaccine from Pfizer and Moderna by the end of December.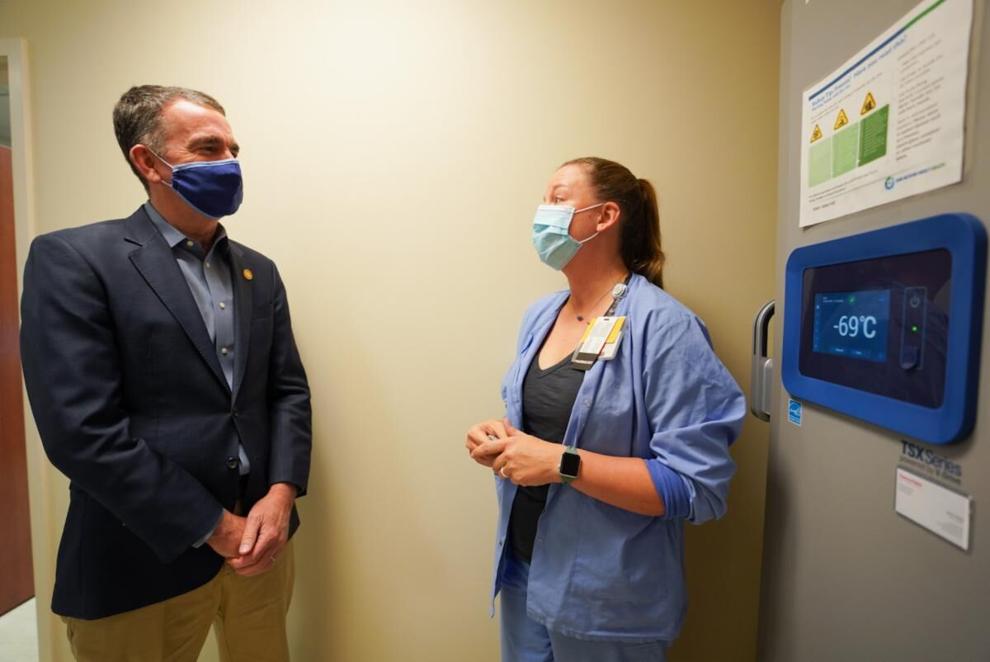 In a statement, Gov. Ralph Northam said that the "initial doses of the COVID-19 vaccine are a much-needed symbol of hope for our commonwealth and our country."
"With this remarkable medical achievement, we are beginning to see the light at the end of a long, dark tunnel," Northam said. "Yet even in this moment of celebration, we must remember that this is the first step in a months-long process to receive, distribute, and administer the vaccine as it becomes available. I ask everyone to stay vigilant, take care of each other, and continue following the public health guidelines as we work to vaccinate Virginians in a safe, efficient, equitable manner."