After a months-long process that included accusations of segregation, the Prince William County School Board approved a boundary plan for the 13th high school Wednesday that includes a promise of more funding for low-income students and older schools across the county.
Exactly how much more money will be directed to older schools and schools that teach low-income students has not yet been determined and was not discussed at the meeting.
But school board adopted a resolution that promises such investments along with the new boundary plan. School Board Chairman Dr. Babur Lateef said the move is an attempt to address the problem at the center of the boundary debate -- inequity in Prince William County's schools.
"We're going to really push for more money for economically disadvantaged [students], and  we're going to commit to adding programs at Stonewall Jackson, and we're going to commit to adding infrastructure spending" for older schools, Lateef said. "So this is going to tie the hands of the board and recommit our efforts to doing this."
Without talking specifics, Lateef mentioned the recommendations of the "infrastructure task force," a committee of parents and school division staff that worked for two years to identify shortcomings in older school facilities. In a report released earlier this year, the group recommended hundreds of millions in upgrades for older buildings.
The school division is already spending about $1 million to make security upgrades to older schools. During the budget year that begins July 1, millions more will be spent to add auxiliary gymnasiums to Woodbridge and Gar-Field and renovate parts of Osbourn Park, three of the county's oldest high schools.
But much more spending is required to address all the task force's recommendations.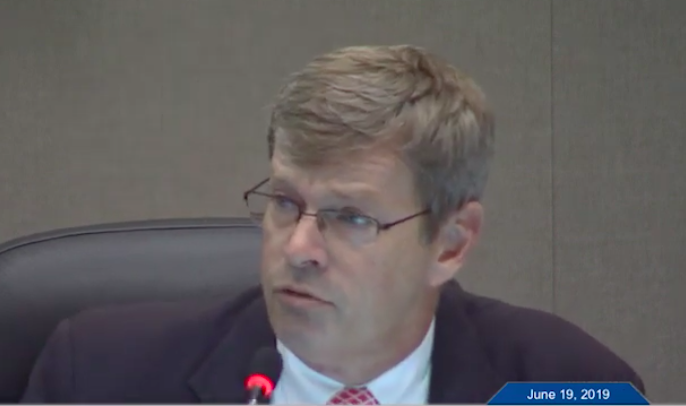 The resolution promising the extra spending was drafted by School Board member Gil Trenum (Brentsville) with the help of Stonewall Jackson High School math teacher Charles Ronco and other members of the Stonewall Jackson community.
Stonewall Jackson High School played a significant part in the boundary-drawing process because more affluent areas of western Prince William County will be reassigned out of the Manassas-area school to attend the 13th high school. 
Also, each boundary proposal considered by the school board left Stonewall Jackson with higher percentages of minority, low-income and English-learning students than currently attend the school. 
Both factors sparked significant controversy and an outcry from some Stonewall Jackson students, who accused the school division of deliberately segregating poor and minority students at Stonewall.
But as Lateef said, the school board and school division officials ultimately realized "there's no way to map our way out of this mess."
That's why the resolution promising more money for Stonewall Jackson and other schools serving low-income students – as well as for older schools -- was proposed, Ronco said.
"If we have schools with higher needs get more resources, we're going to be able to serve [students] better," he said.
A few parents also spoke in favor of the idea during citizen's time, including Julie Couch, who served on the infrastructure task force.
Couch said the school division exacerbates inequality by building the "best schools in the state" while leaving older buildings languishing with unmet needs.  
"It's not the kids who are the problem. It's the lack of the investment that is the problem," Couch said. When the board does this over and over again, "it's not only a bad habit, it's willful and deliberate harm."
The resolution also promises two new specialty programs for Stonewall Jackson High School, which currently houses an International Baccalaureate program.
The new high school, located behind Jiffy Lube Live, will open in 2021. The boundary plan will not affect any students currently in high school.
Students in ninth grade next fall will be in 11th grade when the school opens. Those who live in the new boundary area will be able to choose between staying at their original high school or attending the new high school in the fall of 2021.
Students in seventh and eighth grades next year will be the first affected by the new boundaries, as they will be in ninth and 10th grade when the school opens and will be required to switch schools.
Plan affects Battlefield, Patriot, Stonewall Jackson, Osbourn Park high schools
The school board ultimately voted 7 to 1 to approve a boundary plan devised by Trenum, dubbed "1b," which will impact areas of western Prince William County currently zoned for Battlefield, Patriot, Stonewall Jackson and Osbourn Park high schools.
Trenum's plan was not one of the two plans recommended by school division planning staff, according to Matthew Cartlidge, supervisor of planning for Prince William County schools.
The main difference in Trenum's plan and those proposed by school division planning staff, dubbed "1a" and "2", is that Trenum's plan reassigns two areas not included in earlier plans. The "Lomond" area of Manassas – an area between Sudley Road and Bull Run Regional Park just north of the City of Manassas line – is reassigned to Osbourn Park High School from Stonewall Jackson under Trenum's plan.
The area will include about 275 high school students when the 13th high school opens in 2021, Cartlidge said.
Trenum also reassigned the area encompassing the Manassas Airport to Brentsville District High School. However, there are currently no people living at the airport, which means Brentsville will not effectively be impacted by Trenum's plan, Cartlidge said.
The school division plan left the "Lomond" area zoned for Stonewall Jackson out of a concern that the shift would overcrowd Osbourn Park, Cartlidge said.
But Trenum said the change is an effort to make room at Stonewall Jackson for its promised specialty programs. Also, Trenum said more students must be assigned to Osbourn Park to beef up its "base" attendance area.
Trenum said he picked that particular area because it is also assigned to Parkside Middle School, where students generally attend Osbourn Park High School.
"I think in the longer term it does provide a larger base of students for Osbourn Park," Trenum said. "We know the transfer patterns are going to change after we redo the boundaries, and so O.P. will lose students from the Stonewall area. This actually helps backfill that a little bit. So from that perspective, I think this is a good plan."
Only School Board member Lillie Jessie (Occoquan) voted against the plan. She said she is concerned Osbourn Park High is being impacted "at the last minute" and without an opportunity to give input.
Jessie also noted that overcrowding Osbourn Park risks access to its specialty programs by students from across the school division. The school offers a biotechnology specialty program and a pre-governor's school specialty program, both of which attract high-achieving students from across the county.
Demographic shifts
The boundary plan approved by the school board raises the percentages of minority, economically disadvantaged and "limited English proficiency" students at Stonewall Jackson and Osbourn Park high schools, while reducing those numbers at Battlefield and Patriot high schools.
Under the approved plan, Stonewall Jackson High School would go from 80.8 percent minority to 88.6 percent minority. Regarding economically disadvantaged students, percentages would rise from the current 50.7 to 59.9 percent. For students learning English, percentages rise to 22.1 percent from 18.7 percent.
Those numbers, however, reflect only the students who currently live in the attendance areas and are not future projections, which were not provided for Trenum's plan. That's because the plan was not formally recommended by the school division's planning office, Cartlidge said.
Osbourn Park High School would be 67 percent minority (up for 62.3 percent); 36.5 percent economically disadvantaged (up from 31.5 percent) with about 15.7 percent students deemed "limited English proficient" (up from 12.3 percent).
In contrast, Battlefield High School will likely be about 35 percent minority (down from 41 percent); 5.3 percent economically disadvantaged (down from 9.9 percent) with about 1 percent of its students deemed "limited English proficient" (down from 1.7 percent).
Patriot High School, meanwhile, would be about 46.2 percent minority (down from 47.4 percent); 12.7 percent economically disadvantaged (up from 12.1 percent) with about 2.4 percent of its students deemed "limited English proficient."
The 13th high school is projected to be 53 percent minority, 16.8 percent economically disadvantaged with 3.1 percent of its students deemed "limited English proficient."
But none of those numbers – including the 88.6 percent of minority students at Stonewall Jackson High School – is likely to attract the attention of federal authorities unless they rise above the percent of minority students who live closest to the school's boundaries, Cartlidge said.
For Stonewall Jackson, for example, the minority student numbers would rise to 89.2 percent of the school's student body if the boundaries were drawn based on proximity to the school alone. 
As long as the minority percentage does not surpass that level, there's less "potential" for investigation under the federal Equal Education Opportunity Act, Cartlidge said.
Cartlidge said he hoped the community felt heard in the school division's process.
"The process is better because of the community input but it's never possible to give everyone what the want," Cartlidge said.
Reach Jill Palermo at jpalermo@fauquier.com