After a sometimes heated discussion Wednesday night, the Prince William County School Board approved the school division's first equity statement, a document intended to guide local schools in their efforts to ensure all students have the support and opportunities they need to succeed. 
PWCS is committed to inclusive practices and equity to promote excellence for all. As a scho…
The vote was not unanimous, and the statement sparked sharp opposition from some parents and community members who objected to its mention of systemic racism and accused the board of trying to inject "critical race theory" into curriculum, teacher training and hiring practices.
About 35 people attended the meeting. Twelve spoke against the equity statement, while two spoke in favor of it. 
At several points during the discussion, School Board Chairman Dr. Babur Lateef (at large) and Vice Chair Lisa Zargarpur (Coles) had to rap the gavel on the dais and ask for order after comments and questions were shouted from the audience.
The school board voted 7-1 in favor of the statement with only School Board member Jennifer Wall (Gainesville) voting against it.
During the discussion, Wall, the only school board member endorsed by the Prince William Republican Committee, asked a series of questions about the equity statement and what it would mean to future school division operations. Among other things, Wall asked what kinds of materials would be used in teacher trainings, how the curriculum might change and what the statement might mean for school discipline and the presence of security officers in schools.
In response, Deputy Superintendent Keith Imon repeatedly said the statement is only a starting point and that any changes that might be made to school division operations it would happen at the direction of the new superintendent, LaTanya McDade, who will take the helm of the school division on July 1. 
The equity statement was written by a special committee of parents, teachers and administrators who have been working since early 2020 to examine equity issues in the school division. Prince William County has a majority-minority school division. Of its 90,000 students, 35.7% are Hispanic, 28% are white, 20.3% are Black, 9.7% are Asian and 5.9% are of multiple races, according to the school division profile on the Virginia Department of Education website.
"This is a starting point," Imon said of the equity statement. "Dr. McDade was part of the discussion on moving this forward prior to her arrival. So, the questions you are asking are not the questions that are prepared to be answered at this point."
Wall, however, said parents "are concerned about where this is going," adding: "They worry that changes in our curriculum are going to lead to controversial ideas or politics entering our schools. … If our students object to what is being taught, or if they feel uncomfortable or if they feel their freedom of thought or conscience or speech is being threatened, what are we going to do about that? How are we going to ensure our students don't feel threatened because of the difficult conversations this might bring up?"
Imon responded by saying teachers do not place students in such situations now "as a matter of practice."
"That's not going to change going forward," he added.
In response to Wall's concerns, other school board members said the statement merely codifies things that are already happening in the school division and would in no way lower academic standards.
School Board member Loree Williams (Woodbridge), expressed her strong support for the statement and what she called the "equity movement." She said the statement is not about critical race theory and does not require the community to agree on ideas such as white privilege and systemic racism.
"This is not about critical race theory. This is not just about being Black or being white," Williams said. "This is about students who are high-performing and don't get their needs met … This is about the students who are at the bottom of that same spectrum and aren't getting the resources that they need. 
"… [Currently] there's no promise to them other than what's legally binding at federal and state levels. We can do better than that. We should be doing better than that for every single student," Williams added. "Equality does not do that. Equity does do that."
The term critical race theory has recently become a political buzz word, particularly among conservatives. The term was first coined in 1989 by attorney and scholar Kimberlé Crenshaw. One of its central tenets is that racism is structural rather than only personal, and that laws and institutional practices can have racist outcomes without racist intent.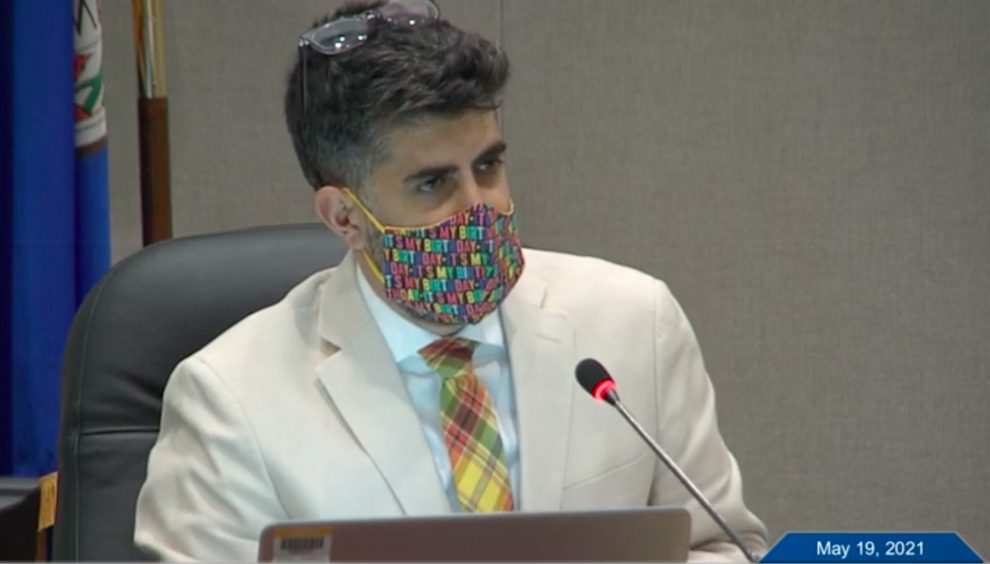 School Board member Justin Wilk (Potomac) also offered a strong defense of the equity statement. Regarding critical race theory, Wilk said: "There is no inherently evil race, and there is no curriculum in this country that validates any conspiracy that we will be educating our students to believe that [some] races are better than others."
Wilk went on to name some examples of changes the school division has already made with an eye toward equity under Superintendent Steven Walts' leadership, including adopting full-day kindergarten, which began in 2005, and the decision last year to change the names of the former Stonewall Jackson High School and Stonewall Middle School, now known as Unity Reed High School and Unity Braxton Middle School. Walts is retiring June 30 after leading the school division for 16 years.
The school division also directs additional funding to schools with high numbers of low-income students. Despite those steps, however, Wilk noted that inequities among schools remain. 
As an example, he said not all middle schools teach high-school level math courses, such as geometry. Three middle schools in the U.S. 1 corridor, he said, have to bus students to nearby high schools for higher-level math, "taking valuable time out of instruction for those kids to get the same course" other students access in their own schools.
Wilk also said schools must prepare students for a multi-cultural workplace. "We need to continue to prepare students for the real world that awaits them and show them the value of all races," he said. 
Lillie Jessie (Occoquan) said the school board should perhaps do a better job communicating the aims of the equity statement to the community but stressed that its intent is to increase expections, not lower them. "We're not talking about lowering the standards," Jessie said. "You move faster, you move higher."
Other school board members shared personal experiences with efforts to improve equity. Zargarpur, an elementary school music teacher, talked about a lunar new year lesson she expanded to include both Chinese and Korean traditions after asking her students how they celebrate the new year holiday at home. 
Adele Jackson (Brentsville) talked about accommodations for students with hearing loss. A former teacher, Jackson said she herself is hard of hearing, as is one of her children. She noted that individualized education plans and other supports for such students are critical.
Caroline Silvera, one of the school board's student representatives, talked about how the school division recently offered free SAT exams for high school students in an effort to improve equity. She noted that transportation and free breakfast were also provided for students who needed it.
"I have my own car, and I have food to eat at home, so I didn't have to worry about any of that. But the county also recognized that there are kids who may not eat breakfast some days because they don't have food in their house or their parents are working and they don't have a car and they need to get to the SAT," Silvera said. 
Wall, however, said she remained concerned about the statement and what it could mean for everything from staff hiring to classroom teaching. She said she believes the school board still has "a lot of work to do" before passing the equity statement. 
"…What I fear is some of the concerns that were raised today, that parents are concerned about fairness, equity, merit. They're concerned about civil rights, they're concerned about freedom of speech, they're concerned about the introduction of destructive political ideology and accompanying methodology," Wall said. 
"I agree with Mr. Wilk that I will fight the introduction of critical race theory ideology in our schools because I think it's harmful. I think it's divisive, I think it pits children against each other and it puts an inordinate emphasis on race …," Wall said. "Instead we should look at achievement and learning and equality of opportunity." 
In a statement issued after the vote, Wall said, in part, that she "will always support fair and equal treatment for all students" but will "oppose any action by the board that I feel is not in the best interests of all of our children or [school] division or lacks definition, is divisive, or hasn't had enough community input." 
In comments before the vote, Lateef mentioned ways the school division has already tried to increase equity of opportunity for students and took issue with comments about the equity statement being an attempt to lower expectations for student achievement. Lateef said everyone on the board is "strongly committed to making sure we are the most competitive and best school division on the planet."
In an interview after the vote, Lateef said the level of opposition to the equity statement surprised him.
"I was stunned," he said. "I did not think we would have this level of furor." 
Lateef said he was most concerned about the perception that the equity statement is in any way an effort to reduce academic standards.
"It really is misinformation to perpetuate this idea that this is an effort to bring anyone down," Lateef said. "It's only to bring people up. This board will stay behind this all day long."