As new details emerge about a plan to turn a mostly undeveloped area of western Prince William County into a 2,133-acre data center corridor, some elected officials and civic groups are increasingly concerned it could resurrect the Bi-County Parkway, a controversial 10-mile bypass once planned to connect Interstate 66 with U.S. 50 in Loudoun County. 
From 2012 to 2016, county residents fought the Bi-County Parkway over concerns that it would open Va. 234 in Prince William to significant truck traffic between Interstate 95 and Dulles International Airport. Ultimately, the road lost the support of half of the county supervisors, who removed the road from the county's comprehensive plan in 2016.
Concerns about the parkway have arisen in recent months primarily because the proposed data center corridor, known as the "PW Digital Gateway," would be built along Pageland Lane, which was slated to become a key section of the Bi-County Parkway, and because estimates show the data centers would drastically increase traffic if the gateway plan is approved.
"The moment any significant commercial development is approved for that corridor, it will immediately bring with it calls to bring up the Bi-County Parkway," Del. Danica Roem, D-13th, said in an op-ed for the Prince William Times. "The existing two-lane country road itself won't be able to support even more commuters at a time when we already have commuters using [Pageland Lane] as a short-cut."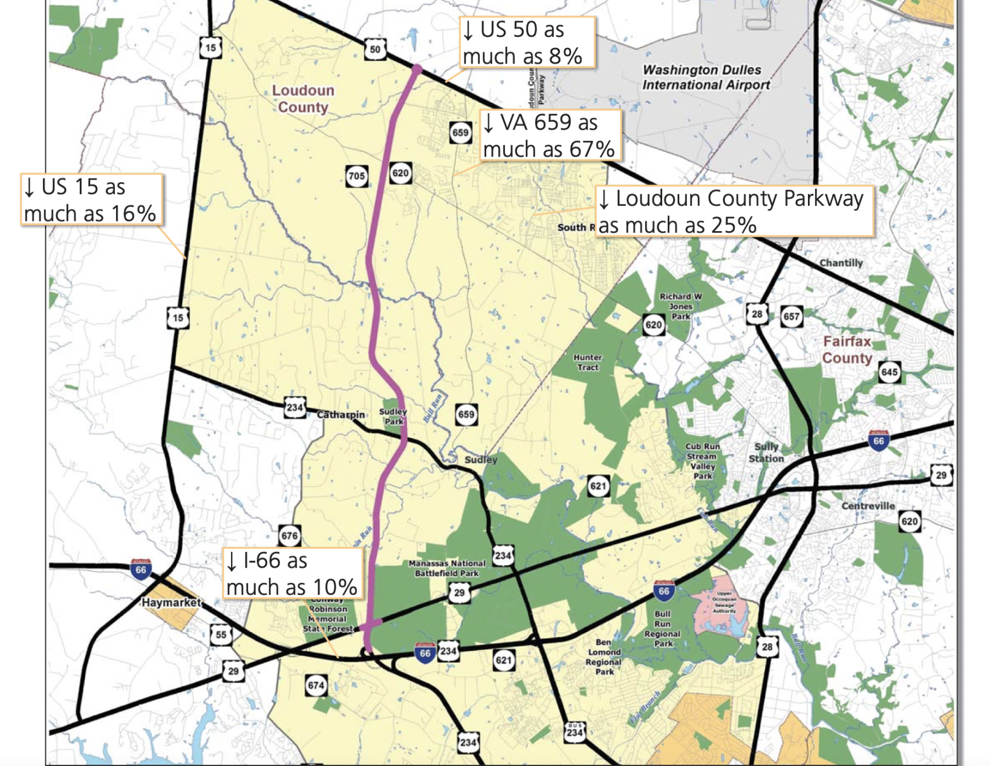 The PW Digital Gateway plan would allow for the construction of up to 27.6 million square feet of data centers in an area currently off limits to industrial development, making it one of the biggest land-use changes in Prince William County in decades. 
In a Nov. 20 traffic report, county transportation officials said the PW Digital Gateway would increase traffic on Pageland Lane from 2,000 vehicle trips per day to more than 27,000 vehicle trips per day at full build out.
Data centers to increase traffic on Pageland Lane
Elizabeth Scullin, a county transportation planner, said the increase in traffic would largely be generated by an influx of workers driving to and from the new data center complexes.
"They used to say that data centers didn't generate a lot of traffic, but we've got data now that shows that they generate traffic, and a lot of it is because there are offices within the data center. Originally, it was just maintenance people coming in and taking care of the equipment, but the centers are so big now that they generate more traffic than we originally thought," Scullin said in a Monday, Nov. 29 interview with the Prince William Times.
To mitigate the traffic concerns, the developers pitching the PW Digital Gateway are proposing to widen Pageland Lane to a four-lane divided parkway between Va. 29 and Sudley Road. The road upgrade would be constructed "over an extended period, to coincide with the timing and location of new data center clusters," according to PW Digital Gateway application.
Mary Ann Ghadban, one of the developers behind the plan and a longtime Pageland Lane resident, said in an interview on Tuesday, Nov. 30 that the road expansion is intended to make Pageland Lane safer and to accommodate new vehicle traffic. But she declined to comment on whether it could one day become part of the Bi-County Parkway extension to Loudoun County.
"All it does is improve a dangerous road that's already there," Ghadban said. 
Ghadban is among the more than 80 homeowners on Pageland Lane who want to sell their homes to data centers and are a part of the application. Many residents say the area is "no longer rural" because of increased traffic, encroaching development and a major Dominion Energy transmission line that traverses nearby farmland. The application asks the county supervisors to change the underlying land designation of the area from rural residential to "tech-flex," a category that would ease the way for future rezonings allowing for data centers.
In a strange twist, many of the residents who are now leading the charge to create a data center corridor along Pageland Lane also fought against the Bi-County Parkway less than a decade ago. 
Officials: Parkway reconsideration already under way
While speculation about the resurrection of the Bi-County Parkway is on the rise,  county officials said this week that they believe the gateway plan will not be the catalyst for its return. 
That's because the Bi-County Parkway, now known to county officials as the "Va. 234 Bypass – North," is already being considered for re-inclusion in the county's comprehensive plan regardless of the outcome of the PW Digital Gateway, according to both Scullin and Rebecca Horner, the county's acting-planning director and deputy county executive over the county's departments of economic development; planning; parks, recreation and tourism; transportation and environmental sustainability. 
Earlier this year, several supervisors requested that the Bi-County Parkway be added back into the county's comprehensive plan as part of the county's 2040 comprehensive plan update. The update is underway and will likely receive a public hearing and a vote sometime next year. Scullin declined to say which supervisors had made the request. 
"[Transportation] has been asked to include the original extension from 66 all the way to Loudoun County as part of our travel demand model analysis in the mobility and land use update of the comprehensive plan. So, if these 27 million square feet [of data centers] are approved by the board, we'll include that as a given as part of our analysis," Scullin said.
Horner said in an interview Tuesday that "the Bi-County Parkway with the Pageland Lane application … are two separate things." She added that the county government has maintained for years that the parkway would need to be re-evaluated during the upcoming comprehensive plan update because of its designation as one of Virginia's 12 "statewide corridors of significance."
The Virginia Department of Transportation defines corridors of statewide significance as travel corridors that "help people and goods move between regions in Virginia and to areas outside Virginia." 
"We don't intend on having a debate about the Bi-County Parkway with Pageland Lane application," Horner said. 
Civic groups oppose the parkway, gateway
Still, some conservation and civic groups opposed to the PW Digital Gateway plan maintain that the data center corridor will beckon the Bi-County Parkway back into the public discussion, and with it, concerns about increased truck and commuter traffic on Va. 234 between I-95 and Loudoun County.  
"The proposed industrial corridor along Pageland Lane in the rural crescent will require that the Bi-County Parkway is built, generating massive truck traffic starting in Woodbridge to the Loudoun County line. Traffic on nearby local roads such as Route 15 and Route 234 will significantly increase," The Coalition to Protect PWC, a local conservation group, said in a statement. 
Residents of Heritage Hunt, an age-restricted community of about 3,500 people that borders one of the properties slated for data centers, have also begun speaking out against the PW Digital Gateway plan and have raised concerns about the potential return of the Bi-County Parkway.
The Heritage Hunt Homeowner's Association formally declared its opposition to the plan last month in a letter to the Prince William Planning Commission. In its letter, it said the "proposed development will forever change the rural and pastoral quality of our area and have a direct and adverse effect on our residents' way of life." 
Bill Wright, a Heritage Hunt resident who is organizing opposition to the plan, said that many in the community, including himself, are worried that the data center plan will "bring the Bi-County Parkway out of mothballs," and send an "endless stream of big rigs roaring and belching their way from I-95 up 234." 
"If this is the future of our county, I don't want to live here," Wright said.