Friends Yvonne Kay and Belvine Bonner said it was mostly curiosity that drew them to Rosie's Gaming Emporium Friday morning, the opening day for the new gambling hotspot in Dumfries' Triangle Shopping Plaza.
The two were trying their luck at a few of the 94 "historical horse race betting machines" in the newly remodeled 18,000-foot storefront space. With its black ceilings, black-and-red carpeting and brick walls lined with slot-like betting machines, Rosie's Gaming Emporium looks a lot like a small casino.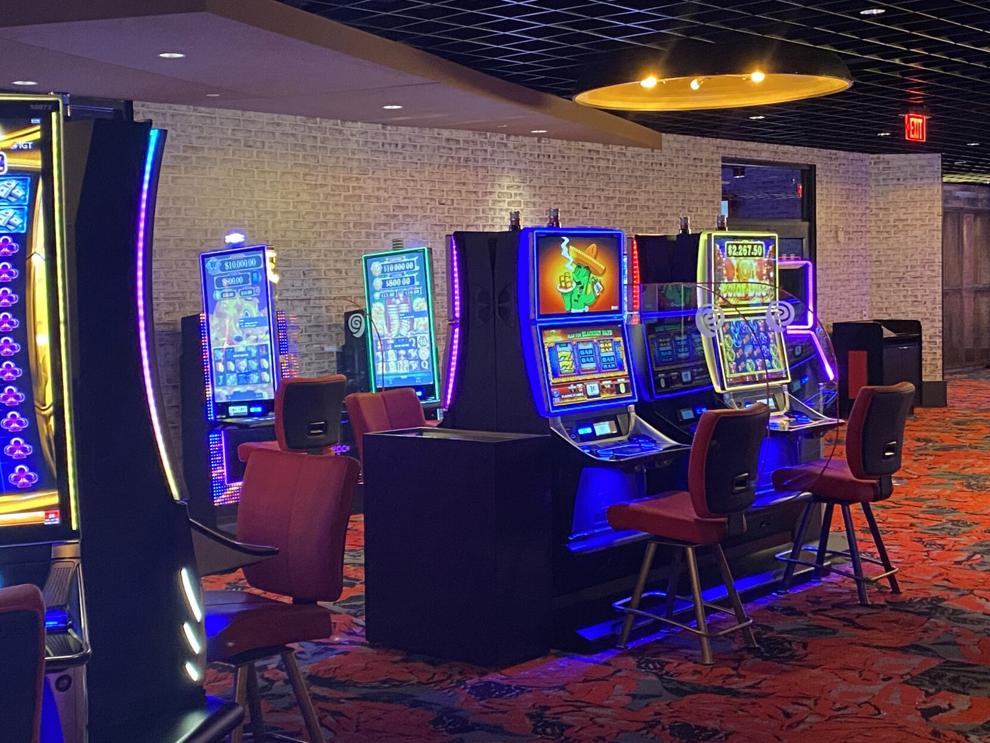 But it's not, both its owners and Dumfries officials insist. There are no cards, no dealers and no dice – just the "HHR betting machines," which accept bets ranging from 1 cent to $10, as well as a bar and fast-food-like dining area. 
The HHR betting machines feature large, brightly colored screens flashing with animated graphics, letters and dollar signs. The machine Kay and Bonner were playing featured a lion-headed serpent and a muscular warrior with a long black ponytail. Tiny video screens at the top of the screen showed snippets of past horse races, but exactly how the races drove the machine's "pay lines" – the way the graphics line up to make a jackpot –  is hard to discern.
Kay, however, seemed to have it all figured out.
"I won $120!" she exclaimed during a break from the game. Her friend was less enthusiastic. "I only won $21, and I played it all back," she said with a laugh.
Kay wore a black cloth mask from the grocery store where they work. Bonner had a white paper mask. Both and said they felt safe inside Rosie's, even though health experts have long warned against congregating indoors with strangers during the pandemic.
"I feel safe. I've got my mask on. I deal with a bunch of people every day [at work] so this isn't any different," Kay said.
Both said they have so far avoided getting sick. "Praise God!" Bonner added.
The two were among about 100 people checking out Rosie's for the first time on Jan. 8. Most were middle-age or older. Some said they drove from as far as Fredericksburg or Stafford County. Others said they lived nearby.
Debbie Underwood, of Dumfries, said she sometimes drives down to the Rosie's Gaming Emporium in New Kent County outside Richmond to try her luck. On Friday, she brought her 91-year-old dad, Edward Dent, also of Dumfries, to check out the new Rosie's at Triangle Plaza.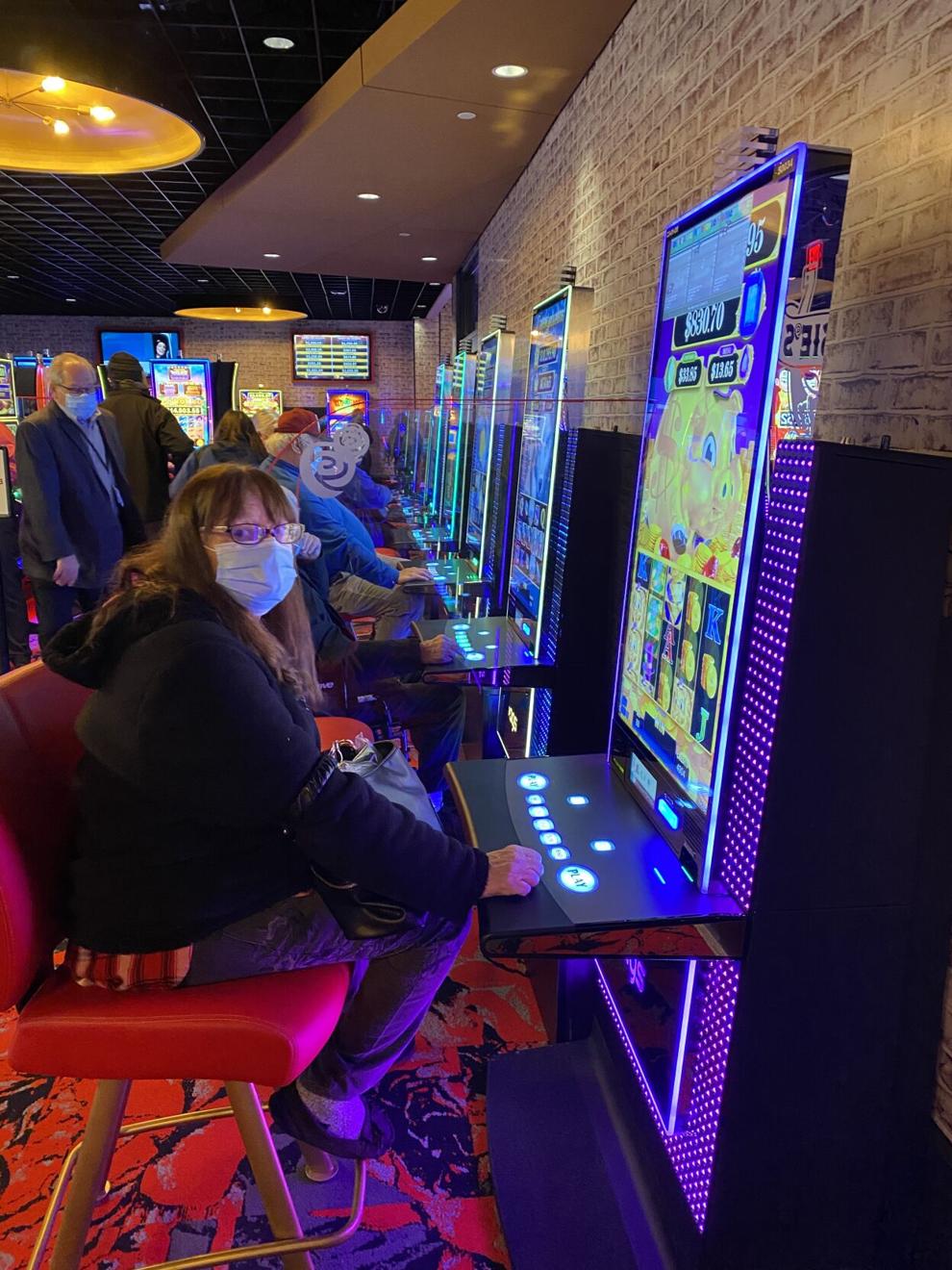 Wary of the pandemic, she said she told her dad they'd leave if it were too crowded. But there were plenty of empty chairs when they arrived at 10:30 a.m., and Underwood said she felt safe.
"I think it's great. We need something like this in Dumfries," Underwood said. "It brings the revenue here to Dumfries."
Rosie's brings 120 jobs, $720,000 in annual taxes to Dumfries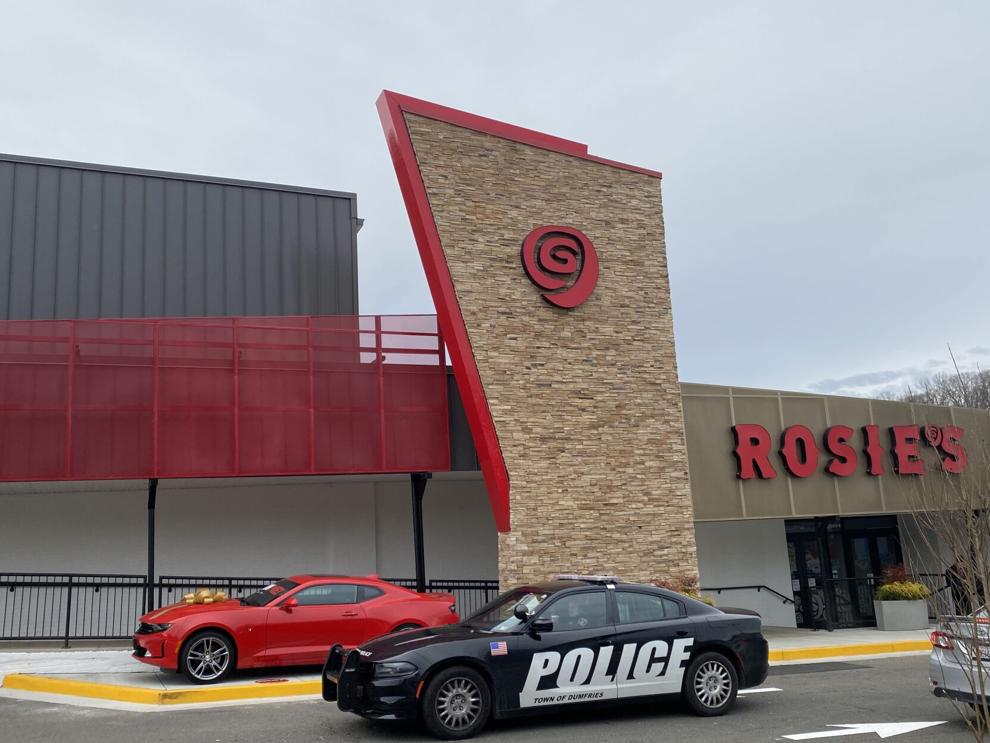 Revenue – and the chance to earn it, win it and tax it –  was the main reason Dumfries voters and town council members agreed to allow Rosie's to open its fifth off-track betting and historical horse-race betting salon in Dumfries – even amidst the pandemic.
Rosie's Gaming Emporium, which is owned by the horse racetrack Colonial Downs, opened its first four locations in Richmond, Hampton, New Kent and Vinton in quick succession in 2019, after the Virginia General Assembly passed a law in 2018, allowing pari-mutuel betting as part of a deal to revive live horse racing in Virginia. Colonial Downs told lawmakers the revenue it makes through its Rosie's Gaming Emporium outlets would help fuel the purses offered at the live racetrack.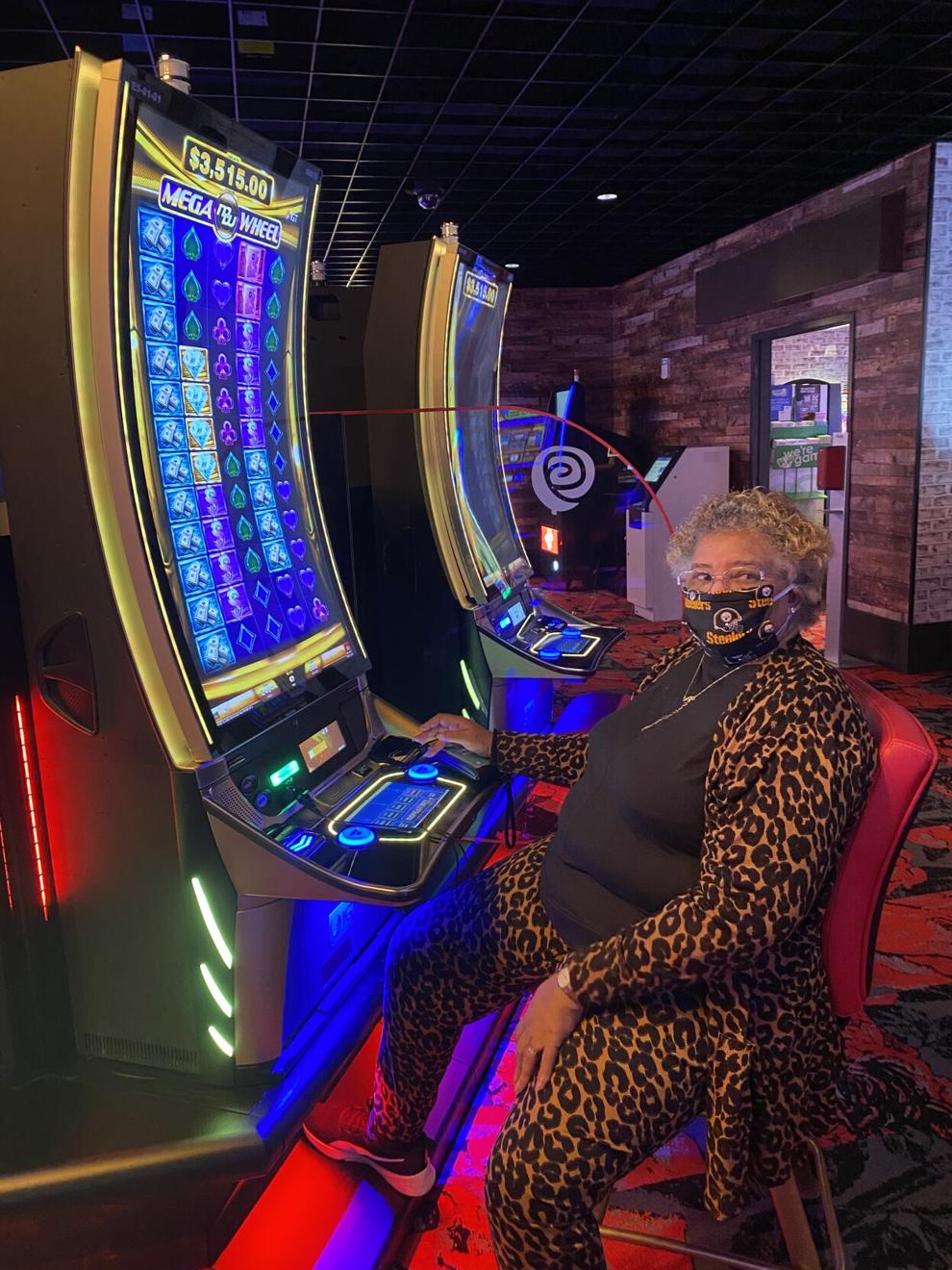 In November 2019, Dumfries voters approved a ballot referendum allowing pari-mutuel betting in the town of Dumfries, laying the groundwork for the new Dumfries location. Colonial Downs worked for months remodeling the site in the aging Triangle Shopping Plaza. Ahead of the opening, the company said it had made a "$27 million investment" in Dumfries, adding about 120 jobs with an "average salary and benefits" package topping $42,000, according to a press release.
The operation is estimated to generate about $3.6 million in taxes annually, about $720,000 of which will go to the town of Dumfries, the release said.
Mayor Derrick Wood, who was at the pre-opening ribbon-cutting Friday morning, said the company spent $15 million renovating the storefront.
"I'm excited. That shows me they're committed. It shows me they're in it for the long haul," Wood said. "It's also a shopping center that hasn't had any improvements in the last 30 to 40 years."
Wood said he hoped the Rosie's would not only bring in more tax revenue to the town but also spur economic development. He said he was also impressed that Colonial Downs had already cut checks totaling $76,500 to five local nonprofits, including the Dumfries Boys and Girls Club; Paws for Purple Hearts, an animal rescue organization focused on veterans; the Prince William County Community Foundation, which helps distribute free meals to low-income kids; and two alumni fraternities.
"Today was their first day opening and they're already giving back to the community. I mean, who does that? Who gives money away on their first day?" Wood said in an interview.
Pandemic 'wasn't in the plan'
What neither Wood, nor Dumfries voters, nor Colonial Downs could anticipate was opening the new Rosie's during the pandemic. COVID-19 shut down the other Rosie's locations around the state for two months last spring when Gov. Ralph Northam closed in-person dining. The opening of the Dumfries location was delayed by a few months; Colonial Downs initially planned to open last fall.
"It wasn't in the plan," Rick Casagrande, general manager of the Dumfries Rosie's said of opening during the pandemic in an interview last week.
The new Rosie's held its grand opening amid a week that saw some of the highest numbers of COVID-19 cases of the pandemic, both in the state and in Prince William County. The local percent-positivity rate on COVID-19 tests – a measure of community spread of the virus – was hovering near 20%, well above the target rate of 5%.
At least one local elected official publicly questioned the wisdom of opening Rosie's during the pandemic. Prince William County School Board Chairman Dr. Babur Lateef, an ophthalmologist and strong proponent for reopening public schools despite the pandemic, expressed his frustration in a Facebook post.
"It is sad and embarrassing when our society can prioritize in-person gambling (I mean 'gaming' [eye-rolling emoji]) over in-person school for our children," he wrote.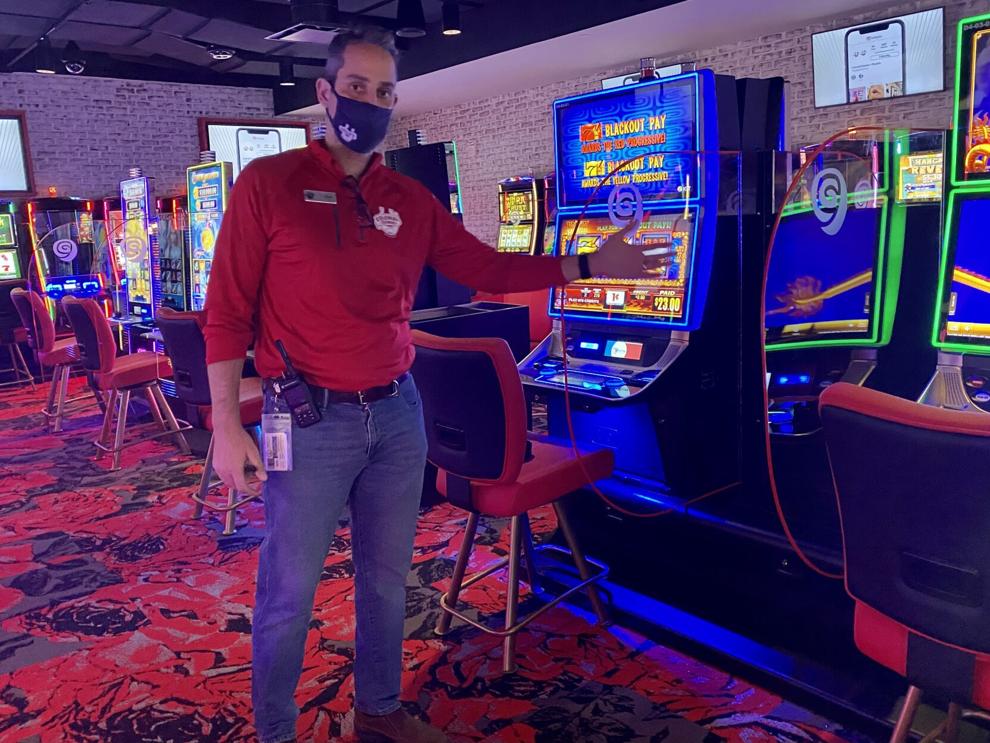 Earlier in the week, Casagrande stressed the many steps Rosie's is taking to enhance safety. Although the facility is approved for 150 betting machines, it opened with 94 to separate each by a few feet and panes of plexiglass. There are mandatory temperature checks when patrons arrive, and no one who measures above 100.4 is admitted. Face masks are required for all who enter. Also, Rosie's is closing at midnight to comply with Northam's curfew instead of the usual 2 a.m. on weekdays and 4 a.m. on weekends, Casagrande said.
Occupancy is limited to 30%, meaning only 134 patrons are allowed in at one time instead of the regular 400 maximum. Roving security personnel, as well as multiple surveillance cameras, continually scan the floor to monitor for social distancing, Casagrande said.
Guests may only remove their masks in the eating area, which is upstairs and away from the betting machines. Patrons can also remove their masks in the smoking area: a separate, walled-off room that guests must enter through a glass door. In Virginia, both restaurants and gambling outlets are allowed to have smoking areas as long as they are separated and don't require guests to walk through them to enter.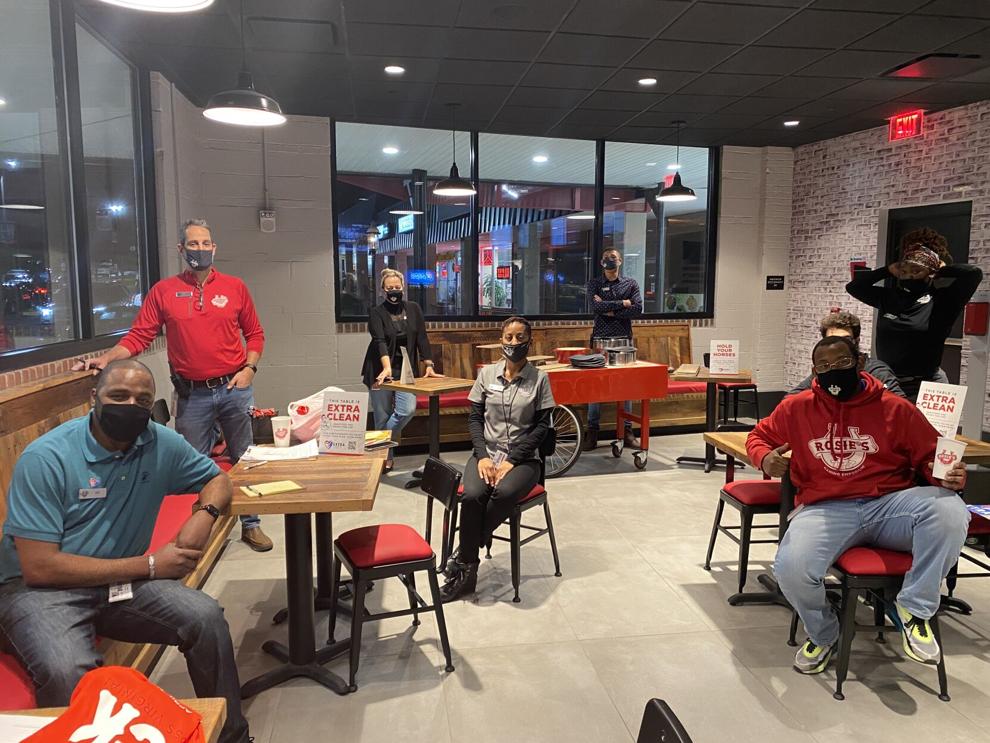 At Rosie's only entrance, armed security guards check patrons' IDs, and guests must also pass through a metal detector. No guns or weapons are allowed onsite even if patrons have concealed carry permits, according to Mark Hubbard, a Colonial Downs spokesman.
Rosie's is following all state and federal CDC guidelines required of businesses of its kind. That includes having a contact-tracing system for employees, if one of them tests positive. The company is not required to contact patrons regarding positive COVID-19 cases, however, Hubbard said.
Wood, Dumfries mayor, said Friday he can't be more concerned about Rosie's Gaming Emporium being open than he is about the operation of retail outlets such as Walmart or Dollar General.
"If I have qualms with [Rosie's], I'd have to have qualms about every other business that's open for business right now," Wood said. "They're a business and they've gone over and above what the CDC recommends."
On Friday, when an older gentleman pulled his mask below his chin while playing one of the betting machines, Laquia Campbell, an HR manager who happened to be on the floor, sent a Rosie's team member over to politely request that he pull up his mask. 
Meanwhile, a red-shirted Rosie's staff member armed with disinfectant and a cleaning rag promptly wiped down a nearby machine when a patron rose to leave.
"We definitely want to keep Dumfries open and everyone healthy and safe," Campbell said. "Safety is our main priority."