Several dozen Manassas-area residents whose homes could be impacted by a proposed Va. 28 bypass attempted to speak out against the project during a Prince William Board of County Supervisors work session Tuesday held just one week after the board endorsed the project before hearing public comment. 
The 2 p.m. work session, called to discuss the county budget, was held in a conference room at the county's development services building. Because of social distancing, seating was limited to four members of the public. The unexpected turnout caught county staff and supervisors off guard, leading to a chaotic scene as residents jostled to gain entry to the room and crowded the doorway to watch the session. 
Public comment was ultimately cut off before many residents had the opportunity to speak. The crowd was then led outside the building, where Supervisor Yesli Vega, R-Coles, tried to address some of their concerns.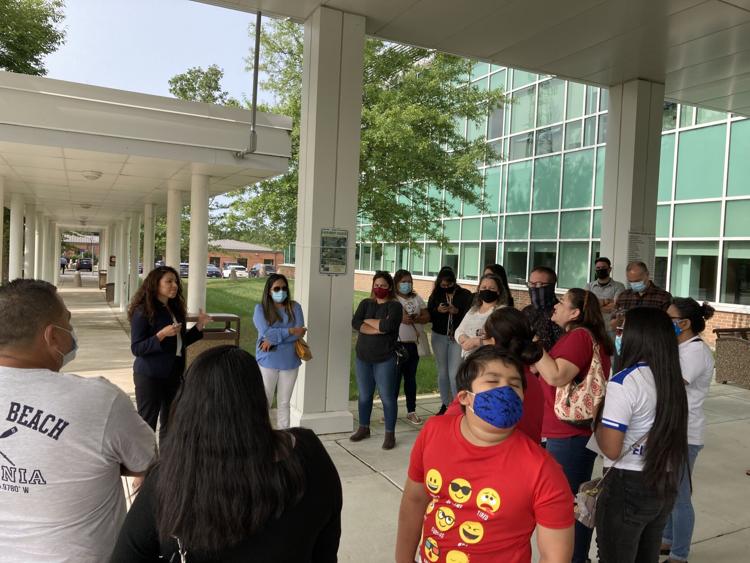 The bypass is estimated to require the taking of at least 54 homes and the partial taking of an additional 20 properties. Because of those impacts, supervisors initially voted in August to pursue a widening of the existing Va. 28 – as an alternative to the bypass – but then flipped that position during their Sept. 8 meeting. 
The board's decision to endorse the bypass allows the county to begin the two-year design process that will determine exactly how many homes will need to be purchased through eminent domain. It was not the board's final vote on the issue, however, as that will come later in the process.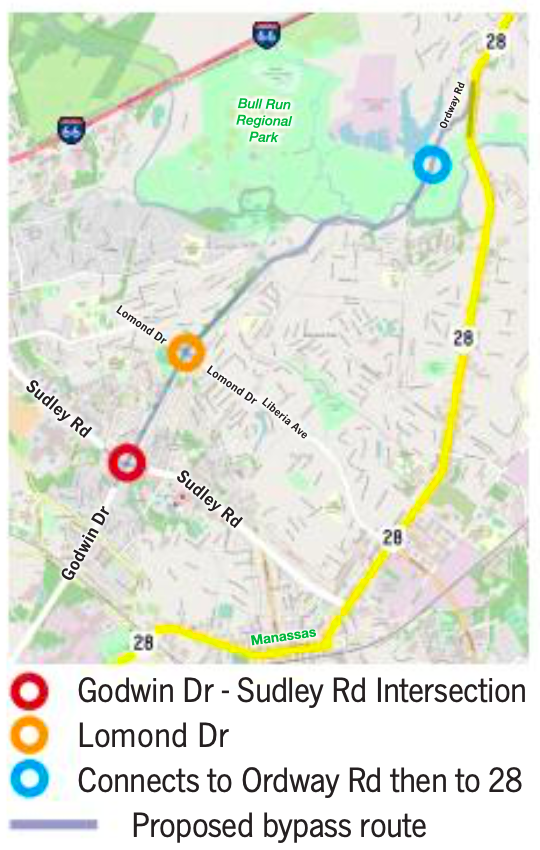 But residents who live in the path of the bypass, both along Alleghany Road and in the Bull Run mobile home park in Yorkshire, have been vocally opposed to the project and continue to urge supervisors to keep the new road from moving forward. 
Residents complain of conflicting information
People who live in the mobile home park, most of whom are Hispanic, said they only recently learned about the bypass. The new road is estimated to require the taking of between seven and 10 of the park's 200 mobile homes. 
Rosia Chavez, 27, who lives in Bull Run mobile home park with her husband and 5-year-old son, said she learned about the bypass about a month ago from a neighbor who said the entire park could be demolished, and that the residents would not receive any compensation for their trailers. 
Chavez said her mother and several family members also live in the park.
"It's such a horrible way to find out because you're hearing it from your neighbors, you're not hearing it from the property manager, from the owner of the land. You're not hearing it in the news. It's not a good way to find out," Chavez said. 
Chavez said there is still confusion among the residents about how many homes would be taken and whether they would be compensated for their homes. She said county elected officials and other opponents of the bypass have come to the park to talk with residents. But she said they have received conflicting information. 
"It was very much, 'he said, she said.' You never know what's the truth," Chavez said. "It's very frustrating."
Chavez said she just wants more information about the project. She said she would be fine with the bypass coming through if residents are given fair compensation for their homes, but right now she doesn't believe that that will happen.
"My mom lives there. That's my biggest concern. Where is my mom going to go? She's disabled. She doesn't work. She's alone," Chavez said.
Residents also asked about what would happen to undocumented people whose mobile homes would be taken and how they would be compensated. It's not clear how many people whose legal residency is in limbo reside in the park. 
Prince William County is home to an estimated 37,000 undocumented people, or about 8% of the county's total population. 
Vega left the board's work session to respond to residents' concerns about the project and to provide information about the project timeline and the eminent domain process. Vega has led opposition to the project over concerns about its potential environmental impacts and its impacts to residents. 
"I know this is a stressful moment for you all. They're not going to take your houses tomorrow. They're not going to take your houses in November," Vega said. "When the study is finished, we'll know exactly which homes and trailers will be impacted."
Vega encouraged all residents of the mobile home park, regardless of their citizenship status, to participate in public discussion about the project. 
"Don't allow anybody to silence your voice. Your immigration status doesn't matter. It doesn't matter that you are here illegally or undocumented. You still have a voice. You still have representation," Vega said.
The county's transportation Director Ric Canizales also listened to the exchange and said many of the residents had received misinformation about how they would be compensated for their homes. 
"There's been a lot of misinformation on this project. I'm not sure where it's coming from," Canizales said. 
Canizales said that in a situation like the one at Bull Run mobile home park, an appraiser will determine the value of both the property and the dwelling unit on the property to determine the fair market value of both. 
"The land values might be a little higher because it's a revenue-generating land value. But at the same time, we appraise the dwelling unit. We don't look at it as a trailer, we look at it as a dwelling unit, as a home. Like an apartment that's being rented in a building that we may have to demolish," Canizales said. 
Canizales added that he thought the language barrier had been an issue and that some of the residents that "may not be legally in the country ... may be fearful" of voicing their concerns. But Canizales said  the county does not look for citizenship status when it appraises homes that could be taken through eminent domain. 
"Legal or not legal, Hispanic or not Hispanic, we follow the same process. We make sure that we treat everybody fairly and we relocate everybody for the inconvenience that we are causing by taking their home," Canizales said. "We don't look for documentation of people's citizenship or residency when we are relocating or dealing with home purchases. We only look at fair market value of homes and the benefits that go into relocating."
Canizales reiterated that the design process will take about two years to complete. After that, he said the county would know exactly which homes will need to be taken. 
"Right now, we're taking an educated guess on the corridor, saying that these many will be affected ... And we're going to continue through the design process to try to reduce the impacts, so we take as little as possible," Canizales said. 
At-large board Chair Ann Wheeler (D), who is in favor of retaining the bypass as an option for relieving congestion in the Va. 28 corridor, said last Friday that the bypass is "not a done deal."
The new road must receive a permit from the U.S. Army Corps of Engineers and will receive additional public hearings before it returns to the board for a vote. 
"It's really the beginning of another public conversation about the design," Wheeler said. "The road is not designed. The path is not set. There's still a lot of room for public input."
Reach Daniel Berti at dberti@fauquier.com