The Democratic Party of Virginia is calling on Prince William Republicans to "demand" that John Gray, the Republican candidate for chairman of the board of supervisors, drop out of the race after several racist, homophobic and misogynistic tweets on Gray's Twitter account were reported by the Washington Post Monday. 
Gray's tweets, detailed by the Post's Antonio Olivo, included racial stereotypes as well as demeaning and misogynistic language. The tweets were exposed by Gray's Democratic opponent Ann Wheeler after Gray disclosed $30 in payments on his last campaign finance report to a service called Tweetdeleter that scrubbed his twitter account. 
Wheeler called the tweets "completely unacceptable" and has demanded Gray apologize to Prince William County's voters. 
Wheeler posted a picture on her twitter account Tuesday of a now-deleted tweet published by Gray in 2017. The tweet reads, "Bible verse of the day: give a man a fish and he eats for a day. Deport him and you don't have to feed him again POTUS 20:16."
Nearly one in four Prince William County residents – about 23.4% - are foreign born. 
Another tweet, dated May 28, 2018, referenced Hilary Clinton in a sexually demeaning way. The tweet said, "Can you imagine being so desperate as to even WANTING to have sex with HRC, more or less even doing the deed with her? OMG. Shrivels me up!"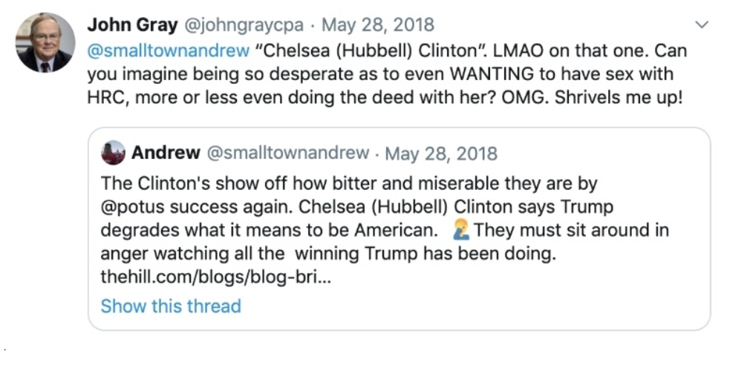 Wheeler tweeted on Tuesday that Gray deleted the comment because he, "doesn't want Prince William voters to know how he speaks about women and their kids. Thousands of women work for our county government and deserve better than a Chairman who talks like this."
According to the Post, Gray also tweeted that African Americans would stop "rioting" and take a knee if someone played the national anthem.

In another tweet, the Post reported that Gray said, "bong and dildo holders" who tried to impeach Trump would be met with "300 million weapons and an estimated 2 billion rounds of ammo." 
Commenting on an article that discussed domestic abuse committed by Omar Mateen, the gunman who killed 49 people at a gay bar in Orlando in 2016, the Post reported Gray as tweeting: "Well, what did you expect? Being Islamic you knew he had the right to beat you."

Gray did not respond to phone calls or emails from the Prince William Times about the matter on Tuesday.
Gray told the Post's Olivo that some of the tweets were the work of a campaign consultant whom he has since fired. "I agree that some of them were completely inappropriate," Gray told the Post.
Prince William County GOP Chair Bill Card said Gray plans to meet with members of the community to "make amends." There are no details available yet on when and where that meeting will take place.  
"Prince William County is a diverse community where there is no place for bigotry or intolerance. John Gray has apologized for the inappropriate comments that he made on Twitter in the past and he has expressed sincere remorse," Card said in a statement Tuesday.
The Democratic Party of Virginia's Press Secretary Grant Fox called on Gray to immediately withdraw from the race in a press statement released Tuesday. Grant said the tweets were, "disgusting and offensive, and someone like him who holds those views should have no role in public service."
The Democratic Party of Virginia is also asking Republican candidates running for state offices in the Prince William area to call on Gray to drop out of the chairman's race. 
The Democratic Party specifically called on Del. Tim Hugo, R-40th, and Republican challengers Kelly McGinn, who is challenging Del. Danica Roem, D-13th; Rich Anderson, who is challenging Del. Hala Ayala, D-51st; D.J. Jordan, who is challenging Del. Elizabeth Guzman, D-31st; Ian Lovejoy, who is challenging Del. Lee Carter, D-50th; Heather Mitchell, who is challenging Del. Jennifer Carroll Foy, D-2nd; and Geary Higgins who is vying for the 13th District state Senate seat against Del. John Bell, D-87th, to demand that Gray drop out of the race. 
So far, none of the candidates contacted returned emails for comment as of 3 p.m. Tuesday afternoon.
This is a developing story, stay with PrinceWilliamsTimes.com for updates.