Virginia state Sen. Richard Stuart, who represents part of Prince William County, has released campaign ads on Facebook claiming his Democratic opponent, Qasim Rashid, "doesn't believe Islamic terrorism exists" and "has blamed U.S. military for causing terrorism."
The ads began circulating on Monday, Aug. 26. Rashid, who is Muslim, said the ads were an attack on his faith and that he would not respond in kind "as doing so was beneath the dignity of the office." 
"Jesus Christ taught to love thy neighbor. That's our response," Rashid said in a statement.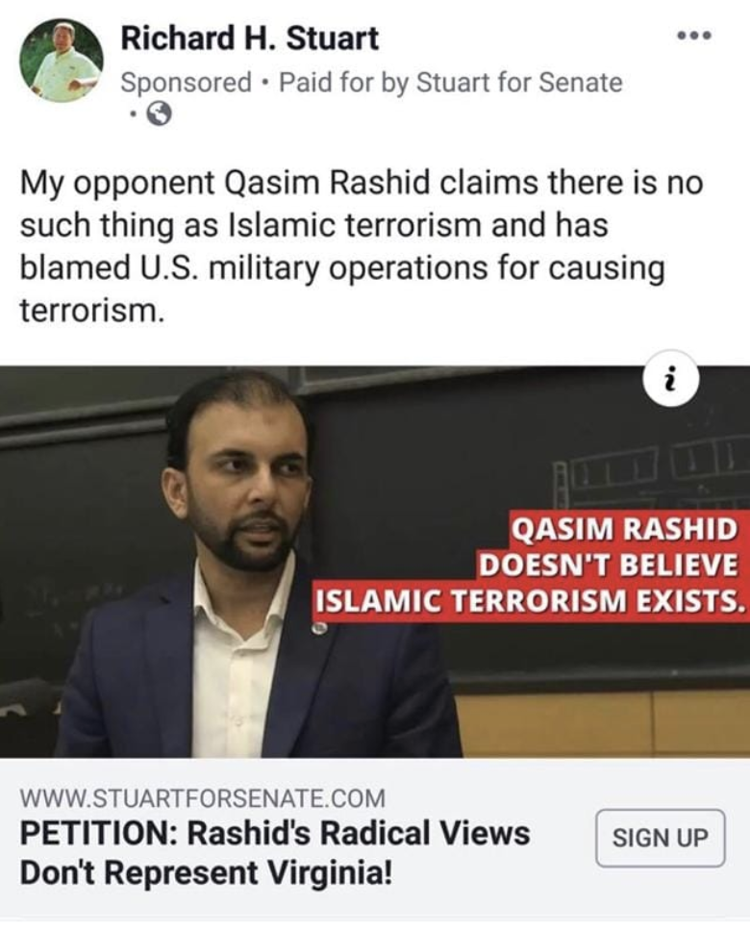 Rashid, who has faced death threats related to his faith and race, said his opponent's ads were empowering people to continue sending threats. In March 2018, prior to his candidacy, a North Carolina man threatened to lynch Rashid on Twitter. The man has since been charged with a felony.
"Virginia is the epicenter of religious freedom in America and we must protect this legacy. While I am used to receiving hatred and threats from extremists, racists and terrorists, I am deeply disturbed to receive such hatred from a sitting Virginia state senator," Rashid said. 
Stuart did not return phone calls or emails seeking comment Wednesday. 
The 28th district stretches from the northwestern edge of Prince William County to Montross on the eastern shore. More than 43,000 Prince William County voters live in the 28th District. It also includes parts of Stafford, King George, Westmoreland and Spotsylvania counties. 
Stuart hasn't had a Democratic challenger since he was first elected in 2007. If elected, Rashid would become Virginia's first-ever Muslim state senator.
Rashid said Stuart's Facebook ads were designed to distract from issues important to working families in the 28th district. 
"The 28th Senate district deserves compassionate, civil representation dedicated to improving the lives of working families—not attacking people's faith and loyalty," Rashid said. "Attacks notwithstanding, I will continue to serve my fellow Virginians of all faiths and backgrounds and ensure working families in Virginia finally have a seat at the table."