Richard Zuckernick was the kind of math teacher who would "air box" while playing the theme music from "Rocky" to psyche his students up for a big test. He was also known to be a bit goofy, like the time he told his students he'd wear a pink wig to school if enough of his students passed their tests.
That was back in the fall of 2019. His students rocked their geometry tests, so "Mr. Z," as his students called him, rocked an especially bright, neon-pink wig at school the next day.
Maya Laws, a sophomore at Gar-Field High School, described Zuckernick as a "gentle giant" who favored corny jokes and made his students feel comfortable and confident about math, a subject that can be a struggle for many.
"Mr. Z was hands down the most understanding teacher. He made us laugh, and he just made everyone feel so comfortable," Laws said Friday. "He was just a really genuine person. That's probably why it hurts so bad that he passed away." 
Zuckernick died Tuesday, March 9, after a nearly two-month battle with COVID-19. He was Prince William County's third school division employee and first teacher to die from complications from the disease. He was 59.
Students and staff at Gar-Field High School, where Zuckernick taught for the last four years, spent the last week paying tribute to their beloved math teacher. They created an online memorial page and decorated two bulletin boards, located near his classroom, to share memories and stories about Zuckernick, who was known as "Zuck" to teachers and staff.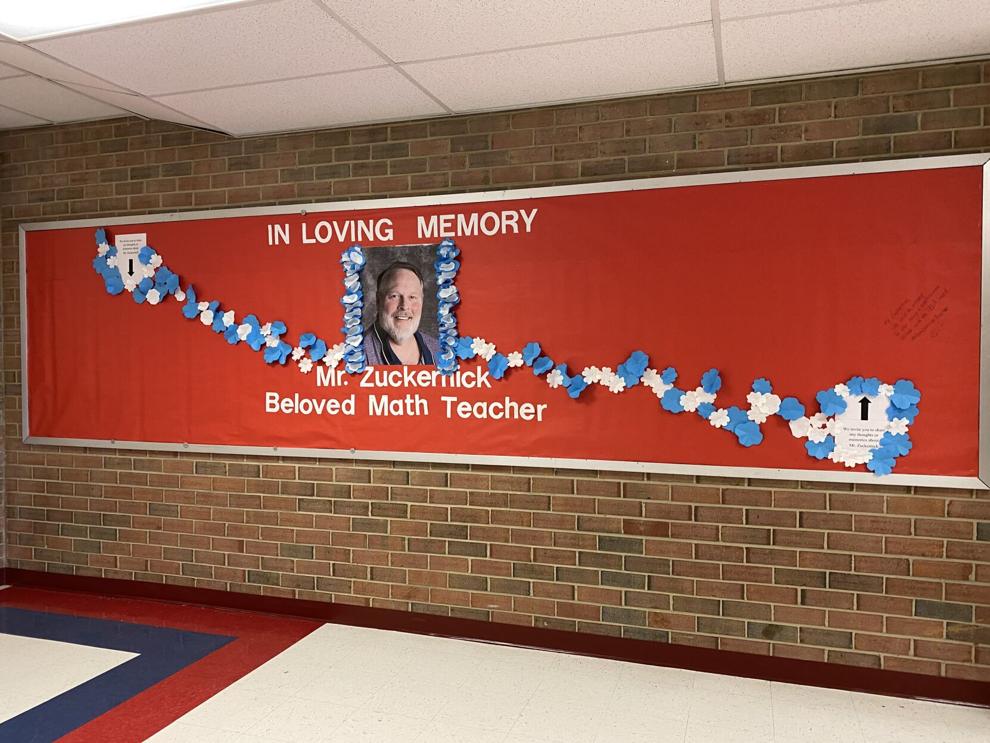 At the Friday night's football game, school officials called for a moment of silence and dedicated the coin toss in his honor, according to Gar-Field High School Assistant Principal Milly Polanco.
Some of Zuckernick's students and fellow math teachers wore pink wigs and bright green shirts, his favorite color, to school earlier that day.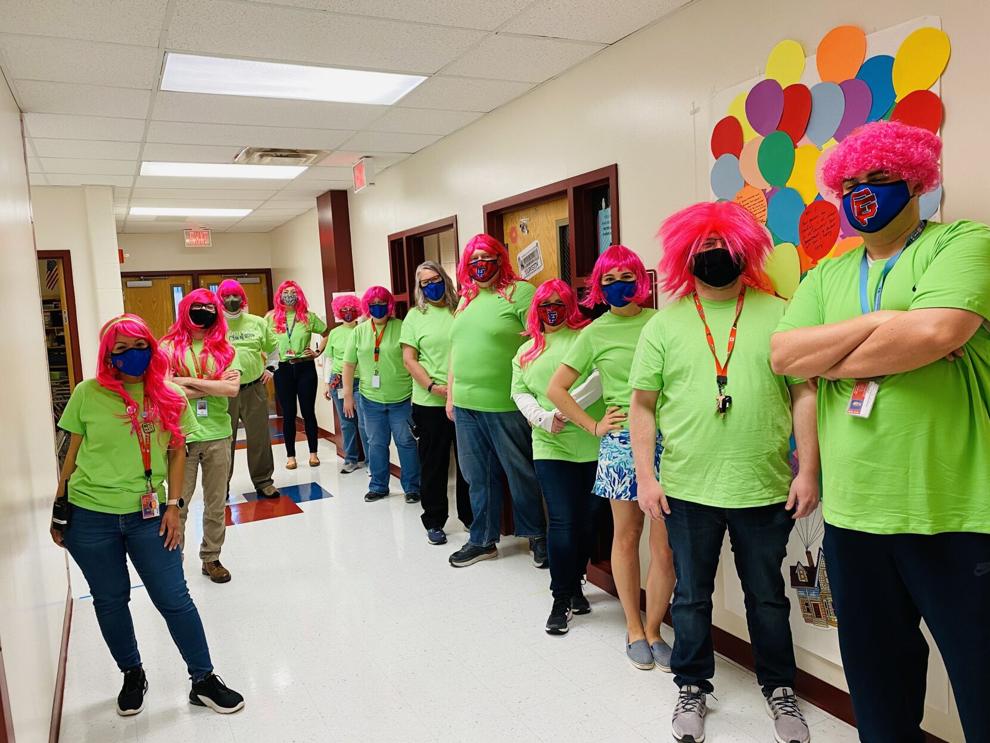 Zuckernick "was everything a teacher aspires to be," Polanco said. "He was extremely caring. He would do whatever it took to help a student succeed." 
"He knew that students were intimidated by math and thought they couldn't do it. So what he wanted to do was change that mindset, to teach his students that anyone could be a mathematician."
Zuckernick was a "career-switcher" who came to teaching later in life after spending more than 10 years in the Navy and then working as an engineer for both Cintas and Lockheed Martin. Zuckernick began teaching at Lake Ridge Middle School in 2011 and came to Gar-Field in 2017. 
He "took pride in growing the next generation of engineers" and taught between 120 and 150 students in algebra 1, algebra 2 and geometry, said Gar-Field High Principal Matthew Mathison.
Mathison said Zuckernick had a "huge heart" and would "go out of his way to make people feel welcome." 
But Mathison said he was most impressed with Zuckernick's ability to make math fun, even for teenagers. He recalled visiting his classroom one day to find his geometry students in the hallway, translating and reflecting polygons they crafted with masking tape on the floor.
"It was fun to see kids enjoying math as a discipline," Mathison said. 
Osbourn Park High School Principal Lisamarie Kane recalled Zuckernick's willingness to teach "any math class, any student, any grade." Kane was formerly an assistant principal at Gar-Field High School.
"Zuck was the kindest soul and a devoted teacher," Kane wrote on the school's online memorial page.
"If I asked Zuck to work with students with learning disabilities, he would say 'absolutely.' If I asked Zuck to take on some students failing math, he would say 'absolutely.' He was completely devoted to his students and serving the GF community."
'He would do absolutely anything for us.'
Zuckernick was a widower and a stepdad to four children, now in their 30s. His oldest daughter, Krystle Kissinger, 37, said Zuckernick met their mother, Susan Zuckernick, when he lived next-door to her grandparents when he was in the Navy. 
Kissinger said she and her three siblings, including her twin brother and sister, were all under 10 when her parents married in 1992. Her mother, who worked as a school guidance counselor, died from a stroke in 2018, Kissinger said.
As a stepdad, "he was absolutely amazing," Kissinger said Saturday. "He would do absolutely anything for us. Taking on four children -- that was a lot."
Zuckernick had been teaching virtually all school year from his Woodbridge apartment, which he shared with his two cats, Marty and Gray. Zuckernick was animal lover who fostered homeless kittens as they awaited adoption. He was also a big fan of Disney World, which he and his late wife visited every year, and loved sports of all kinds but especially baseball. He once officiated the regional Little League World Series in Pennsylvania, Kissinger said.
Kissinger, who lives in Queens, N.Y., works as a medical assistant and said she has helped care for several patients suffering from COVID-19. She said her dad was very careful about trying to avoid the virus and did not know how he caught it.
Zuckernick became ill in mid-January and became so short of breath on Jan. 22 that he called an ambulance to take him to the hospital. He tested positive for COVID-19 and was initially treated with oxygen, as his doctors tried to keep him off of a ventilator, Kissinger said.
After finally testing negative for COVID, he was transferred out of the ICU, and Kissinger was able to visit him at the hospital for a few days. After she left, however, he tested positive again and ended up on a ventilator, she said.
At first, he seemed to be improving, Kissinger said, but then took a turn for the worse.
"Just overnight it was like a light switch flipped and he decided he wanted to be with my mom, I guess," Kissinger said.
After losing her dad, Kissinger said she came to understand how much he loved teaching. Hearing stories about his antics with this students – and that teachers and students wore pink wigs in his honor – was a little surprising, she said, as she remembered him being more introverted while she was growing up.
"It was jaw-dropping to see what the math world did for him," she said. "He absolutely opened up to his students."