Veteran high school teacher Dave Smith had risen before dawn that September morning to prepare what he called "news notes" to spark discussions among the seniors in his U.S. government classes. The choice for the Sept. 11, 2001, compendium of civic and political developments class was easy, he recalled. It was primary day in New York City to choose a successor to Mayor Rudy Giuliani.
His classroom at Fauquier High was in the school's annex. When the phone rang in his small office, "I thought it was the principal, but it was my older son, Joey, who's an electrician. He said, 'Dad, I'm alright.' I said, 'That's wonderful.'"
Smith's son proceeded to tell him that he was supposed to go to the Pentagon that morning but was sent to the Navy Yard instead.
"I still had no clue," Smith said. His son told him to turn on the TV.
"I had gone through one entire class without knowing anything that was going on," Smith said.
News of the earlier attacks on the World Trade Center had reached the school's front office, but there had been no school-wide announcement yet.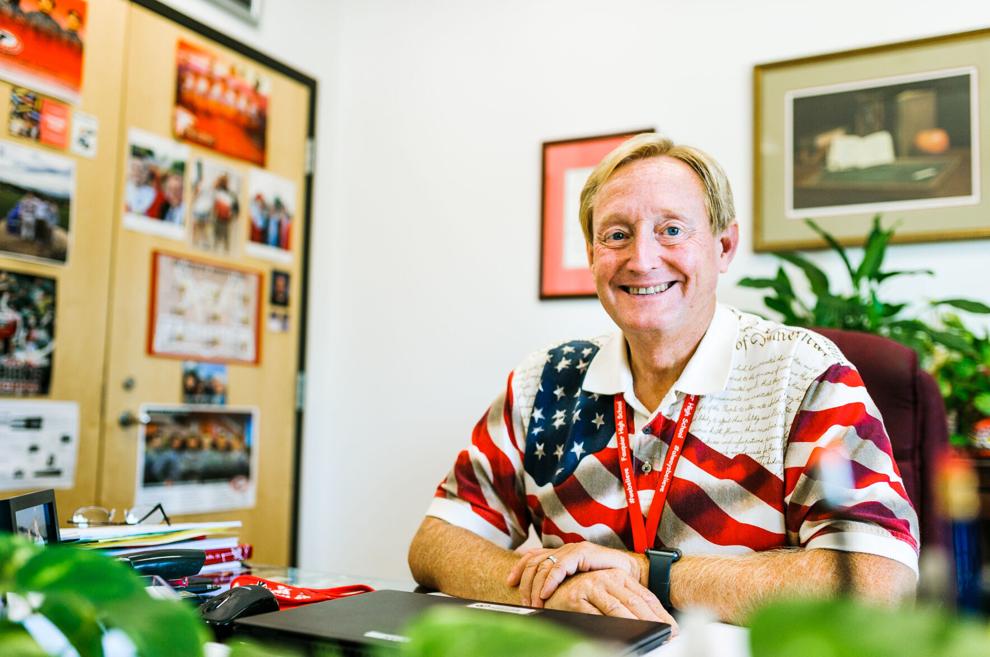 "It's kind of like it was yesterday," said Kraig Kelican, then assistant principal and now Fauquier High School's principal. 
"I got to school about 6:30 [a.m.] and did the normal things – answer emails and go through some paperwork -- then we started outside duty, talking to and greeting kids as they were coming into the building. It was such a gorgeous day," Kelican said. The principal and his team gathered for a regular weekly meeting during the first block of classes.
"We were all sitting around the conference room table and our secretary came in and said, 'Just wanted to let you guys know that a plane hit the World Trade Center.' We were shocked but thought it was probably just a freak accident. A little while after that she came in and said, 'A second one hit.' That was the dawning moment."
Seth Enterline, then a senior, remembers Smith reentering the classroom "and you can tell he's kind of shook. He kind of paused and said, 'They hit the Pentagon.'"
Immediately students with cell phones started trying to call their parents, mostly to no avail, and parents inundated the school with calls.
"A good chunk of kids have parents that work in and around the Pentagon. They were upset. We were trying to calm them down," said Kelican. "It got really hectic."
The front office told teachers to let students go to lunch in shifts as normal starting at 10:30 a.m., which Kelican says was fortunate; it gave students time to be with friends as they grappled with their fears and emotions.
No one in the school, adult or teen, lost a family member that day at the World Trade Center or the Pentagon, but there were anxious moments.
Seth Enterline's father had gone to the airport that morning on a business trip that took him through New York. "A teacher let me go check on my brother, who was a sophomore. We got him out of French class. I was like, 'Where's dad at?' All that did was upset him." (His father was fine but couldn't rent a car to get home for three days.)
Some parents arrived to pull their sons and daughters out of school. The bells still rang on the normal schedule, but no attempt was made to let instruction go on as normal.
"Basically, because of the emotional state of so many of the kids, teachers spent that time trying to talk about what they knew so far and what they all had seen," said Kelican.
Smith, a Fauquier alumnus, told his government students, "This is going to be one of those life events for you. You will remember where you were when you heard about this just like I remembered where I was when I heard about the Kennedy assassination."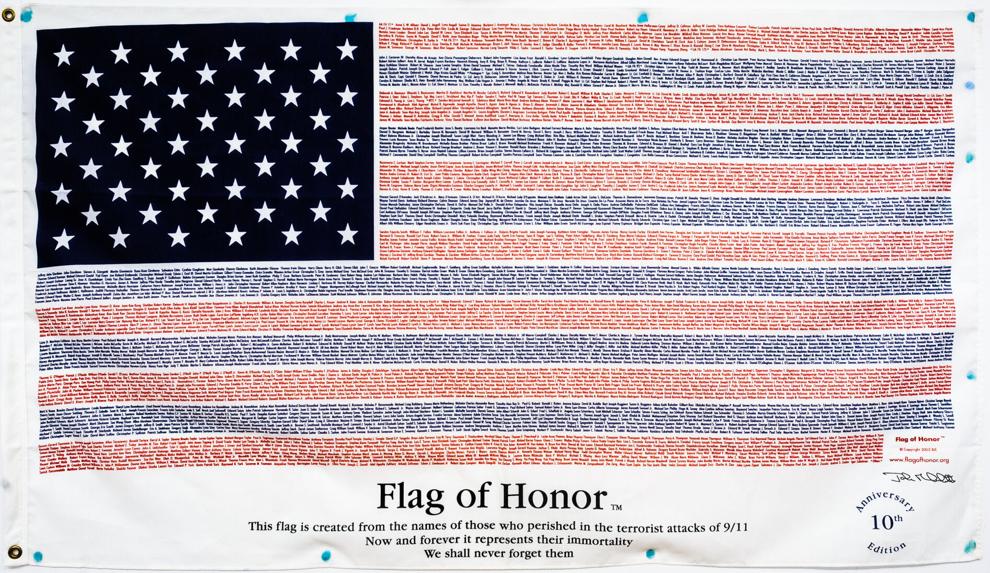 Smith keeps a flag on his classroom wall that shows in its blue stripes the names of all those who perished at the World Trade Center, the Pentagon and in Shanksville, Pennsylvania, where passengers on another plane thwarted a second attack on Washington by forcing the plane down.
Every year he shows his students footage from 9/11, including the awful video captured by a French documentary filmmaker of the first jet, American Airlines Flight 11, crashing in a fireball into the North Tower. "Kids should never forget what occurred … but unfortunately it does get kind of forgotten sometimes," Smith said.
But not at Fauquier High School, where several student organizations paint messages on the large rock in the courtyard and surround it with 3,000 small flags.
Kelican, who became principal two years ago, also flies two Pentagon Freedom flags in the lobby and the front office. The flags have a single white star surrounded by the five walls of the Pentagon in the blue field.
After 9/11, "the patriotism, the love of country, that came out was just unbelievable," said Kelican. "It wasn't bitter anger, but you could see the unity of the kids, wanting to pull together to get us back to what they believed the country is about."
Affected by the terrorist attack, students enlist
At least five students in school that day subsequently enlisted in the military, including Seth Enterline, who went to the Virginia Military Institute.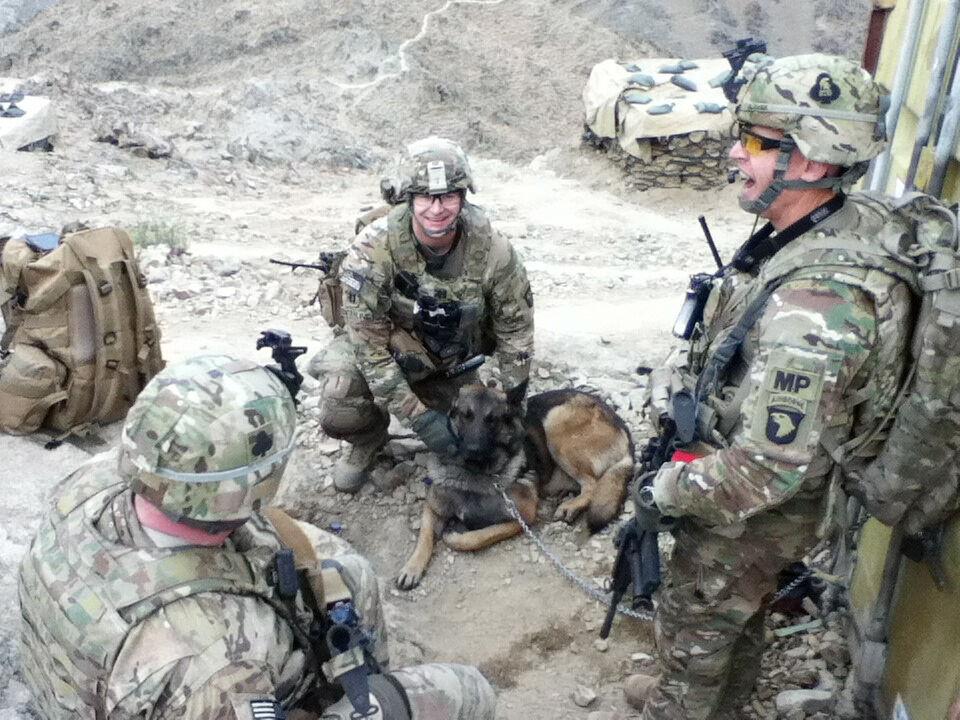 After graduating, he was commissioned and served a tour in Iraq and two in Afghanistan. Recently, when his 12-year-old son asked for help with an assignment about 9/11, he said, "Parker, I can fill a novel talking about 9/11 and the impact it's had on my life."
Enterline, now a physician's assistant in an orthopedic trauma surgery center in Gainesville, Georgia, hails from a military family. One grandfather was a gunnery sergeant in the Marine Corps; the other was a full bird colonel in the Army. Enterline, now a major, spent 10 years on active duty and the past seven in the National Guard and Reserves. He and his wife Jamie also have a daughter, Ellie, 10, in fifth grade.
In high school, Enterline had interned with a physical therapist at the Blue Ridge Orthopedics and Spine Center and thought he would become "a physical therapist in the Army and take care of soldiers that get hurt and get them better."
The Army had other plans for his first deployment to Iraq in 2007.
"They told me they didn't need another officer in the aid station," he said. He was assigned to be a leader in a platoon that escorted squads sent out to blow up IEDs. "It was exhausting, but thank God, I never got shot at or blown up," he said.
After recovering the body of a medic who was blown up, he decided he could do more as a physician's assistant. The Army sent him to Fort Campbell and Fort Bliss for two years of training.
His good fortune held during the two nine-month tours in Kunar Province in 2012 and Kandahar in 2014. 
"To call it combat is not exactly fair. I never really got shot at, only indirect artillery rounds," Enterline said. "I've always been lucky. The fighting happens around me, not at me."
Asked if the United States should have stayed at war in Afghanistan for 20 years, he replied, "I don't know. For 10 years, every day, every minute of every day, was about getting somebody ready for war. It's not in me to sit it out."
"We fought alongside people that needed to fight. You can't tell me that little girls reading in school and women not having to cover their faces is a bad thing," he said. "It was not in vain. I know there's going to be more fighting. It's just a matter of when and where."
Christopher Connell is a freelance writer, working with the Piedmont Journalism Foundation.