The hallways were still mostly quiet. Cafeteria lunch tables had been replaced with socially distanced classroom desks. Classes were tiny, most with just five or six students each.
That's what Dumfries Elementary looked like on Thursday, Feb. 25, the first day Prince William County schools welcomed fourth-, fifth-, sixth- and ninth-grade students back for in-person classes for the first time since local schools closed last March. 
Despite the changes, fifth-grade teacher Hisham Rahmi's fifth-grade class -- all five of them -- nodded their heads enthusiastically when asked if they were glad to be back in school.
"We get to see each other again!" said Ashley, one of Rahmi's students, when asked what she liked most about returning to school.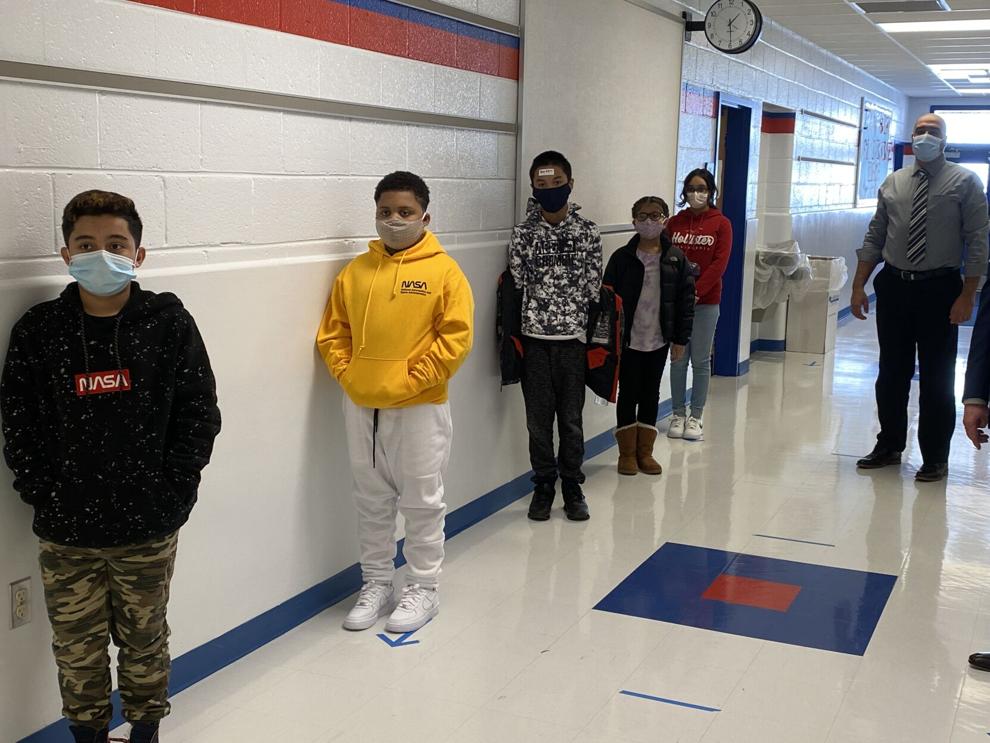 Rahmi agreed, saying it was "exciting" for him to finally see his students "live in action" after months of interacting only over Zoom.
"The kids have been great since the beginning of the year, all through virtual learning," he said. "And now that they're here, everything has been great. I mean, they've been following directions and following what they need to do."
Of Rahmi's 21 students, 15 chose to return for in-person learning, while five chose to remain virtual. Those returning were split into groups of five and 10, with each attending school two days a week.
About 53% of Dumfries Elementary School's students and their parents chose to return for in-person instruction, according to Principal Starr Granby. That's a larger percentage than most Prince William County schools. Throughout the division, only about 40% of students in grades fourth through 12th elected to attend schools in-person, said Diana Gulotta, school division spokeswoman.
Still, the numbers mean Prince William County schools now have about 22,000 students attending school in person this week despite the county's still-high rates of COVID-19. Although cases have fallen significantly since January, the county is still reporting an average of 93 cases a day while maintaining a percent-positivity rate of about 9%. The latter is also a big improvement, but above the targeted 5% rate.
Superintendent Steven Walts, who sought to delay students' return a few more weeks, visited Dumfries Elementary on Thursday, Feb. 25, and said he was encouraged by what he saw. In general, he said, things seemed to be running smoothly across the school division that day with no reports of transportation problems or too few substitute teachers, two things he said concerned him most about returning older students to classes last week.
During his visit to Dumfries Elementary, Walts got an on-the-ground view of the school's COVID-19 protocols, which included plexiglass barriers in the front office and mounted on students' desks, hallways marked with blue masking tape to direct traffic and drinking fountains that had been wrapped in plastic and replaced with more-sanitary water-bottle fillers.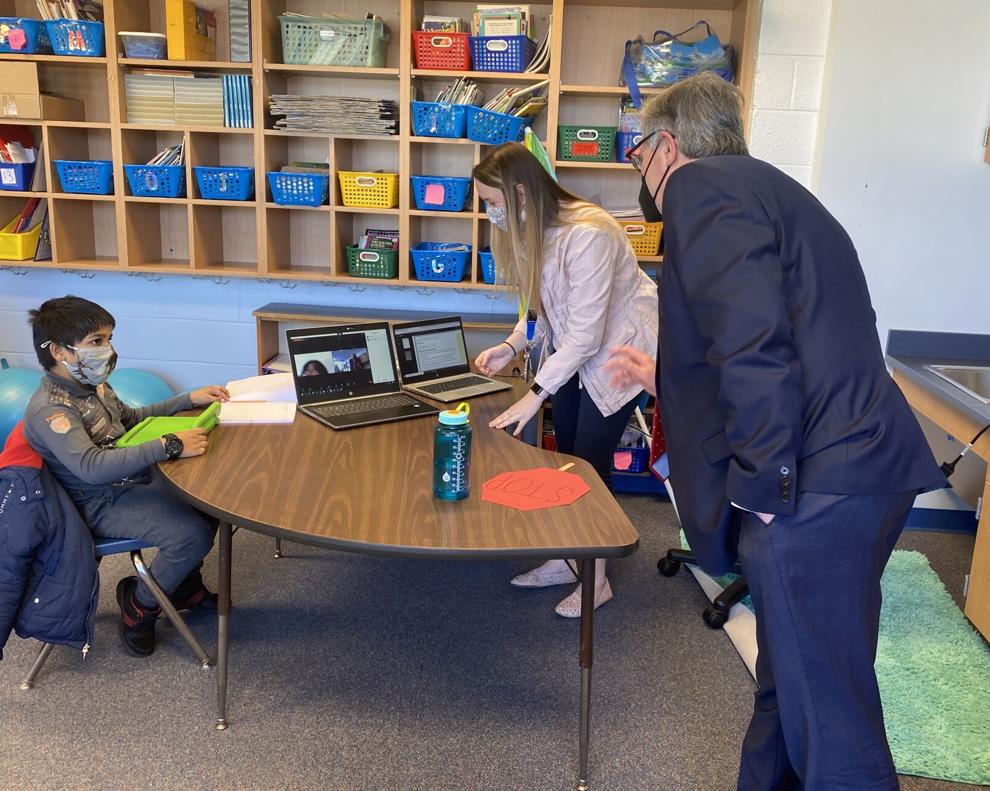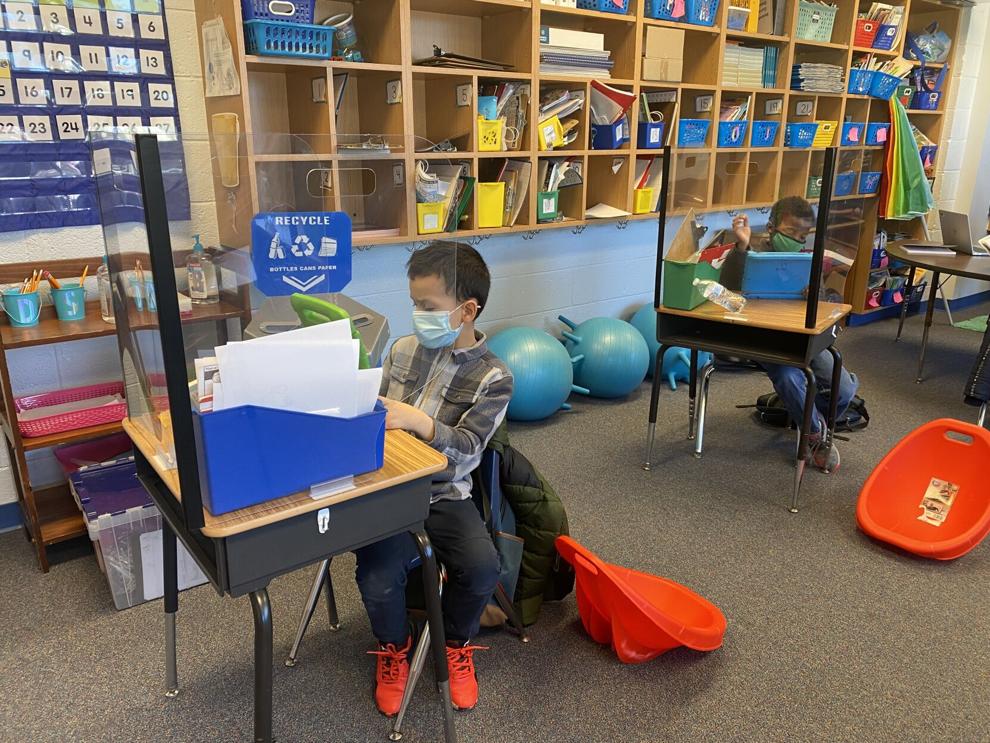 Walts stopped to talk to teachers and students in the hallways, chatted with the fifth-grade strings teacher and popped in on second-grade and fourth-grade classes to greet students learning in person and to wave to those at home through a teacher's computer screen.
He then headed to the cafeteria, where staff had just finished serving more than 80 lunches to students who'd arrived in waves to eat at socially-distanced desks, all facing the same direction to discourage socializing while their masks were removed. Each desk was affixed with a small plastic hook where students were directed to hang bags provided by the school to hold their face masks while they ate, Granby said.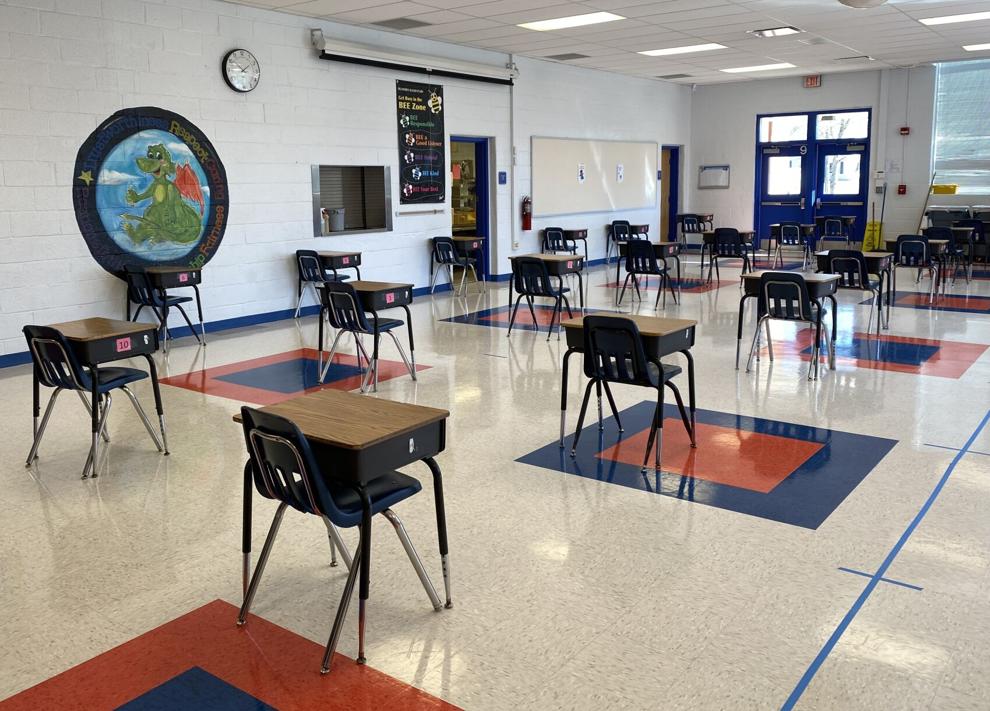 After each group finished, the desks were wiped down with "Oxiver," a specialized cleaner proven effective to kill the novel coronavirus. After lunchtime was over, Custodian Zulma Bora-Sagastume spayed the entire room with a fog of cleaner shot from a hand-held sprayer.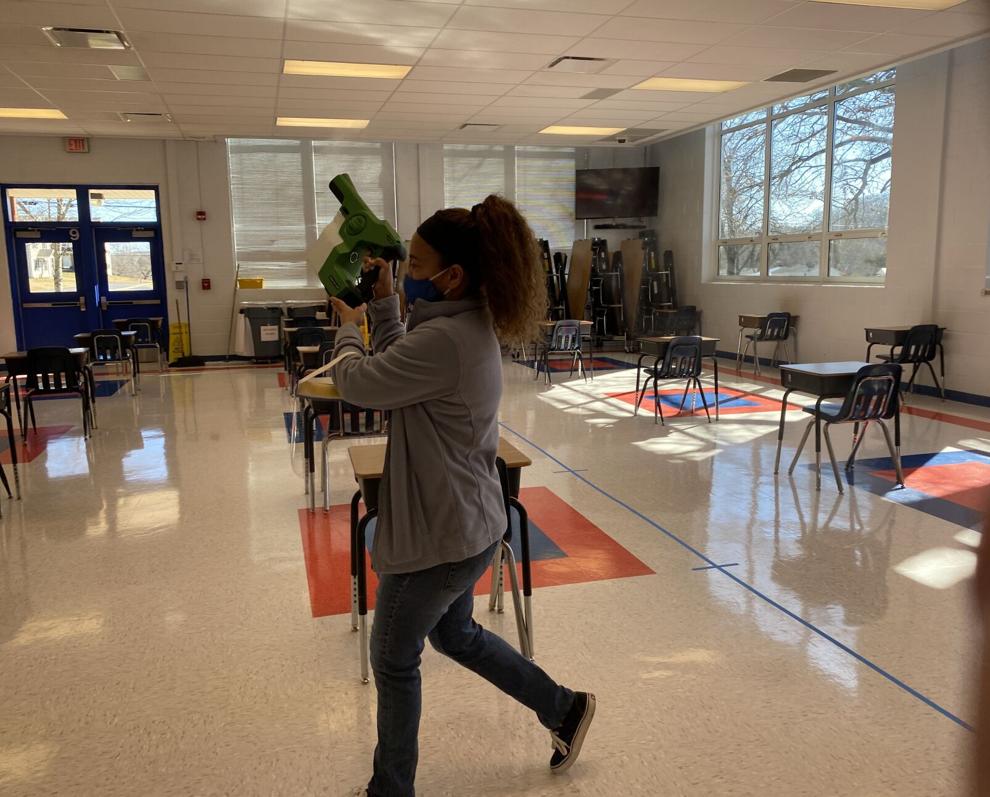 Walts said such cleaning routines and other mitigation strategies made him feel more comfortable about students' return to schools, as did the small number attending classes in person. 
"What makes me comfortable is when I see mitigation strategies being used," Walts said. "My goal is to be supportive, but also I'm constantly collecting what I see and hear. And again, what gives me comfort is seeing all these things that were part of all the plans that we've made."
Walts said his request to slow down the return-to-school timeline, which was ultimately rejected by the school board, was rooted in his desire to give school administrators more time to adjust between groups of returning students and to give teachers time to recover from their second COVID-19 vaccine shots, which most were receiving just as students returned.
Walts' plan would have brought fourth- and fifth-graders back next week – on March 8-9 – and sixth- and ninth-graders on March 23-24. Finally, and students in seventh, eighth, 10th, 11th and 12th would have returned after spring break, on April 6-7.
But the Prince William County School Board, led by Chairman Dr. Babur Lateef, had other ideas. Lateef pushed to return students much earlier and in only two waves. Fourth-, fifth-, sixth- and ninth-graders returned Feb. 25-26, while the rest will head back this week, on Tuesday and Wednesday, March 2-3.
Since September, Prince William County schools have had more students attending classes in person than most school divisions in Northern Virginia. But the decision has not been without challenges. Hundreds of Prince William County teachers and students have had to quarantine because of cases and exposure to COVID-19 in school buildings, and some have contracted the virus at school after catching it at school.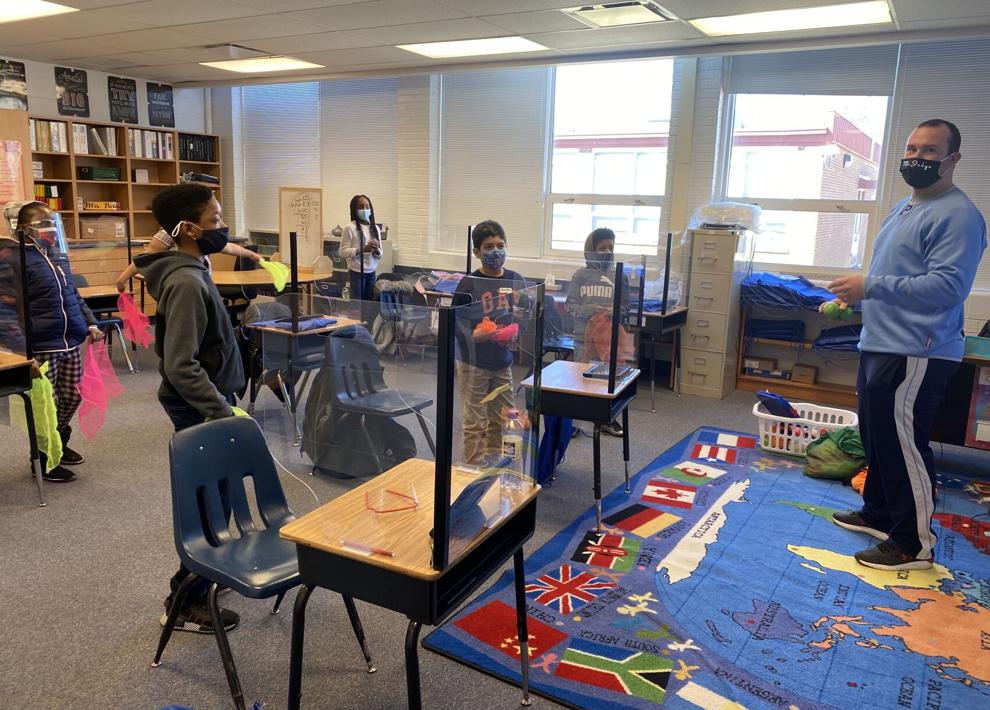 The school division has also lost two employees to COVID-19 since January: longtime Potomac View Elementary School custodian Dinora Mejia, 60, died on Jan. 10, and Woodbridge Middle School nutrition aide Flor Cervantes, 50, died on Feb. 21. Neither are believed to have contracted the virus at school, school division officials say.
Saunders principal: 'I'm in 3-D for once'
At middle and high schools, the school board's timeline meant that sixth and ninth graders had the buildings to themselves last week. At Saunders Middle School, Principal Matt Eline took the opportunity to personally deliver lunches to all the sixth grade students in their classrooms as a way to say hello and get to know them.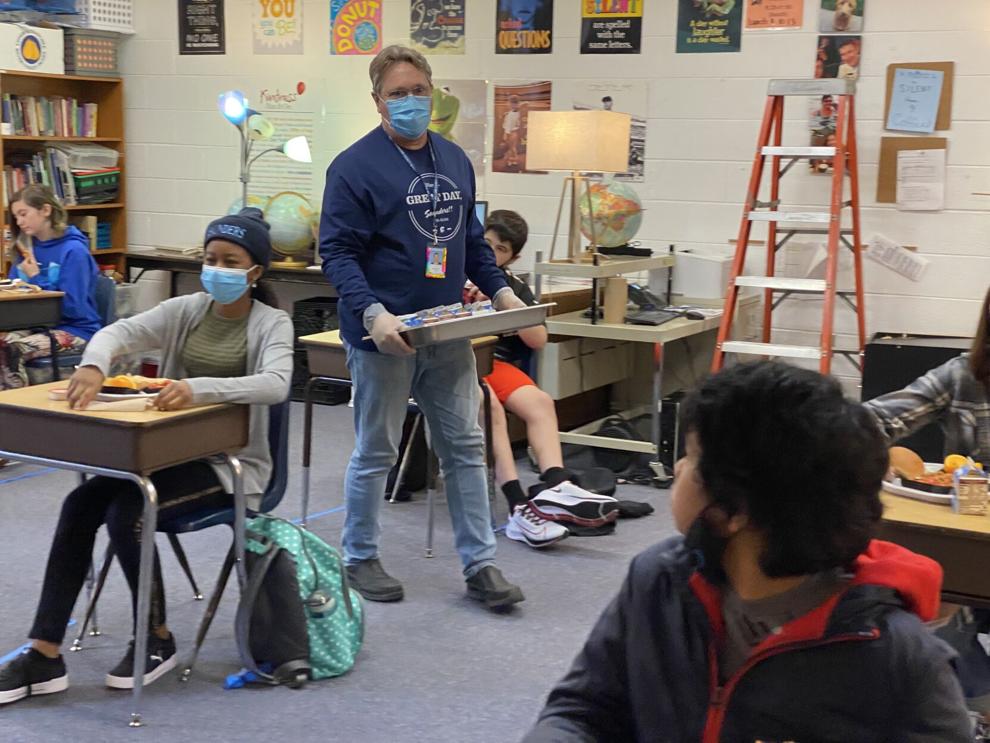 At Saunders, only about 30% of the school's 1,212 students elected to return to school in person, which meant there were only about 70 students in the building on Friday, Feb. 26. The day before, there were only 47. Across all three grade levels, about 355 students chose to return to school, Eline said.
"We decided for our sixth graders, who have never been in the building, we wanted to treat them a little special and just come to them and introduce ourselves," Eline said, as he pushed a metal cart loaded with trays of hamburgers, pizza sticks, oranges and cherry tomatoes down the school's nearly empty main hallway.
Eline said he was glad to have just the sixth-graders in the building for a few days to help them get acclimated to their new school.
"I think [sixth graders] are always a little intimidated by the seventh and eighth graders. They're just bigger physically," Eline said. "So this was good for them just to get used to the building and see staff."
When Eline arrived at teacher Julia Kelly's social studies classroom, he was upbeat as he passed out lunch trays and cartons of milk.
"How are you? Are you having a good day? I'm glad you're here," Eline said to Kelly's eight students. "You guys see me on the announcements, but other than that, [you] haven't seen me. I'm in 3-D for once."
Eline, too, talked of the limitations of only interacting with students only online. He'd also made several changes to the school's routines, including replacing the large tables in the cafeteria with individual desks, which students will begin using this week, and erecting roped stanchions in the hallways to divide traffic. Eline also positioned staff in the main hallway and outside the bathrooms to monitor students. Only one student is allowed in the bathroom at a time to ensure social distancing, Eline said.
COVID-19 protocols necessitated other changes, as well. Extracurricular activities and sports have been canceled. In band and chorus classes, students are not able to sing or play instruments unless their teachers can take them outside.
Teachers must juggle teaching students both in-person and those online – something Eline said is challenging. Still, he said, the teachers' "command centers," which include laptop computers and online cameras that follow them as they move around their classrooms, are a big help.
Eline said he wasn't sure why so few students had elected to return to school except to say that families face different circumstances. He said he'd been "swamped" with calls from parents in recent days, but most said they wanted their kids to remain virtual. The small numbers, he said, made the school feel different but also a bit easier to manage the students' return.
"I mean, we're used to 1,200 students, so having 47 kids come to the school is not a challenge. I mean, we got it," Erline said. 
"But, truthfully, in some ways I think it's really special. It was so much fun yesterday. I mean, the smiles, even though you can't see [faces], you can tell from their eyes, from their features, that people were so happy," he said. "The staff was so happy to see the kids face to face."