At about 11 a.m. on a recent Wednesday morning, a small group of public health workers met outside the local health district office in Manassas. They quickly split into two teams and spent the next five hours going door-to-door to spread the word about an upcoming mobile vaccine clinic at Sudley Elementary School.
It was all part of the local health district's ongoing push to reach underserved communities where people may be hesitant to get vaccinated or may not have had the time, resources or easy access to the vaccine. 
Local public health workers have been at this work for many months and say the extensive outreach effort has been vital in getting shots into arms. 
"We're unique in that we're meeting community members where they are," said Heidi Tamke, a community engagement nurse with Prince William Health District. 
Tamke and her team planned to visit 141 businesses in the Sudley area over two days. At the top of their list were Manassas Mosque and the Islamic Community School, but they also planned to hit nearby restaurants, auto shops, churches, gas stations and hotels. 
Wearing brightly colored vests, they crisscrossed the area, knocking on doors and offering pamphlets about the upcoming clinic. For the most part, people are very receptive, Tamke says, and want to help spread the word. 
Meanwhile, another team went door to door in nearby neighborhoods – knocking on more than 300 doors and encouraging residents to get the vaccine at the upcoming clinic. 
Tamke said she knows the outreach is working because she occasionally sees people she meets while canvassing show up later at the mobile vaccine clinics. And sometimes, she said, they bring their friends or relatives with them. 
"There are still people changing their minds. We're still giving first shots at almost every clinic," Tamke said.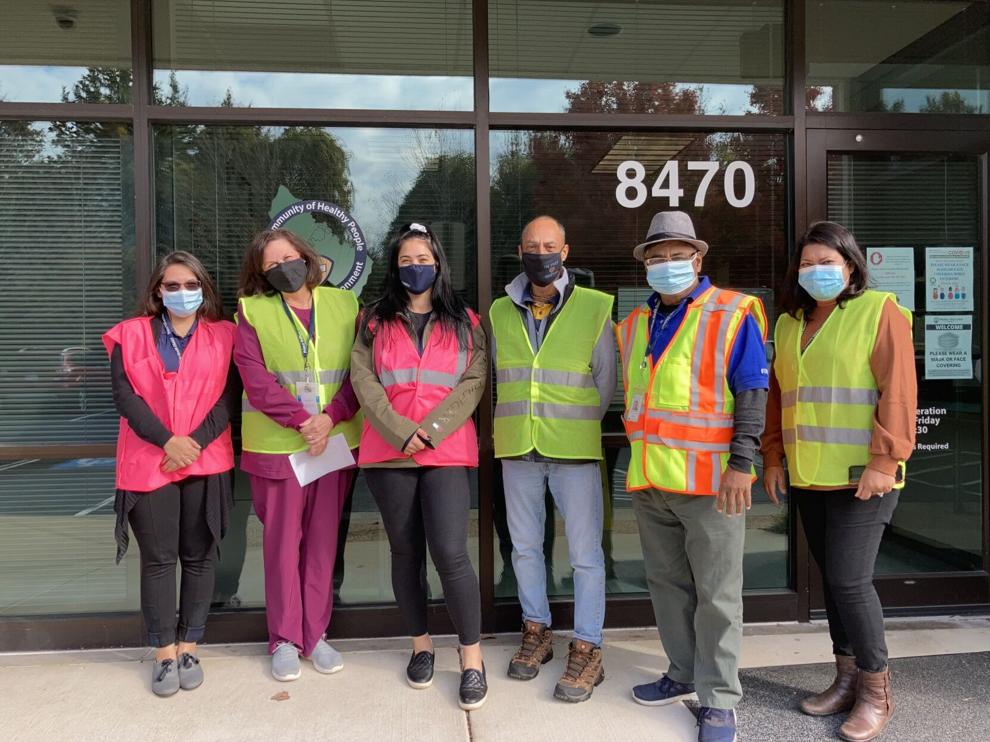 Canvassers also stopped by Sudley Elementary School that morning to speak with school administrators about the upcoming clinic set for Tuesday, Nov. 23. The school's parent coordinator, Mitzy Benitez, showed them the place in the school parking lot where the mobile clinic would set up shop.
The Sudley Elementary School mobile vaccine clinic would be the first ever held at a Prince William County public school. Benitez said she asked for a mobile vaccine clinic there because the majority of the school's nearly 700 students are economically disadvantaged and are English-language learners. 
The clinic was considered a success; 129 people were vaccinated, including 21 5- to 11-year-olds, according Sean Johnson, director of community engagement for the Prince William Health District.
Johnson said the health district is discussing plans for future mobile clinics at local schools and will return to Sudley Elementary in mid-December for second doses.
Hispanic communities in Prince William County have been hit harder by the pandemic than other groups, accounting for a vastly disproportionate number of cases and hospitalizations in the health district, according the Virginia Department of Health.
Federal officials authorized Pfizer's COVID-19 vaccine for 5- to 11-year-olds in early November. Since then, more than 100,000 children have received their first dose – close to 15% of the state's total population in that age group, according to VDH data.
Benitez said hosting the clinic at the school would allow students and their parents to receive the shots during school hours, and that parents could then bring their kids back to school when they are finished or take them home for the rest of the day depending on what time they arrive. 
Getting more local kids and adults vaccinated against COVID-19 – and providing booster shots to bolster waning immunity in those who already received their shots – is even more critical as the weather gets colder and the holidays draw near. Virginia saw its worst surges of the pandemic over the fall and winter holidays last year. Cases began to rise around Halloween 2020 and continued to soar – along with hospitalizations and deaths – though late January 2021. 
In Prince William County, Manassas and Manassas Park, more than 60% of the population has been fully vaccinated, just shy of the statewide average of 64%. The county initially lagged far behind neighboring jurisdictions early in the vaccination effort, prompting the health district to launch the canvassing effort.
Sean Johnson, a spokesperson for the Prince William Health District, said the district began sending contractors door-to-door in February, and likely were the first health district in Virginia to do so. 
Johnson said it all started with booths the health district set up in areas with heavy foot traffic where health workers would sign people up for their shots at either the Woodbridge or Manassas mass vaccination clinics. That eventually expanded into the targeted canvassing efforts they do now. 
"Many may think it's a waste of resources, but we have proved otherwise because wherever we go, we get shots in arms because of canvassing," Johnson said. "We come face to face with the public and build a trust with them because they see those same faces in their neighborhoods, at the stores and at the clinics." 
Johnson said the district's canvassers are also helping promote the flu vaccine and, in the future, may help offer medication disposal bags and Narcan to Prince William County residents in an effort to combat the ongoing opioid overdose crisis.