Prince William County's local government, police and school division workforces do not reflect its majority-minority population, the newly formed Racial and Social Justice Commission learned during its first discussion of racial disparities among public employees.
The commission is tasked with examining local police, government and school policies with a focus on racial and social justice issues and recommending policy changes back to the Prince William Board of County Supervisors later this year. The 12-member commission was created by the county board last year and began meeting in January.
Its March 18 meeting, the first broadcast on the local government cable channel, marked the first comprehensive, public discussion of racial and ethnic disparities among county workers in recent memory. But the commission's deliberations were also at times contentious, with some commissioners raising objections to certain procedures and the scope of the group's work.
The commission consists of eight citizen members appointed by individual supervisors in addition to ex-officio members: Police Chief Peter Newsham; County Executive Chris Martino; School Board member Loree Williams (Woodbridge); and Prince William County Human Rights Commission Chair Curtis Porter.
Commission Chair Shantell Rock, appointed  by Supervisor Margaret Franklin, D-Woodbridge, said in an interview Tuesday the presentations given by county and school staff shared "one clear, obvious issue."
"The leadership and staff of [county agencies and schools] does not reflect what the community looks like. That's concerning to me," Rock said. 
Newsham gave a lengthy presentation detailing the racial disparities in the county's police force. Newsham said that of the county's nearly 700 sworn police positions, 72% are white, 9% are African American, 11% are Hispanic and 3% are Asian. 
"Our police department is not as diverse as it should be," Newsham said.
The disparities are even greater among high-ranking officials at the police department, data show. 
Only 10 Hispanic, eight African American and one Asian member of the police department hold a rank higher than "officer." And of the police department's highest-ranked positions – major and lieutenant – 85% are white. 
Newsham said the county is actively trying to recruit more police officers of other races, ethnicities and backgrounds. Newsham said police recruiters attend a wide variety of community, military and university events, including at historically Black colleges and universities, NAACP open house events and the Todos Multicultural fair. 
But Newsham said challenges remain. 
"In 2020 in particular, policing got a very bad reputation. That's a reason we're having difficulty attracting young people to this profession, particularly young people of color, because of the assumptions about what police are doing to our underserved communities. We have to fix that," Newsham said.  
Several commission members stressed the importance of diversifying the police department's workforce, especially in the wake of last year's protests. 
Williams said policing – like schools – "touches everyone's lives whether you have direct contact or indirect contact." 
"When you have an organization such as the police that mirrors the community, you will have officers that have a better cultural understanding of the people that they will come into contact with," Williams said. 
Rock said the commission, the police department and the community need to work together "to figure out how to resolve the issue." 
"We already know there are some African Americans who are simply not comfortable with police officers," Rock said. 
Schools and county government
Williams next presented information about the school division workforce, showing 64% of the school division's employees are white, including 75% of the school division's teachers. Meanwhile, 28% of school division students are White, 36% are Hispanic, 20% are African American and 10% are Asian.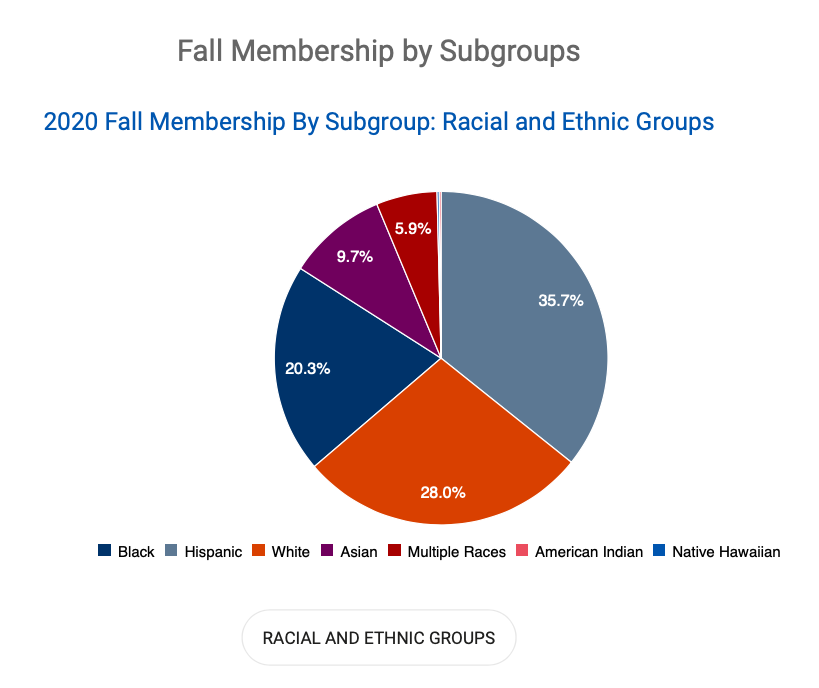 Williams said the school division has been making changes to try to get "a more diverse staff represented at all levels." 
"It's important that our school division staffing mirrors the people that we serve – the students and Prince William County families," Williams said. 
Williams said the school division is "leading the way" in addressing the issue, including conducting a 2017 staffing study, modernizing the school division's human resources department, recruiting earlier in the hiring season and recruiting from HBCUs. 
Martino then presented data about the county government's workforce, which showed that 62% of the county government workforce is white, 20% is African American, 10% is Hispanic and 4% is Asian. 
Diversity within the county's government agencies varies greatly, however. For instance, there is only one non-white person working in the Circuit Court Judges' office out of 11 employees. But 53% of the employees at the Prince William-Manassas jail are non-white. 
Rock said Tuesday the police, county government and school division all appear to have struggled to hire staff who "look like the community they serve." 
"My number one question is, 'Why?' That's what we have to address now," Rock said. 
Tension between commissioners
Some commissioners raised concerns about committee appointments, procedural issues and whether the board would recite the Pledge of Allegiance during its meetings. 
The commission did not recite the pledge at the start of the meeting and instead began by reciting an "equity pledge," prompting outrage from Commissioner London Steverson, who was appointed by Supervisor Jeanine Lawson, R-Brentsville.
Steverson said not beginning the meeting with the pledge was insulting and "un-American." 
In an interview Tuesday, Rock said her decision was "not deliberate." Rock, who is new to local government, said she chose to conduct the meeting in the same fashion that the Human Rights Commission conducts its meetings. That commission does not recite the pledge at its meetings, Rock said. 
Rock said she has "no problem" with reading the pledge at any future meetings. She said her decision not to recite the pledge was primarily because of her lack of experience running government meetings. 
Other commissioners also raised concerns about the scope of the commission and parliamentary procedures used to select commissioners for subcommittees. 
Commissioner Charles "Mac" Haddow, appointed by Supervisor Yesli Vega, R-Coles, said in an interview Monday that based on preliminary reports from county agencies, he does not believe there appears to be a "critical issue with racism [in Prince William] that other communities have." 
But Haddow said he believes the leadership of the commission is "hell bent" on finding issues of systemic racism in the county, even if the data do not support it. "Maybe the conclusion here is that we have a quality community of which there is not systemic racism," Haddow said. 
Haddow has also repeatedly argued about what he believes are "unfair" procedures being undertaken by Rock and other commissioners, including the process by which Rock appointed members to three subcommittees last Thursday. 
Each subcommittee is tasked with examining one of three topic areas: schools, police and county government services. The schools and county government subcommittees each have three members, while the police subcommittee has five members. Rock appointed one Republican-appointed commissioner to each subcommittee. 
Haddow said Monday he believes the committees were set up to prevent Republican-appointed members from blocking recommendations that Democratic-appointed commissioners want to forward to the board of supervisors.
Rock rejected the accusation, however, saying she wants to make sure the commission has a Republican-appointee in every subcommittee so as not to leave the Republican-appointees out of any particular focus area. 
"I don't play politics," Rock said.