Prince William County schools Superintendent Steven Walts promised Tuesday that he'll present a plan to the school board next week outlining when middle and high school students might return to school under the proposed "50% hybrid plan." But he cautioned it would depend on local COVID-19 numbers and is subject to change.
"We will have a plan, but it will be tentative at best," Walts said.
The comments came Tuesday, Oct. 13, during the first joint meeting of the Prince William Board of County Supervisors and School Board since the pandemic hit in March.
During the gathering, held at the school division's Edward L. Kelly Leadership Center, the supervisors unanimously approved directing another $15.9 million in federal CARES Act funding to the school division to assist with purchase of computers and other equipment needed to educate students during the pandemic. The money is part of a total of $50 million in federal money the school division has received so far to help with pandemic expenses.
Some of the supervisors also peppered school board members about their reopening plans and particularly about Walts' recent decision to keep the majority of Prince William students learning virtually until at least 2021. 
Walts announced the latest iteration of the school division's reopening plans at the Oct. 7 school board meeting.
Citing the local health district's still high COVID-19 numbers -- as well as guidelines issued by the Virginia Department of Health and the federal Centers for Disease Control and Prevention -- Walts said only pre-kindergarten through first grade students, and some high school students taking career and technical education courses, would return to schools under the hybrid plan before January. 
That's in addition to the approximately 1,200 special education students and English language learners who have been attending school four days a week since the new year began on Sept. 8.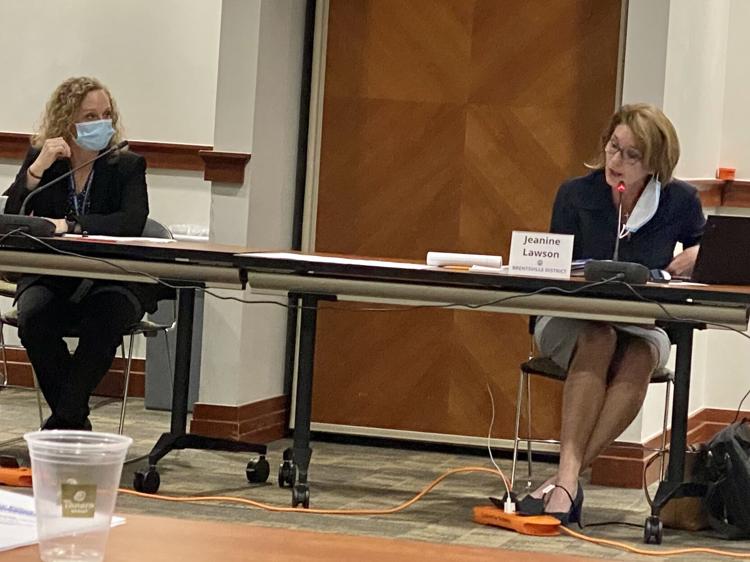 Republican Supervisors Jeanine Lawson and Pete Candland pressed the school board most strongly about the delay.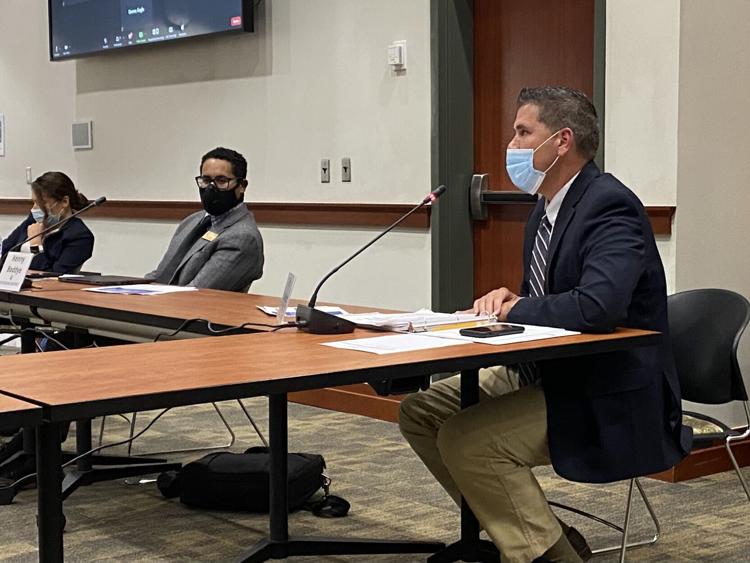 Candland asked how the $50 million in CARES Act funding is helping return students to school buildings for in-person learning.
Lawson, R-Brentsville, said she felt the school board "pulled the rug out from under many, many parents [and] families who were planning … including my family" when they agreed last week to go delay the hybrid plan.
Lawson said the school division's many texts and emails to families urging them to complete the school division's survey about returning students to school two days a week raised expectations that were ultimately dashed by the delay.
"I found it really frustrating for many, many families," Lawson said. "…I felt a need to publicly represent a lot of people who feel like the rug was pulled out from under us last week."
Lawson went on to share that her mother "almost died from COVID over the weekend."
"So trust me, I understand the gravity of this virus. I felt it over the weekend with my 80-year-old mom," Lawson added. "But we have many families throughout this county struggling, and this is crippling them, and we have got to give them some kind of timeline so they can see the light at the end of the tunnel. So that's what we're here to talk about tonight. What's your plan?"
School Board members swiftly pushed back on the request, noting that they too want to return students to classrooms but must do so safely.
"We don't have control of the virus," said Occoquan District School Board Representative Lillie Jessie, who said she agreed with Walts' move to delay the 50% hybrid plan based on local COVID-19 metrics as well as the realities involved in returning students to the county's large middle and high schools.
Jessie noted that school board members received emails from 400 teachers expressing concerns about their safety and that of medically fragile family members.
Jessie also noted that it is not within the nature of schoolchildren – no matter what their age – to comply with social distancing rules.
"You're dealing with a huge school system, and kindergarteners love to hug people and so do high schoolers," Jessie said. "We have to keep our kids safe."
School Board Vice Chair Loree Williams (Woodbridge) said the narrative that the school board "promised" all students would return on Nov. 10 was not accurate, and that the school board gave Walts the authority to adjust the plan based on health conditions and his best judgment.
School Board Chairman Dr. Babur Lateef said he understood that the delay of the 50% hybrid plan "let people down."
"That has absolutely been made clear by the hundreds of emails we've received, and we are working to get people back into the buildings," Lateef said.
Yet Lateef also noted that the CARES Act funding – which has been used to purchase nearly 50,000 laptop computers and to boost the school division's internet network, among other things – has been critical to the success of the hybrid plan in that students will still learn from home three days a week even when some return to school two days a week.
"The 50-50 plan will only work if we get everyone a computer," Lateef said. 
Walts said he empathizes with parents' concerns and frustrations, as he too has a high school senior. But he reiterated that his decisions, "first and foremost," are based on the advice of health experts, both locally and with the VDH and the CDC.
"The bottom line is that on Sept. 28, that guidance was issued by the Virginia Department of Health. The plan I presented was based on that guidance," Walts said.
Walts further reminded members of both boards that the county schools have already had more than 90 cases of COVID-19 reported among students and staff, as well as "two schools in full or partial quarantine," despite the limited number of students currently attending in person.
"I'm quite certain if we had all of these people in the buildings, the number would far exceed 90," Walts said.
Reach Jill Palermo at jpalermo@fauquier.com