The Prince William Board of County Supervisors unanimously passed a resolution this week condemning white supremacy and proclaiming that black lives matter, but it was not without partisan bickering. 
The resolution was brought forward Tuesday by Supervisor Victor Angry, D-Neabsco, who said he introduced the measure to show support for young people in the community who have taken part in recent protests against police brutality, as well as in support of the Black Lives Matter movement. 
Angry asked that he be allowed eight minutes and 46 seconds to speak about the resolution, the same amount of time that Minneapolis Police officer Derek Chauvin held his knee to the neck of George Floyd during his arrest, killing him. Floyd's death on May 25 sparked massive protests across the country that have resulted in a national conversation about race and policing. 
The board's four African American members took turns reading the resolution aloud, with Angry wrapping up the speech by affirming the board's support for the lives of black residents in the county. The floor was then opened for discussion. A tense conversation about race relations ensued between Republicans and Democrats.
Lawson: 'Who is W.E.B. DuBois? Should I know?'
Supervisor Jeanine Lawson, R-Brentsville, said she was in favor of the resolution but wanted to make sure the resolution was not an "endorsement of the actual organization Black Lives Matter." Lawson explained that she had heard from several constituents, including African-American constituents, that the organization had "hijacked a great purpose."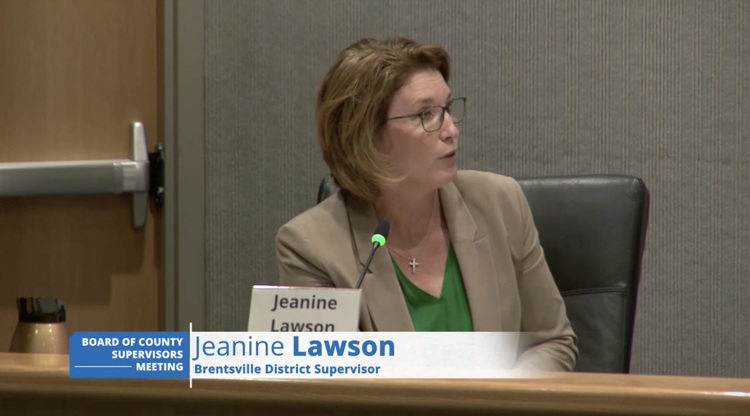 Angry replied that he was not aware of the organization that Lawson was referring to. Angry said that the resolution was speaking directly to his life and experiences as a black person in America, which he described earlier in the meeting as a life "under siege." 
"When I said my life matters as a black man, that's the group I'm talking about. I know nothing of this organization you're talking about," Angry said. 
The distinction between The Black Lives Matter organization and the Black Lives Matter movement has caused confusion about the protest movement since it began in 2013. The Black Lives Matter organization is a civil rights organization that has 16 chapters in the United States and Canada, while the Black Lives Matter movement is an unstructured protest and social movement. 
Lawson then questioned Angry about a quote that was included in the resolution from African American civil rights pioneer W.E.B. Du Bois (1868-1963), a scholar and author who co-founded the NAACP and was the first African American to earn a Ph.D. from Harvard University. Du Bois is known for his early 20th century efforts to promote access to higher education for African Americans. 
The Du Bois passage included in the resolution was one that encouraged teachers to listen to and trust black youth in their communities. Lawson said that she did not know who Du Bois was. 
"I'm fine with the quote, but who is W.E.B. DuBois? Should I know?" Lawson asked. 
Angry responded to Lawson by saying her question "would be like me not knowing who Elvis Presley is."
Lawson said that she hoped that her fellow board members would teach her about these historical issues and encouraged more conversation between board members on the issue of race and race relations. Lawson said that healing the community would not happen "unless we have dialogue."
Supervisor Margaret Franklin, D-Woodbridge, who is African American, responded by saying that it's "not my responsibility to educate people on this board about race." Franklin said that it is up to individual members of the board to educate themselves.
"Those are important discussions to have, but it's not on us on this board to explain race relations. As leaders, we should come to the table already with a certain knowledge," Franklin said. 
Franklin encouraged board members who were struggling to understand the Black Lives Matter movement "to go and talk to some of those young people out there." 
Franklin was referring to Black Lives Matter protesters who had gathered in the lobby of the McCoart building after holding a protest prior to the board meeting. Several had come inside to speak during public comment time. 
"If you all really want to have this discussion and really want to understand what Black Lives Matter is … go outside and talk to those young people," Franklin said. 
Supervisor Yesli Vega, R-Coles, who introduced an "all lives matter" resolution at the June 2 board meeting, asked Democrats to explain whether the "black lives matter" resolution meant that the lives of non-black constituents "can't have a significant meaning until we say or proclaim that black lives matter before that." Vega said she was concerned that some constituents might "feel they're being excluded." 
Franklin responded by saying, "You can't say all lives matter if you don't say or believe that black lives matter."
Wheeler asks speakers to refrain from profanity
After passing the resolution unanimously, the board moved on to public comment time. Many of the people who addressed the board were young black and Hispanic county residents who were advocating for changes in policing policy in Prince William County. Several said they supported slashing the county's police budget and redirecting the money to mental health programs. 
Ruben Chavez, a resident of the Occoquan District, who had come to the earlier rally, told the board members that he wanted the county "to defund the police" department. Chavez said he was "tired of seeing our people being criminalized." 
Chavez then accused one of the board members, Vega, of eating "f------ papusas with a knife and fork," which caused a commotion in the board chambers. Lawson asked Board Chair Ann Wheeler to stop Chavez from using profanity in the chamber after he made the comment. Wheeler then requested that Chavez "keep decorum" and stop using profanities. 
After Chavez spoke, many of the young people who had come to the meeting to speak about police reform began using profanity in their addresses to the board, including the "f-word," and the protest refrain "f--- 12." The number 12 is a slang term for police.
Later in the meeting, Lawson said some of the speakers said profane things about Vega in Spanish and asked if the board could require speakers to use only English in public comment time. County Attorney Michelle Robl said she would get back to the board on whether such a rule would be legal.
The board also asked county staff to edit profanities out of the video recording of the meeting. The edited video of the meeting can be viewed on the county website here.
Correction: An earlier version of this story stated that a speaker addressing the board during public comment time used no profanity. A video sent to the Prince William Times of the unedited video footage from the meeting shows that the speaker did in fact use the "f-word" when speaking to the board. However, it was edited out of the public video of the meeting available from the county website. 
Reach Daniel Berti at dberti@fauquier.com