The Prince William County police department and 10 other Northern Virginia police departments announced the creation of a multi-jurisdictional team to investigate area police shootings on Tuesday, a move that police officials say will allow for more independent investigations when such incidents occur. 
Currently, police departments often carry out their own criminal investigations into officer-involved shootings or hand the investigation over to the Virginia State Police. By signing onto the agreement, these 11 police departments will no longer investigate their own departments when such an incident occurs.
Instead, a team of detectives and crime scene technicians from the 11 participating jurisdictions will conduct the investigations. No members of the team would participate in any investigation of their own agency. Internal administrative investigations, however, will still be conducted by the police department in which the incidents take place to determine whether officers broke any of the agency's rules.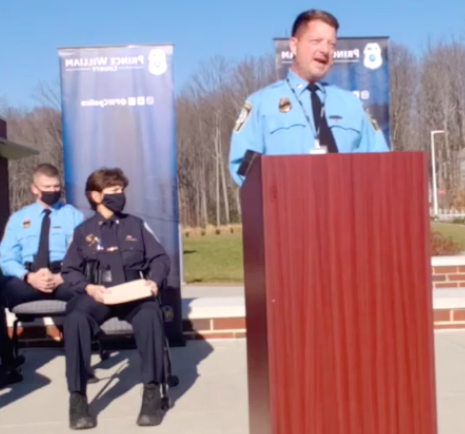 The departments that have signed onto the agreement, known as the Northern Virginia Critical Incident Response Team, are Prince William, Fairfax, Arlington, Falls Church, Herndon, Leesburg, Manassas, Manassas Park, Purcellville, Vienna and the Metropolitan Washington Airports Authority Police Department.
"This team is being formed to conduct a thorough, proficient and timely criminal investigation of incidents where a law enforcement officer uses [deadly] force," said Prince William County Assistant Police Chief Kevin Hughart at a Tuesday press conference. "... A team of investigators will be available to travel to any of these partner jurisdictions to immediately initiate the investigation process when an incident occurs." 
The team will be called on to investigate police shootings, in-custody deaths, law enforcement officer suicides and any action taken by an officer that results in the death or a life-threatening injury of a person. 
Police chiefs said they believe the agreement will build trust and increase transparency with their communities when a police shooting takes place or following incidents in which officers use force. 
"The team provides a higher degree of impartiality and separation in these types of investigations due to the team is not reviewing their own agency or their own peer officers. The mere makeup of this team ensures checks and balances throughout the entire investigative process," said Manassas City Police Chief Doug Keen.  
Herndon Police Chief Maggie DeBoard said plans to create the Northern Virginia Critical Incident Response Team began over a year ago – long before mass protests of police brutality spread across the country in the wake of the police killing of George Floyd. 
"Here in Northern Virginia, reform is not a trend, nor is it something that had to be forced on us," DeBoard said. "... The outcries for police reform have been ringing really loudly across our nation throughout the past 10 months. And in Virginia, where reform has helped our profession evolve and become better, we have eagerly embraced it." 
DeBoard said the team will also be helpful to law enforcement officers who often find themselves investigating incidents in which a fellow police officer is killed or has committed suicide. 
"One of the most difficult things for a law enforcement officer to do is investigating one of their own when they have a line-of-duty death or when they have a police suicide," DeBoard said. "This team allows officers … to step back. And it's really the first step that we've made in a positive way to help our officers deal with that emotional trauma that continues to be really impact or our profession." 
In Prince William County, there have been at least three police shootings in the last four years, two of which have been fatal. Most recently, a 79-year-old Dumfries man was killed by police in December 2020 after a brief standoff. 
According to an investigation by the Prince William County Commonwealth's Attorney office, the victim was armed and suicidal. Before being shot, he allegedly pointed the gun toward police and told them to shoot him. 
"As an agency that has lost an officer due to suicide and then just recently having an officer-involved shooting, the benefits of this team are tremendous for our community," said Prince William County acting Police Chief Jarad Phelps. "I look forward to the cooperation and what this team can bring and do for communities throughout the Northern Virginia region."
Reach Daniel Berti at dberti@fauquier.com