Prince William County government officials want stronger commitments from Dumfries that the town will address increased traffic resulting from "The Rose," a proposed gaming facility and hotel that is up for a final vote on Dumfries Town Council next week. 
But some Dumfries officials are pushing back on those recommendations. 
The dispute revolves around the fine print in Colonial Downs Groups' application for "The Rose," which, if approved, will shutter and replace the Potomac Landfill at Interstate 95 and Va. 234 with a $389 million casino-sized gaming facility, hotel, entertainment complex, parking garage and public park.
To mitigate the impacts of new traffic The Rose will create, Colonial Downs Group is being asked to pay for intersection improvements at Va. 234 and U.S. 1. A "preferred" option would have Colonial Downs pay for part of a new intersection that would connect U.S. 1 and Va. 234 with a long-awaited extension of Potomac Shores Parkway.
The improvements would entail creating a chunk of the proposed four-lane "quadrant loop" at that intersection.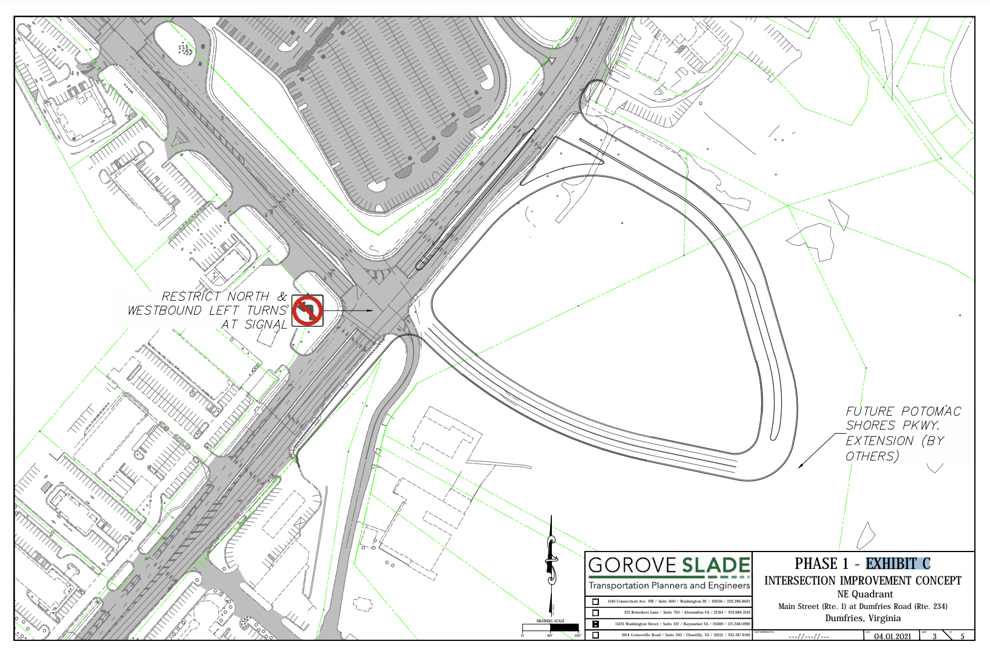 But there's a catch: The conditions of the application say that Colonial Downs can choose an alternative option. They can instead pay for improvements to Old Stage Coach Road and U.S. 1, likely at a much lower cost.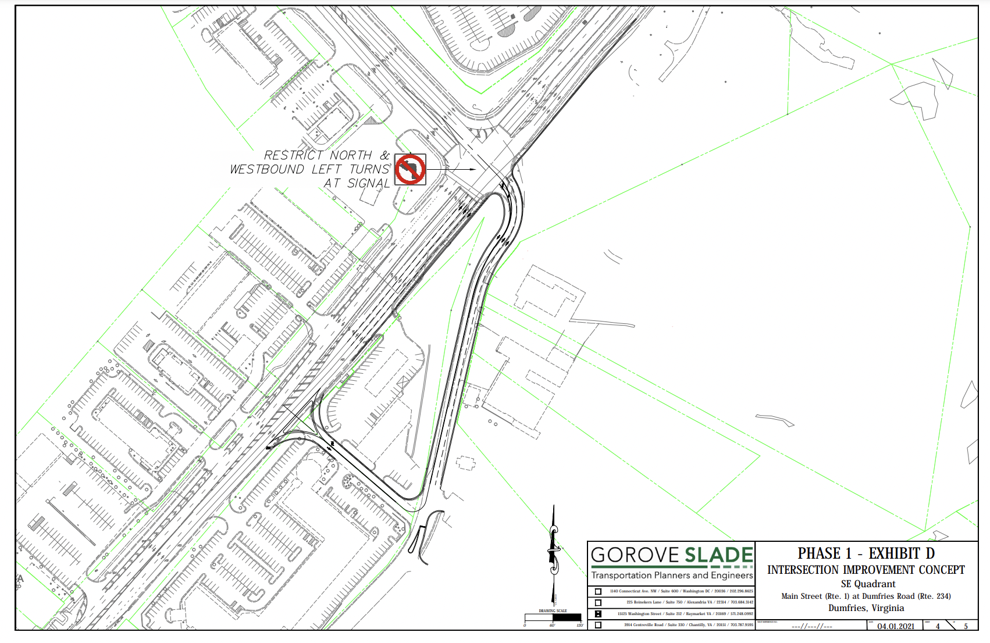 That prompted Prince William County's planning and transportation directors to write a Sept. 13 letter to the Dumfries Planning Commission requesting the town strengthen the language in their proffer agreement to ensure that part of the new intersection is built along with The Rose project.
The county planners' letter notes there is "no assurance" in the applicant's proffers that those improvements will be constructed and requests that the proffers be revised before the town council votes to approve the gaming facility. 
"Their proffers are written in a way where, we believe, the developer won't be able to complete or perform on their improvements. We feel there could be a little more conciseness in the proffer language to make sure the developer will take care of the traffic they're going to generate," County Transportation Director Ric Canizales said Thursday.
Some Dumfries officials are pushing back on county's request, however. They say another developer is already on the hook to build the intersection: Potomac Shores. 
The developers of Potomac Shores agreed in 2013 to build the entirety of the Potomac Shores Parkway, including the intersection improvements at U.S. 1 and Va. 234, as a condition of their rezoning application. The proffers state that once traffic on Potomac Shores' River Heritage Boulevard reaches 25,000 vehicles trips per day, they must build the road. 
Canizales said in a text message Thursday that road is nearing a traffic threshold that will require Potomac Shores to begin the design and bonding for the parkway, but won't yet require them to construct it.
Dumfries Mayor Derrick Wood said in an interview Thursday he was "taken aback" by Prince William County's request to have Colonial Downs build the intersection at Potomac Shores Parkway.
"You want my developer to pay for your developer's entrance [to Potomac Shores Parkway]?" Wood said on Thursday. "It doesn't have nothing to do with the project that we are approving." 
Wood said he is "committed to being a good neighbor and a good partner" to the county but said the decision is ultimately "up to my council as a whole to decide based on the recommendation of staff." 
Dumfries Town Manager Keith Rogers said Prince William County's requests are "a non-issue" for the town. He said leaving open an option for Colonial Downs to build an alternative to the intersection is necessary, "if [Potomac Shores Parkway], for whatever reason, doesn't happen in a timely fashion." 
"That's not in the town's control," Rogers said. 
Dumfries planning commissioners voted unanimously on Sept. 13 to recommend approval of the $389 million gaming and entertainment destination. The casino-sized gaming facility will feature a hotel with up to 305 rooms, eight restaurants, a 1,500-seat theatre and 175,000 square feet of gaming floor space. 
The Dumfries Town Council will hold a public hearing and vote on the project on at their Sept. 21 council meeting.