Fans of the America Ninja Warrior TV show – or those who have always wanted to try a physically challenging obstacle course  –  will soon have the opportunity to do so in a Prince William County park.
After a year of planning, design and construction, work is nearly complete on the new "Warrior Challenge Course" at Locust Shade Park, a Prince William facility located outside the Quantico Marine Corps base in Triangle. The park is next to the National Museum of the Marine Corps near the Joplin Road exit off Interstate 95.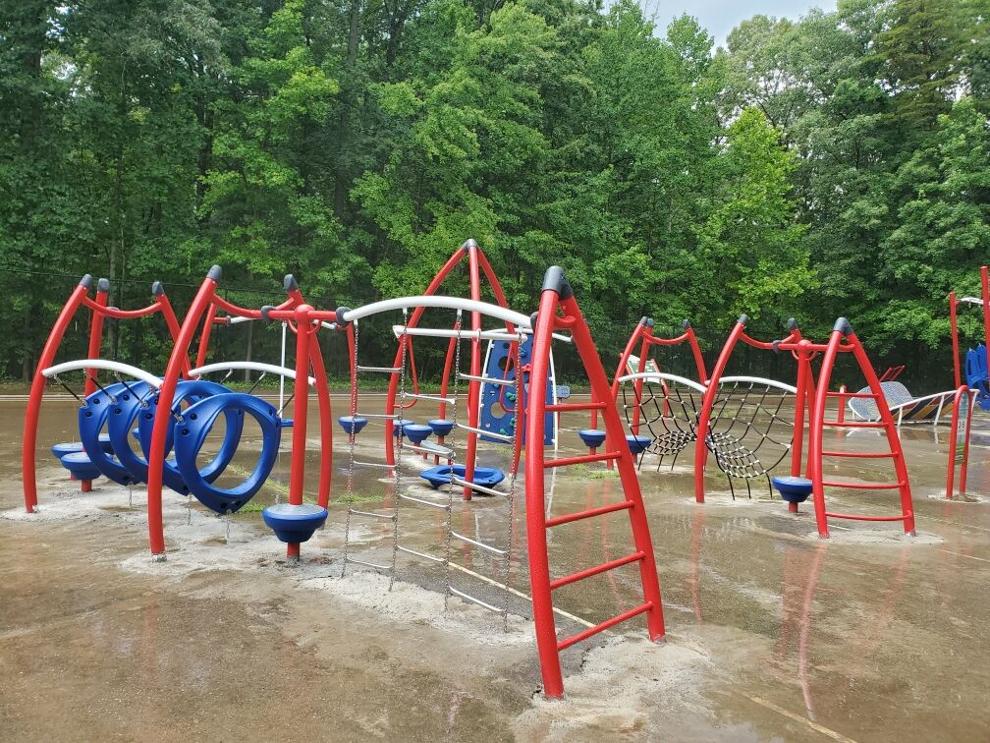 The $500,000 outdoor fitness facility, which will open to the public next week, includes a Ninja Warrior-style obstacle course, a "warped wall," a timed 30-yard-dash sprinting track, an outdoor gym and a children's playground. 
The Warrior Challenge Course is geared for use by Marines and their families, veterans and county residents of all skill levels and abilities. The course was funded in part by a $250,000 Department of Defense grant sought by the county about a year ago. 
"The DOD has a grant program to help communities around bases as far as amenities for soldiers and their families. So, we applied for a grant to put in a Warrior Challenge Course at Locust Shade because it's right next door to the Marine base," said Brendon Hanafin, chief of planning and capital projects for Prince William County's Department of Parks, Recreation and Tourism. 
The county matched the grant funds with $250,000 of proffer funds earmarked for parks and recreation in the Potomac District that mostly came from the Mallard Overlook development, according to Supervisor Andrea Bailey, D-Potomac. Proffers are voluntary contributions from residential developers to offset the impact of new residents on the county's schools, parks, libraries and public safety resources. 
Bailey said that the course "was a … much-needed project for our veteran and military family community." She said she is thrilled with the "terrific" course and "grateful for the continued partnership with our Marine Corps family." 
The obstacle course is designed for age 13 and up and includes eight physically challenging obstacles: ninja steps, floating boards, u-turn ramp, agility trainer, sway steps, balance walk, traverse wall and a vault wall. 
Detailed signage explains how each obstacle should be approached and used for optimum results at beginner, intermediate and advanced levels. The obstacles aim to improve users' speed, agility, balance, flexibility and muscle fitness.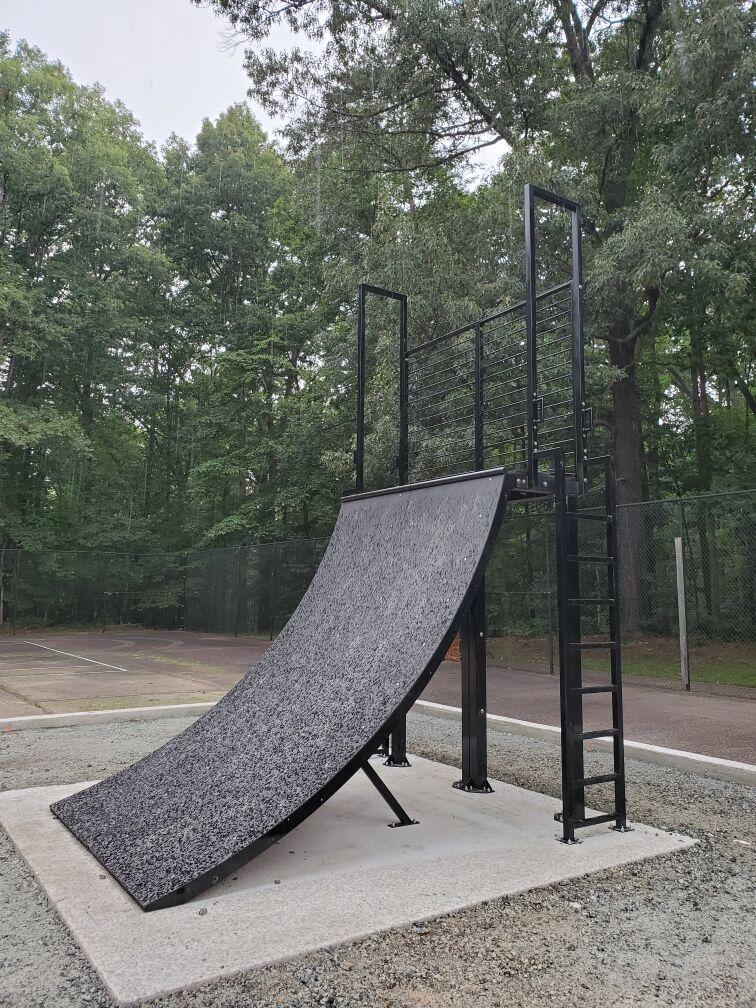 Extreme athletes can challenge themselves on a warped wall and also on a timed sprinting track. The warped wall was added separately to the course and has enough space for an athlete to get a running start. 
The sprinting track has two lanes so two runners can compete against each other if they line up at the same time. A large electronic scoreboard will display the timed results from each of the two lanes. 
"It's a pretty intense course," Hanafin said.
Outdoor gym, 'mini ninja' course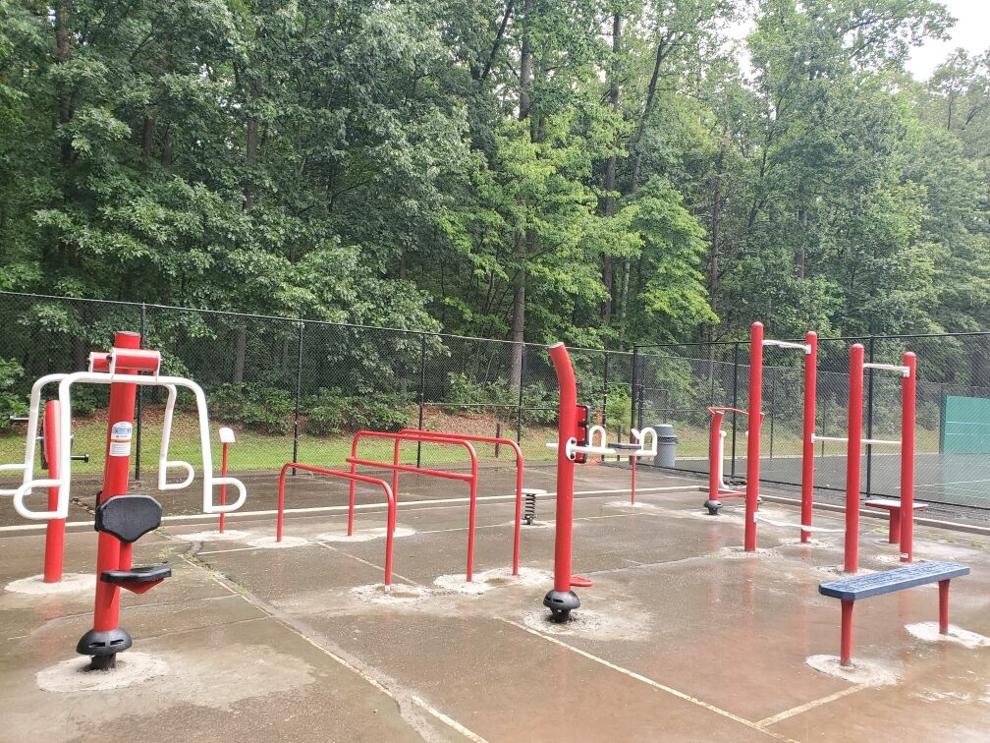 Next to the obstacle course is an outdoor gym which features a variety of stations for those who want a more traditional gym workout. They will find a chest press, hand cycle, captain's chair, balance board and an ADA parallel bar station that can be used from the seat of a mobility device such as a wheelchair.  Each station includes instructions for safe use.
The fitness facility was also designed with families in mind. One of the goals of the project is for parents to be able to "co-recreate with their children," Hanafin said. 
To achieve that goal, the park includes a new, accessible playground suitable for children as young as 2. The "mini ninja course" is similarly themed as its adult counterpart and includes lots of interesting play equipment for children to climb, balance on and run around. 
Ground level elements make the course accessible for those with disabilities, Hanafin said. 
The project also included accessibility improvements at the park, including the construction of two accessible parking spaces as well as a series of ADA ramps and low-slope trails (with a less than 5% incline) to serve the new course and children's playground.
The floor surfacing throughout the challenge course is going in last and will be artificial turf with a base layer of sand, which will be comfortable under foot and will soften hard landings. The entire course and children's area are fenced in and lined by mature trees.
The brightly colored red, white, and blue fitness facility replaced three of six existing tennis courts at Locust Shade Park and measures approximately 20,000 square feet.
Hanafin explained that because the county was able to repurpose the old tennis courts and fit all of the course amenities into an existing footprint, they were able to budget for top-notch course features rather than spending money on prepping a new area to house the course.  
The reuse of an existing space was also important from an environmental perspective because t it meant not adding an additional impervious surface in the park or having to remove mature trees while avoiding storm water issues. The fitness facility is free and will be open daily 12 months a year.
Locust Shade Park manager Chris Kelly said he expects it to be very popular and hopes that when the fitness facility is busy everyone uses common sense taking turns as they navigate the course. 
"The comprehensive set of improvements [at Locust Shade Park] creates a new, all-inclusive experience for family outings within minutes of the [Marine] base," Hanafin said, adding: "The course is a first-class amenity for the area and fits into our overall effort to make this exit off I-95 a 'must stop.'"