Prince William County schools has recorded its first official "outbreak" of COVID-19, as defined by the Virginia Department of Health, at Charles J. Colgan Sr. High School. 
The outbreak at the mid-county area high school was first reported on the VDH dashboard on Friday, Jan. 22. It stemmed from COVID-19 cases first reported by Colgan High School back on Dec. 10. It's not clear why the outbreak took six weeks to appear on the state health department's website.
As of Tuesday, Jan. 26, Prince William County schools have reported a total of 1,418 COVID-19 cases among staff and students working both inside school buildings and virtually, according to the school division's COVID-19 dashboard.
The number of cases reported each month has risen steadily since the start of the school year, with 50 reported in September and 746 reported, so far, in January, according to the school division dashboard.
But despite the high number of cases, Prince William County school officials have pointed to the lack of an official outbreak as evidence that COVID-19 is not spreading in county schools.
The school division now has about 13,500 students attending schools in person, mostly two days a week. They include students in pre-K through third grade as well as some special education students and English language learners.
The school division requires all students to wear face coverings and to maintain social distancing in classrooms, hallways and on school buses. Students are also spread out in cafeterias, and many classroom desks have been affixed with plexiglass barriers. 
The VDH defines an outbreak as "two or more laboratory-confirmed COVID-19 cases" that occur within a 14-day period and "are epidemiologically linked, do not share a household, and were not identified as close contacts of each other in another setting during standard case investigation or contact-tracing."
It's not clear how many students or staff members tested positive for COVID-19 as a result of the Colgan High School outbreak. The number was not specified on the VDH website, meaning there were more than two cases but fewer than five.
The school division declined to disclose the exact number of cases at Colgan High School or how many students and staff were affected. The information would not be revealed because of privacy concerns, school division spokeswoman Diana Gulotta said in a Jan. 26 email. 
It's also not clear how many students and staff members had to quarantine as a result of the outbreak. A Dec. 14 letter informing the Colgan community of the confirmed and probable cases that were later determined to be part of an outbreak said close contacts "have been notified and … will be in quarantine until the required quarantine time has been completed."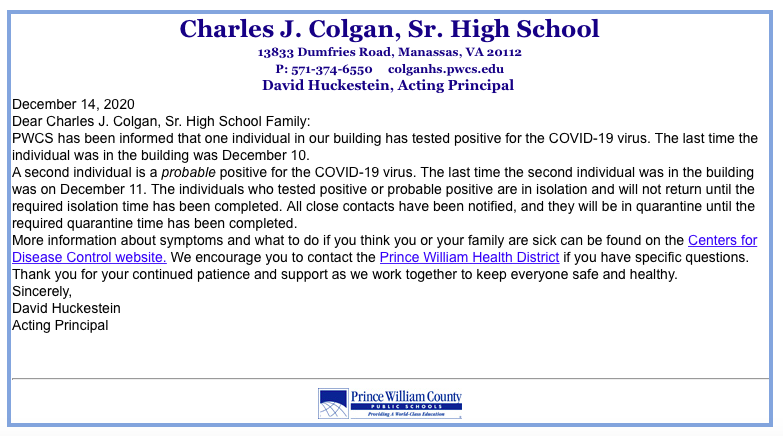 Gulotta declined to provide further details Tuesday regarding how many people were asked to quarantine or what other impacts the outbreak had on Colgan High School.
It's also not clear whether the school division was aware of the outbreak before it was reported on the VDH website last Friday, Jan. 22.
The school division first reported the outbreak on its website on Tuesday, Jan. 26, which was also when Colgan High School Principal Tim Healey sent a letter notifying the school community of the outbreak.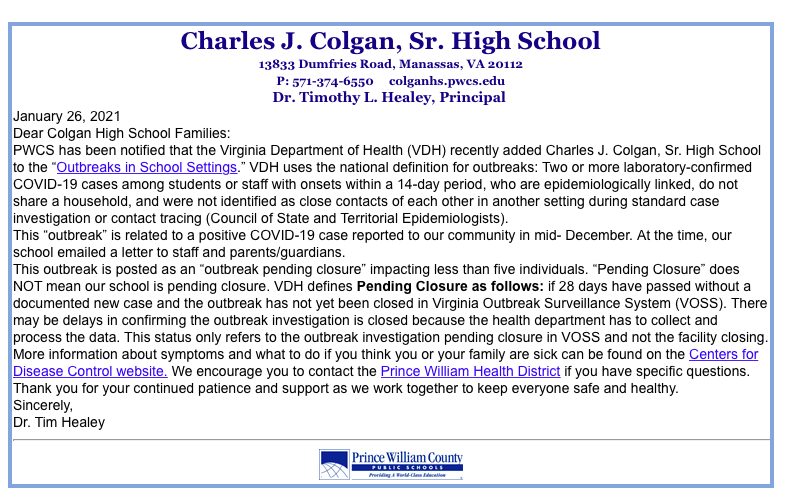 Asked if the school division has investigated how Colgan High School's COVID-19 mitigation efforts fell short, resulting in the outbreak, Gulotta said only that the cases would be looked into.
"As with every COVID-19 case, members of our pandemic team review our protocols to determine what improvements can be made," she wrote.
CORRECTION: This article has been updated to note that the number of students currently attending Prince William County schools in person is about 13,500, not 17,000, as was originally reported. The Times regrets the error.