Prince William County Executive Chris Martino, who has served in the county's top staff post since 2016, announced Tuesday he will retire at the end of the calendar year.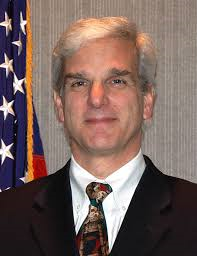 Martino, 63, of Haymarket, has worked for Prince William County government for 26 years, rising from the director of finance to deputy county executive for general government to the county executive post five years ago, according to a county press release.
"Prince William County is a very special community, a community in which I have lived and raised my family. It has been my distinct privilege to serve in this role, and I am extremely proud of what we have accomplished during my tenure," Martino said in a statement.
"This is not an easy decision by any means. I love this organization and the people who work here. However, after close to 40 years of public service, 26 with Prince William County, it is time."
In making the announcement, Martino thanked current and former staff as well as members of the Prince William Board of County Supervisors, past and present.
"I am so grateful to have had the opportunity to be a part of this organization," he said. "I am thankful to the staff and the board of county supervisors, past and present, for their leadership and support as we have all worked together to accomplish our vision and to make Prince William County a community of choice."
Martino listed several accomplishments of which he is most proud, including "changing the organization's culture to empower employees and focus on the board of county supervisors' goals; aligning the county's personnel policies, procedures and practices; and completing and implementing classification and compensation studies to help with recruitment and retention of county employees."
Martino also noted as one of his main accomplishments the move to combine the county's professional and volunteer fire departments under the leadership of the professional fire chief. 
"It is the work of our employees, however, that makes me the most proud," he said in the statement.
Board of Supervisors Chair Ann Wheeler, D-At Large, thanked Martino for his service in a statement. Martino was hired by a Republican-majority board led by former chairman Corey Stewart but maintained his position as the board transitioned to its current Democratic majority.
"The board is very grateful for Mr. Martino's service," Wheeler said. "He has led this organization through many challenges – a global pandemic, social unrest, changes to the structure of the organization, and much more – and he has done so with passion, determination, and always with the best interest of the community and organization at heart.'
Wheeler called Martino's announcement "a loss for the organization," adding: "We certainly wish him well and the very best of luck."
Martino will continue to serve as county executive through the end of the calendar year. 
The county board will launch a national search for a replacement as soon as possible, the release said.