Two pop-up coronavirus testing sites have been established at Novant Health UVA Health System facilities in Prince William County. But as of early this week, they were not yet operational. The problem? There still are not enough tests.
Michelle Strider, chief quality officer at Novant Health UVA Health System, said each of the organizations' three acute care facilities – NH UVA Prince William Medical Center in Manassas, NH UVA Haymarket Medical Center and NH UVA Culpeper Medical Center – have external pop-up sites ready and waiting outside each hospital's emergency room.
External testing sites generally consist of triage tents to help staff safely and efficiently screen emergency department patients for COVID-19. 
"These are available to meet anticipated surges to our emergency rooms for those needing emergency care. Until testing kits are more readily available, we will not be using these locations for COVID-19 testing," she said. 
As of Monday morning, Novant Health UVA Health System did not yet have a timeline for when they will start using the pop-up sites. 
"At this time, we will not be using these locations for COVID-19 testing," Strider said Monday. 
Prince William Health District Director Dr. Alison Ansher said last week during a virtual town hall with local lawmakers that coronavirus testing has so far been reserved only for those who most need it because testing in the county is "limited." 
Testing has been prioritized for the elderly and those with chronic illness who display the symptoms of the coronavirus, Ansher said. 
"Because we have limited tests, we really need to save it for the most vulnerable folks that could end up on ventilators and not just be testing people because they want to be tested," Ansher said. 
Ansher added that Novant Health UVA Health System's local hospitals have urgent care units that have been helping with testing because the hospital is able to provide personal protective equipment for staff. 
"As you know, there's a shortage [of PPE] and that's part of the issue," Ansher said. 
Sentara hospitals in Williamsburg, Norfolk, Virginia Beach and Hampton began offering drive-thru testing and screenings for coronavirus last week. Sentara Northern Virginia Medical Center in Prince William County, however, is not currently conducting any drive-thru testing, according to Sentara Communications Advisor Susan Bahorich. 
There have been 18 confirmed cases of COVID-19 in Prince William County as of Monday, March 23.
Statewide, there have 254 confirmed cases and seven deaths. All of the deaths so far have involved people in their 60s, 70s and 80s. A Fairfax County man in his 60s succumbed to respiratory failure from COVID-19 last week. The other victims – three women and two men -- were from Virginia Beach and the Penninsula area around Williamsburg.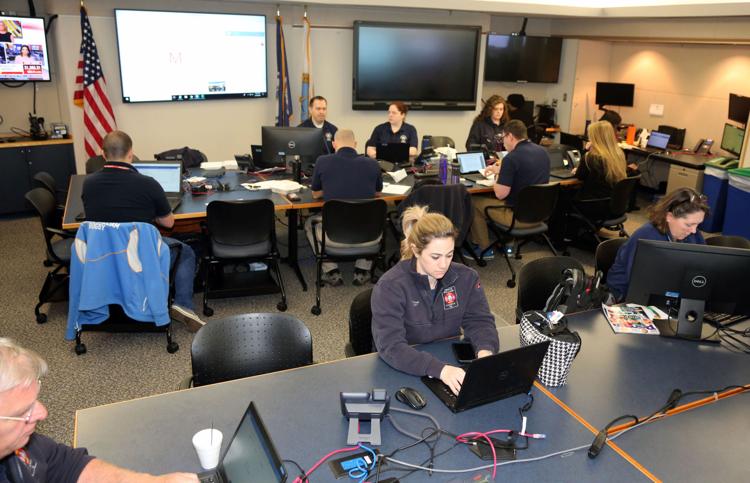 Prince William County spokeswoman Nicole Brown said the biggest challenge facing the county's emergency operations staff is acquiring testing and healthcare supplies to combat the outbreak. 
"In a national and even global event like this, one of the biggest challenges is acquiring needed supplies, which is a challenge everyone is facing," Brown said Monday in an email. "We are working diligently with the healthcare industry and the state to get more testing supplies and healthcare supplies." 
The county's Emergency Operations Center is coordinating with the Prince William Health District, local healthcare facilities, and state and federal agencies to make testing more available, Brown said. 
"Everyone is working diligently and very long hours to address this public health emergency so that we can help protect our community and our employees," Brown said.
The county is asking residents follow all the guidelines recommended to prevent the spread of germs and respiratory disease, including social distancing, refraining from being in groups of 10 or more and only going to the store when necessary. 
"This is truly the only way that we are going to stop the spread of the virus and provide some relief to our healthcare system. These next few weeks will be critical, so everyone needs to do their part to help flatten the curve," Brown said.
The Prince William Board of County supervisors joined regional officials last week in calling for the National Capital Region to be designated as a priority testing site.
The board sent a letter Thursday to Vice President Michael Pence, who chairs the Federal COVID-19 Task Force, echoing calls for the priority designation from Virginia Gov. Ralph Northam, Maryland Gov. Larry Hogan and D.C. Mayor Muriel Bowser. 
"As the second largest jurisdiction in the state, we feel like it is imperative that we get testing kits as soon as possible," Prince William Board of County Supervisors Chair Ann Wheeler said in a press release.
 Wheeler said Monday afternoon that the county is still working to get more testing.
"We have locations ready to go but they can't begin testing until they have the test kits," Wheeler said.
Reach Daniel Berti at dberti@fauquier.com