Police have released photos of a man accused of attacking a transgender woman last Friday night as she was leaving work at a beauty salon in Woodbridge.
The victim was hospitalized for "significant injuries," according to police.
The attack took place at a shopping center on the 13900 block of Jefferson Davis Highway at around 9:30 p.m. on Friday, July 10.
The incident was first reported by Spanish-language news networks Telemundo44 and Noticias Ya on Monday. Both news networks interviewed the victim, Niurka Flores Garcia, at the beauty salon where she works. Garcia told reporters that a man approached her as she was leaving work and aggressively interrogated her about her gender identity before violently attacking her. 
"He immediately came at me. He got very close. He said, 'I don't like people like you,'" Garcia told Telemundo44. 
Garcia said the man went to his car and returned with a weapon. He then struck her in the face with something "like iron, on his knuckles," she said. "He hit me once and then when he saw the stream of blood he ran away."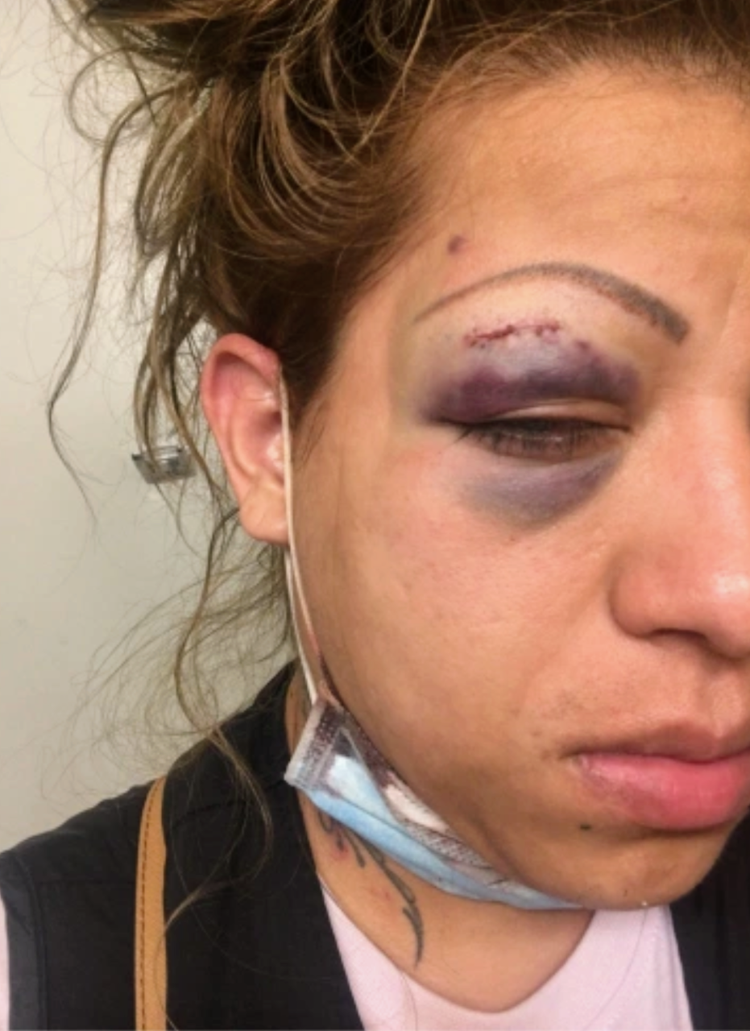 Garcia received multiple stitches at the hospital and told a Telemundo44 reporter she thought she would lose her eyesight in her right eye. Photos of the victim taken at the hospital show a gash and bruising around her right eye. 
Police are looking for a Black male between 30-36 years of age in connection with the assault, according to Officer Renee Carr, spokeswoman for the Prince William County Police Department. Police say the man fled the area in a car being driven by an unknown female.
The Prince William police reported the incident twice -- in a Monday, July 13, press release and in a Facebook post on Thursday, July 16 -- but did not report that the victim was a transgender woman. Instead, police wrote that the victim was "a 34-year-old man." The releases also did not report the comments made by the suspect about Garcia's gender identity. 
Asked why the police department did not report that the victim was transgender, Carr declined to comment and said the department "may have more details to release" when a suspect is identified. 
Asked if the incident is being investigated as a hate crime, Carr said, "if there is evidence to support a violation of the law we will consult with the [Commonwealth's Attorney's] office and place the appropriate charges at that time."
"The case is still active, and the suspect has not been identified. Until that occurs, the motive may be difficult to officially define but we're considering all angles," Carr said.
Police spokesman 1st Sgt. Jonathan Perok said that, without a suspect in custody, "we still have questions to answer regarding motive and we never preemptively comment on a potential motive until we know as much about the case as possible."
"This is extremely important in cases where a suspect is not known so we don't indirectly affect the investigation and subsequent prosecution of the case," Perok said.
Perok said "cases involving a potential hate bias are thoroughly reviewed with the Commonwealth Attorney's Office at the appropriate time to see what the proper course of action is we need to take because they are the office to then prosecute the case moving forward."
Evelyn BruMar, an LGBTQ community activist and Prince William County Human Rights Commissioner, said she was not fully aware of how police reported the attack or how Garcia identified herself to law enforcement. But, she said, the attack should be considered a hate crime. 
"Latinx members of our PWC LGBTQ+ community was attacked in Woodbridge for being trans in public," BruMar said in a Facebook post on Wednesday. "Plain and simple this is a hate crime." 
Garcia told a Noticias Ya reporter Monday that there is no doubt in her mind that this "was a crime motivated by hate."
A GoFundMe has been set up to help financially sustain Garcia while she recovers from her injuries.
This article has been updated to include comments from police spokesman 1st Sgt. Jonathan Perok about the process by which hate bias charges are considered in Virginia and Prince William County.