A Prince William County elementary school custodian has been arrested on child pornography charges, according to Manassas Park police.
In response to a tip from the National Center for Missing and Exploited Children, Manassas Park police launched an investigation into suspicious internet activity tied to a Manassas Park resident  they later determined was employed as a custodian at Sudley Elementary School in Manassas, according to Capt. Frank Winston, spokesman for Manassas Park police.
After seeking a search warrant, officers connected the suspect's Internet address with the Manassas Park residence, Winston said Friday.
Pablo De Jesus Moran, 69, of Manassas Park, was charged on Wednesday, Jan. 13, with two counts of possession of child pornography and two counts of distribution of child pornography in connection with the investigation, Winston said.
As of Wednesday, Moran was being held without bond at the Prince William Manassas Adult Detention Center, Winston said.
Sudley Elementary School Principal Kevin Conroy notified parents of the arrest in an email Friday.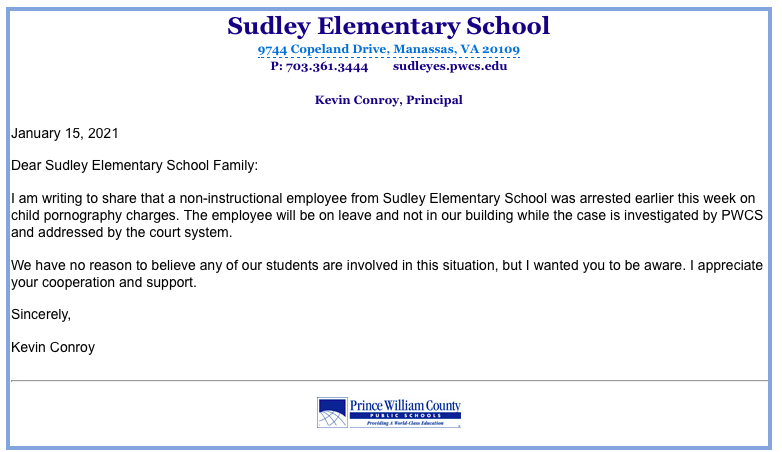 Conroy did not name the employee but said a "non-instructional employee" at the school had been arrested on child pornography charges and is on leave and not in the school building as the case proceeds through the criminal justice system.
"We have no reason to believe any of our students are involved in the situation, but I wanted you to be aware," Conroy's email said.