Several members of Prince William County's police Citizen's Advisory Board, including the local NAACP, are raising concerns about the methodology used by a Virginia Beach-based research firm to conduct a community survey of Prince William County's police department that was published last week. 
The survey, conducted by Issues and Answers Network, Inc., showed high overall satisfaction with police from county residents interviewed in December and January. But it also noted a sharp contrast between the responses of white and non-white residents on the issue of fair treatment by police.
Police presented the survey to the police Citizen's Advisory Board on Thursday, March 25, prior to its release to the public on Monday, March 29.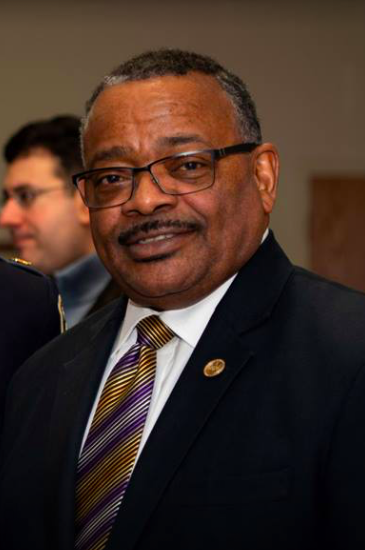 Several members of the police department's own Citizen's Advisory Board, including Prince William NAACP President Cozy Bailey; Dar Al Noor mosque representative Da'in Johnson; and Phi Beta Sigma Fraternity representative Scott Martin, a former law enforcement officer, called the survey "problematic." 
In an interview last week, Bailey said the research firm that conducted the report appeared "to be bending over backwards to create a survey that makes the department look good."
"There are many, many things that are problematic about that survey and, as it's now released to the public, my concern is it's going to present a less than accurate view of the residents of the county about the performance of our police department," Bailey said.
Bailey and others raised concerns about several key areas of the survey. They included the low number of African Americans interviewed; disparities in the way survey questions were presented to respondents and the public; and comparisons in the final report between Prince William County and larger urban and metropolitan areas. 
Topping the list of concerns was the relatively low number of African Americans interviewed for the survey. 
Of the 826 county residents interviewed, 116 were African American, or about 13%. Their responses were weighted to represent the total percentage of the county's African American population, which is about 20%.
Bailey said the response rate from African Americans was "statistically significantly lower, by far" than any other group. 
"When you have such a low response rate from at least a portion of communities of color, what do you really draw from that?" Bailey said.
Citizen's Advisory Board members also raised concerns about comparisons within the survey between Prince William County's police satisfaction rate and that of other police departments in places such as New Orleans, Louisiana and Richmond, Virginia. 
For instance, the report noted Prince William's police department ranked higher than New Orleans', which received a community satisfaction rate of 57 in 2020, compared to Prince William, which received a 96. However, no other information was provided about how the New Orleans survey was conducted. 
Johnson, Martin and Bailey said using police community surveys from communities demographically and geographically dissimilar from Prince William County was not using a fair comparison.
Johnson said it was "disturbing" that comparisons between Prince William's police survey and those conducted in other jurisdictions were included without any context for how those surveys were done, or whether those communities were similar in size or demographics to Prince William.
"The fact that it was in the presentation... is problematic at a minimum," Johnson said. 
Johnson said he believes the presentation and overall production of the survey "was skewed." "Moving forward, I would hope to see some demonstrative changes to the survey," Johnson said.
Issues also arose with what some characterized as disparities between the way questions were presented to respondents versus the presentation of those answers to the public within the final survey report. 
Respondents were asked to rate certain aspects of the police department on a scale of one to 10, with one being "dissatisfied" and 10 being "very satisfied." But respondents were not told that those numerical answers would later be categorized in three groups -- "unsatisfied," "satisfied" or "very satisfied" -- when presented to the public. 
Responses between one and four were categorized as "unsatisfied;" responses between five and seven were categorized as "satisfied;" and responses between eight and 10 were categorized as "very satisfied." 
That meant that when an interviewee ranked the police department's performance as a five, six or seven out of 10, the firm categorized the response as "satisfied" with the police department's performance. 
"Five for most people would be barely passing," Bailey said.
The police department provided a response on Friday regarding issues raised by members of the Citizen's Advisory Board. 
Police spokesman 1st Sgt. Jonathan Perok said the board provided "valuable critical feedback that will be helpful moving forward." 
"Even though the survey showed that the Prince William County Police Department received remarkably high satisfaction ratings across the county and improved its ratings from those compiled in 2018, we will not rest until our entire diverse community is satisfied with our performance," Perok said.
In October 2020, the Prince William Board of County Supervisors approved up to $60,000 for the police to hire the firm to conduct the 2020 survey using money from the police criminal forfeiture fund. The survey was conducted in December 2020 and January 2021. 
The police department previously contracted with Issues and Answers Network, Inc. for its 2018 community police survey.