An 18-year-old Manassas man was arrested on drunk driving charges early Sunday after two parked cars were struck in the 9600 block of Cloverhill Road, causing a passenger in the suspect's vehicle to suffer serious injuries, according to City of Manassas police. 
In a separate incident, a bicyclist reported being hit Saturday afternoon by a vehicle that did not stop at the intersection of Grant Avenue and Bryd Drive, police said.
That incident occurred at about 4:25 p.m. Saturday, June 8. The bicyclist suffered minor injuries in the incident. Police are looking for a green Nissan Sentra driven by a Hispanic female in connection to that incident.
Regarding the DUI, police were called to the 9600 block of Cloverhill Road at about 12:21 a.m. Sunday, June 9.
Officers determined a car struck two parked cars. A passenger inside the suspect's vehicle sustained serious injuries and was transported to a local hospital. The driver was arrested but was not injured, according to a City of Manassas police report. 
Marcos Dimas, 18, of Manassas, was arrested and charged with driving while intoxicated, maiming as a result of DWI and driving with a suspended license in connection with the incident, the report said.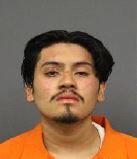 Anyone with information about these events is encouraged to call the Manassas City Police Department Investigative Services Division at 703-257-8092 or Crime Solvers. The Manassas City/Manassas Park Crime Solvers will pay a cash reward up to $1,000 for information that leads to an arrest in these cases.  The confidential 24-hour tip line is 703-330-0330. Tips can also be submitted through the P3 Tips app on your mobile device. Click HERE for more information.