Gov. Ralph Northam announced Wednesday the loosening of some state COVID-19 restrictions, including the lifting of the overnight curfew and a restriction requiring restaurants to stop serving alcohol at 10 p.m. 
Also, Northam said Virginia is expecting an additional 50,000 doses of the COVID-19 vaccine to start flowing into the state when the one-dose Johnson & Johnson vaccine receives final approval. The state will also begin seeing vaccine doses distributed by a longer list of private pharmacies  by the end of the week.
In December, Northam issued a stay-at-home order asking people to stay home from midnight until 5 a.m. The curfew was to be in effect until the last day of the month, Sunday, Feb. 28, and will be lifted on Monday, March 1, Northam said. 
Also starting Monday, alcohol sales at restaurants will now be allowed up to midnight, but the restaurants must still close by midnight, Northam said.
The state is also expanding the number of people who can attend a public or private gathering outdoors from 10 to 25. The limit will remain at 10 people for indoor gatherings. 
Entertainment venues will also see their capacity limits rise. Now, the state caps venue capacity at 30% or 250 people, whichever is lower. That limit will remain the same for indoor venues, but the restriction on outdoor venues will rise to 1,000 people or 30%, whichever is lower, Northam said.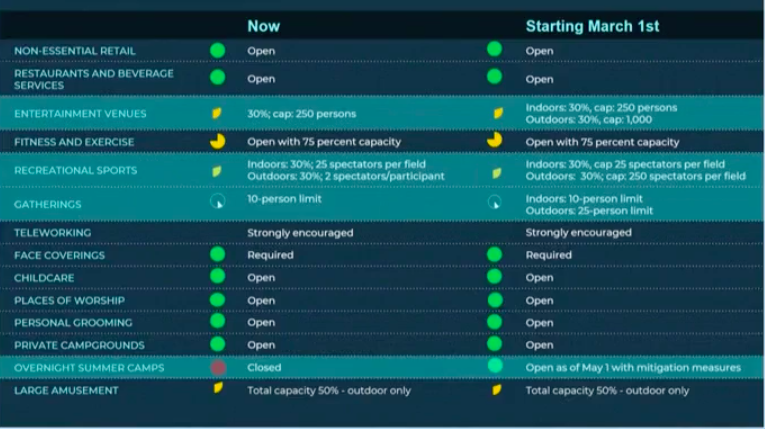 By April, Northam said, the 1,000-person cap could be lifted for outdoor venues if cases and hospitalizations continue to trend down.
"We will be working with venues to strengthen their ability to implement safety measures. And we hope that with trends continuing as they are, that we can look at further steps in the coming months," Northam said. "But it's critical that we do this slowly and thoughtfully."
Overnight summer camps will be able to reopen starting May 1, with mitigation measures for safety. 
The new rules will remain in place for at least a month. Northam said there could be a further easing of restrictions if positive trends continue.
Northam was upbeat on the prospects of expanding vaccine distribution in the state, noting that the Johnson & Johnson vaccine was declared safe and effective Wednesday morning.
"That is great news because that will allow us to vaccinate more people and get closer to, as you all have heard us talk about before, herd immunity," Northam said. "So starting next week, just to summarize, we'll have three vaccines in Virginia that are safe and effective: Johnson & Johnson, Moderna and Pfizer."
Northam noted that Sunday, March 7, will mark one year since the first positive COVID-19 case was identified in Virginia. The case involved a Marine stationed at the Marine Base Quantico who was treated at Fort Belvoir hospital.
"We have come a long way since then and through a very, very tough time. And we do not want to risk our progress by easing restrictions too quick," Northam said. "Not now when more and more Virginians are getting the protection of vaccines, and not when variants that can infect more people more quickly."