Prince William County schools are serving kids free breakfast and lunch every weekday this summer, as they have for at least 25 years. But this year, they're getting some extra help distributing the meals thanks to new program launched by the nonprofit Prince William Community Foundation.
The program is called CHOW – or combating hunger on wheels. Its mission is to overcome the primary barrier that keeps families from accessing free summer meals: transportation.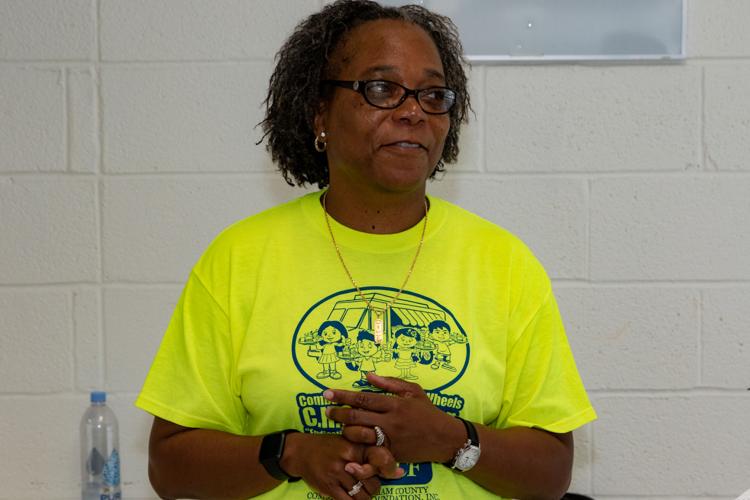 Both the new foundation and CHOW were founded by Vanessa Gattis, a mother of two and a retired U.S. Army colonel.
With the help of grants from No Kid Hungry Virginia and Walmart, the foundation is leasing a $50,000 refrigerated van to pick up meals from Gar-Field High School and is distributing them to three locations in eastern Prince William County thought to be more easily accessible to low-income families. They include the Dumfries Triangle Rescue station on Graham Park Road, the Boys & Girls Club in Dale City and Competitive Edge, a private athletic training facility in the Featherstone area of Woodbridge at 4849 Persistence Drive.
Gattis said she picked the sites because of their proximity to residential areas and because they  offered a free space to serve the meals.
Because the summer meal program is fully funded by the federal government, the feeding sites must comply with U.S. Department of Agriculture rules, including that kids can consume the food onsite.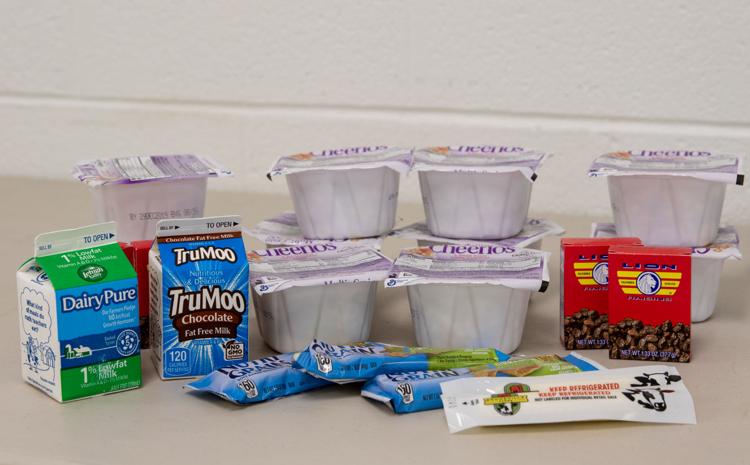 The fire station opened its community room to CHOW at no cost. At the Boys and Girls Club, meals are offered to about 120 campers daily. At both the Boys and Girls Club and Competitive Edge, meals are available even to kids who are not enrolled in formal programming at either site, Gattis said.
The goal, Gattis said, is to eradicate child hunger in Prince William County this summer.
"We want to feed kids. We want to help parents out," Gattis said. "A lot of parents are working hard to put meals on the table and we want to help them so it doesn't cost so much."
So far, part of the challenge has been getting the word out about the three community sites. On a recent Friday morning, Gattis and her son, a rising 10th-grader at Potomac High School, were the sole occupants of the Dumfries rescue station's community room, as no young diners had arrived during the breakfast. The room was set up with tables, chairs, board games and an oversized set of plastic bowling pins.
Gattis and her husband had distributed more than 1,000 flyers advertising the meals at the nearby Graham Park pool and then went door-to-door in Williamstown and at a nearby apartment complexes. The flyers are printed in both English and Spanish.
Gattis said she hopes the numbers pick up soon, but emphasized that every child served is worth the effort.
"Even if we serve only one meal, one is better than none, so we're very hopeful," she said.
Adam Russo, director of school food and nutrition services for Prince William County schools, said the number of meals served at the school sites varies depending on location or if there is already summer programming, such as summer school, taking place at the site.
The school division is serving meals at 39 schools this summer, up from 22 in 2014. All schools where at least 50 percent of students qualify for free and reduced-price meals are eligible for to serve the free summer meals, he said.
"Generally, our sites with the largest population taking advantage of summer services … serve more students," Russo said in an email. "Additionally more 'walkable' locations serve a greater number as well."
'It feels like I'm being cared for'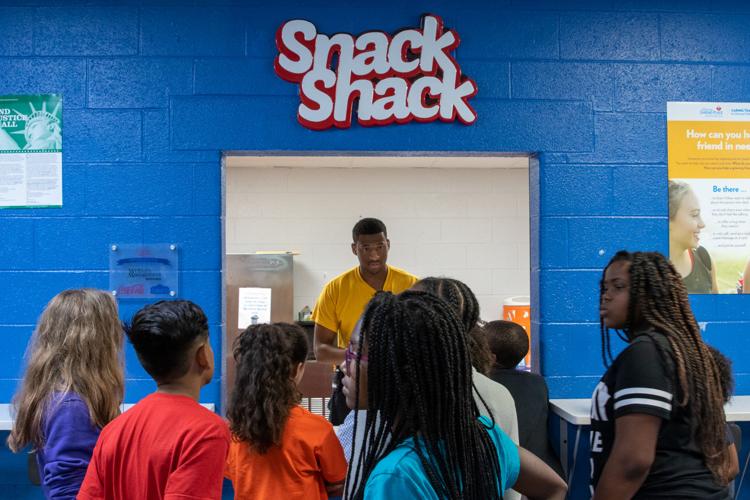 The meals served at the 42 school and community sites are simple but healthy. On the menu for lunch on Friday, June 22, was a choice of banana bread and yogurt or a "sunbutter" sandwich with a cheese stick and crackers. Kids could also choose apple sauce, a nectarine, carrots with ranch dressing and chocolate milk to accompany their meal.
The day camp at the Boys and Girls Club in Dale City is one of the most economical choices for local families. It costs $150 a week, about $50 to $100 less than Prince William County's summer camp offerings, which run between about $180 and $250 a week.
Campers must bring their own lunches. But sometimes they forget or bring something less than sufficient, said D.J. Jones, a Boys and Girls Club camp counselor and former summer camper.
"Some kids will have just two slices of bread, or something like that," said Jones, who noted that some enrolled at the Boys and Girls summer camp this year are homeless.
"And even if they do bring lunch, it's not always fruit or vegetables or the healthier stuff," Jones said.
Jones handed out items from the summer food program to campers from the Boys and Girls Club "snack shop" last week. Some kids asked for just one or two things, others took several items.
"I eat like a soldier," said Steven, 16, who chose a cheese stick, banana bread, cherry yogurt and carrots to add to his own lunch. He sat at a picnic table with his brother Josh, 14, Wilber, 12, and Xavier, 14.
All said they liked the extra food because it reminds them of breakfasts and lunches served at their Prince William school. "It feels like I'm being cared for by the Boys and Girls Club," Xavier added.
Ella Austin, director of the Boys and Girls Club, said the extra meals are a relief. Before when kids forgot their lunches, she would run to the grocery store to make sure all the children had food for the day.
"Actually, I would pay for it," she said. "Just to make sure all these kids have lunch."
The Prince William Community Foundation is recruiting both donations and volunteers to help distribute the meals. For more information, visit pwccfoundation.org.
Reach Jill Palermo at jpalermo@fauquier.com