During a stop in Prince William County Friday, Congressman Rob Wittman declined to cast judgment on President Trump for asking foreign leaders to investigate his political rivals and further said he sees "no quid pro quo" in the president's July conversation with Ukrainian President Volodymyr Zelensky.
Wittman, R-1st, made the comments during a sometimes heated 90-minute visit to the Montclair Family Restaurant, a neighborhood diner on Va. 234 in Dumfries that is a favorite of visiting candidates and elected officials. 
Wittman, now in his sixth full term, isn't on the ballot until 2020. But earlier this summer, he launched a series of morning restaurant visits in his sprawling district, which stretches from the Eastern Shore to Nokesville, that he calls "Breakfasts with Rob."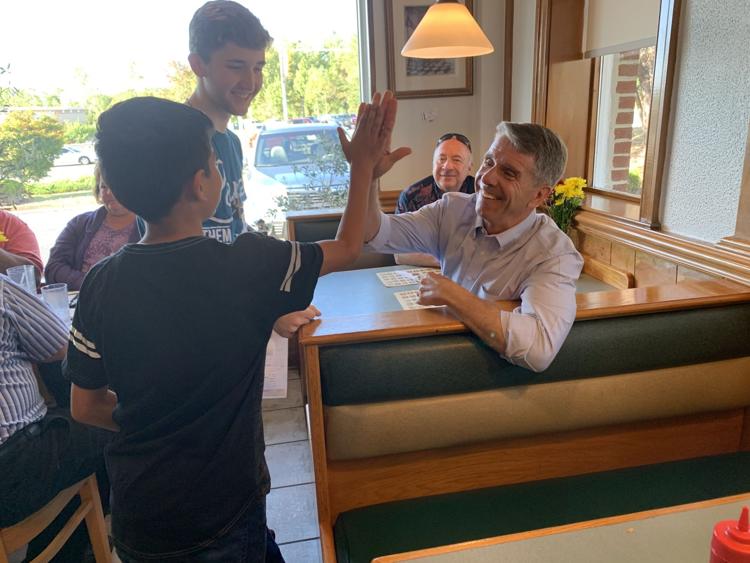 The stop in Dumfries, a more Democratic-leaning corner of the 1st District, came a day after Trump used a meeting with reporters on the White House lawn to urge Chinese leaders to investigate former vice president Joe Biden and his son Hunter Biden. Trump also reiterated that he believes the Ukraine should "start a major investigation into the Bidens."
Critics of the president say Trump's public comments are an effort to frame his requests of foreign officials as attempts to root out corruption rather than as pleas for political favors aimed at interfering in the U.S. election, which would be illegal.
Those developments prompted a handful of unhappy 1st District constituents to confront Wittman during the Friday morning gathering. 
Cher Muzyk, of Gainesville, pressed Wittman whether he thinks "it's ok for the president of the United States to stand on the White House lawn and ask another country to interfere in our elections."
Wittman responded by raising questions about the younger Biden's business dealings. 
"Wherever there's a situation of potential political corruption, I think it needs to be investigated," Wittman said, referring to the Bidens.
"Investigated by an authoritarian government?" Muzyk retorted.
"I want to make sure any issue of corruption is investigated," Wittman said, adding: "The question is, do you think it's ok for Hunter Biden to receive $50,000 a month to represent a Ukrainian energy company? Would he have gotten that if his name was Hunter Smith?... Those are the issues that I think we need to take a look at."
On Friday, Ukraine announced an audit of a 2016 investigation into the owner of the natural-gas company that named Biden to its board in 2014. The probe is one of several originally undertaken by past Ukraine officials that will now be reviewed by the country's new top prosecutor. There has been no evidence of wrongdoing so far, however, by either Hunter or Joe Biden in connection with the company, according to several news reports. 
Muzyk noted the charges against the Bidens have been debunked and went on to further press Wittman, asking if he is prepared to "go down with the Trump ship."
"I want all the information, regardless of whether it's information on President Trump, whether it's accusations on anybody else," Wittman said. "All those things need to be vetted for me to determine whether is there an issue there. We are a nation of laws."
During the exchange, another constituent, Ron Reaves, asked Wittman if he believes Trump "is an honest man with high moral character."
Wittman said he would leave that up to the American people.
"I think Donald Trump is the president of the United States, and it's up to the people of the nation to judge him. I am not there to judge that," Wittman said. "…The president is his own person and he will have to be judged on his words and his actions."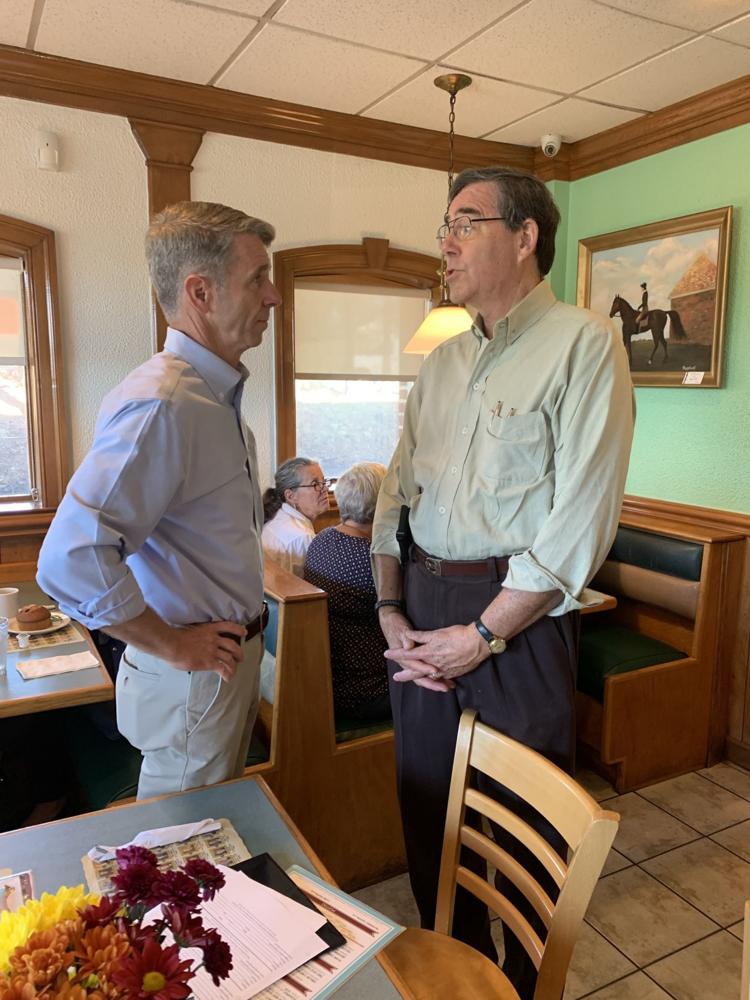 Wittman: No quid pro quo
In an interview after the exchange, Wittman said he reviewed the transcript of Trump's July 25 conversation with Zelensky and saw "no quid pro quo there." 
"I looked at it, I don't see any quid pro quo there. The president had a conversation [and] is asking for all issues of corruption to be looked at, and that's what President Zelensky was elected on, looking at and sorting out corruption in Ukraine, so I think that's what the president is asking for," Wittman said. 
Wittman said he'd like House Speaker Nancy Pelosi, D-California, to bring a formal resolution of impeachment to the full House. He also said he would wait until the formal articles of impeachment are filed to decide whether the president's actions meet the standard for impeachment under the U.S. Constitution: treason, bribery, high crimes or misdemeanors.
"What we would like is for there to be an open and fair process where both sides can present evidence," Wittman said. "If you only do an inquiry of impeachment, which is what the speaker is doing right now, it doesn't allow the other side to provide their information."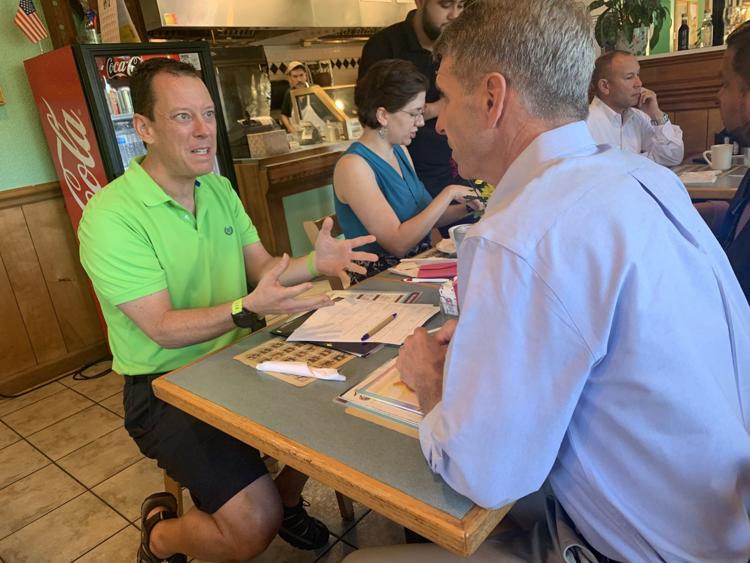 Michael O'Brien, of Dumfries, and Don Brownlee, of Montclair, said they also came to ask Wittman about his stance on Trump. O'Brien said he is still troubled by Trump's actions during the 2016 campaign when he made fun of a disabled reporter, among other things.
Brownlee said he respects Wittman, despite their political differences, but can't abide his "silence" in response to Trump suggesting that public servants – such as the Ukraine whistleblower -- are traitors.
"I just think that's unconscionable," Brownlee said. "…We can have political differences…. But there's certain things, like calling brave Americans traitors. Everyone in public office has an obligation to speak up when [the president] starts calling people traitors."
O'Brien said Wittman told him he would not judge Trump, just as he would not judge a Democrat if one were president.
"I guess that's fair. If he's not going to judge people, that's fine," O'Brien said. "But I expect him to be consistent no matter who's in office."
Not everyone at the event was there to talk about impeachment. Jenny Brymer said she came to thank Wittman for helping her business deal with a federal agency. Noah and Isaac Slayter said they came to thank Wittman for his efforts against abortion.
"We're really very happy he's an advocate of the pro-life movement, and we're really grateful for his support in that arena," said Noah Slayer, 17.
Reach Jill Palermo at jpalermo@fauquier.com