Prince William County officials celebrated the near completion of 2.2 miles of road improvements along Va. 28 from Fitzwater Drive to Vint Hill Road in the Brentsville District at a ribbon cutting on Wednesday.
The project, which broke ground over two years ago, widened the existing roadway from an undivided two lanes to a divided four lanes from Fitzwater Drive to Vint Hill Road and added a new multi-use trail and a sidewalk on both sides of the roadway. Both new lanes will be open by the end of the month.
Commuters and the community will also benefit from new bridges over Kettle Run, storm drainage improvements and traffic signal reconstruction.
Officials say the improvements will alleviate traffic along the corridor and allow better connectivity from the Bristow and Nokesville area in Prince William County to the City of Manassas, the City of Manassas Park, and ultimately to Fairfax and Loudoun counties, and will improve safety for motorists, pedestrians and cyclists.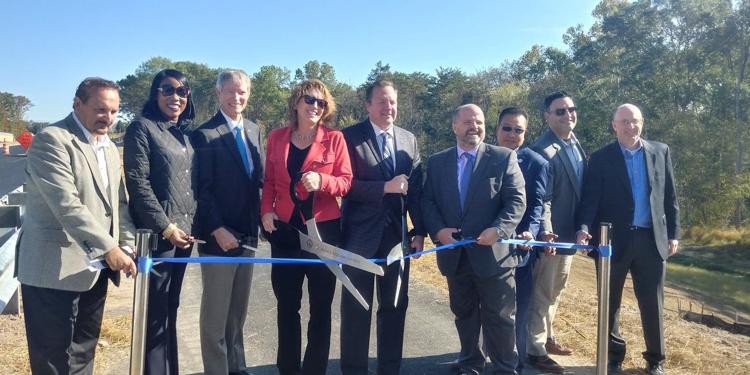 The project is phase II of a multiphase plan to improve Va. 28. In addition to alleviating traffic congestion, officials say the overall project is aiming to facilitate and create multimodal access to the western-most VRE station, Broad Run, which is near the Manassas airport.
The total cost of the phase II project was $36.5 million, funded in large part from $33.5 million from the Northern Virginia Transportation Authority, a regional body responsible for long range transportation planning in Northern Virginia. The NVTA directs tax dollars raised for transportation improvements through slightly higher sales and other taxes levied in Prince William, Fairfax, Loudoun and Arlington counties.
The Route 28 improvements from Fitzwater Drive to Vint Hill Road are among the first road projects in Prince William to be funded by the NVTA and are projected to save a total of 5 million "person-hours" of delay by 2040, according to NVTA analysis. 
Supervisor Marty Nohe, R-Coles, who is also chairman of the NVTA, said the improvements will save residents time on their commutes and enable them to spend more time with their families, at work or doing the activities they want to do in Prince William. 
"It's nice for us politicians to get to cut ribbons, but what's really important is these quality of life improvements that we're making for the people that we represent, and bluntly for the people paying the taxes that make these improvements possible," Nohe said.