It's an often-heard complaint of Prince William's older high schools: The buildings have so few windows, they look like prisons. Now, the county school board is considering a $47.8 million plan to let in more natural light.
Prince William County Schools Superintendent Steven Walts is proposing that the school board dedicate about $12 million each to Gar-Field, Osbourn Park, Woodbridge and Stonewall Jackson high schools to pay for new and bigger windows.
The plan would widen the schools' existing windows from about 1 foot, 11 inches to about 8 feet. The plan would also add more windows around the perimeters of the buildings.
The changes would allow between 20 and 30 classrooms at each of the older schools to receive more natural light.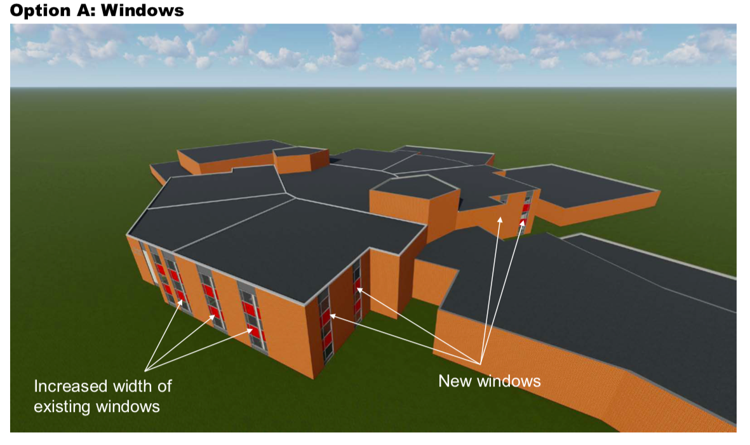 Under a proposal Walts delivered to the school board during its first meeting of the year on Wednesday, Jan. 15, Osbourn Park and Stonewall Jackson could get the new windows first – by 2022 – while Gar-Field and Woodbridge high schools would see the improvements by 2025.
4 'daylighting' options
Adding new windows to all four schools was the cheapest of four "daylighting" options proposed by Moseley Architects, the school division's preferred firm and the one with whom it has an ongoing contract to design such improvement projects.
Architects Billy Riggs, Moseley's vice president and K-12 managing principal, and Kenny Durrett, a project manager, laid out more extensive and expensive plans to add not only windows but also "solatube" skylights. Solatubes are a kind of skylight that uses reflective tubes to carry light from the rooftop into the classrooms.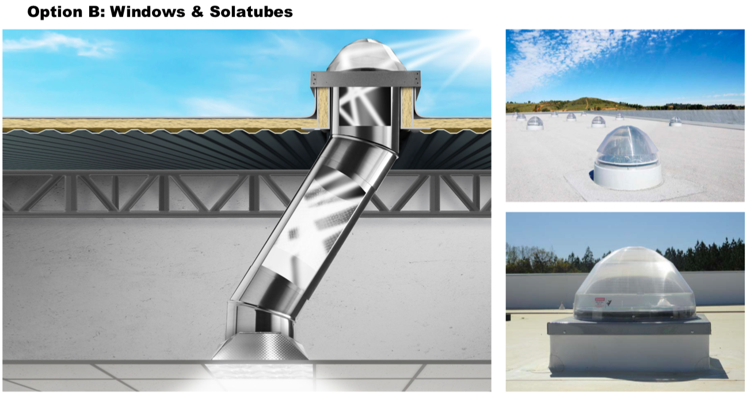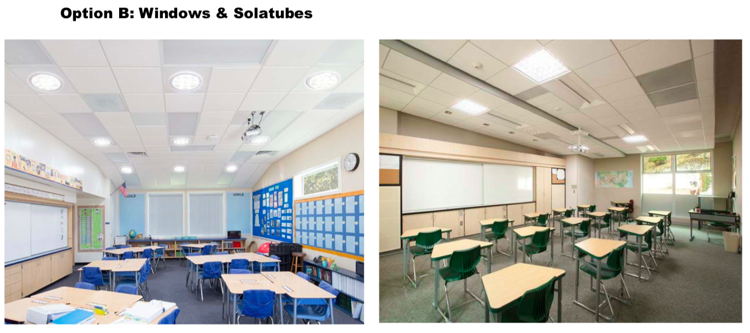 Adding windows and solatubes to all four schools – which Moseley's proposal called "option B" --- would cost $16.2 million each at Osbourn Park and Stonewall high schools and $20.2 million each at Gar-Field and Woodbridge high schools, for a total cost of $72.8 million for all four schools.
The firm also proposed two additional options for Woodbridge and Gar-Field high schools:  "option C" would add windows and larger skylights, which would be cheaper than solatubes at $17.4 million per school. 
Finally, "option D" would entail adding new windows around the perimeter of the buildings, new clerestory windows on the roofs, new and larger skylights, and new, light-filled additions to accommodate collaborative learning. That option was the most expensive, costing about $30.5 million per school. But such changes are not possible at Stonewall Jackson and Osbourn Park because of structural differences in those buildings, Riggs and Durrett said.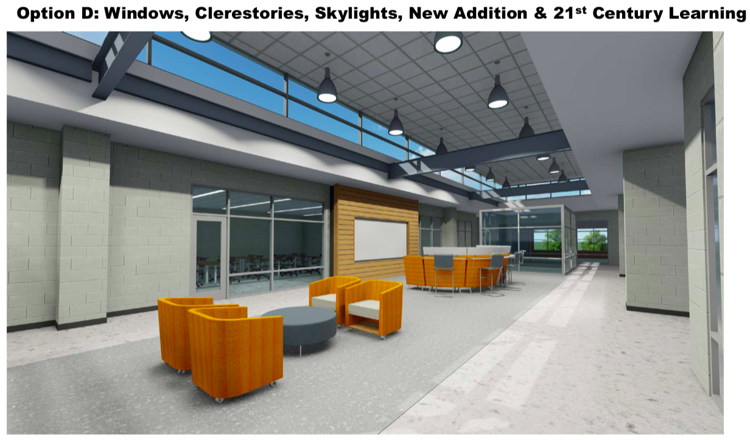 Walts recommended the board consider "option A" – adding only the new and bigger windows at all four schools – because that would be the only fix the school division could afford to add to its updated capital improvement plan without receiving more funding than is already expected from state and local sources.
"I would recommend option D, but the fact remains … that option A is something we can start right away," Walts told the board. "We can get a [request for proposals] and start, really, immediately."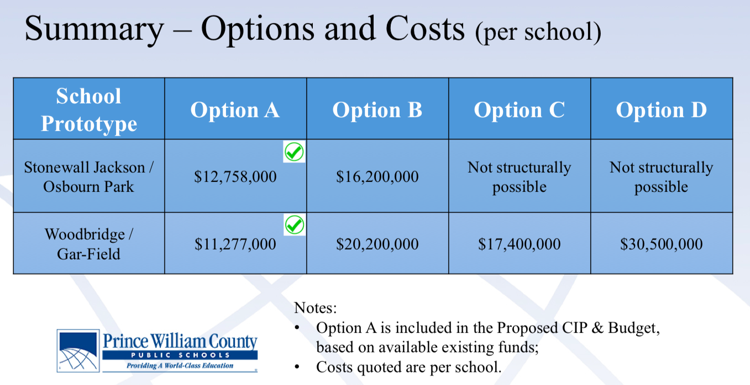 The school board will make no final decisions on its capital improvement plan until the board approves its final budget for the 2020-21 school year on March 18.
Walts noted the daylighting plan was created in response to complaints the school board has been hearing about the county's older schools from community members and students for years. The four schools – all built between 1972 and 1975 – have the least amount of natural light of any of Prince William's soon-to-be 13 high schools. 
The latest building models, used for Patriot, Colgan and now the 13th high school currently under construction in Bristow, feature floor-to-ceiling and clerestory windows that flood the buildings with natural light.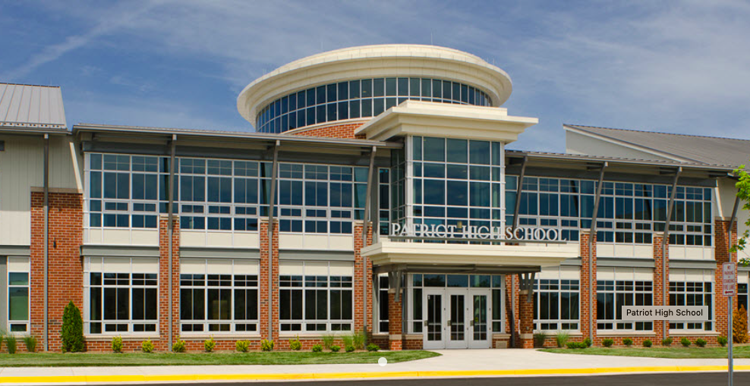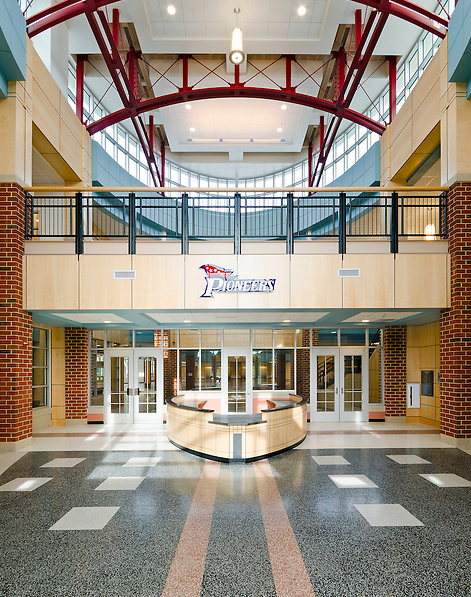 Some in the community have lobbied the school board to tear down its older schools and build new ones to provide students with the same educational experience across the county. But considering the cost of the 14th high school is projected to be $154 million, rebuilding the older schools is substantially more expensive. The 14th high school is now planned to open in 2025.
"And the thing is, these buildings are very strong buildings," Walts said of the older schools. "They're not something you want to tear down."
Occoquan School Board Representative Lillie Jessie asked if the school division could develop a timeline for pursuing something past option A. School Board Chairman Dr. Babur Lateef (at large) asked if the school division could increase its borrowing to find more money for additional improvements.
John Wallingford, associate superintendent for finance and risk management, said the school division could spend more, since it's not projected to hit its borrowing limit of 10% of overall revenue. But he cautioned that the money to pay back the debt would further eat into operational funds. The school division currently spends $108.7 million each year in debt payments for new school construction.
In an interview after the meeting, Lateef said the school board would like to do more to renovate the older schools but can't without more funding.
"We don't have the money beyond option A," Lateef said. "The good news is that the school board has listened to community members who want to renovate these older schools, but it's about resources. Right now, we can't afford those [other options]."
Reach Jill Palermo at jpalermo@fauquier.com