More than 1,200 Prince William County school teachers and staff rolled up their sleeves to receive COVID-19 vaccinations Saturday during the first of a two-day "mass vaccination" event at Unity Reed High School.
Another 1,200 inoculations are scheduled for Sunday and will proceed despite the expected snowstorm, according to School Board Chairman Dr. Babur Lateef.
Dressed in his blue doctor's scrubs and white coat, Lateef joined other school board members to help out during the event, which prompted a visit from Virginia Gov. Ralph Northam, Virginia Secretary of Education Atif Qarni and other elected officials. 
Teachers and staff members filed in to receive vaccinations from a team of school nurses and other vaccinators from Novant Health UVA Health System, which operates two hospitals in the Prince William area.
The 2,400 vaccinations planned for the weekend are the first of about 14,000 that will be administered during a series of closed clinics for teachers and school staff members through the end of February, school division officials said.
Northam defends return to schools, blames rising death toll on failure to follow guidelines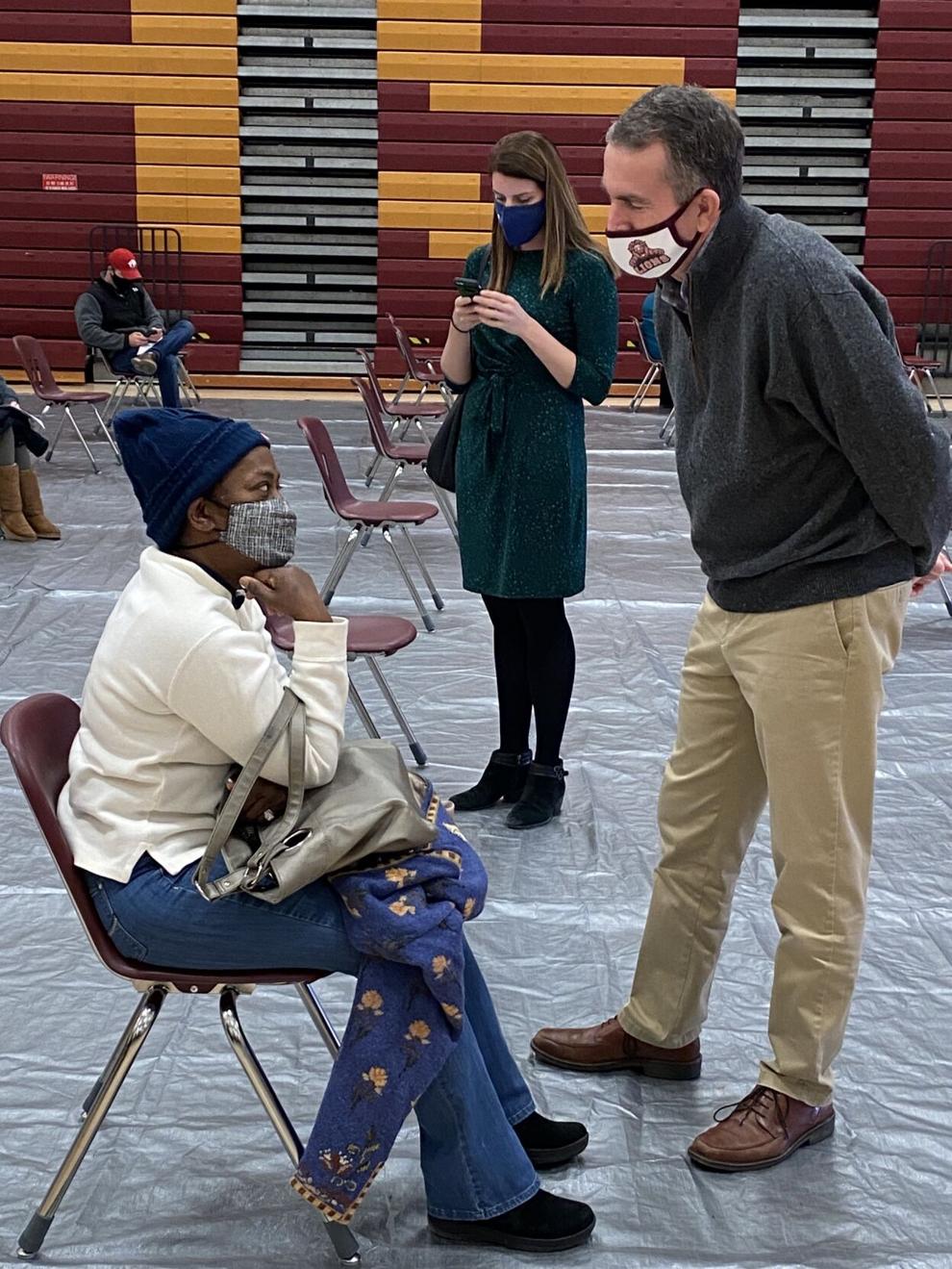 The vaccinations for teachers and staff come amid the most deadly month of the pandemic so far in both Virginia and Prince William County. The state has recorded 1,417 deaths due to COVID-19 in January alone, including 56 in the Prince William Health District, which includes Prince William County, Manassas and Manassas Park.
While most Northern Virginia schools are still operating mostly virtually, Prince William County schools have had about 13,500 students in school buildings since Jan. 5. About 1,200 special education students and English learners began the school year in person Sept. 8. The school division gradually brought students in pre-K through third grade into schools in November, December and January.
COVID-19 cases reported among Prince William County students and staff have steadily risen over the last few months. As of Friday, 856 cases had been reported in January alone.
Although many involve students and teachers working virtually, five students and seven staff members have tested positive with COVID-19 as a result of exposures inside school buildings or vehicles between Jan. 1-25, according to school division data.
Also, 461 students and 152 teachers have had to quarantine because of exposures at school during the same time frame.
During remarks with reporters, Northam said he believes students in Prince William and around Virginia should return to schools despite the surging numbers of cases and deaths due to COVID-19.
"If one looks at the data, we know that the schools are some of the safest places, especially if they continue to follow the guidelines," Northam said. "And I think if we step back and look at the big picture, everybody in Virginia, everybody in this country, has been affected by COVID-19. We want to certainly keep everybody as safe and healthy as we can, but we also know that our children are hurting, their families are hurting."
Northam said the state would continue to monitor COVID-19 cases and outbreaks in schools "closely." The governor also said he hopes increasing vaccinations would eventually reduce community spread of the virus.
Regarding the surging number of COVID-19 deaths in Virginia, Northam said, "Every person's life that we lose is one too many." 
But he blamed the rising death toll on people's behavior. "If you look at the numbers, what's driving [it] is people who aren't following the guidelines. They're not wearing masks. They're gathering in groups, especially in parties," Northam said.
"So we need to encourage all Virginians to be part of the solution; follow the guidelines, get vaccinated when their time is here and we'll put this pandemic behind us."
Teachers working in schools prioritized for vaccinations
Saturday's shots were prioritized for teachers and staff already working in school buildings as well as those over 65 and with underlying health conditions.
Stephanie McQuillan, a first grade teacher at Tyler Elementary in Gainesville, was among the teachers who received a first dose of the COVID-19 vaccine on Saturday afternoon. 
McQuillan, who has been teaching students in person since Dec. 1, said it "felt great" to finally receive her vaccination.
"I'm really grateful to be able to get it. It's going to make it possible for me to visit my parents," she said.
McQuillan said she's been teaching three students in person on Tuesdays and Thursdays and five students on Wednesdays and Fridays, while instructing the rest of her 23 students virtually through a computer on her desk.
"It's certainly not the way I expected to be teaching at any point in my life, but we're putting one foot in front of the other and getting through it," she said.
McQuillan said she understands why other school divisions are waiting until teachers are vaccinated before returning students and teachers to school buildings, but said that "wasn't an option presented" to Prince William County teachers.
"We felt we were doing everything we could possibly do to keep everyone safe," she said. "But the truth of the matter is, I'm 6 feet away from 6-year-olds most of the day."
McQuillan was joined at Unity Reed by fellow Tyler Elementary School first-grade teacher Kari Zdanowski, who has been teaching eight of her 27 first-graders in person every day and the remaining virtually. She said she feels about as safe teaching in school as she does going shopping.
"I don't know if 'safe' is the right word, but I feel just as safe going to Target as I do in the building," Zdanowski said.
The county is under a winter storm warning, with snow expected to begin falling overnight and throughout the day on Sunday. A total of 4 to 8 inches is expected by Monday night.
Lateef said teachers and staff scheduled for shots Sunday and Monday can reschedule if they do not want to drive in the storm. Their slots will be filled by willing staff members on the school division's existing waiting list, Lateef said.