"This is the last call for bus 101. This is the last call for bus 101."
It is 3 p.m. on a Wednesday afternoon in the cafeteria at Rippon Middle School in Woodbridge. While the loudspeaker steers youngsters toward their buses home, several hundred pour in for their third meal of the day at school. 
They start breakfast at about 7:50 a.m. Lunches are served from 10:30 a.m. to 1 p.m.; and now, if they want, dinner at 3 p.m. Whether students are staying for activities, doing homework or just stopping in to eat before walking home, the food here is homemade, the kids love it, and thanks to a relatively new federal government program, it's free to students at any school that qualifies.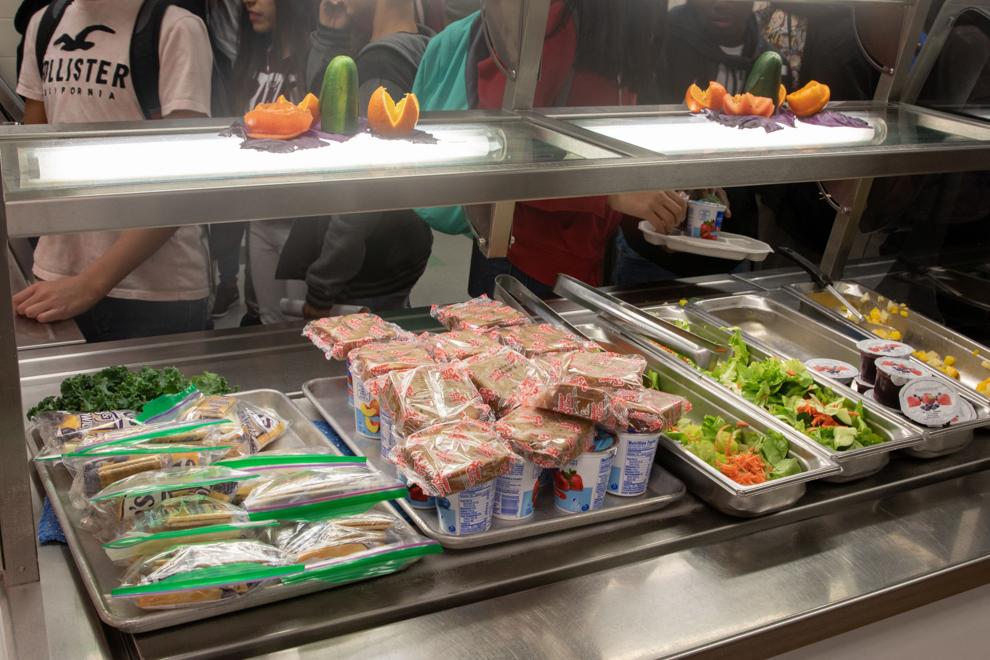 "I'm comfortable saying that at least half of our schools qualify for the dinner program," said Adam Russo, director of the school division's Office of School Food and Nutrition Services, as he watched Rippon students select their dinner items.
Russo, a former restaurant owner and father of three, has led the school meals program for the past 18 months. He moved to the area from Norfolk and has a business degree from Longwood University. 
Schools are eligible for the free dinner program if at least 50 percent of their students qualify for free or reduced-price meals. The cost of the dinner meals -- including staffing—is fully reimbursed by the federal government. 
Of Prince William's 101 schools and centers, 43 qualify to serve free dinners but only 10 – or about 23 percent – have elected to take advantage of the program. 
In Fairfax County, 40 of the 52 eligible schools – about 76 percent -- serve free dinners. In Loudoun County, nine schools qualify but only two are participating, or about 22 percent. In Fauquier County, one school qualifies but none participate in the program, according to state records.
Russo visited Rippon Middle with a reporter Dec. 12 to explain the dinner program and to encourage more school principals to consider adding dinners to their breakfast and lunch programs. To protect students' privacy, he asked that they not be interviewed.
"We piloted the dinner program at Gar-Field [high school] under Dr. [Cherif] Sadki two years ago," Russo said. "Now there are 10 schools serving dinners, and more starting after the break." 
The county's first elementary school – Benita Fitzgerald Elementary – was just added.
"If I have the staff ready to put in the overtime, and many would like to, I can get their dinner program started almost overnight," Russo said.
Russo must receive approval from director of the Virginia Department of Education's school nutrition program, but he said the approval process is fairly routine.
"I'd shoot her an email, and she'd give me the go ahead," he said.
Seven decades of school meals 
American public schools have been feeding children government-reimbursed, free or reduced-price lunches for about 73 years. President Truman signed the National School Lunch Program in 1946. Numbers from 2016 show the program served 30.4  million children at an annual cost of $8.7  billion. 
The free dinners are a more recent addition: "about 10 years old," Russo said. 
Called the Child and Adult Care Food Program, the federal government reimburses states for the cost of the program, which augments lunch programs at child-care centers, adult day-care centers, outside-school-hours care centers, after-school at-risk programs, family and group day-care homes and at homeless and emergency shelters, both public and nonprofit, per the U.S. Department of Agriculture, which administers the program.
At Rippon Middle, for a small fee, adults may also eat dinner in the cafeteria.
"We don't get reimbursed for adults, so we have to charge them $3 per meal, but they are always welcome during dinner hours, even during the summer months," he said. Students can bring siblings and friends as well to the dinner and summer-feeding programs. All under 18 get fed for free.   
That night's choral performance at the school contributed to the length of the food line, which is open from about 3 to 3:30 p.m. By 4 p.m., the cafeteria is empty and the staff is turning out the lights in the kitchen. 
"It doesn't take that long. They just cranked up 300-and-some meals in 30 minutes. It's pretty seamless. Kids get it. They like our staff. They are polite. They clean up after themselves," Russo said.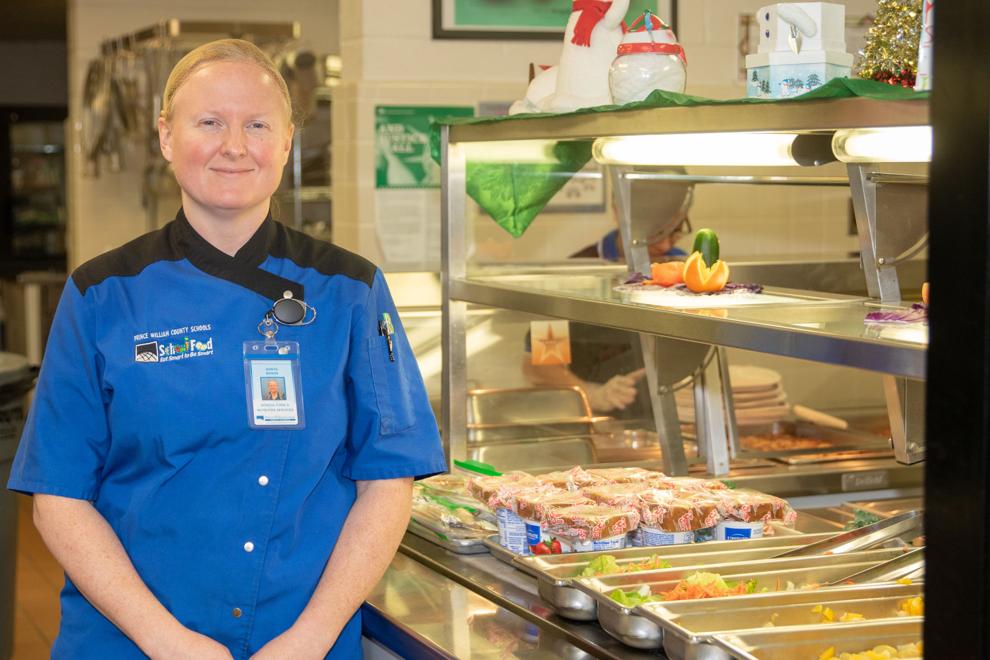 Russo said he could not be more pleased with what he sees as an outstanding program on a number of levels.
'Let's make wholesome food'
"We have 1,000 employees in our department alone, and we are completely self-funded," he said. "We deliver more than 90,000 meals a day at 101 schools and centers." 
While Russo is in charge of a $50 million budget -- "the third highest budget for the county," he adds -- it's not just delivering meals that he cares about. He's a staunch advocate for what they serve -- hot, homemade food that has long exceeded the federal governments nutrition requirements. 
"Our thinking is, 'Let's make wholesome food, real stuff that kids enjoy eating; stuff that they don't always get access to,'" Russo said. "We're the only county I know of that makes its bread on the premises."
The salad that day was a broccoli-cauliflower toss with sunflower seeds and cranberries. "Unlimited. Get as much as you want. If you want three apples, take three apples," Russo explained.
Only one dairy item is allowed, though, and one entre. 
"We make our own shortcake from scratch. We use fresh strawberries and whipped cream we had to source ourselves, because it's hard to find whipped cream without high fructose corn syrup. Cobbler, pumpkins soufflé – those we limit to one each due to the sugar content," he added.
"We take parents' trust in us very seriously, and we do a nice job. We really care about nourishing them and making them school ready. If we get kids fed and their stomach isn't rumbling they just do better."
The county has three registered dieticians on staff. "One does all the menu-planning to make sure everything meets sodium targets, grain, calorie maximums. Everything you can think of is regulated to the percentage point."
And of course, "We use no artificial flavors or colors," he said.
The staff is constantly remaking recipes they know kids will like, but with ingredients that meet their standards. "We make all of our recipes in house and we share them [with other schools] around the country," Russo said.
Russo's staff had a sodium level it was required to meet this year, he said, until President Donald Trump's administration "relaxed the rules" and pushed the date to 2024. But Russo said the school cafeterias are not changing their standards despite the federal rule change.
"We had met that target and many others years ago," he said. "It was just the right thing to do." 
The standards for whole-grain bread are also being reduced, he said, "But we aren't going to change anything." 
"See a kid. Feed a kid," he added.
Russo credits Superintendent Steven Walts and the county as a whole for its focus on "the whole child." 
And Russo said he's fully invested. "I am incredibly happy doing this," he said. "I see us as education intervention. You can't be hungry to learn if you're just hungry."
And students need hot, nourishing food, he said, something many do not get at home. 
"You don't know what's going on with these kids," he said. "They don't have much control over their lives, especially the little ones."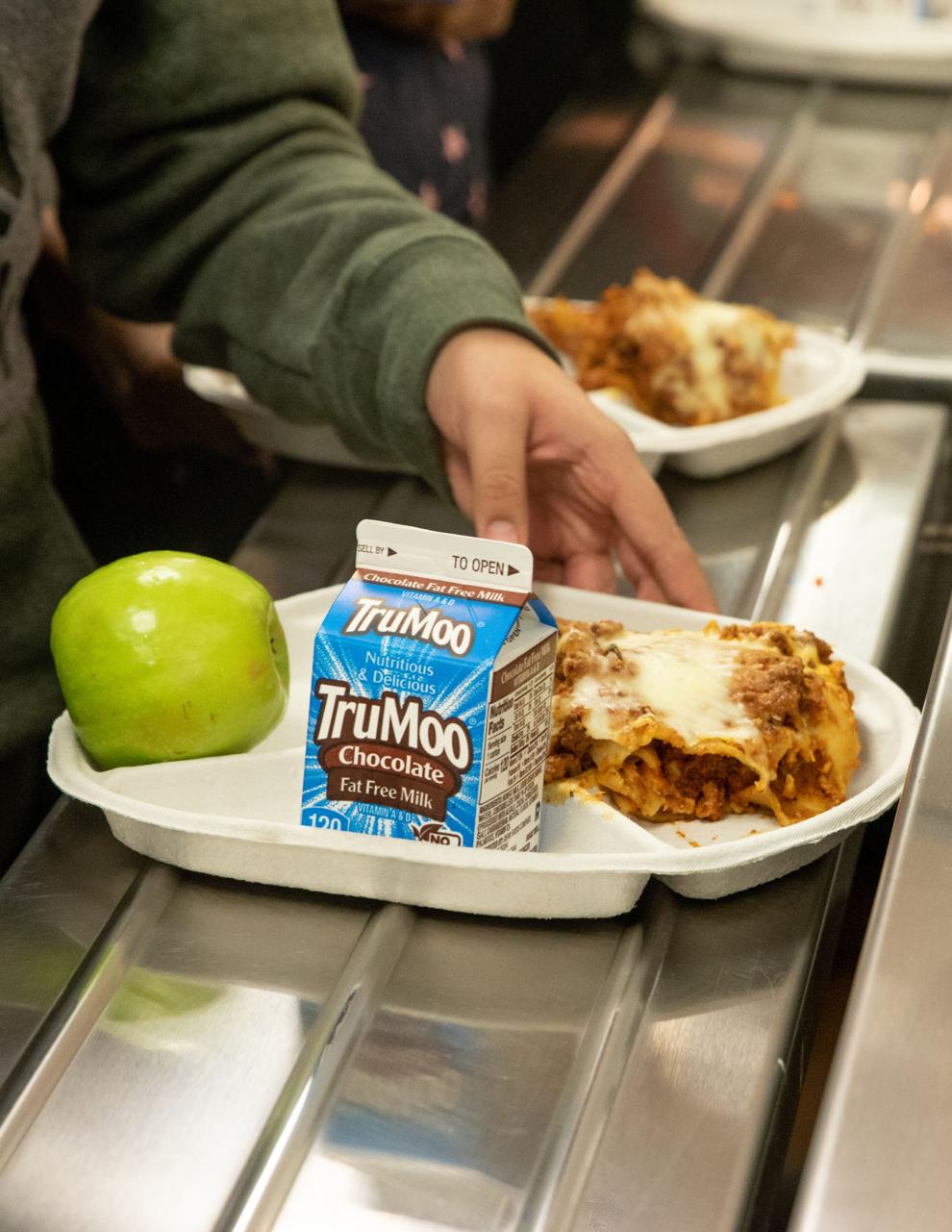 "I ate lunch with this kid in a Norfolk school," Russo said. "We had these frozen strawberry cups and he got it all over his shirt. That was a Friday. Monday was a holiday, so I next saw him on Tuesday. He had on the same shirt, still covered with the strawberry juice, and he was shaking, he was so darn hungry. I went into the walk-in cooler and cried. I couldn't believe it. I told them to 'give this kid whatever he wants, as much as he wants.'"
"I want folks to know that this program is out there and that it could be available in their schools."