Getting an unexpected COVID-19 vaccination was a little like winning the lottery, or, as George Chichester of Manassas Park put it, like getting "a golden ticket."
"I have a ticket! A golden ticket!" Chichester said as he stood in line outside the Manassas Park Community Center Friday afternoon. 
The ticket was actually dark blue, but that was beside the point. Its number – 489 – meant Chichester would be one of 551 people to receive a Moderna COVID-19 vaccination made available on a first-come-first-served basis Friday, Jan. 29, to anyone in the state's 1a and 1b groups. The groups include anyone age 65 or older, as well as those between the ages of 16 and 64 with underlying health conditions. 
The shots were administered by the George Mason and Partners Clinic in Manassas Park. The clinic is part of Mason's College of Health and Human Services and serves thousands of low income and uninsured patients in Fairfax and Prince William counties. 
The flagship MAP clinic is located on Tremont Street in Manassas Park. It was one of the first places in the Prince William area to offer free COVID-19 testing at the start of the pandemic and is now one of a handful of "community partners" administering COVID-19 vaccine through the Prince William Health District.
City of Manassas Park officials began reaching out to seniors in Manassas Park in recent days to let them know about the vaccination clinics taking place at the community center, located at 99 Adams St., on Tuesdays and Thursdays, which began this past week.
How to register for a shot at the MAP Clinic
Residents of Manassas, Manassas Park and Prince William County who are 65 or older can call the Manassas Park hotline on Mondays, Wednesdays and Fridays from 9 a.m. to 2 p.m. at 703-335-8802 to register for a COVID-19 vaccine.  
"This is encouraged even if you are on the Prince William Health District waitlist," says Loren Luck, marketing and communications manager for Manassas Park.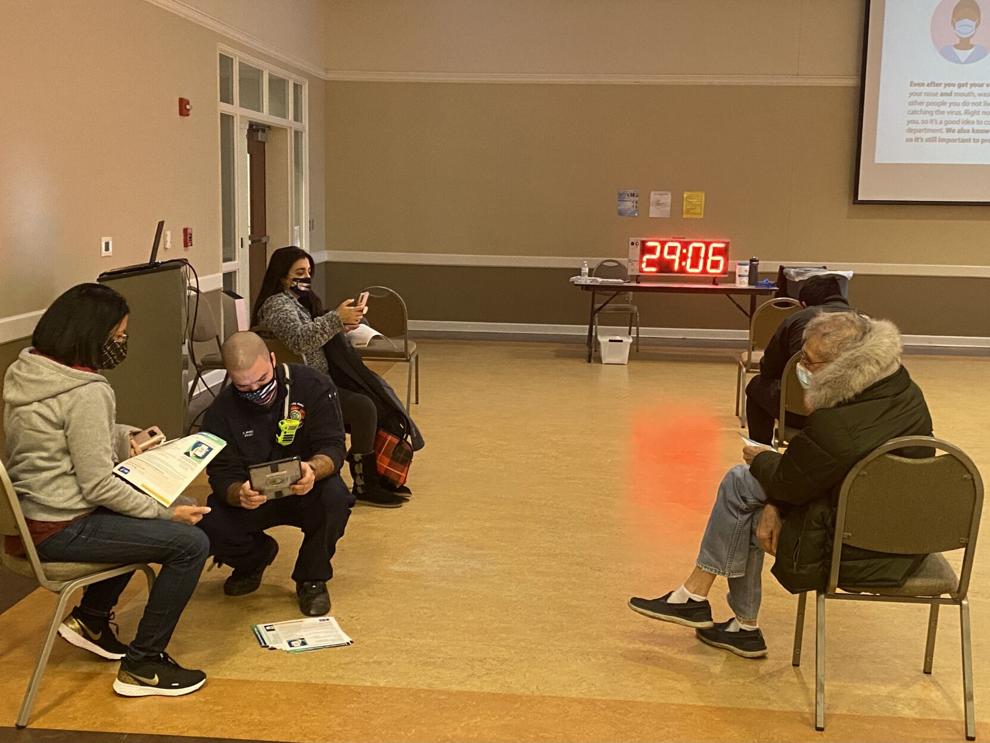 The clinic, which uses GMU nursing and medical students as vaccinators, administered about 170 to 180 shots via appointments on both Tuesday and Thursday. The MAP clinic is running the operation independently from the Prince William Health District.
The MAP clinic received a total of about 1,000 doses this week, including some from Sentara Northern Virginia Medical Center. When it became clear that about 550 doses would be left over after its Thursday clinic, MAP officials worked with the City of Manassas Park to offer the shots to any eligible recipients – without appointments – on Friday. 
"If we have doses to give, we're going to give them out," GMU MAP Clinic co-director Dr. Rebecca Sutter said during an interview Friday just before the clinic broke for lunch.
The MAP Clinic notified senior citizen and over-55 communities in western Prince William County, Manassas and Manassas Park about the clinic Thursday afternoon. Then the City of Manassas Park and the City of Manassas published notices on their Facebook and Twitter accounts, which spread via social media.
Manassas Park City Manager Laszlo Palko said people were already waiting outside the community center when the first police officers arrived at about 7 a.m. Friday morning. 
It was bitterly cold. Since most people in line were senior citizens, Palko said they knew they had to come up with a system that would allow people to wait in their cars or even go home and return later for their shots.
Palko said they anticipated the crowd and were ready with the numbered tickets. They also positioned lighted roadside signs outside the building and in the parking lot to let people know what range of numbers were being served.
Once their numbers were called, recipients were allowed inside. They were asked to show an ID and fill out paperwork. After their shots, they went to a recovery room, where they waited for 15 minutes (or 30 minutes for those prone to allergic reactions) under the supervision of EMTs. They also received appointments for second doses and were asked to sign up for the V-Safe after-vaccine health checker app.
Nick Iammartino, of Heritage Hunt, said he arrived at about 10:30 a.m. and got ticket No. 460. He and his wife waited in their car until noon when the clinic broke for lunch. By that time, the clinic had administered nearly 400 inoculations. 
Iammartino said they didn't mind the wait and appreciated the smooth operation. He said he already had an appointment on Monday at the Prince William Health District's vaccination clinic at GMU's Manassas campus but feared it might be canceled because of the expected snowstorm.
Iammartino said he and his wife were glad to get their shots and hoped they might eventually lead to some sense of normalcy. At Heritage Hunt, he said, most activities and clubs have been shut down, except for golfing. The restaurant opened briefly for in-person dining but has since reverted to takeout.
"We've been doing a pretty strict job of quarantining," he said. "We haven't eaten in a restaurant since March."
Roland Hassebrock said he arrived at 8:15 a.m. and got a ticket immediately. He was number 414. When the clinic broke for lunch at No. 400, he decided to pop home for lunch and come back.
"Everything seems to be very orderly," he said of the clinic. "They seem to have everything running smoothly."
Bonnie Swank, of Prince William County, and Evelyn Jurjevic, of the City of Manassas, are on the health district's waiting list for vaccinations but did not yet have appointments.
"And who knows how long it will be?" Swank said. "When we heard about this it was like, yes!"
Joan, who gave only her first name, said she drove from Lake Ridge after hearing about the clinic from her daughter. She said she was looking forward to getting vaccinated to be able to "shop at normal times" – instead of early in the morning when the grocery shops are empty -- and maybe eat in restaurants again.
She said she hopes more people will get the shots soon.
"I want the teachers and the first responders and the people who are working in the grocery stores to get it, " she said. "They're the ones who really need it. Us older people can hibernate if we're retired."
Donna and Rich Giannascoli, of Gainesville, said they too are on the county's waitlist, she with a number of 4,000-something and he with a number of 6,000-something. They heard about the clinic from their Regency at Creekside homeowners' association.
"Who knows when we would have gotten in?" Donna Giannascoli said of the health district's waitlist. Donna said they knew there would likely have to wait at the first-come-first-served clinic but said: "It's worth it."
More first-come-first-served clinics likely
The MAP Clinic is expecting another 1,000 doses of the vaccine in the coming week and will likely offer another first-come-first-served clinic next Friday, Sutter said.
The clinic is mandated to get 90% of their vaccine supply out the door every week, or they cannot re-order vaccine.  
"Ninety percent is a golden number for us. And we will get 90% out every week; I promise you that. You can anticipate that this is what we have, and we're going to get [those doses] into arms," Sutter said.  
City of Manassas Park Emergency Coordinator Keith Nguyen said the city staff will be ready to support future clinics as needed. The operation relied on a team of police officers, firefighters and volunteers from the city's Community Emergency Response Team on Friday, Nguyen said.
Sutter said doing mass vaccinations for priority groups is likely to become more frequent moving forward as scheduling individual appointments is much slower and more difficult logistically.  
"I wish that we could say that we could do this at convenience, and we could vaccinate on convenience for everybody," she added.
"But the truth is we can't. We have millions of people vaccinate. What we have to do is say, 'This is your time that you are eligible to get this vaccine. Please come on that date and time.' We just simply don't have the luxury of doing convenience scheduling for millions."