When Dale Vinson first got the phone call Thursday, he thought it was some kind of joke. Someone was on the line from Virginia, telling him they had found "Herman," the little white dog he and his wife Nancy thought they'd lost forever two years ago.
Vinson relayed the story while the couple were on their way to Warrenton from their home in Cordova, Kentucky. It was an eight-hour trip, and they still had about 368 miles to go.
"Well, we'd done given up on him. We just figured we'd never see him again," Vinson said.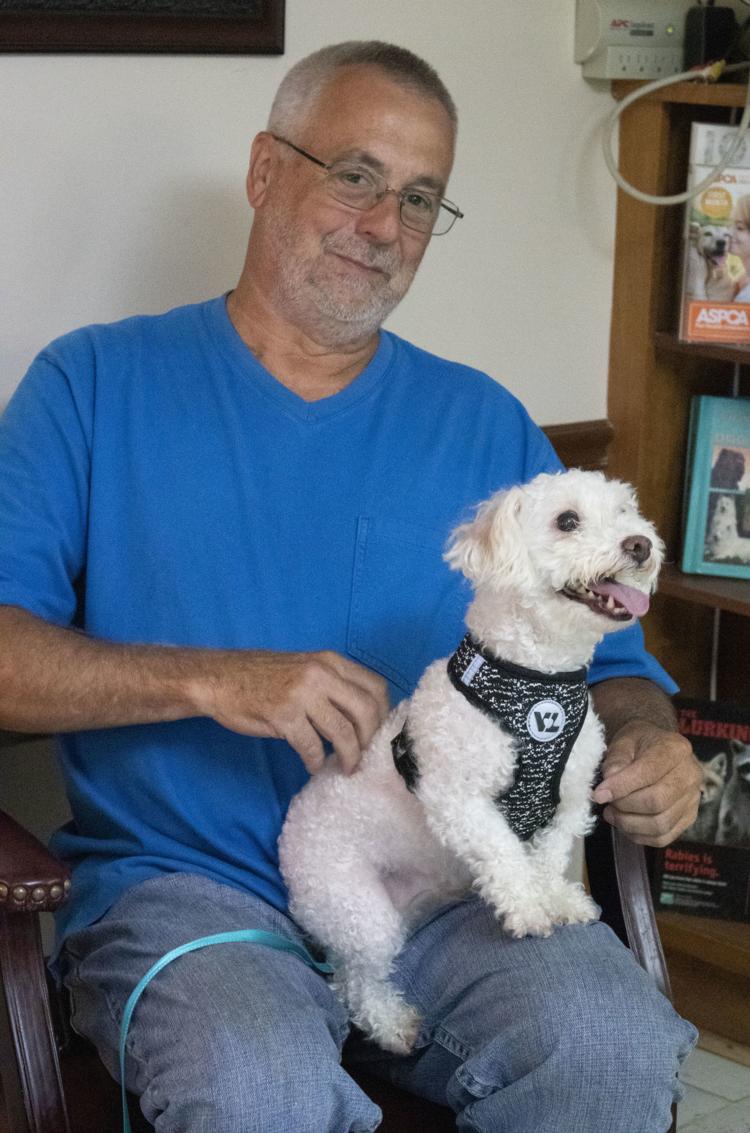 But the couple jumped in the car as soon as they realized it really was true – that their beloved 8-year-old Bichon Frise, Herman, had been identified by Warrenton Veterinarian Dr. Steven Bartlett during an appointment  that morning.
Bartlett's assistant Amanda Baker told them that a young woman named Sarah Sandborn brought Herman into the Animal Medical Center in Warrenton for a check-up. She said they didn't have any paperwork or shot records for the little white dog they called "Joseph" because she hadn't had him for long.
Sandborn explained that she had been staying with family in Kentucky, where the tiny Bichon Frise had been living. 
"He is such a sweet dog. They had had him a while and offered him to me to bring home to Warrenton," she said.
When something like that happens, the office's protocol is to check the animal for a microchip, a device about the size of a grain of rice that uses passive radio frequency technology to record information about a pet's owner.
As it turned out, "Joseph" had a microchip tucked beneath the skin between his shoulder blades. That's how the Animal Medical Center realized "Joseph" was actually "Herman."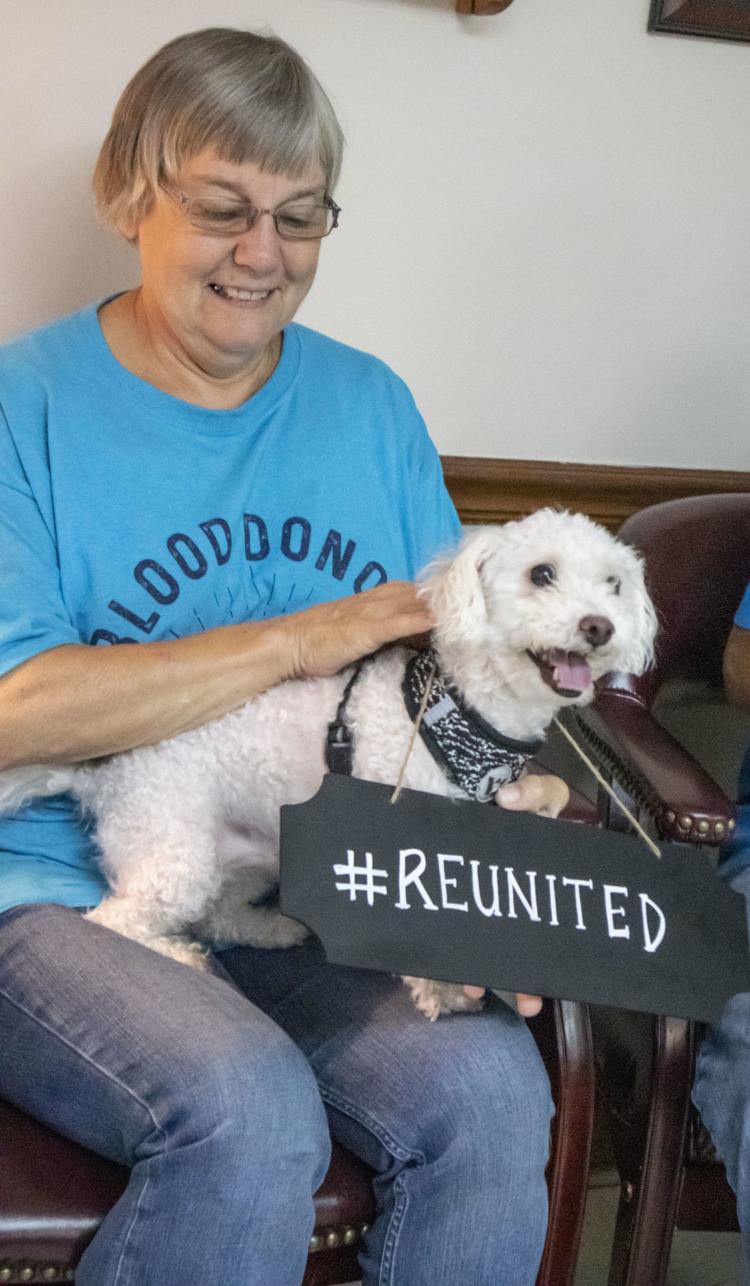 "We're excited. I'm just so excited to get him back," Vinson said, adding that his entire family, including their grandchildren, were looking forward to Herman's return. "Everybody's just really excited. … We never dreamed we'd see him again."
How Herman went missing
Vinson said they last saw Herman in the summer of 2017. He'd followed Nancy out to the mailbox to fetch the mail, like he did every day. Their house is on a hill, a ways up from the mailbox, so it's a bit of a walk to get there, Vinson said.
On the way back, Nancy looked down and realized that Herman wasn't following her like he usually did.
Then, when Nancy set back down the hill to find him, she saw a truck stopped along the road in front of their house. She couldn't catch up with the truck fast enough to see why it stopped, but she never saw Herman again, so she assumed the person in the truck took him, Vinson said.
They kept looking for him for a long while but finally gave up, he said.
Then, on Thursday, just before Baker called from Warrenton, something strange happened. The couple were moving a piece of furniture and happened to find one of Herman's squeaky rubber bones. Dale said he threw it in the trash, but Nancy fetched it out of the garbage, saying they should keep it.
Then came the phone call from Warrenton.
The couple said they'd had Herman since he was just 6 weeks old. He loved to play fetch, Nancy Vinson said. "My mother passed away two years ago. She was never a dog person, but she'd play fetch with Herman all day long."
Although the Vinsons have two other "outside" dogs, but only Herman was allowed inside. During the two years since they lost Herman, the couple thought about getting a new inside dog, but never did.
"It was like we couldn't bear to lose another one," he said. "I never dreamed we'd ever see him again."
Back in Warrenton, Baker had to tell Sandborn that Joseph/Herman had a microchip and that the owners had already been contacted.
As soon as Baker and her colleagues at the Animal Medical Center began calling the dog by his real name, Herman, he perked right up, Baker said.
"He started eating and running around and wagging his tail," she said.
Baker said such reunions are rare. They've never before found a dog that was lost from so far away and for so long.
Still, it's an example of the importance of micro-chipping a pet. It costs about $60 to insert a microchip and about $20 a year to maintain a pet's registry with the microchipping company. The Animal Medical Center uses a company called "Home Again," Baker said.
"By the power of the microchip we found [Herman's] owners, and the people were in shock," she said.
Sandborn said, "I wanted the family to know I was happy for them. I miss him. He was going to be my first dog. But I'm glad they were reunited. He is a good boy."
She said she's going to go to the SPCA and see if she can find another "Joseph."
The reunion
The Vinsons arrived at Animal Medical Center on Garrett Street in Warrenton a little before 9 a.m. on Friday, July 26. 
The staff had been looking out the window to check for their arrival for 20 minutes already. They were excited to witness the reunion and had cellphones at the ready.
When Herman walked into the waiting room, Nancy Vinson called his name. The little white dog ran right to them and the reunion began. The couple stayed to snap a few pictures and then said they planned to head right back home to Kentucky with Herman.  
Nancy Vinson said, "If only he could talk and tell us where he's been."
Reach Robin Earl at rearl@fauquier.com. Reach Jill Palermo at jpalermo@fauquier.com