A Warrenton pediatrician who says he's treating more kids who have contracted COVID-19 will hold a tele-town hall on Sept. 8 to answer parents' questions and discuss the recent rise in child-to-child spread of the virus.
"We are diagnosing them, lots of them. From kids in daycare all the way through high school," said Dr. Joshua Jakum, a pediatrician with Piedmont Pediatrics in Warrenton.
Of the children Jakum has seen have COVID symptoms, some have been hospitalized. One of his COVID patients is only a month old. He added: "Fortunately, I have not lost any patients to COVID."
Responding to the assertion that COVID deaths are still rare in children: "Since when did death become our measuring stick? I've never had to use death as the starting point, the threshold for us to act. I want to stop the suffering … These kids are sick."
COLUMN: Children are beginning to bear the weight of pandemic
The Delta variant
Jakum said, "Absolutely for children, the source is Delta; it's unlike the first generation of the virus."
He explained that in the earlier manifestations of the SARS-CoV-2 virus, "you didn't see child-to-child transfers of the infection. There was vertical transmission, parent down to child, not the other way around … The new variant is infectious from child to child. That is the key difference. In the past, kids got COVID, but it was uncommon. That has changed."
Jakum said that when he's talking to parents, he is honest about what he knows – and what he doesn't. "We know that one out of every four adults has symptoms that linger two months after they are infected. They can have shortness of breath, mental fog, long-term damage to the heart. We recognize that adults have neurological and mental impacts for weeks and months.
"What I can't tell you is what is the neuro-cognitive effect on a child's developing brain. Time will reveal the answers to us: Does getting the infection cause long-term damage to a child's brain differently than an adult, let alone emotional, mental effects too?"
Vaccines
Jakum is a strong proponent of vaccines. Many of his patients are older than 12 and therefore already eligible for a vaccine. He stressed that the mRNA technology used to develop the current vaccines has been around for three decades. "The mRNA vaccines are very targeted. The vaccines enter the body and tell the body to do something – to create a protein that looks like the virus, so that when the body sees it again it knows what to do. The vaccine stays in the body for a very short time because it is cleared by the normal cellular processes. It's gone from the body in just a few days."
It's a question Jakum hears often: "Should I get vaccinated? Should I have my kids vaccinated?" He understands hesitancy and tries to determine what parents' fears are and answer their questions honestly. "These are all appropriate questions," he said.
He understands that some people have had or have heard about negative effects. "When you get a vaccine because you wanted to be protected and have a negative effect, that can have a chilling effect on decision-making. But you have to look at the relative risk. ... You have control here. You have the ability to protect yourself from a serious illness that a portion of the population dies from."
He said, "We say in our office: 'No child should die from a vaccine preventable illness.'
"If I can prevent sickness or death, that's my job. I don't want you to suffer. We have that opportunity with the vaccine. We can protect kids. We have a remarkable amount of data. And the side effects are very limited."
Jakum believes that a vaccine safe for 5 to 11 year olds will be approved by the federal Food and Drug Administration before the end of October. A vaccine for children 6 months to 4 years old will take many more months.
There is a reason that a vaccine for children did not come out before this, said Jakum. "As physicians, practitioners, researchers, pharmacists, we are exceptionally conservative about research involving children. It's that dedication that shows there can be even greater confidence that if there is a vaccine approved, there is a mountain of evidence to show it's safe."
He added, "We had vaccines so quickly because so much research had already been done. We did something so tremendous. Vaccines are our modern-day moon shot."
Jakum added, "Everybody will get COVID at some point in their lives. The question is, are you going to go to the hospital or die from it? Particularly for the unvaccinated, the question is, not if you are going to get it, but when.
"This applies to children now as well."
Health district begins vaccination push
Tele-town hall
Jakum is working with the Virginia Department of Health to host a virtual town hall to address parents' questions about COVID-19 in children and adolescents. He will present information on the disease and on vaccinations and will take questions. The event is scheduled for Wednesday, Sept. 8, from 7 to 8 p.m. (See accompanying box.)
Jakum said, "It's a wonderful opportunity to reach a wider audience, to dispel myths, to explain where we are at now. Things are different than they were on March 13, 2020. We have so much more information. This disease is changing in real time, so how we fight the virus, it changes too. I have the opportunity to talk to parents about how we are changing to ensure the health of their children."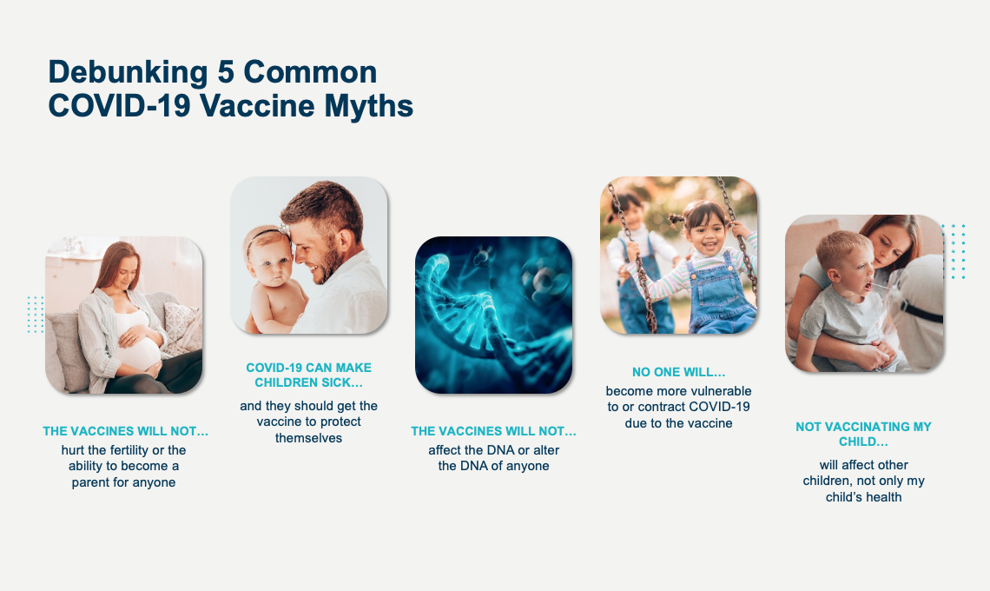 Layers of protection
Despite the controversy around mask-wearing, Jakum is not afraid to go there.
"Vaccines are the most effective way to protect children from the virus. Masks, social distancing, handwashing, ventilation and air movement – all these provide layers of protection," he said.
He presented an analogy: "When I'm driving a car, I have layers of protection – seat belt, antilock brakes, air bags, I follow traffic rules. Statistically, when I don't have one or more of these things, I run a greater risk of hitting the windshield, ejection from my vehicle or injury."
And Jakum said, even with all those protections, "if I drive on the wrong side of the road, I am going to have an accident."
He adds, "And a single-vehicle accident only hurts you. But when you get into an accident with another car, that hurts other people too. When you choose to wear a mask, when you get a vaccine, you are protecting others.
"Wearing a mask is another layer of protection. Masks are one of the most inexpensive yet effective ways to prevent illness. And if I could give everyone eligible a vaccine, I'd be thrilled."
Jakum understands the downsides of wearing masks, particularly for children. "I hear it when parents say that it's hard for their children not to see the faces of their teachers and friends. I am an instructor for Virginia's Mental Health Access program. I lecture across the state to help practitioners manage pediatric patients for depression and anxiety. There is no doubt that COVID has caused increased depression and anxiety. There is a sense of what we have lost – school, sports, friends and family. It's pervasive. There has been loss.
"But we don't want the losses to include long-term cardiac or neurological health."
Jakum sees the loss in his own children, who have lost a year of college or high school. He said, "I will work to help them overcome depression or anxiety from these losses, but I couldn't bring them back if I lost them to COVID."
To some, Jakum said, masks are a symbol, perhaps of lost freedoms. "The loss is real, and some people are using masks as a symbol of that loss."
But masks can also be a symbol of our mutual concern for others, Jakum said. He said that "even when you are wearing a mask, you can still see your loved one's eyes, hear their voices. You can't shake hands or hug, but you can still feel the love.
"We have to ask ourselves, 'How can I fight this virus?' That's the enemy. Not your neighbor. We have frayed the threads that bind us.
"But we are adaptable. If we pay with that little bit of effort now, isn't there a chance we can get out of this sooner? Let's address the fears and stay together, so we can make it through this."