Four state legislators joined public health officials for a virtual town hall earlier this week to address questions about the COVID-19 pandemic and the government response. 
The event was broadcast on Facebook Live. Because of social distancing requirements, only the participants, staff and one journalist were allowed to attend the taping of the event, which took place at the PATH Foundation building on Walker Drive in Warrenton.  
State Sen. Jill Vogel, R-27th, was joined by delegates Elizabeth Guzman, D-31st, Michael Webert, R-18th, and Joshua Cole, D-28th. Vogel's district includes all of Fauquier County; Guzman and Webert each represent portions of the county's residents. Cole represents Stafford County.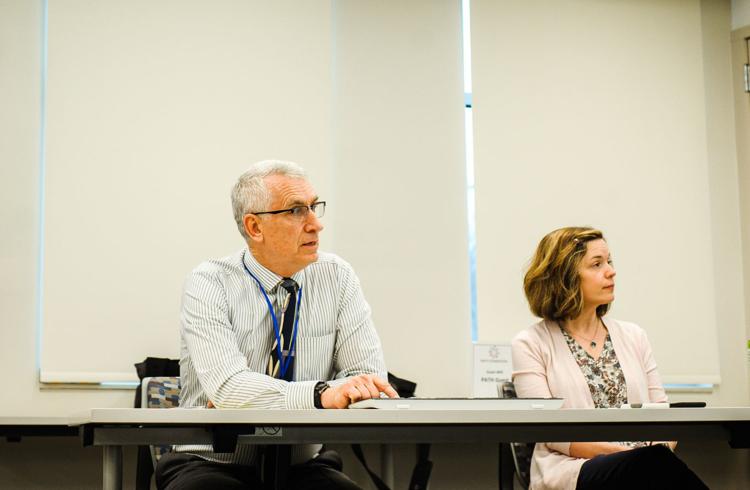 Two public health officials, Dr. Wade Kartchner and April Achter, both of the Rappahannock-Rapidan Health District of the Virginia Department of Health, gave a presentation about the current VDH guidelines in response to COVID-19 and answered questions from the legislators and the public.  
"There will be cases [of COVID-19] in Fauquier County," Karthner cautioned at the town hall. Indeed, the day after the town hall, VDH announced that a Fauquier County resident had tested positive for COVID-19, the county's first confirmed case. 
Kartchner and Achter answered a range of questions about COVID-19 and the health department's response, but admitted there is much that is still unknown. 
Can you be infected again with COVID-19 after contracting it? 
"Reinfection is not likely," said Kartchner.  
Will drive-thru testing be available in our area soon? 
"Drive-thru testing may make sense for this area," he said.  
Are healthcare workers having to reuse protective masks?  
All protective masks are recommended for one-time use, Achter said, but "we understand that might not always be possible" in the current situation.  
The VDH officials said they did not know how many ventilators are currently available in the health district, or how many people in the district have been tested for COVID-19.  
Questions for the legislators 
Other queries from the public were directed to the legislators themselves.  
Answering a question about how schools will ensure services are provided to students with disabilities, Guzman said, "There are so many things we have to look at."  
Vogel and Webert both talked about the difficulty some residents have accessing high-speed internet, suggesting that constituents explore the possibility of using a school's wifi by driving to school parking lots.
Vogel talked about Xfinity wifi hotspots being free for the time being, along with Comcast's Internet Essentials program, which she said might be beneficial to those who are eligible.   
The town hall came the day after Gov. Ralph Northam issued executive orders that closed all Virginia K-12 schools for the remainder of the academic year, closed some businesses and restricted all public gatherings.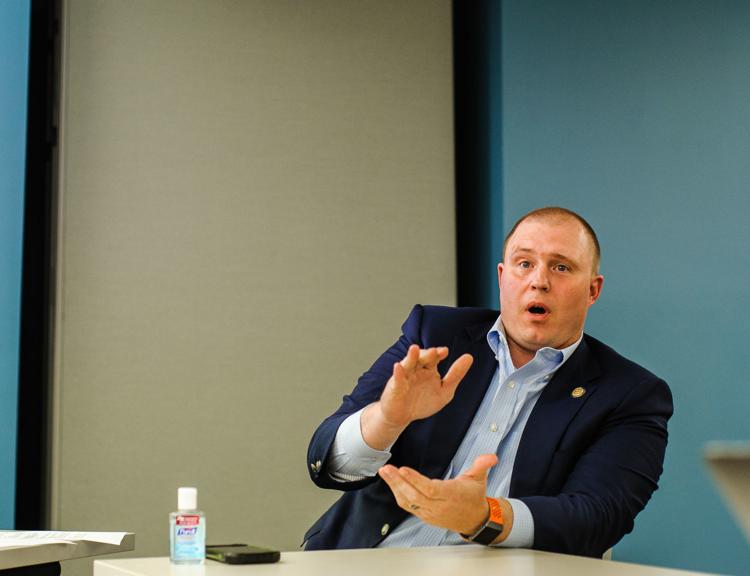 Speaking after the event, Vogel expressed concern that the economic implications of Northam's executive order could outweigh its potential benefit to public health, although she did say the situation is indeed serious. She referenced the spread of COVID-19 in Italy, calling it "terrifying."  
"But," she said later in the same thought, "I would certainly say – 100 percent – I endorse getting us back to normal sooner rather than later. And I don't think that, probably, the governor would disagree with me, and I don't think that the president would disagree with me. 
"I completely understand [the impetus for the executive order], but I certainly sympathize with people who say, 'Wait a minute, we've had 290 cases … and we've shut down the entire economy?'" she said. 
"So I really vacillate back and forth," she said of balancing restrictions on public gatherings with measures to help individuals participate in the economy enough to stay afloat financially.  
"At the end of the day, I have a job, I still have to go to the grocery store. I went to the pharmacy today. I'm doing things because I don't have a choice. I have a family that's got to eat food and who have got to get their prescriptions. So at a certain point, you have to resume normal life."  
She added that she would be receptive to a model that isolates populations most vulnerable to the worst effects of COVID-19 while allowing the general population to resume regular economic activity. 
"I don't think we have to sacrifice any of them," she said of those populations who may be more susceptible to the disease's worse effects. "If we're being very careful to quarantine them but still let the rest of the population go back to work at a certain point."  
Webert said he is also concerned about the economic impact of the new restrictions on businesses, schools and public gatherings, but said voluntary social distancing is an important tool in the response to COVID-19.  
"And if everybody can do that, and if we can flatten this curve," he said, "…the faster we get back to business in the commonwealth. I would urge everybody in the commonwealth to practice social distancing but support the local businesses as much as you can." 
Webert said he would not support a statewide mandated quarantine. "I think we need to maintain the balance between doing the best that we can to fight this virus, but we also need to keep in mind the economic impact that is going to hit the commonwealth," he said.   
Guzman, on the other hand, said she fully supports the executive order, adding that she had heard from many of her constituents that they felt the governor had not taken enough action before this week. 
She said she would support action to mandate a statewide quarantine. Northam, she said, "has been very clear about that, this may last, like, two to three months. At some point we have to be in a lockdown in order to save lives. I think that is the next step." 
As school districts explore ways to continue education, Vogel said she is opposed to any statewide mandate requiring students to submit schoolwork through the internet, although she supports leaving that choice up to individual school systems, provided they make sure all students have equal access to educational resources.  
By not ensuring all students would have access to the technology required to perform and submit work, she said "what you're doing is that you're singling out young people who already may have issues, and making it so that you're setting them up for ultimate failure right here at the end of the school year … Let's say they have the internet, but what if they don't have a Chromebook or a laptop or any way to upload [assignments]? Or a family member, a person who could drive you to a place [that has public wifi]? 
"So I would say to mandate that across the Commonwealth of Virginia would be really unfair for a huge population of students," she concluded.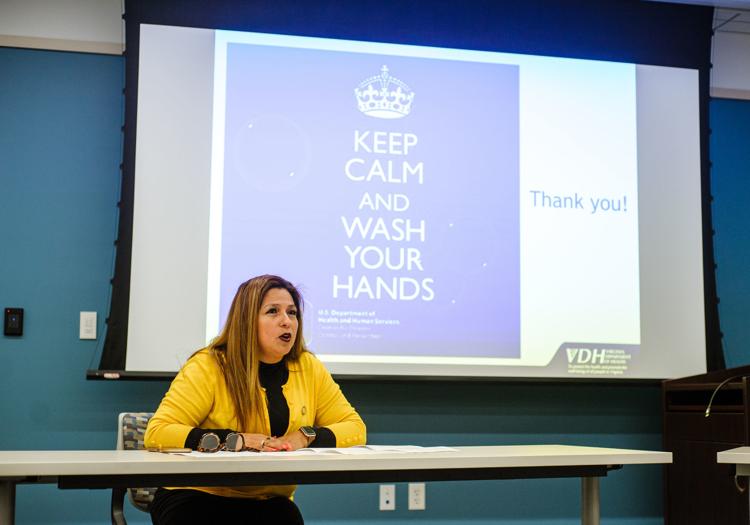 Webert also acknowledged that some students without access to internet could be left behind by an online-only learning model but said that he trusts school systems to address those concerns and provide opportunities to access the internet and devices near their home. "There's time to ensure those kids don't get left behind," he said. "Plus, I think this is a good opportunity for some parents to lead, too. I mean we are taking my son through a daily lesson plan." 
Guzman expressed less concern that a lack of access to internet and devices would unfairly leave some students behind. "The reality here is that nobody was prepared for this. And we have to use what is available for our children to finish the school year with enough knowledge, education to be provided to them," she said, adding that schools in her district had told families they could park in school parking lots to use the wifi. 
"At this point, I think more than thinking about what we cannot do, it's about [how] we can work together and get it done." 
Currently the Virginia General Assembly is set to convene for a one-day veto session on Wednesday, April 22. Some lawmakers, however, are calling for the assembly to revisit the budget because of the impact COVID-19 may have on future state revenues.  
Vogel said she supports a special session to address budgetary matters.
"I would not advocate going back and relitigating everything we just did in the session. I would say go back and revisit the budget: that's our number-one biggest priority."  
Webert agreed on the need for a special session. "I firmly feel that with the big economic strain that has hit we're going to have to go back and, not only that, we're going to have to go back and readdress some of the legislation in my mind, that we put through to localities," citing the drop in revenue counties and cities may face in an economic slowdown and the possible subsequent difficulty of implementing state-mandated policies in the current situation.  
Guzman said she is opposed to revoking legislation passed in the main session of the General Assembly. 
"To delay those things we've already passed and voted on, I would not support," she said. 
Reach Coy Ferrell at cferrell@fauquier.com