Nearly every morning in the spring and summer, Sarah Desmedt diligently cuts seasonal flowers on her 16-acre Nokesville farm, arranging and wrapping dozens of brightly colored tulips and daffodils in tissue paper before bringing them to her farm stand, known as Bloom Flower Farm, at the end of the driveway.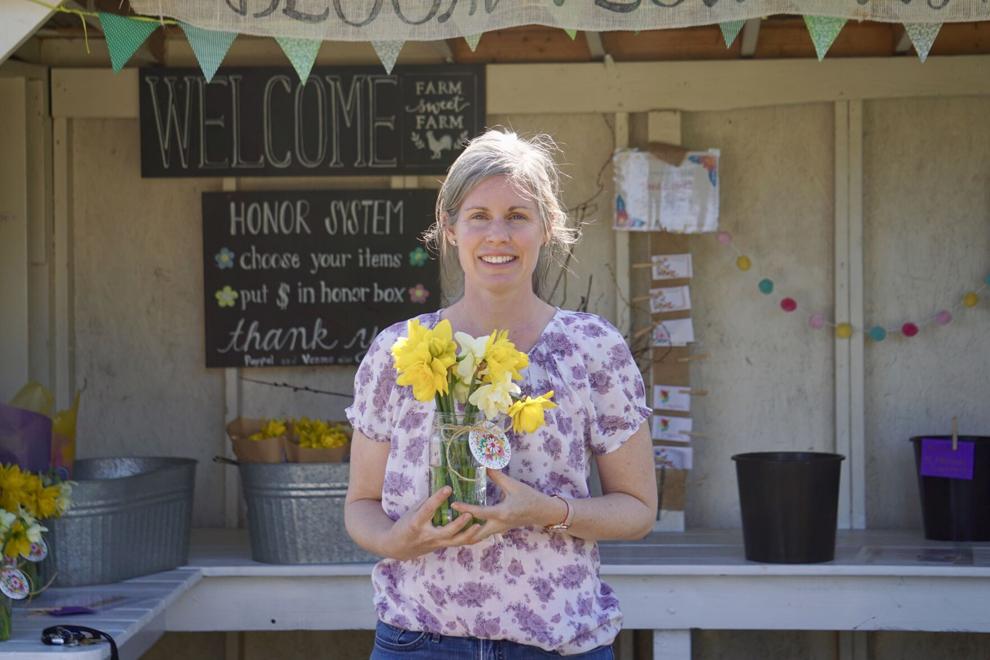 On weekends, she barely has time to chat with customers before heading back to the garden for more. And after a few hours, she's typically run out for the day and closes shop. She says there's nearly always a steady stream of cars pulling up to the stand throughout the summer. 
"We had a much busier year than we've ever had," Desmedt said one morning in late March, as she worked on setting up a display of tulips.
Bloom Flower Farm is one of numerous hobby farms and "pick-your-own" style farms in Prince William that offer fresh, local produce directly to consumers. Some offer flowers, others have locally grown fruits and vegetables, fresh eggs, milk and farm-raised chicken, pork or beef.
For many local hobby farmers, it's just a part-time gig. But business is booming.
Several small Nokesville farm stand owners said 2020 was their best year on record, buoyed in part by the pandemic that left many people seeking safe outdoor activities. And many are expecting another big spring and summer in 2021.
"I think there's a movement right now for people to know their farmer," Desmedt said.
Desmedt and other small farm stands rely on social media to get the word out about when they are open and what they have in stock on a day-to-day basis.
In Nokesville alone, there are at least seven farm stands and "pick-your-own" farms that operate seasonally. Some are already well-known, like Burnside Farms and Yankey Farms. Others are just getting off the ground. 
At the same time, large lot farming in Prince William – once a pillar of the local economy – has started to fade. 
Traditional farming operations that once covered large swaths of the county and produced bulk agricultural products such as dairy, corn and soy have steadily declined as agribusiness has shifted towards larger operations that require more land – and more money – to operate successfully.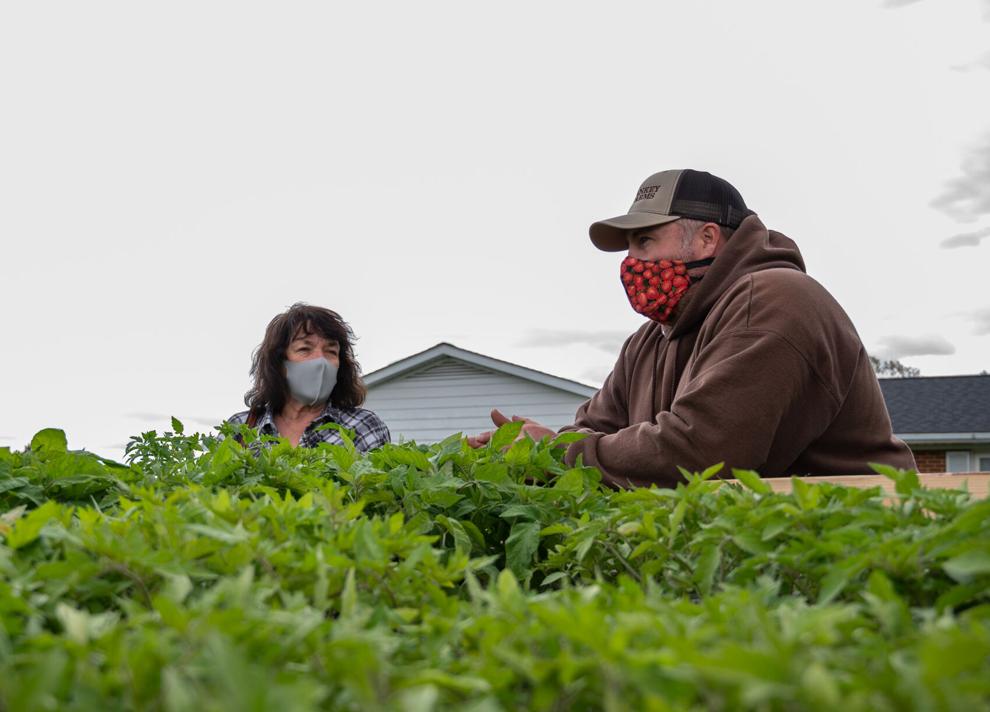 Prince William Farm Bureau Vice President Jay Yankey, owner of Yankey Farms, said "the face of agriculture is changing." 
"We're losing a lot of midsize farms. So, folks are either having to get specialized and cater to the direct marketing of their products to get to the end consumer, or looking at agritourism types of activities, like pick-your-own pumpkins, cut-your-own Christmas trees, wineries and breweries," Yankey said.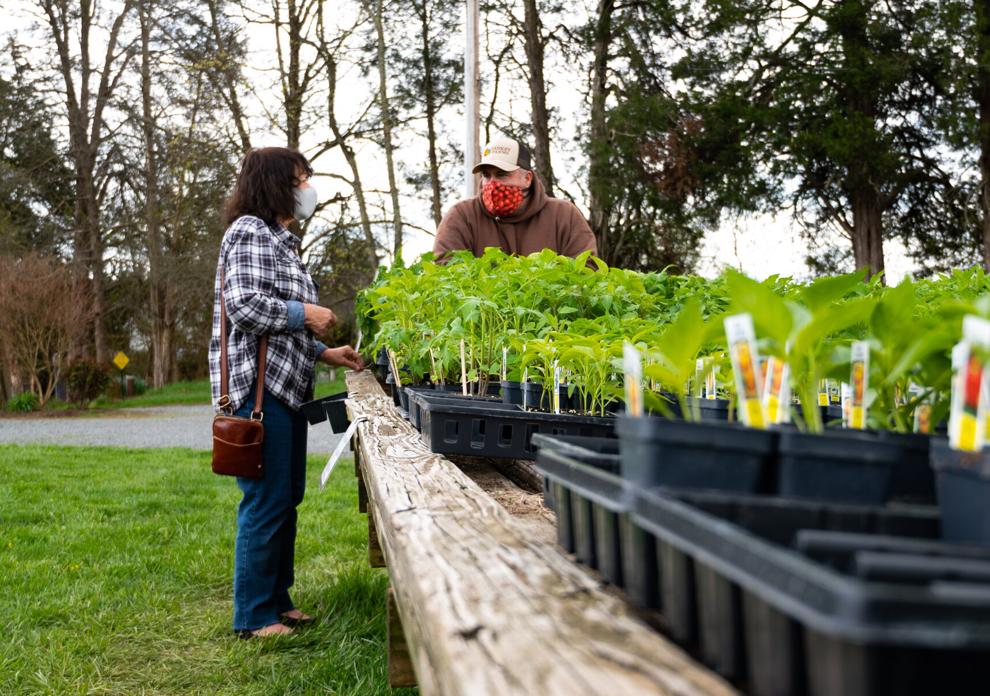 Yankey said his own business had a great year. Yankey runs a farm stand with local produce and meats as well as several pick-your-own strawberry and pumpkin patches in Nokesville.
"For most folks that are in direct market agriculture, the pandemic has been fabulous," Yankey said.
But Yankey said opportunities for new farming operations are disappearing quickly as much of the county's existing farmland is sold off into 10-acre residential lots. He said the county needs to take action to preserve more farmland. 
When a property is subdivided, "you end up with something that's so chopped up that it's just not practical to farm." Yankey said. "That whole development pattern just doesn't take agriculture into account."
Those 10-acre lots can sometimes end up looking like a jigsaw puzzle to accommodate septic drain fields and so developers can squeeze the maximum number of homes onto a parcel of land. The homes on those parcels often have one or two acres facing the street and extend back five acres or more in strange-looking shapes. 
"It really is an odd situation," Yankey said. 
Very few large-lot farms still exist in Prince William. The county has lost around 23,000 acres of farmland over the last 20 years as farming operations have closed down, according to federal and local officials.
The 2002 U.S. Department of Agriculture Census estimated there were nearly 33,000 acres being farmed in Prince William. In 2020, county officials estimated fewer than 10,000 acres are still being actively farmed in the county.
Dutch Land Farms, one of the largest and oldest farming operations in the county, closed for good in March 2021 nearly a year after their dairy farm, the last in Prince William, closed in 2020. The owner of Dutch Land Farms, Dale House, said selling his remaining farm equipment last month was "gut-wrenching," but it just wasn't profitable any longer. 
"It was a weight off my shoulder, but by God, to see everything you ever worked for go out the driveway, it's a pretty hard pill to swallow," House said.
House said he has always rented land to farm throughout the county in addition to his own 600-acre farm. He said part of the reason he had to close the operation is because there is no longer enough viable land remaining in the county to rent out. 
"I can't find land to farm. Everything's getting split up in 10 acres," House said.
Hobby farmers make small-lot farming work
Just down the road from Bloom Family Farm and Yankey Farms, Nina and Andrew Fleischauer, the owners of Sunshine Honey Farm, are readying their 10-acre farm for the summer season. Their farm stand opened last June and sells meats and a variety of fresh fruits and vegetables.
Nina said when they opened the farm stand last year, the response was immediate. "We had people from Arlington and Alexandria and Rockville that were coming out our teeny tiny little farm stand in Prince William County," Nina said.
Nina and Andrew are currently raising two cows, eight pigs and several dozen chickens in addition to their fruit and vegetable garden. 
The couple bought their land four years ago after a local farmer sold his 174-acre farm into 10-acre parcels. The land was previously used to grow corn, which left the soil in desperate need of rehabilitation. Nina said Sunshine Honey Farm is using sustainable farming practices, like rotating their pig and chicken pens weekly, to help add nutrients back to the soil. 
Like Bloom and some other small farms in the area, it's a part-time job for the Fleischauers. Andrew works full-time as an executive chef at a restaurant in Maryland and Nina works as a hospital administrator. 
"It could not replace an income. So, it really just has to be a hobby farm that we can derive enjoyment from and bring enjoyment to the community," Nina said.
County aims to boost agritourism, incentivize conservation
Nicole Warner, spokeswoman for Prince William County's Office of Tourism, said the county views agritourism businesses, including farm stands and "pick-your-owns," as unique attractions that connect residents and visitors to the county's "local flavors and natural beauty."
"These businesses offer an array of one-of-a-kind local products, unique festivals and events, as well as memorable family-friendly outdoor experiences that add to the appeal for visitors to choose Prince William County as an ideal destination for their next getaway," Warner said.
The Prince William Board of County Supervisors has also given a boost to the industry. The board recently approved an "agritourism and arts overlay district" aimed at making it easier for farm stands, wineries and breweries to site themselves in the county.
Additionally, the board will also consider several highly controversial proposals aimed at preserving rural and agricultural land later this year. Those proposals, if adopted, could result in the downzoning and preservation of large parcels of land through purchase of development rights and transfer of development rights programs. Both programs allow property owners to sell their development rights to place the acreage in conservation easements.
The purchase of development rights program would allow the county to purchase landowners' development rights using tax revenue or state grant money.  A transfer of development rights program would allow landowners to sell their development rights to developers in exchange for the ability to pursue more dense developments in targeted areas of the county. 
If fully implemented, county officials say those programs could preserve nearly 18,000 acres of rural land that has not yet been divided into 10 acre lots. Critics say Prince William County land prices are rising so quickly that such programs could be too expensive to be feasible.
Yankey said he is hopeful the county can draw more small-lot farms into the area as bigger farms move out while preserving as much land as possible. 
The farm bureau is in favor of both the proposed purchase of development rights and transfer of development rights programs, Yankey said. 
"We're very, very much in favor of as many tools as possible to try to preserve as much farmland as possible," Yankey said.