The symptoms of the coronavirus are by now well known: a fever, cough and sore throat are signs you may need a test. But many people who get sick can become contagious before experiencing symptoms and unknowingly pass on the virus on to others. 
One of the only ways to break the chain of COVID-19 infections is through contact tracing, a process in which public health workers call people who have tested positive for COVID-19 and help them remember the people with whom they had contact while they were contagious. Then it's a race against the clock to reach those who might have been exposed before they infect anyone else. 
Contact tracers encourage "close contacts" of individuals who test positive to get tested or self-isolate and check in with them periodically. A close contact is defined as anyone who has been within 6 feet of the person for at least 15 minutes while the person was contagious.  
But the process is only successful if the close contacts follow the recommendations, and if local health departments have enough contact tracers to handle the incoming positive cases.
In the Prince William Health District, which covers Prince William County and the cities of Manassas and Manassas Park, contact tracing has been slow to ramp up, even as the area has logged some of the highest case counts per 100,000 residents in the state and the highest in Northern Virginia.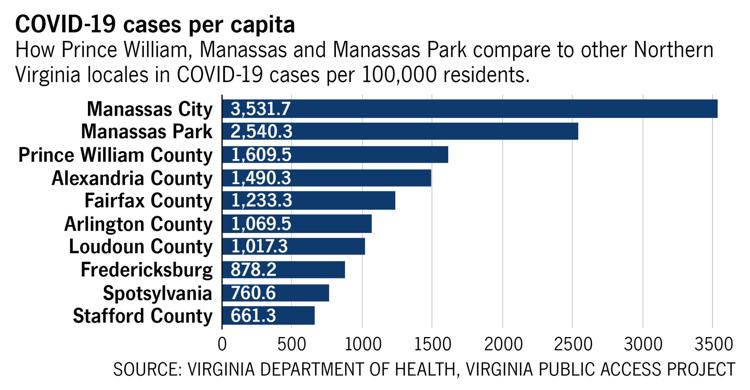 Prince William Health District Epidemiologist Andrea Young said last week the district hopes to hire 260 contact tracers as part of a statewide hiring effort announced in May. But so far they have hired only 46 to cover the area's 530,000 residents – or about nine contact tracers for every 100,000 residents.
Experts say about 30 public health workers are needed for every 100,000 people during the pandemic to carry out effective contact tracing. 
Meanwhile, the local health district has struggled to keep up with the high volume of positive cases in the area. In June, officials said mass testing events had overwhelmed the district's ability to effectively contact trace, and until recently, contact tracing was reserved only for positive cases in high risk environments such as hospitals and nursing homes.
By contrast, Fairfax County has had 250 contact tracers working since March. County Board Chairman Jeff McKay said at June 18 press conference he believed it was "the most of any health district in the entire commonwealth of Virginia." 
McKay announced at the same press conference that the county had signed a contract with the Institute for Public Health Innovation to hire an additional 400 health workers for case and contact investigations by Aug. 17. As of July 1, Fairfax County had already hired 76 of them. 
Asked why the Prince William Health District had not yet brought on more contact tracers, Young said the hiring, training and orientation process "takes time to ensure a successful outcome, especially for the larger number of positions being added." Bringing on 260 new employees at once just isn't possible, she said.
But with dozens of new hires already on board, Young said the local health district is now able to request information about contacts and exposure history from every positive case, instead of contact tracing cases only in high-risk settings. 
Young said the district began using CDC-provided contact tracing software on June 15 that has enabled close monitoring of contact tracing data and metrics. Since then, a total of 1,500 individual cases and contacts have been monitored using the software. But for thousands of cases logged before June 15, there was no data to share. 
"It is difficult to enumerate exact case and contact tracing figures over the duration of the response," Young said. 
Like most states, Virginia has not made contact tracing metrics and data publicly available on the state's COVID-19 dashboard. One of the few locales to so is Washington D.C., which recently added contact tracing metrics to their online dashboard. 
The city tracks the number of successful traces, as well as the length of time it takes contact tracers to reach those who have tested positive for the coronavirus. As of July 2, the D.C. health department was contacting 98% of all cases within 24 hours of receiving a positive test result.  
The Prince William Health District has not yet met that mark. Young said that as of July 7, the district's 14-day average for case investigations being initiated within 24 hours of receiving a positive result is 78.6%. 
"We make every effort to contact the case or contact within one day," Young said. 
Young said the district typically reaches people by phone. If an investigator is unable to reach someone, they will mail a letter to their home address. And additional follow-ups, such as a home visit, may be taken if there are indications that a particular case or contact poses an elevated risk to the community.
Health workers also offer to enroll residents in a voluntary contact monitoring app called Sara Alert, which they can use to update local health departments on their health status during the period of time they are participating in public health monitoring. 
"When information is received from the case, [the district] is performing contact tracing for all close contacts," Young said. 
Reach Daniel Berti at dberti@fauquier.com