More than 200 people turned out to the local Lights for Liberty candlelight vigil held at the Harris Pavilion in Old Town Manassas over the weekend to protest of the Trump Administration's treatment of migrants held in detention centers at the U.S. borders.
The event was held Friday, July 12, in solidarity with more than 20 such rallies around Virginia and more than 600 across the U.S., according to the event's national organizers.
The Prince William County Democratic Committee's Immigrant Caucus hosted the local event, which stretched from 4 to 9 p.m., led by organizer Elisabet Michaelsen, who is herself an immigrant from Sweden.
Legislators and candidates, some immigrants themselves, spoke to the crowd, decrying overcrowded and inhumane conditions at the immigrant detention centers and calling it "unjust" that people are being "kept in cages" and children are separated from their families.
Many referred to the detention centers as "concentration camps."
The event came on the eve of the Trump Administration's promised raids on large cities around the country during which, Trump has said, "millions" of undocumented immigrants will be detained for deportation.
As of Friday, local immigrant rights groups had yet to confirm any such raids locally, said Jennifer Romero, a volunteer with CASA who collected signatures on a petition in protest of the administration's policies.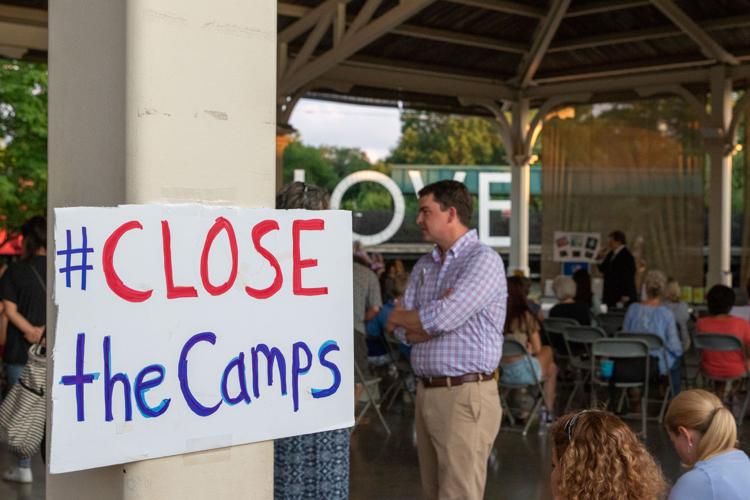 Several rally speakers were sharply critical of Trump's handling of the border crisis, including state Sen. Jeremy McPike, D-29th, and Del. Elizabeth Guzman, D-31st, who is herself an immigrant from Peru.
McPike noted that "seeking asylum in America is not against the law." 
"We are our brothers' and sisters' keepers. That is fundamental to who we are," McPike said. "When people look at the United States, they look at us as the greatest nation on Earth. Ladies and gentleman, we are not! We are not when we allow this to occur. We can do better!"
Guzman, who immigrated to the U.S. as a single mother more than 20 years ago, said she can't help but see herself in the young migrant parents whose children are taken from them.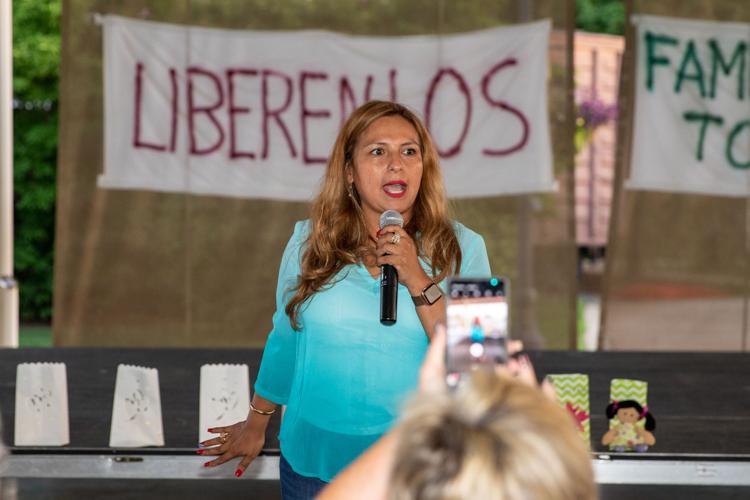 "Being an immigrant to this country, leaving everything behind, my family, career, property, to start over from zero, and I just can't imagine what it would mean to me if they would have taken my child away from me when I was coming to this country," Guzman said.
Guzman stressed that she is "against open borders" but blamed the Trump Administration for slashing the number of refugees allowed into the country, which she said has contributed to the crisis. 
Guzman also reminded the crowd that most everyone in the U.S. – or their parents or grandparents – came to the country as immigrants.
"Immigrants make America great, and we don't need the president to tell us that we need to make it greater," she said.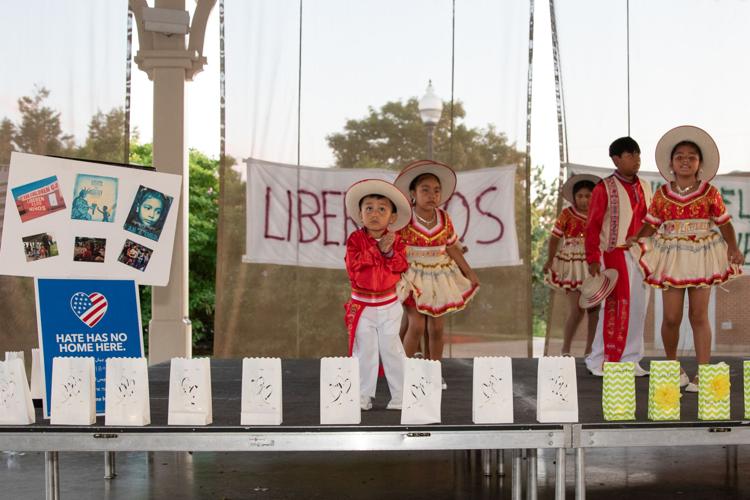 Similarly, Raheel Sheikh, the Democratic nominee for the Coles District seat on the Prince William County Board of Supervisors, said he can relate to the migrants' experiences. Sheikh immigrated to the U.S. from Pakistan as a young man.
"When I came to this country 23 years ago, I worked hard, just like the majority of all of you. Multiple jobs. This is what we do as immigrants," Sheikh said. "We come here, we work hard. We build our lives. We escape persecution in other countries. Our goals are very similar."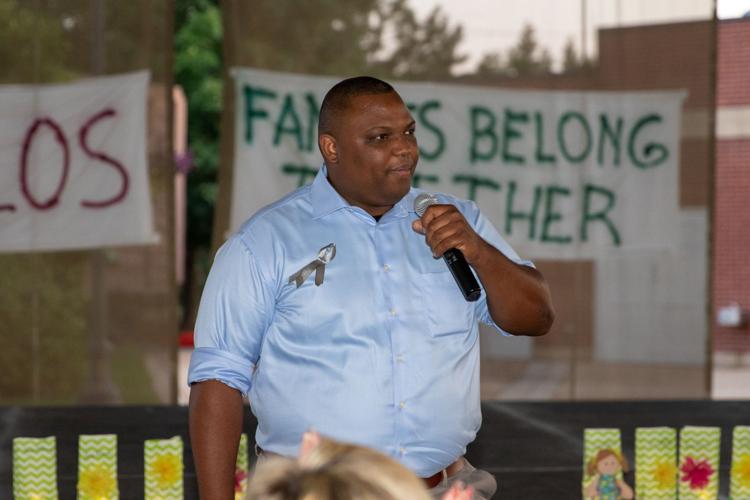 "But what the Trump administration has done by putting little kids in cages, separating families … This is called injustice.," he added. "We all have to stand up to this injustice."
Josh King, the Democratic candidate for Prince William County sheriff, pledged yet again to do away with the local jail's long-standing 287(g) agreement with Immigration and Customs Enforcement if elected in November.
The agreement effectively deputizes local sheriff's deputies to act as ICE agents in the jail, allowing the facility to detain immigrants for whom ICE has a civil warrant for up to 72 hours longer than they would ordinarily be required to remain in the jail's custody so ICE officials can pick them up if they so choose.
Aaron Cox-Leow, of Centreville, said the situation called for the nation's attention. "Keeping kids in detention camps is obviously a horrific situation," Cox-Leow said. "Everybody needs to be out here until it stops."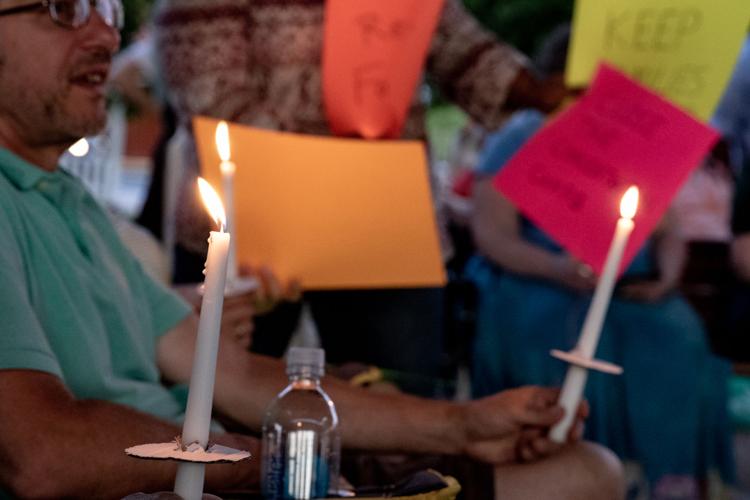 Lisa Zargarpur, a candidate for the Coles District seat on the Prince William County School Board and a member of the Dar Al Noor mosque, played the flute and gave a recitation from the Quran about the bond between mothers and children. Zargarpur is a music teacher Keene Mill Elementary in Fairfax County.
Toward the end of the vigil, as the sunlight drifted away, Cozy Bailey, a retired U.S. Marine Corps colonel and president of the Prince William County NAACP, led the crowd in singing "Jesus Loves the Little Children." 
"I am proud to be an American even with all the problems and warts that it has. But I tell you we live in an unjust regime. Anytime the separation of children and their families takes place -- and the way it is done, resulting in the deaths of these children, in detention centers --  let us say concentration camps -- we live in an unjust regime," Bailey said.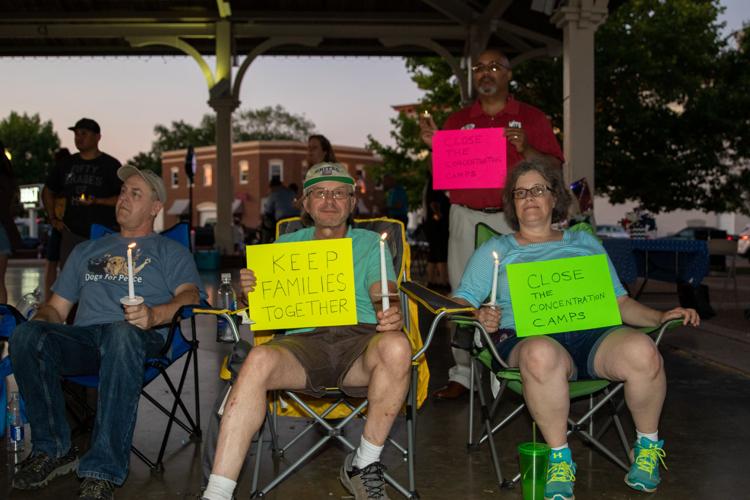 Bailey then quoted civil rights leader Martin Luther King, Jr., saying "darkness cannot drive out darkness" and "hate cannot drive out hate" as volunteers distributed votive candles to the crowd.
"I just enjoin you all this evening to not return hate for hate in the horrible situation we find ourselves in," Bailey said. "But let us be the light of love as we begin to light our candles…. Let those lights of love shine through."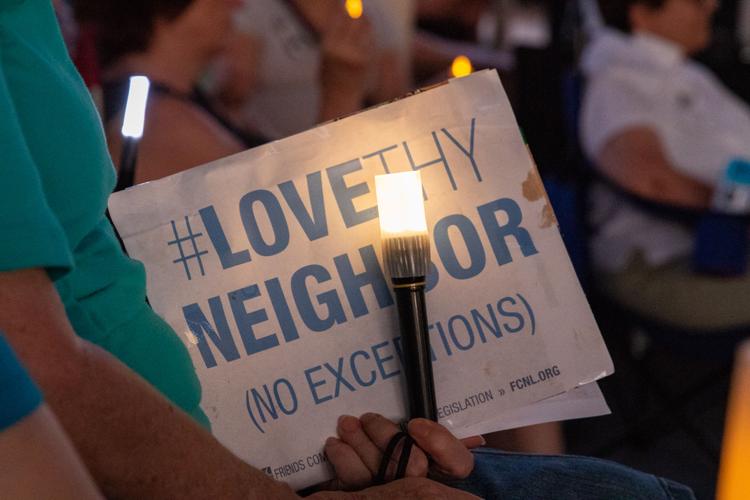 Then, returning to the political call-to-action that served as a backdrop to the event, Bailey called on attendees to make their voices heard at the polls in November.
"Coupled with a vote this year and next year as well, we will begin to drive out the hate and defeat this unjust regime," Bailey said.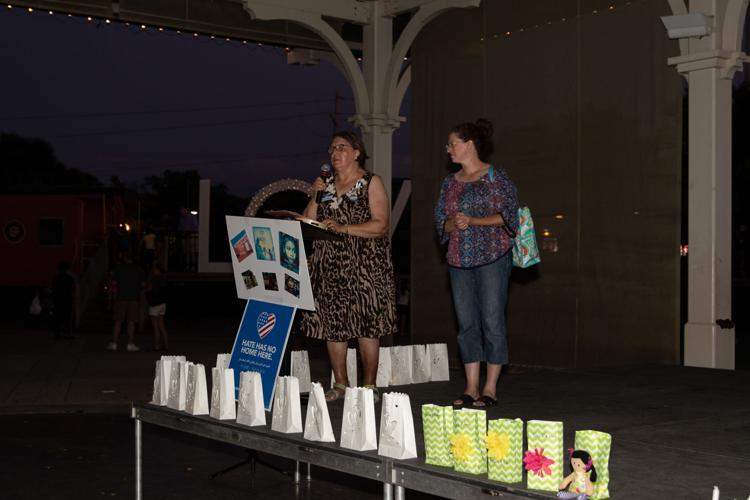 Michaelsen closed the event by leading the vigil attendees in the protest song, "We Shall Not Be Moved." 
"This event was meant to honor the families and the children suffering on the border and in detention, unsure of their fate and unsure of what the future holds," she said. "We hope you feel energized to go out and speak up. Contact your legislators. Tell them you want immigrants to be treated with humanity and dignity."
Reach Jill Palermo at jpalermo@fauquier.com