"She is leaning forward with her hand extended, lifting people up," Manassas Mayor Hal Parrish said Saturday morning, as dignitaries pulled a black shroud from a long-awaited sculpture memorializing Jennie Dean, a Manassas native born into slavery who founded the Manassas Industrial School for Colored Youth, which educated thousands of Black high school students from the 1890s through the 1930s.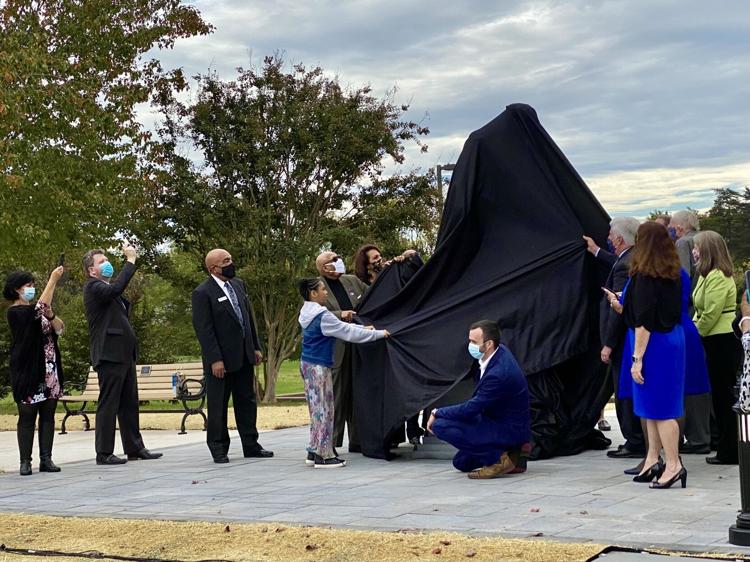 The 6-foot tall statue was unveiled during a morning ceremony that attracted a socially-distanced crowd of more than 100 and included speeches by Virginia Lt. Gov. Justin Fairfax, Sen. Mark Warner, Rep. Jennifer Wexton, D-10th, and others instrumental in the multi-year effort to bring the statue to fruition.
Parrish, who will retire this year after a third term as Manassas mayor and a total of 27 years on the city council, led the event, which was held in front of Jennie Dean Elementary School on Wellington Road. The school is built behind what once the site of the industrial school.
Dean, whose given name was Jane Serepta Dean, worked as a domestic in Washington, D.C., but was born and lived in Manassas and spent almost 10 years after the Civil War raising money to open the school. 
Dean eventually accumulated enough to purchase 100 acres and chartered the industrial school in 1893. Its first building was dedicated by Frederick Douglass in 1894. 
Speakers remembered Dean as an everyday person and a woman of faith who worked tirelessly to establish what was then the only high school serving black students in all of Northern Virginia.
Fairfax, himself a descendant of the enslaved Simon Fairfax, who was freed in 1798 by Thomas Fairfax, the ninth Lord Fairfax, called Dean someone "who was able to see a ray of hope in the middle of a lot of darkness."
"She was able to see the promise that an education and that faith could deliver to over 5,000 young people in a moment in our history when they were not regarded as worth the effort," Fairfax said. "When their futures were not deemed to be worthwhile, she saw something different in them and something different in us. She said, 'You do your part, and I will do my part,' and that has led us all here today."
The Rev. Keith Savage, of First Baptist Church, one of the city's oldest congregations, organized in 1872, talked about the nexus between Dean's work and that of the church. Savage noted Dean first established Sunday schools as a means of educating black youth and said she recognized "her community's pain and guided them through a greater and deeper human experience of skills and economy."
Dean, Savage said, forever changed "this small Southern city to become more than a battlefield." 
A highlight of the event were memories shared by Carroll Braxton, a 96-year-old U.S. Marine Corps veteran who attended the Manassas Industrial School for Colored Youth from 1939 to 1943. Braxton was "interviewed" onstage by his daughter, television journalist Monique Braxton, about his time at the school.
The elder Braxton told of "a beautiful campus," with a girls' dormitory, boys' dormitory, teachers' cottage, administration building and home economics building, where students began their days with devotions and then studied English, history, physics, geometry, home economics and agriculture. All students wore uniforms – shirts and ties for the boys and dresses for the girls – and came from across Northern Virginia, sometimes walking miles to catch "hand-me-down buses" to ride still more miles to Manassas, Braxton said.
The school did not have a gym "because it could not afford it," but fielded teams in track, baseball and football. The students enjoyed "socials" after Friday afternoon football games where they paid 10 cents to dance and listen to records, Braxton said. 
Braxton and his late wife, Celestine Braxton, were recently honored as the new namesakes for Unity Braxton Middle School, formerly Stonewall Middle School.
Chris Hill, a Bristow artist who created the sculpture, did not speak during the ceremony but previously shared that he sought to depict Dean as forever willing to lend a hand to her community. The figure leans forward toward viewers with her left hand extended, "as if inviting to lift them up." 
"Her left arm is outstretched, forming a clear line between the head, the heart and the hand. These are the three parts of the body Jennie Dean had wished to strengthen through academic education, participation in faith services and training in trade and industry," Hill said in an earlier press release. 
"Over time, I hope that people will take her hand and wear away its patina. When this hand begins to polish and shine, it will reflect the engagement Jennie Dean continues to inspire in the community," Hill's statement said.
City Councilwoman Michelle Davis-Younger, a Manassas native now running in the Nov. 3 election to be the first female and first Black mayor of Manassas, said erecting the statue is important to properly commemorate Dean and "all the work she did." 
Davis-Younger said her mother also attended the Manassas Industrial School for Colored Youth, graduating in the mid-1950s. The school became part of a regional public school system from 1938 to 1959.
"It's important that kids now understand why this is here," Davis-Younger said of the statue and memorial park situated in front of Jennie Dean Elementary. "She did so much, and, realizing that, moreover, she was a woman of color who did it, is really important."
Reach Jill Palermo at jpalermo@fauquier.com