There were cheers, hugs, tears and celebratory chanting outside the Prince William courthouse Wednesday night when immigrants-rights activists gathered there heard the result of a nearly two-hour jail board debate on the fate of the county's 287(g) agreement with federal immigration officials.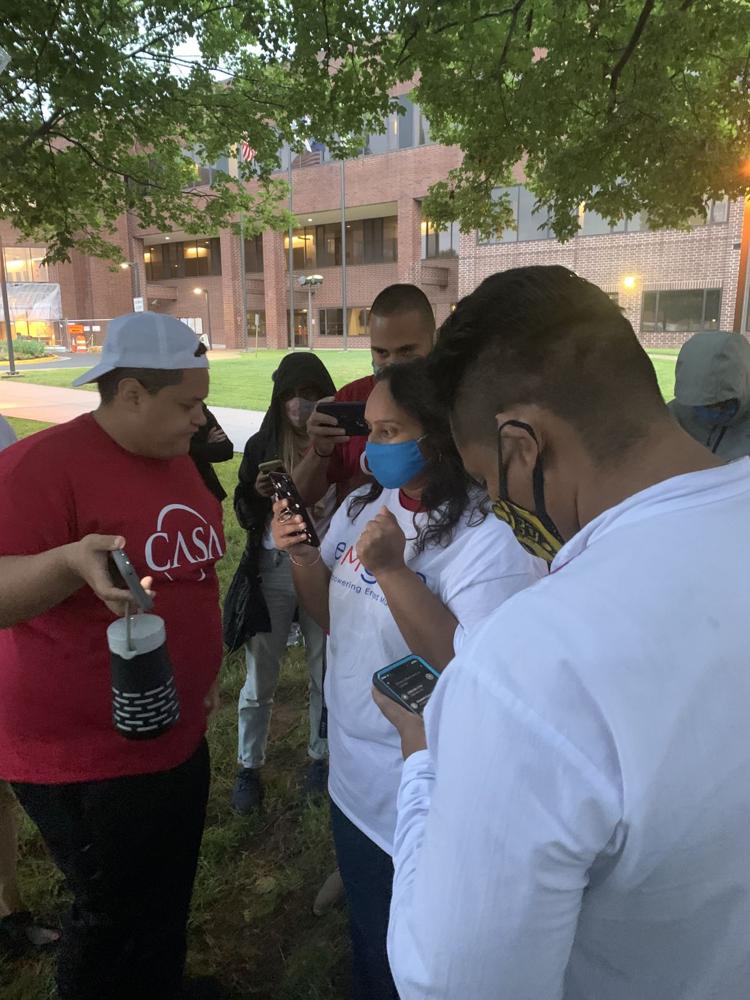 Huddled around a portable speaker connected to someone's cell phone, the group listened as Sheriff Glen Hill asked the 11-member jail board, which conducted its meeting via Zoom, for a motion to approve his resolution to extend the jail's 287(g) agreement with U.S. Immigration and Customs Enforcement beyond its June 30 expiration date.
When none came, Hill announced that the program, in place at the jail since 2007, would expire at the end of the month.
The activists erupted in cheers and then chants of "We did it!" and "This is home! This is home!"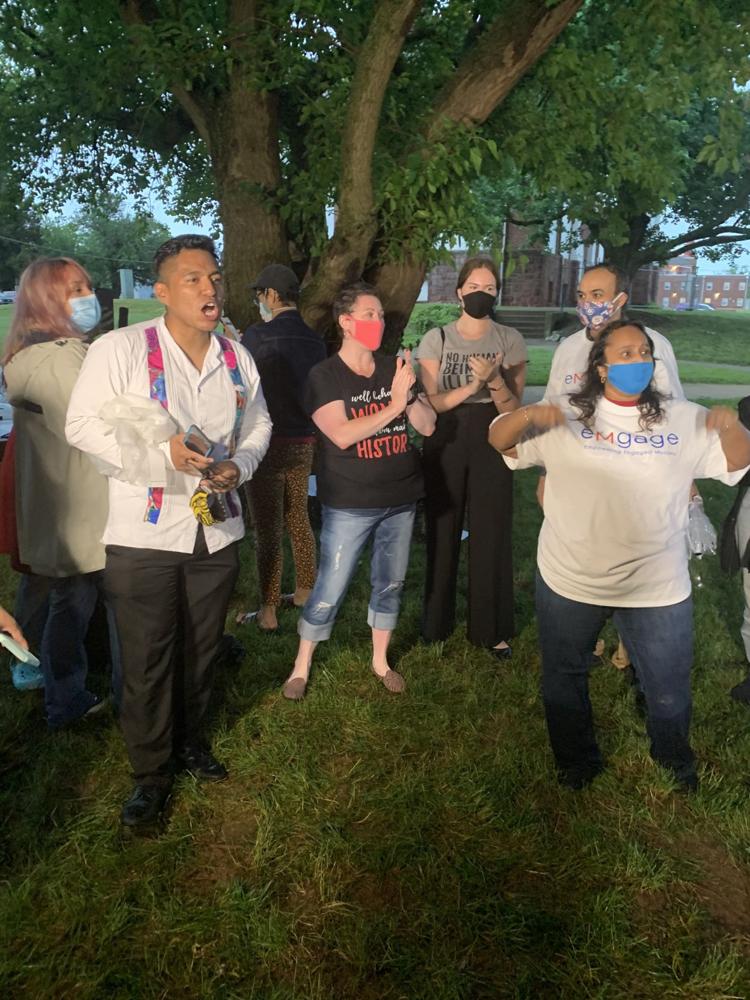 "This is a new Prince William County! This is the new reality right now for black residents, brown residents, residents of all colors," said Luis Aguilar, state director of CASA in Virginia, which organized a rally that began earlier in the night in the pouring rain. "We are so happy that we ended the racist, anti-immigrant, 287(g) program."
The 287(g) agreement, which is voluntary for localities, has been a point of contention for area residents and officials since it was first signed by county officials in 2007. Under the agreement, local sheriff's deputies in the jail work as ICE agents, giving ICE direct access to local inmates.
Prince William County and Culpeper County are the only localities in Virginia that hold 287(g) agreements with ICE.
Police Chief Barry Barnard: 287(g) a barrier to police trust among minority residents
The jail board meeting began at 6 p.m. and included a lengthy discussion about the chilling effect the agreement has had on public trust between law enforcement and the community since its inception in 2007. 
Prince William County Police Chief Barry Barnard, who is retiring on June 30, was an influential voice in the debate. Barnard questioned many aspects of the program and wondered aloud why only two counties in Virginia – Prince William and Culpeper – retained such an agreement with ICE. 
Barnard further said the agreement "does not assist us in local policing" and had created barriers to building trust between police and majority-minority Prince William County. 
"This is a program that can create an issue for us on the trust horizon. Some immigrant communities will avoid the police to keep themselves or loved ones out of the jail," Barnard said. "I wonder if this program has run its course."
Barnard added that he hasn't "seen any data that shows a public safety benefit from 287(g)." 
Del. Elizabeth Guzman, D-31st, a new citizen at-large appointee to the jail board, has long been critical of the 287(g) agreement and said shortly after county supervisors appointed her the jail board last month that she would seek to end it. Guzman is an immigrant from Peru and the first Latina to serve in the Virginia General Assembly. 
"I will tell you as a voice in the immigrant community, we don't like this program," Guzman said during the meeting. 
Guzman further noted that of 193 emails the jail board received before the vote, only 36 were in favor of extending 287(g), while 157 expressed opposition.
Tracey Lenox, who was recently made chief public defender in Prince William County, said that the program has had "a storied history in Prince William County," a reference to former Prince William County board chairman Corey Stewart, who has been a staunch advocate of the agreement dating back to its inception in 2007.
Lenox said the agreement "has been a contentious issue in this county," and "divides this county." 
Regardless of whether a community holds a 287(g) agreement with ICE, Virginia law requires all jails to determine all inmates' citizenship. Jail officers must "make an immigration alien query" to ICE for any person born in a country other than the United States, who is a citizen of a country other than the United States, or if a their country of birth or citizenship is unknown, the law states.
Commonwealth's Attorney Amy Ashworth, who also serves on the jail board, noted that any person charged with a serious crime in the county would not be released on bail and would be held in custody long enough for ICE to issue a detainer for them if the agency chose to do so.
Hill, the jail board chairman, was in office when the agreement was first signed. He has said repeatedly that he considers 287(g) another "tool in the toolbox" that helps keep the residents safe. Hill said during the meeting that he considers the agreement to be a bipartisan policy because the county renewed it during former President Barack Obama's tenure in office. 
"I support the 287(g) program regardless of who's in the White House," Hill said. 
Newly elected Democrats serving on the Prince William Board of County Supervisors campaigned on ending the county's ICE agreement last year, as did Ashworth (D). The county board flipped from red to blue for the first time in decades in 2019. 
Supervisor Kenny Boddye, D-Occoquan, said the jail board asked "a series of important questions of the representatives of ICE" during the meeting that "delved into the core of many of the community concerns surrounding the 287(g) agreement."
"I applaud the decision of the jail board to not continue the agreement as it diverts local tax dollars toward federal immigration enforcement and -- as Prince William Police Chief Barry Barnard indicated in his own remarks -- presents challenges of trust between the community and law enforcement," Boddye said in an email Wednesday night. "At a time when our community, nation and world are trying to heal long-standing injustices against marginalized communities, this is an important step in the right direction."
Supervisor Margaret Franklin, D-Woodbridge, said in statement Thursday morning she was surprised Hill's motion "couldn't even get a motion, not even from those on the jail board from law enforcement." She attributed the result to the work of local advocates.
"I am pleased to see the decision by the jail board to terminate the 287(g) program in our community. This could not have been done without fierce advocates and allies making this a victory for our entire community," Franklin's statement said. "... I am proud that the jail board unanimously agreed to end this divisive program. Now Prince William County can embrace our multiculturalism and diversity, while striving to achieve equity for all our residents."
CASA in Virginia had staged several rallies in opposition of the 287(g) agreement ahead of Wednesday's vote.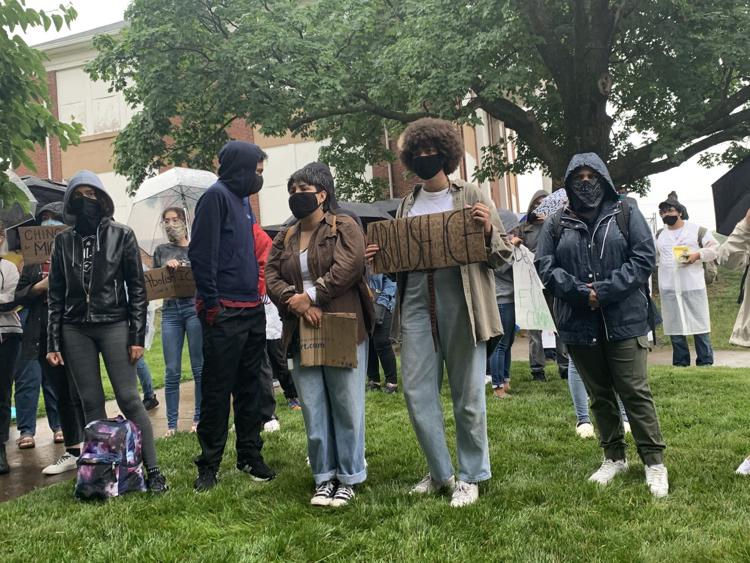 Earlier in the evening, about 100 people gathered outside the courthouse in the rain to shout slogans and make speeches against it. The group was met by a smaller group of counter-protesters who gathered in support of 287(g) in the lawn directly in front of the jail. Sheriff's deputies separated the two groups with yellow caution tape.
Aguilar said he did not understand why the jail board did not meet in person as other elected boards have in recent weeks and said the group was angry about being shut out of the meeting.
Still, Aguilar said he felt "confident" that the debate happening behind closed doors would ultimately go their way.
"There is now a different makeup of the board of supervisors and a new makeup of the jail board," Aguilar said of the three new jail board members appointed by the Democratic-majority Prince William County Board of Supervisors last month.
"This program has tarnished the reputation of Prince William County and we have educated our leaders about the damage this program has done to our immigrant community. This is why people are actually coming out in the rain to get rid of it," Aguilar said.
Hilda Romero, who came to the rally with her son, Angel, said living in Prince William County as an immigrant from Mexico was a "nightmare" back in 2007, when the county supervisors first began a local crackdown on illegal immigration under Stewart's leadership.
"Every day, I lived in fear that I would be deported to our home country," Romero said. 
Eventually, the family moved to Stafford County, which does not have a 287(g) program, even though the family suffered economically because of it. She said the move was difficult for her children, who were in grade school at the time and missed their friends and classmates.
"And that's why today our kids are activists in Prince William because they worked to change this county to make sure immigrants in our county have the right to live without fear," Romero said.
Reach Jill Palermo and Daniel Berti at news@fauquier.com