When the buses pulled up to Mountain View Elementary School Tuesday morning, the first day of in-person learning for kindergarten and pre-K students, most carried just one or two students.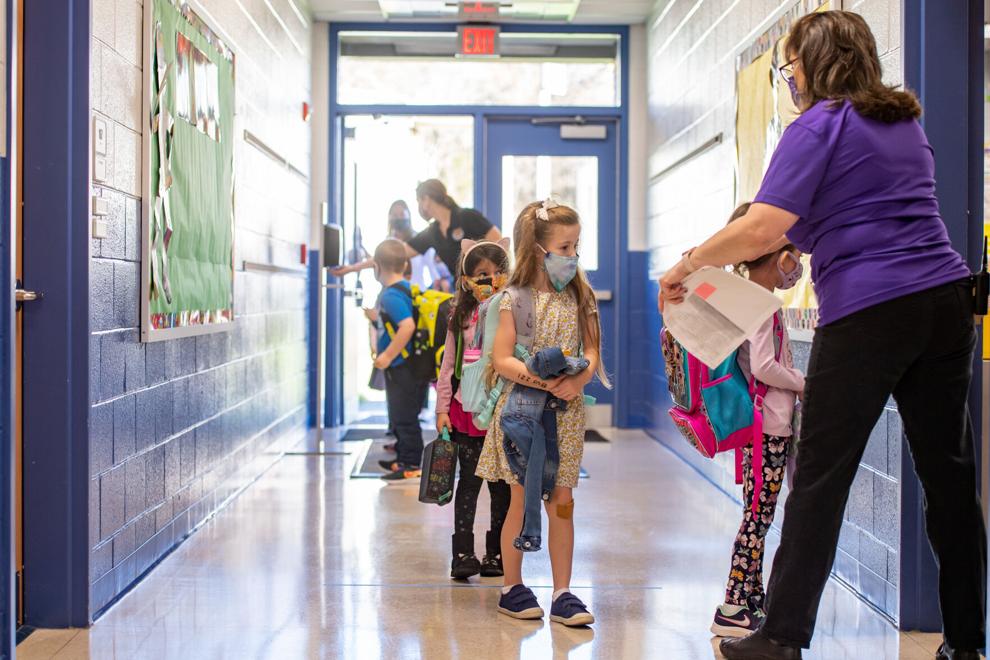 They were met by teachers in face masks who directed the 5- and 6-year-olds down hallways marked blue tape -- to help them spread out -- and then into a classroom with desks set several feet apart and stocked with individual sets of crayons and supplies.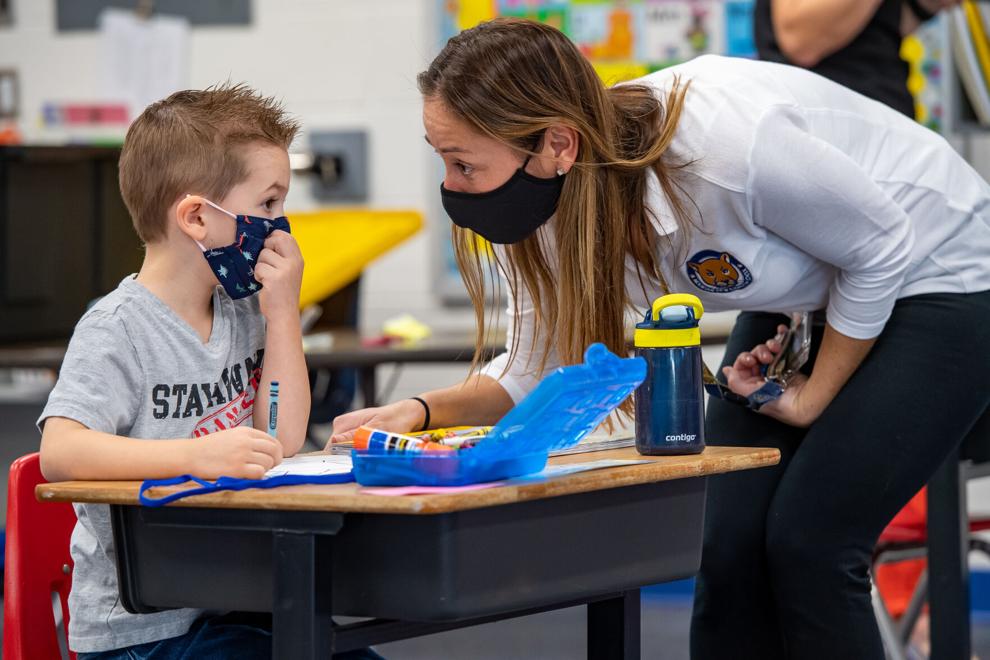 Teachers were told to avoid giving hugs, but it didn't always happen. Students were also required to wear masks but sometimes struggled to keep them pulled up over little noses, said Mountain View Principal Adriane Harrison.
"We had one little girl, we saw her nose all day," Harrison said after her students had left for the afternoon. "We had to remind her all day to keep pulling it up."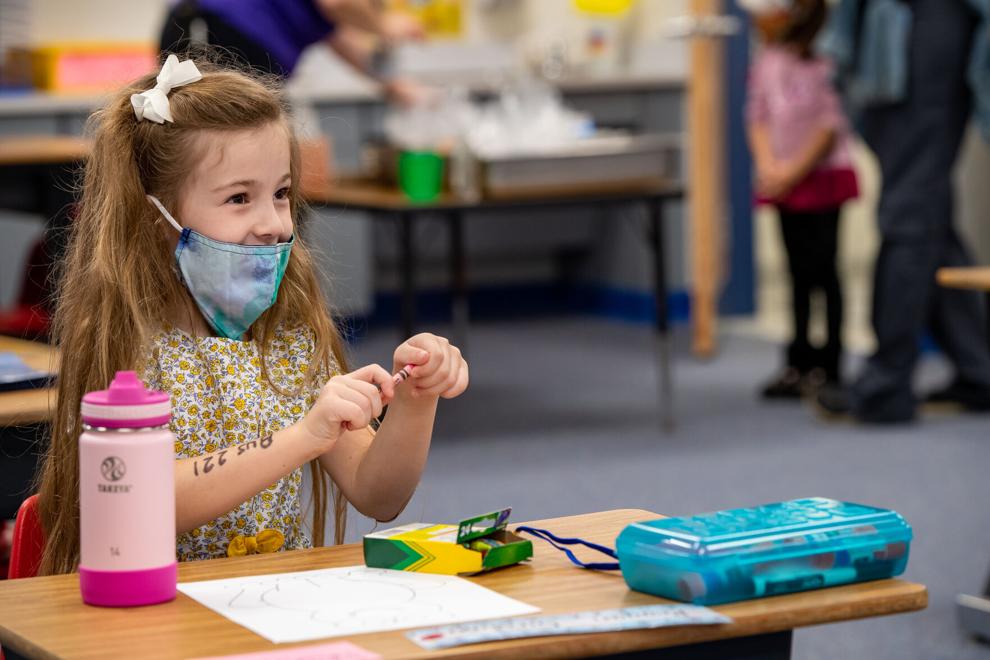 But aside from those few hiccups – the undeflected hugs and the sagging face masks – the return to in-person learning went mostly without a hitch at the Haymarket school, which welcomed only 14 students back to the building on Tuesday, Nov. 10.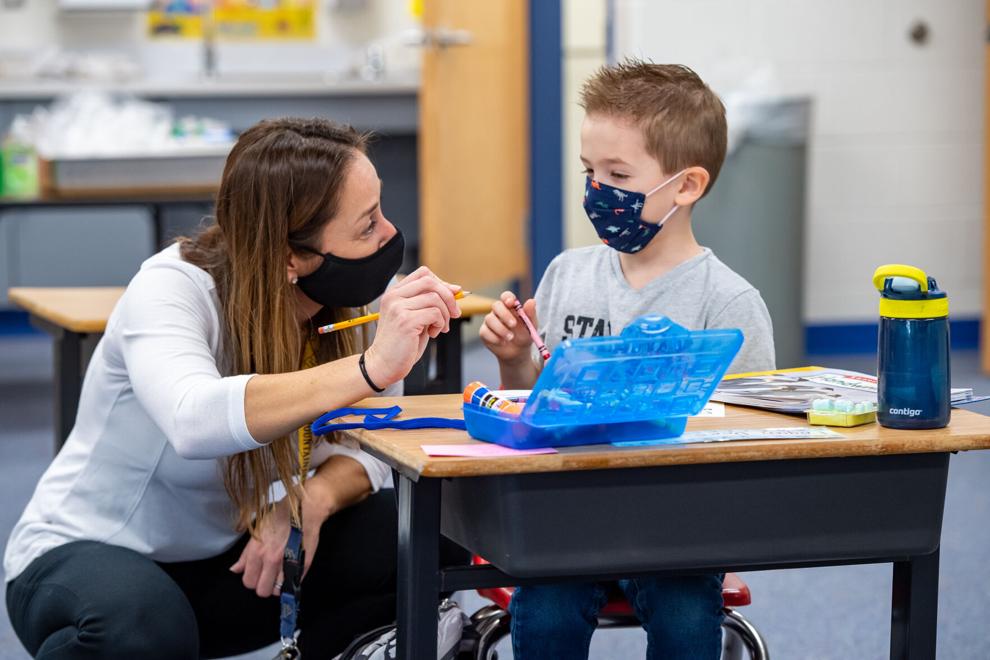 "It was a good day. It was good to see them," Harrison said of her school's youngest students. "It was so good to have them back."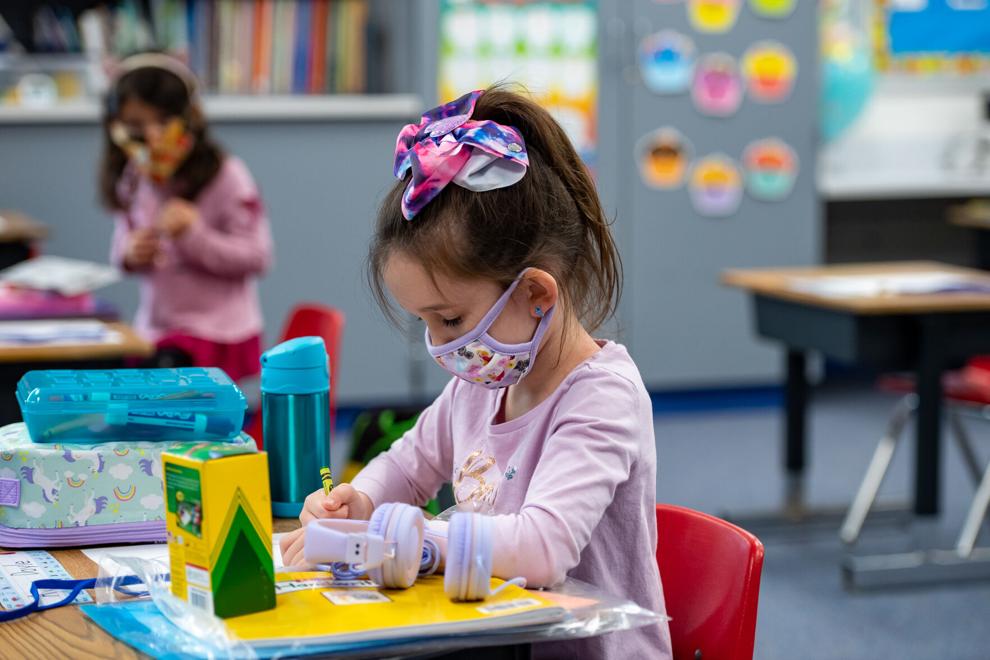 Across Prince William County's more than 60 elementary schools, about 3,410 kindergarten and pre-K students returned to school for optional in-person learning this week, according to school division spokeswoman Diana Gulotta.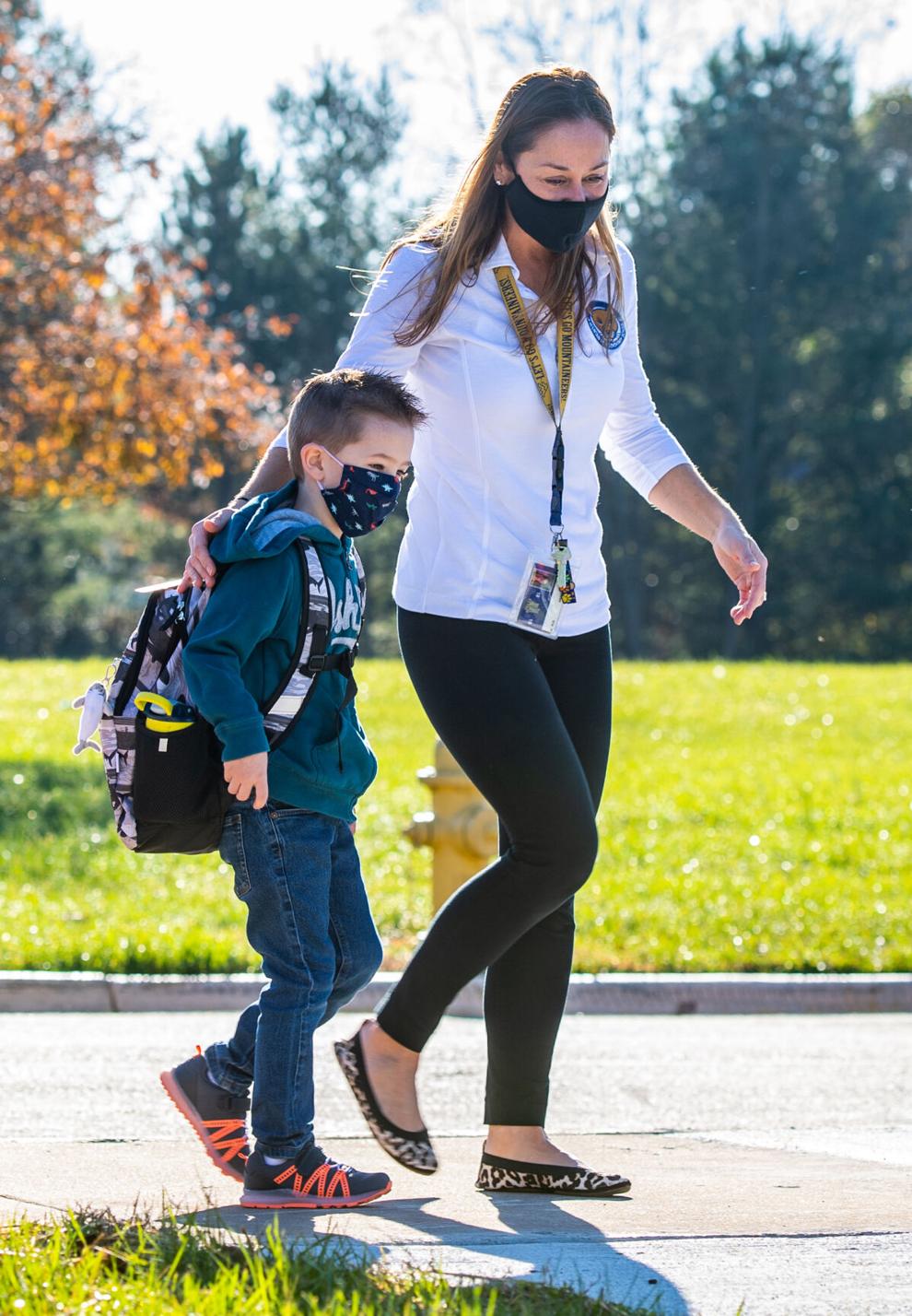 At the request of Superintendent Steven Walts, the Prince William County School agreed to bring students back into school buildings on a staggered schedule, starting with the youngest grades. 
Prince William County is currently in the moderate-to-high range of community spread of COVID-19, which means only certain students with disabilities, those learning English and those in pre-K through third grade are allowed to return to school, according to the Virginia Department of Health guidelines.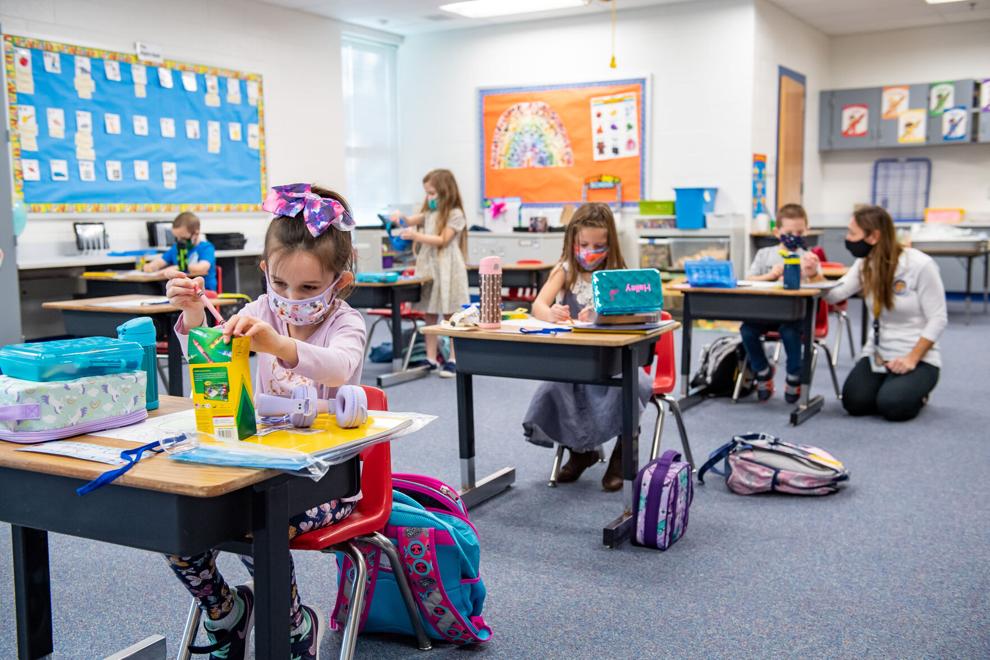 In Prince William, kindergarteners began on Tuesday, Nov. 10. First-graders are scheduled to begin during the week of Tuesday, Dec. 1, while second- and third-graders are scheduled to begin on Jan. 12.
If local pandemic metrics improve, fourth-, fifth-, sixth- and ninth-graders are scheduled to begin during the week of Jan. 26, and the rest of the grades – seventh, eighth, 10th, 11th and 12th – are scheduled to return during the week of Feb. 2.
Students whose families opt for in-person instruction will attend school two days a week – either on Tuesdays and Thursdays or Wednesdays and Fridays – while Monday will remain virtual for all students.
At Mountain View, one of the county's smaller elementary schools with fewer than 500 students, only 14 students returned each day this week: 10 in kindergarten and four in pre-K.
The small numbers meant Mountain View is able to keep one kindergarten teacher instructing children in the classroom while her fellow kindergarten teacher teaches those who remain home for virtual instruction, Harrison said.
Students returning had a different experience than they might have in a typical year, Harrison said.
While kindergarteners usually sit together at collaborative tables or gather on floor rugs for story time, neither are options during the coronavirus pandemic. The need to keep students at least 3 feet apart -- and 6 feet whenever possible – kept them at individual desks for most of their days, Harrison said.
During lunch, students walked to the school cafeteria as usual but had to spread out. Only two students sat at either ends of long lunch tables that typically accommodate more than 20 students. The school kept its regular bus routes, but since only 14 students arrived each day, most carried only one or two students, Harrison said.
Parents were instructed to conduct at-home health checks to ensure their children were not exhibiting any signs of sickness, such as a fever, sore throat or cough before placing them on the bus or driving them to school. Parents are not required to confirm the self-screenings via paper forms or online; the checks are instead conducted on an honor system according to school division rules.
There are also different cleaning and handwashing routines. Students must wash their hands or use hand-sanitizing stations any time they travel from one classroom to another or to and from lunch and recess, Harrison said.
Any time students use the bathroom, janitors are called on the school's walkie-talkie to wipe down and sanitize surfaces, Harrison said.
The school has personal protective equipment available, including N95 masks, gloves and gowns. But it's up to teachers to decide for themselves if they want to wear it, Harrison said. Those who are working with pre-K student with special needs – with whom social distancing is not "feasible" – are wearing the PPE, Harrison said. 
The children are allowed to take off their masks for outdoor recess but are instructed to keep their distance. Some appeared to be already used to such rules, Harrison said.
"We had one little girl, who when someone got too close, she would stop and extend both arms and say: 'Stop. This is my bubble,'" Harrison recalled with a laugh.
"The playground equipment is big, and you're talking only 10 kids. It was not a problem," she added.
During art, students worked outside with sidewalk chalk or at their desks with markers.
"We were trying to make it a fun and engaging day," she said.
Mountain View has received all the laptops it needs to equip all students for at-home learning, Harrison said.
The school also just started receiving the online cameras that teachers in older grades will use to instruct students at home and in classrooms simultaneously. Harrison said she expects teachers will begin training on them soon.
There was at least one thing about the first day of school wasn't different this year – the need to help Mountain View's youngest students maintain their energy during a full school day, which extends from 9 a.m. to 3:55 p.m.
"I think it was a great day. I was a long day," Harrison added. "We will need to build up their stamina."