LaTanya McDade took over as superintendent of Prince William County schools on July 1. During her first week on the job, McDade announced a 100-day listening tour to gather input from teachers, principals and support staff.
McDade comes to the county after a 23-year career with Chicago Public Schools. She is the first woman and the first African American to lead the county's nearly 90,000-student school division. Her hiring follows the retirement of former superintendent Steven Walts, who led Prince William schools for 16 years.
Under McDade's leadership as Chicago Public Schools' chief education officer, the city's school division expanded its advance course offerings and increased graduation rates and college enrollment, according to a school division press release. With 340,000 students, CPS is the nation's third-largest public school system.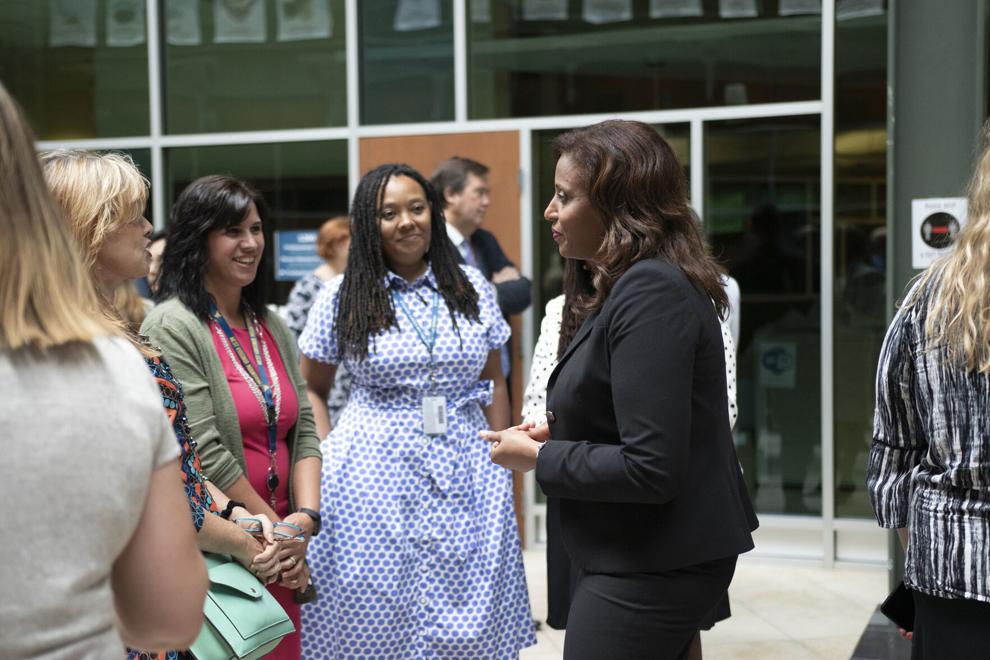 When her hiring was announced in March, McDade said she was drawn to Prince William County in part because of the school board's focus on equity, which she called "a moral imperative."
In recent days, McDade offered more on what equity looks like in public schools as well as answers to questions about other hot topics in education, including later school starting times, the role of school resource officers and the future of remote learning as schools aim to return to full-time, in-person learning in the fall. Some of McDade's answers have been lightly edited for length.
Q: You've said you were drawn to Prince William County in part because the school division is committed to equity, which you called a "moral imperative." Can you tell us what you believe an equitable school division looks like? 
A: Every child deserves a fair shot to succeed. And it's our job at PWCS to be a national model for making this a reality. We must use our talents and focus our resources to lead with equity as a moral imperative so that every child benefits. Equity is for every child, and we have to consider their unique needs. Only then can we accomplish our goal of providing a world-class education for every student.
We need to look closely at our data to ensure all students are achieving. If they are not, we need to make sure we are addressing the needs of each student to ensure they are successful.
We need to remove barriers and provide access and opportunity for every student so that we are strategically focusing and aligning our resources to fit their individual needs.
Q: What is the future role for remote learning in our school division? 
 A: The pandemic transformed teaching and learning nationwide. It put a spotlight on a longstanding digital divide. Schools have always been second homes to students, but now instead of nurturing in-person environments, we had to replicate them at a distance. 
Everyone has had to adapt. Teachers, staff and school leaders did extraordinary, heroic work, but the bottom line is that in-person learning is the best form of learning for our kids, for their academic growth, for their social development and more. 
Over the next 100 days, I'll be doing a listening tour to understand, listen to and learn from teachers, principals and support staff about what's gone right, where we have areas for growth, and how we can potentially innovate down the road to replicate some of the successes from the last year.
We will continue to leverage resources available through Virtual Virginia and Virtual Prince William. Long-term, we will examine if this is an option we want to continue to extend to our students."
On school resource officers
Q: A few Northern Virginia school divisions recently decided to remove school resource officers because of a concern about their role in the school-to-prison pipeline. What do you believe is the proper role for police officers in our schools? 
A: This issue is very important and is one that deserves engagement from our broader community of parents and caregivers, educators, students and other stakeholders. I promise to spend time in deep dialogue and discussion with the community. Over the next 100 days, and beyond, I will be listening to our stakeholders and considering their feedback on this issue.
Q: The Prince William County School Board is considering later starting times for middle and high school students. Given the research about the positive effect later starting times have on adolescents' well-being, what is your position?
A: This is something I will examine later this fall after further community dialogue and discussion. We're always going to strive for excellence, equity and integrity, and if we as a community believe that a change will support better outcomes and has the buy-in from stakeholders across the communities we serve, it's something we will consider.
Q: Most of Prince William County's teachers are women, and more than 70% of our students are members of minority groups. Can you tell us how you believe your lived experiences will help you better serve and connect with our students and teachers?
A: I am the daughter of immigrants from Belize, and I grew up in a poor neighborhood on the south side of Chicago. Public education and dedicated educators provided me with access to powerful opportunities that affirmed my identity, strengthened my unique skills and talents and supported my aspirations that positioned me for success.
Currently in our country, women make up three quarters of all teachers and more than half of all principals. Yet, at the district level, less than one third of superintendents are women, and only 11% are women of color. 
At the state level, 45% of chiefs are women, and 8% are women of color. Representation is important. Students should be able to see themselves in the world around them, to demonstrate that they can walk in these roles and live in these spaces as well. 
As the first African American and first woman superintendent of PWCS, I am proud to be this model of representation to give our students the opportunity to see themselves in me.
But it must go further than just that. It's about delivering excellence and equity in our approach to students and learning. I am aware of the symbolism of my role, and I don't shy away from what that means for our students, but the most important thing -- my biggest priority -- is ensuring that each of our students receives the world class education they deserve.