It took a ruse to get Harold and Angelina Crone's four kids dressed up and ready for the family outing their parents had planned on a recent Friday afternoon.
Angelina told her 18-year-old daughter, Sharizze, and Harold's 24-year-old son, Mason, to take off work and dress to go out to dinner. Her youngest son, Andrew, 10, said he hoped they were heading to Chuck E. Cheese's.
Instead, the Manassas family of six ended up at the Prince William County courthouse so Andrew, Christian and Sharizze's mom could finally tie the knot with Mason's dad.
He wore a gray suit. She wore a cream-colored lace dress with red heels and carried a bouquet of red and white roses. The couple had been engaged for months but said they wanted to keep the ceremony simple to enjoy the moment as a family.
"We have all our kids with us," Harold Crone said. "That's most important."
"I told them it's about time their mom and dad got married," Angelina added with a laugh. "They're very happy because they love their dad."
The ceremony, one of nine civil marriages Prince William Circuit Court Clerk Jacqueline Smith would perform that day, lasted about 10 minutes, just long enough for the couple to say their vows, exchange rings and seal their promise with a kiss.
Each Friday afternoon, Smith's staff books back-to-back appointments for weddings from 2 to 5 p.m. They gather the couples in one of the building's more scenic spots: a wide, third-floor hallway between plate-glass windows overlooking downtown Manassas and a row of local, state and U.S. flags.
Smith supplies a bouquet of white silk roses for brides who don't bring their own, and her IT specialist snaps pictures on her cell phone. One of Smith's clerks is available to repeat the vows in Spanish if the couple requests it.
The ceremonies can be booked weeks in advance or as late as the day before. That's what happened when Air Force Sgt. Tiffany Brown arrived at the courthouse the day before to pick up a marriage license for herself and her fiancé, Dexter.
When she found out they could be married the very next day, she jumped at the chance. Dexter, who lives in Nashville, was already planning to visit Tiffany for the weekend.
"Everything fell right into place," Tiffany Brown said.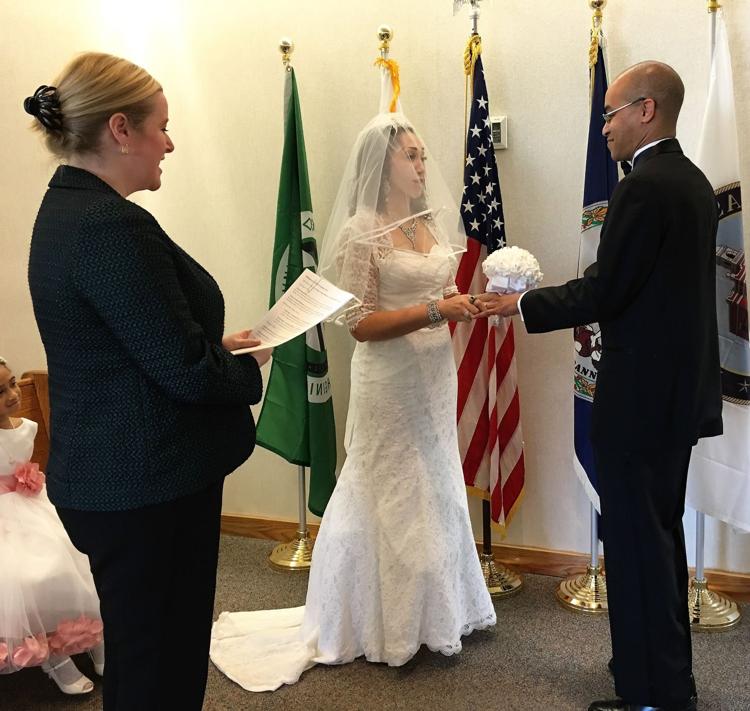 Wedding revival
Smith, a Democrat, revived courthouse weddings last fall after she won a special election to replace the late Circuit Court Clerk Michéle McQuigg, who died last February. Since October, Smith has conducted 63 weddings.
The ceremonies are the first to take place in the courthouse since former Circuit Court Clerk Dave Mabie, a Republican, retired in 2007. McQuigg, also a Republican, declined to perform any weddings in the courthouse, mostly because of budget cuts, according to Bob FitzSimmonds, who served as McQuigg's deputy clerk.
During her time in office, McQuigg made headlines for her staunch opposition to gay marriage. In 2014, she stepped in to defend Virginia's constitutional ban on same-sex marriage when Virginia Attorney General Mark Herring (D) refused to mount a defense against a lawsuit challenging it.  As a result, some assumed McQuigg suspended courthouse weddings to avoid marrying gay couples.
But McQuigg's decision to halt the ceremonies came long before the same-sex marriage ban was challenged in court. McQuigg came into office in 2008, during the fallout of the Great Recession, and faced a 30-percent cut to the clerk's office budget. Because of that, she limited the office's duties to only those required by state law and generally referred couples to local civil celebrants, FitzSimmonds said.
"Michéle did not see the need to provide a service personally that was being done really well without our involvement, although in a pinch she did provide the service occasionally," FitzSimmonds said.
'It's always happy'
Smith, however, says the Friday-afternoon ceremonies are not a burden on her staff but rather the highlight of their week.
"It's a feel-good opportunity, and it's a way to get out and interact with our constituents in a positive way," Smith said. "And it's always happy, which often isn't the case when people come to the court house."
Smith is planning a special Valentine's Day wedding event on Wednesday, Feb. 14, at the Old Courthouse on Lee Street, just as Mabie used to do.
Holding the event at the Old Courthouse allows couples and their friends and families to bring their cameras (which are not allowed in the courthouse). Smith is planning to have a professional photographer on site as well as a few other amenities for participating couples.
Aaron and Lisa Drew, of Dale City, said they would recommend a courthouse wedding to any couple who want to enjoy the moment without having to worry about all the extra stress and expense of a more extravagant ceremony.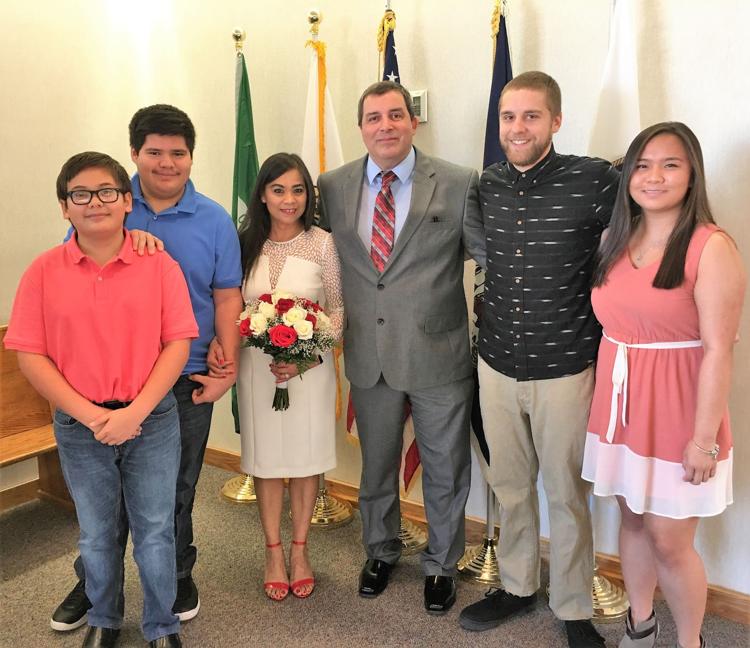 They're busy people. He's an architect for the Veterans Administration. She's a high school English teacher. They are working on planning a larger event with all the trimmings for friends and family later this year but didn't want to wait too long to get married.
"What Prince William County did for us today was they gave us an opportunity to make this marriage about the bride and groom," Aaron Drew said. "Today was about us."
Reach Jill Palermo at jpalermo@fauquier.com